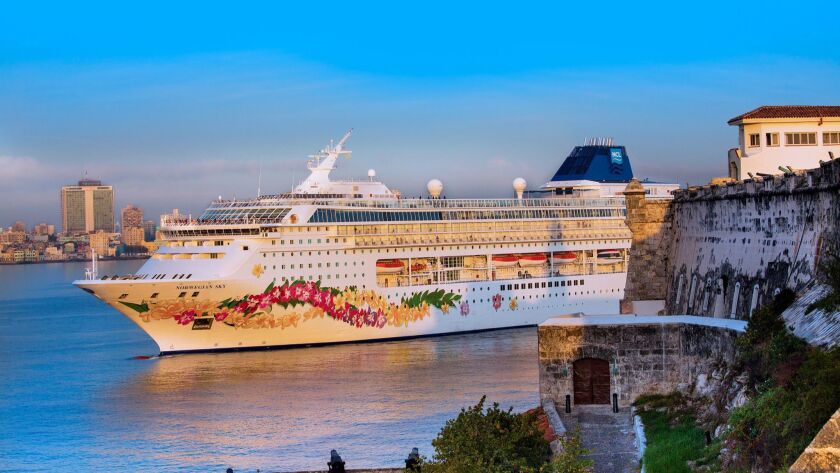 Two years ago, the Norwegian Sky was Norwegian Cruise Line's first ship to sail to Cuba. On Tuesday, the Sky was one of the last ships to leave Havana, and the company has since canceled all its fall Cuba sailings after the U.S. ban was announced earlier this week.
"Sailing into the Havana Harbor today, we were welcomed by the Cuban people with open arms and excitement to share their incredible culture with our guests," President and Chief Executive Frank Del Rio said in May 2017.
Since then, cruises quickly became a popular way for Americans to legally visit the island nation after decades of strict regulations, which then-President Obama loosened for some types of travel.
Now the excitement is gone -- and so are the cruise ships.
This week Norwegian Cruise Line canceled all of its Cuba sailings scheduled on the Norwegian Sky and the Norwegian Sun after Sept. 2. Automatic refunds will be applied to the passengers' form of payment, the website said.
Until then, passengers on cruises before Sept. 2 may sail a modified Caribbean itinerary and receive half off the cruise fare and half off a future cruise through Dec. 31 or cancel for a full refund.
Royal Caribbean International is sailing modified itineraries for now. Passengers booked for Majesty of the Seas and Empress of the Seas cruises that were supposed to visit Cuba have the option of staying with the cruise and receiving a 50% refund or canceling for a full refund.
Carnival also is offering full refunds to its Cuba passengers. Holland America, Seabourn, Viking Ocean Cruises, MSC and even Virgin Voyages, which was set to start sailing in 2020 with Cuba as a destination, have scrambled to make changes and inform passengers after the U.S. cruise ship ban abruptly began June 5.
The U.S. tightening of travel rules forbid what are called "people-to-people" group tours, which feature cultural and educational itineraries, and cruise ships, yachts and even fishing boats from traveling to Cuba.
The administration said the changes are meant to punish the Cuban government and to "keep U.S. dollars out of the hands of Cuban military, intelligence and security services," according to a statement by Treasury Secretary Steven Mnuchin.
Some tour operators say the move will deprive the Cuban people of much needed U.S. visitor dollars. Recent sanctions have produced an economic stagnation on the island that has resulted in shortages of basic foods and may lead to a full-on recession, Reuters reported.
---