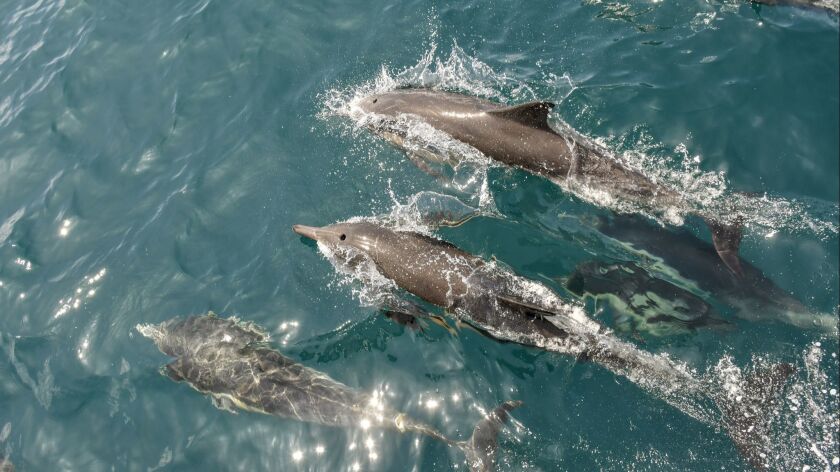 Not long after he left Santa Cruz Island, Christopher Reynolds realized he had company. They came seemingly out of nowhere.
Reynolds had just completed his reporting on Santa Cruz, one of the five Channel Islands, when dozens of them showed up.
As cute as bunnies' ears, dolphins escorted his boat on the ride back to Ventura.
"The 75-minute boat ride from Island Packers to the island (or the ride back from the island) can be an amazing thrill, if the dolphins decide to escort you, or if a whale or two swims into view," Reynolds said in an email. "Both of those things happen often, and when they do, the captains are happy to veer toward the animal fun and linger a few minutes. That's why the ride might take up to 90 minutes….That's all a bonus atop whatever you find and do on the island."
Reynolds found quite a bit to do on Santa Cruz for this first installment of carless destinations, an occasional Travel section series, as you'll see below.
Other delights of travel coverage await as well: a nearby meditation retreat designed to hush that voice in your head, the opening of a new and pricey place to stay on prime California land that is not without controversy, some changes to airport security rules that will have you shaking your head and restaurant bargains in Las Vegas, of all places.
I'm Catharine Hamm, the travel editor for The Los Angeles Times, and I'm happy to be your escort through this week's travel newsletter. Life jackets on? Good. Let's go.
The serenity of Santa Cruz
What is more necessary to our California lives than we like to admit? Cars. And what gives us constant dyspepsia? Cars. And what does Santa Cruz have none of? Cars. It's a respite for the auto-weary but more than that, a glimpse into a long-ago Golden State, still unspoiled and ready to restore your sense of balance, Christopher Reynolds writes. Except for the thieves — the four-footed kind who are, in their own way, a triumph over humanity's ability to destroy what is unique.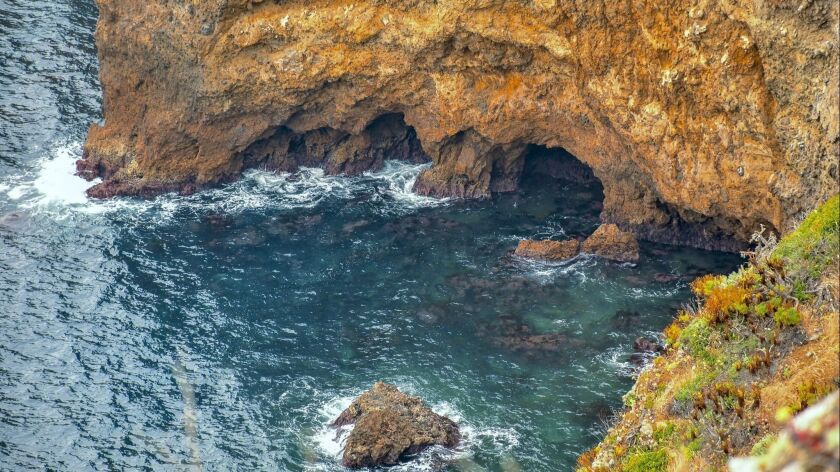 Tejon Ranch to host overnight guests
This is a prime piece of real estate about 70 miles north of Los Angeles and now it's going to be — at least, in part — a prime place to get away from it all. Tejon Ranch promises hiking, biking and fishing in an area that's sought after for its wide-open spaces, but getting back to nature will come at a pretty steep price, Mary Forgione writes. Its two houses and two cabins start at $1,000 a night. That's a lot of sawbucks for a little solitude, but there's honey in that financial vinegar: This setting could be what you come home to every day. Some of this 270,000 acres is to be developed with 19,000 homes, so these stays could be the thing that makes you cry "Sold!"
Savor these dining bargains in Las Vegas
Eat, drink and be merry for less and know you are supporting a good cause. That's a great equation no matter where it happens, but it's especially sweet in Las Vegas because it gives you a chance to sample places that might otherwise be out of reach while benefiting a local food bank. Las Vegas Restaurant Week begins Monday and continues through June 28, Jay Jones reports.
Bye bye, bus
If you've been taking the FlyAway bus from Westwood to the airport, better start being a lot nicer to your friends. That bus to the airport is being discontinued. Mary Forgione writes explains what's behind the demise.
The Year of Pride in NYC
Half-a-century ago, riots broke out in New York's Greenwich Village after police raided a gay bar. That proved to be a turning point in the LGBTQ push for equal rights and protection under the law. Besides earning a place in the history books, New York has earned the right to host World Pride later this month, celebrating progress and the people who pursued freedom. Read Jim Byers' fascinating article on how the past informed the future.
This is mind-blowing
And we don't mean the cannabis that's at issue here. Instead, what's hard to grasp is the new rule about carrying CBD oil on an airplane. The Transportation Security Administration used to say "no" and "no" to toting the oil, which many people swear by for aches and pains, in your carry-on or your checked baggage. Suddenly late last month, its page switched over to say "yes" and "yes," but with "special instructions." No clue about what those special instructions are, unless, it's suggesting advanced study in recent agricultural legislation. Read more about the confusion surrounding the recent change and why you need to be careful about throwing caution to the wind when you fly.
Turn down the volume
The thrum of daily life gets a little much when the noise in your head is just aural clutter. Time for a proverbial cleansing? Lori Basheda took the plunge and spent a weekend at a meditation retreat in Pacific Palisades. It didn't stop the racket, but it reduced the intensity, she writes in a weekend escape.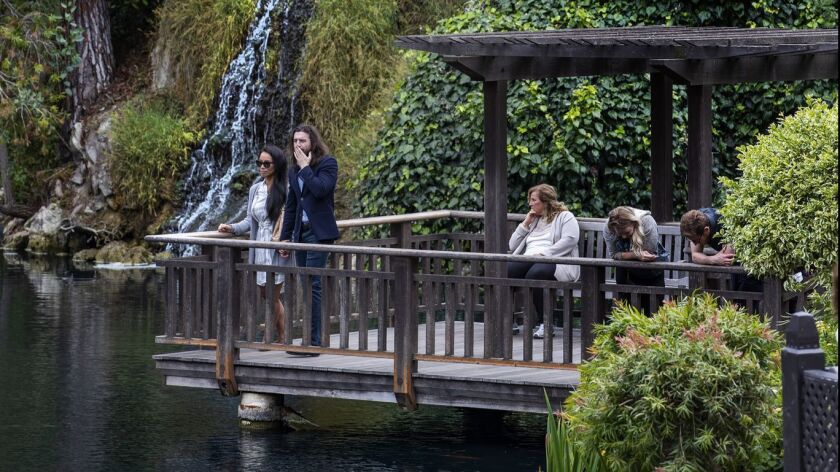 Is seeing Alaska by air unwise?
Alaska covers more than 665,000 square miles, so any trip is, if necessity, just a sampler platter. That's why many people who take a cruise to the 49th state often choose flight-seeing to help them understand its size. But a recent spate of fatal crashes of those planes has raised questions about how safe they are and whether regulations need to be tightened, Christopher Reynolds writes. Share your thoughts with us at travel@latimes.com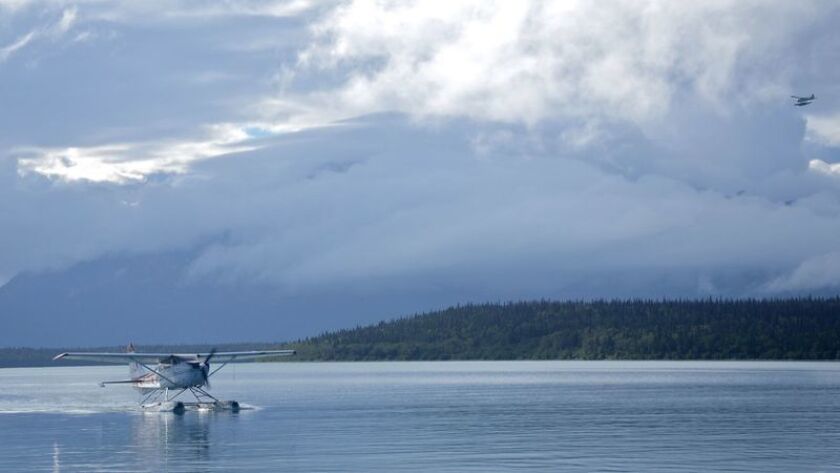 How to read us, how to roast us
We're already roasting, so we'll start with the second part. Have a complaint or a comment? Think we need to be taken to the woodshed for something? Let us know by writing to travel@latimes.com.
If you are delighted, amused or informed by what you've read here and want to become a newsletter subscriber — it's free, remember, so it's not as though you're putting the family fortune at risk — go to membership.latimes.com/newsletters.
Also take a minute to think about becoming a subscriber to all of the Los Angeles Times. "I don't want all that paper piling up," you say snappishly. We understand. That's easily solved with a digital subscription. Whether you want the tactile experience of touching newsprint or you like the touch of your phone or your keyboard better, we can serve you both ways. Visit our subscription page. And thank you.
What we're reading
What's your favorite small beach town? The staff at Afar magazine chose its faves and although I always try to quibble with anybody's "best of" list, one of my favorites was high on the list and several were in California. Take a look and see whether you agree.
Maybe you want your beach to be more than just another pretty face. Maybe you want it to sing. That is not a typo. Kastalia Medrano, writing for Thrillist (with thanks to The Week magazine for suggesting it), writes about singing beaches — but Medrano describes the melody as more like a squeak. And reading the description of how you can make this happen? That should put a song in your heart.
Going to Germany or Switzerland? Shut up. We mean it. Or rather they do. Germany doesn't want you making noise on Sundays, holidays or late at night. Several places in Switzerland ask its patrons to observe silence. And that's just one of seven ways you can do something illegal, perhaps unwittingly but illegal nonetheless, Chris Ciolli writes for Afar. Take a look so you don't land in the clink.
End paper
When I was a college student, I delighted in sharing all my newfound knowledge with my parents on summer vacations. One August day, we went to San Diego, and on the way home, we came across a caravan on restored Model A's whose occupants were dressed in period-appropriate dress. There must have been three dozen of them. We smiled and waved, and they waved back.
Summoning my best teacher voice — I was on track to teach before journalism lured me away — I explained to my parents that this is what the professor who taught early childhood education called a "bonus experience." I couldn't see my parents' faces, but I could almost hear their eyes rolling.
A little later, in need of a break, my dad teasingly suggested we stop in a place known for its working girls. My mother said to him, gently, "Joe, I think one bonus experience for you is enough for one day." Ever after, "bonus experience" became part of our family vocabulary.
Whatever you call it — serendipity, welcome surprise, trip karma — it can make a journey: a sunrise at the beach in Poipu on Kauai, the unexpected appearance of llamas (not uncommon, but I was startled and delighted) at Peru's Machu Picchu, the light that filtered through the Marc Chagall windows in Fraumünster church in Zurich. Such magic can't be manufactured; it just happens.
May your trips be filled with such moments, part of our ongoing wish that you travel safely and well and remember that we will be here to welcome you home.
---