Humans have long dreamed of flight, but only within the last few years has unencumbered up-in-the-air movement over remarkable scenery — without strapping on wings, dangling from hot-air balloons, boarding airplanes or wearing virtual-reality goggles — become possible.
Say hello to flying theaters. For visuals, they use 60-foot-wide semicircular (a.k.a. hemispherical) screens, extremely high-definition cameras. For audio, surround-sound and original music. For movement, seats that generate an intense sensation of motion. The final touches: breezes that rustle visitors' hair, mist that drifts about and natural scents that waft through the air. Thus is the multidimensional illusion of flight born.
And the fascination continues to grow. In the last three years, several more flying-theater attractions have opened in cities around the world.
Here is a pre-flight tour of some of them.
Canada
At Canada Place in Vancouver, guests are treated to FlyOver Canada, grand Canadian vistas on the theater's 65-foot-wide hemispherical screen in the dramatic eight-minute flight. Sites include Toronto, the Rockies, Niagara Falls and Churchill, Manitoba, known for polar bears.
In celebration of Halloween in October, computer-generated ghosts roam Canada's landscapes. In December Santa's elves visit the Canadian countryside; the program ends with a 90-second CGI flight to the North Pole.
Info: Fly Over Canada
United States
The team that made FlyOver Canada created FlyOver America at the Mall of America near Minneapolis three years later.
Aviator-guests fly over Hawaii, Alaska, San Francisco's Golden Gate Bridge, canyons of Utah, Florida Keys, wetlands, waterfalls, vivid autumn-colored forests and more. (FlyOver America is also shown for four-to-six weeks during spring at FlyOver Canada's theater in Vancouver.)
Info: FlyOver America
The world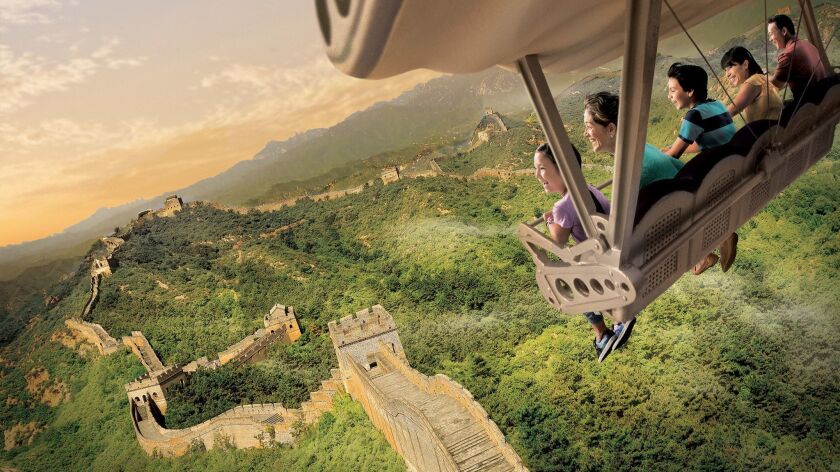 Disney replaced Soarin' Over California at Disney's California Adventure and Epcot with Soarin' Over the World in 2016.
The world tour flies over the American Southwest's Monument Valley, Mt. Kilimanjaro in Tanzania, India's Taj Mahal, the Eiffel Tower in Paris, Sydney Harbour in Australia, the Great Wall of China, Switzerland's Matterhorn and Germany's Neuschwanstein Castle, the inspiration for Sleeping Beauty's castle.
Info: In Anaheim, California Adventure Soaring Around the World. In Orlando, Fla., Epcot Soarin' Around the World
The attraction also is at Shanghai Disneyland in China under the name Soaring Over the Horizon. The preshow gets spiritual by trying to tap into "ancient primal powers" while guests follow a trail to the celestial observatory of a fictional tribe, and a "shaman" calls the spirit of a condor to help guests fly in the semicircular theater.
Info: Shanghai Disneyland Soaring
On July 23 the same attraction, renamed Soaring: Fantastic Flight, is to open at Toyko DisneySea. This preshow honors a fictional 19th century woman explorer who supposedly created the Renaissance-style four-person Dream Flyers in which visitors take to the air.
Info: Tokyo DisneySea Soaring Fantastic Flight
Washington state
Wings Over Washington, which opened in 2016 at Miner's Landing at Pier 57 near Waterfront Park in Seattle, creates the sense of flying with the giant screen, wind, surround-sound and subtle scents while a spirit eagle leads guests over Mt. Rainier, the Cascades, the San Juan Islands and through a hot-air balloon festival.
Info: Wings Over Washington
Europe
Germany's Voletarium at the Europa-Park theme park in Rust near the Swiss and French borders is billed as Europe's largest flying theater. With a 67-foot-wide screen and footage shot with eight times more resolution than regular full-high-def, the four-minute experience carries fliers across Europe, including Venice, Italy; Paris; the fiords of Norway; and the ever-popular Matterhorn and Neuschwanstein Castle.
Info: Voletarium
Netherlands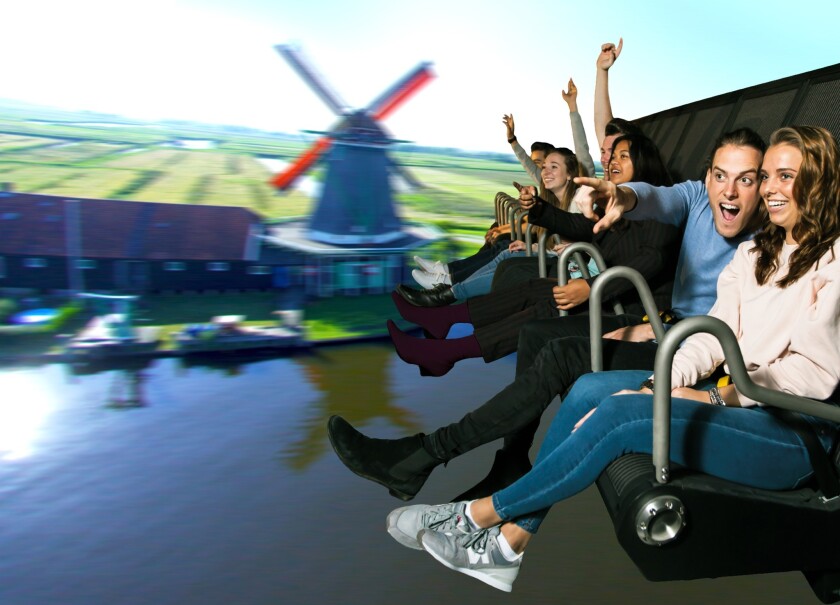 Shortly after the Voletarium opened, Amsterdam's nine-minute This Is Holland premiered and let visitors fly over fields of flowers (while inhaling their scent), canals, gardens, beaches, windmills, even a hot-air balloon shaped like a windmill.
Info: This is Holland
San Francisco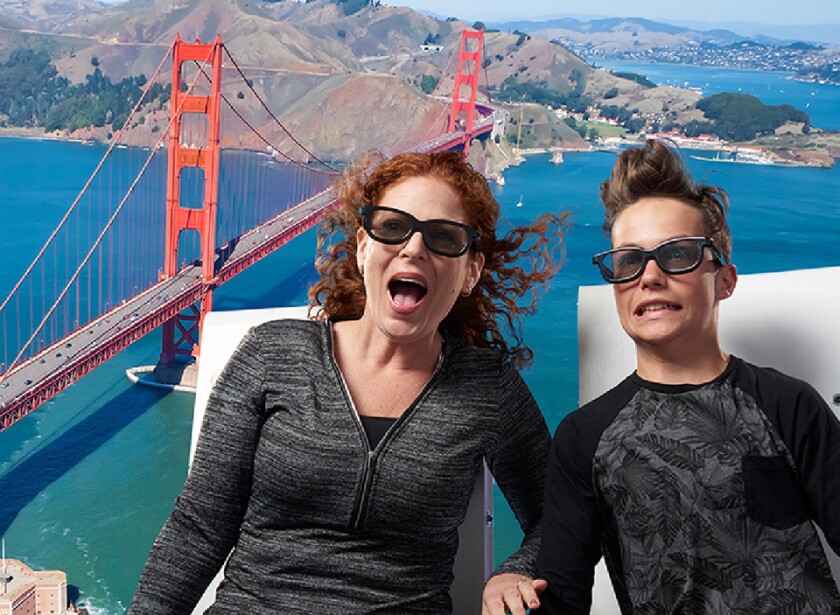 The Flyer, which opened in February at Pier 39 in San Francisco, may not lift seats into the air, but the 3D glasses, gusts and massive screen create a flying roller-coaster-like thrill ride as visitors accelerate, decelerate, dive and turn wildly with an animated racing seagull zooming around San Francisco, the Marin Headlands north of the city, and the Golden Gate Bridge.
Info: The Flyer
---