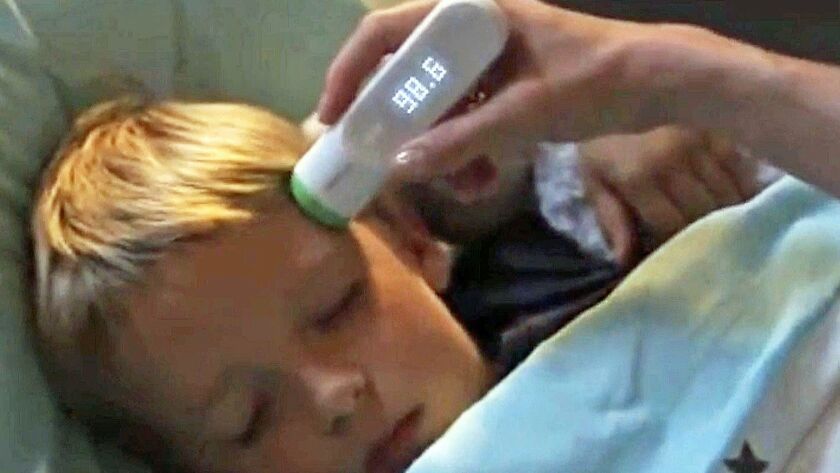 Keep the whole family safe and sound with smart thermometers, hooded neck pillows, flashing footwear and hairbrushes with a secret.
Temperature-taking goes high-tech
No more sticking a thermometer under the tongue to take a temperature. Thanks to Wi-Fi and Bluetooth connectivity, the new Withings Thermo Smart Temporal Thermometer gets the job done with just a gentle touch on the temple.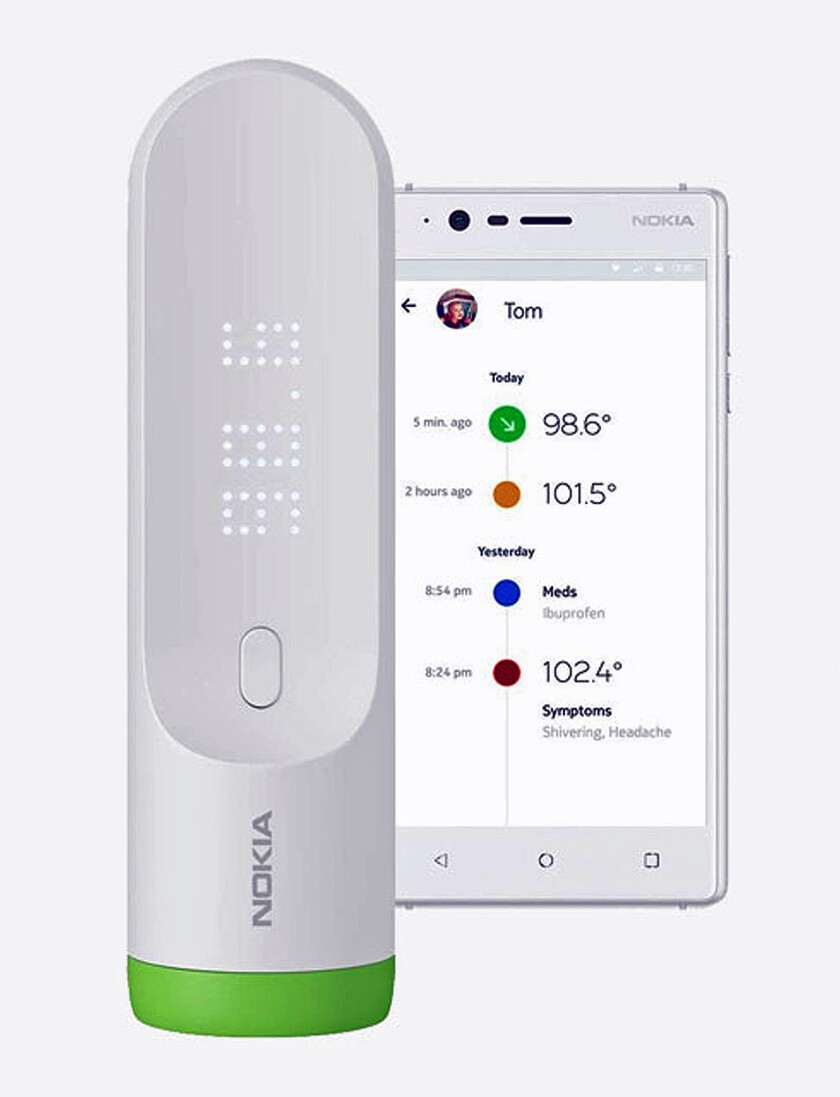 Pair the Thermo with your smart device using a free iOS or Android app, press the "on" button, swish the green-tipped top of the thermometer across the forehead, and 16 infrared sensors will measure body temperature and report results on the thermometer LED display and your device's screen.
The Thermo can create eight user profiles and keep a log for each. The app lets you assign a photo to each profile, with a timeline to track symptoms and notes regarding each person.
The Thermo can run for up to two years on two (included) replaceable AAA batteries. It measures temperatures between 95.9 degrees and 107.6 degrees Fahrenheit (or in Celsius mode). The Thermo isn't cheap, but its record-keeping provides quite a bang for the bucks.
Cost, info: Withings Thermo Smart Temporal Thermometer costs about $100; bit.ly/hitechtemptaker.
Hunkering down in a hoodie minus the jacket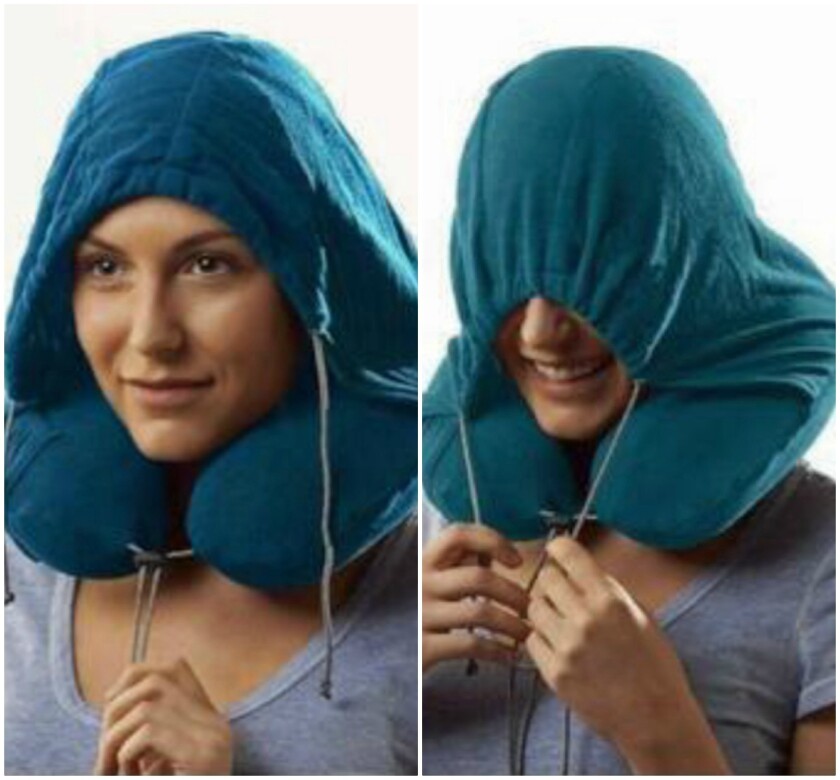 Grand Trunk's coziest U-shaped travel pillow doesn't stop at the neck. It's also a hoodie minus the jacket. A soft fleece hood is sewn to the outer perimeter of the fleece-covered memory foam neck ring, providing extra warmth for your head and blocking out light if you duck your head in deeper and tighten the integrated drawstring.
The pillow has an adjustable cord lock at the chin to get the fit just right; a little patch pocket sewn into the side of the pillow can hold ear buds, some bills or even a credit card. When you're ready to pack up the pillow, just squish it down into the hood, cinch the drawstring around it, and you have a little parcel that slides into the included stuff sack.
Grand Trunk Hooded Travel Pillow in black, red, green or gray, is about $40; bit.ly/hoodedtravelpillow
Flashy feat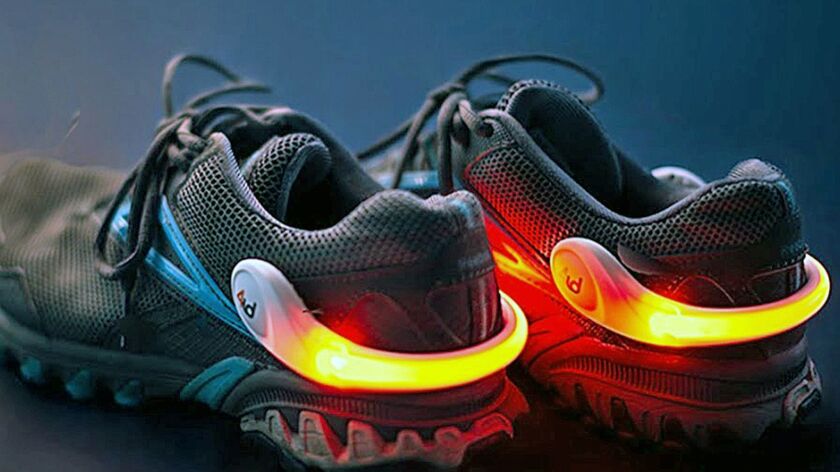 Here's a bright idea for making pedestrians more visible in the dark to drivers approaching from behind. Power Spurz are battery-powered horseshoe-shaped silicone safety lights that slide onto the back of your shoes, boldly beaming out your presence.
You can set the ultra-bright Spurz to flash or glow continuously. Two included replaceable CR2032 lithium coin batteries can power the weatherproof LED lights on each Spurz for up to 70 hours. Power Spurz, which look like blazing headphones for your heels, are available in attention-grabbing orange, green, blue, pink or red. They fit heel widths between 2.4 inches and 3.3 inches, and weigh less than an ounce.
Power Spurz two-pack of light-up heel safety lights costs about $18; bit.ly/lightupspurz.
Give thieves the brush-off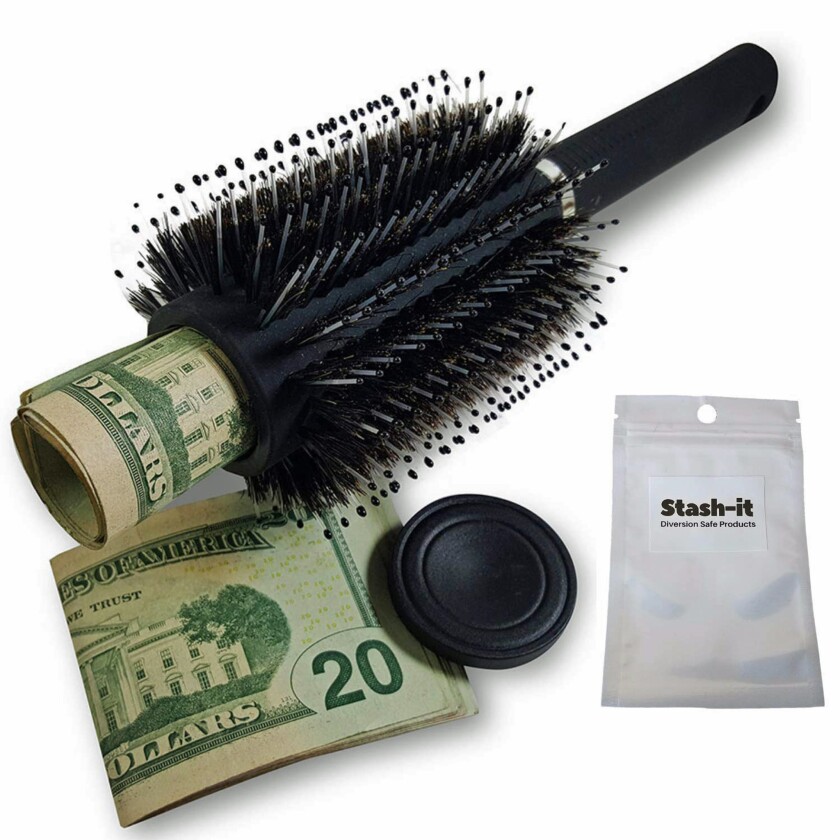 What's round, has bristles and is used for grooming? That's right: a secret safe! Well, actually, the Stash-It Hair Brush Diversion Safe is also a fully functional 9-inch-long by 3-inch-diameter hairbrush, with a hollow core for hiding cash and can hold up to 30 rolled bills. The rubber lid looks just like the caps common on round styling hairbrushes. You even get boars-hair bristles. Just fill 'er up, toss into your purse or beach bag.
Stash-It Hair Brush Diversion Safe is about $19; hideandstash.com.
---