Travel + Leisure readers chose the best cities in the world. Not on the list: Los Angeles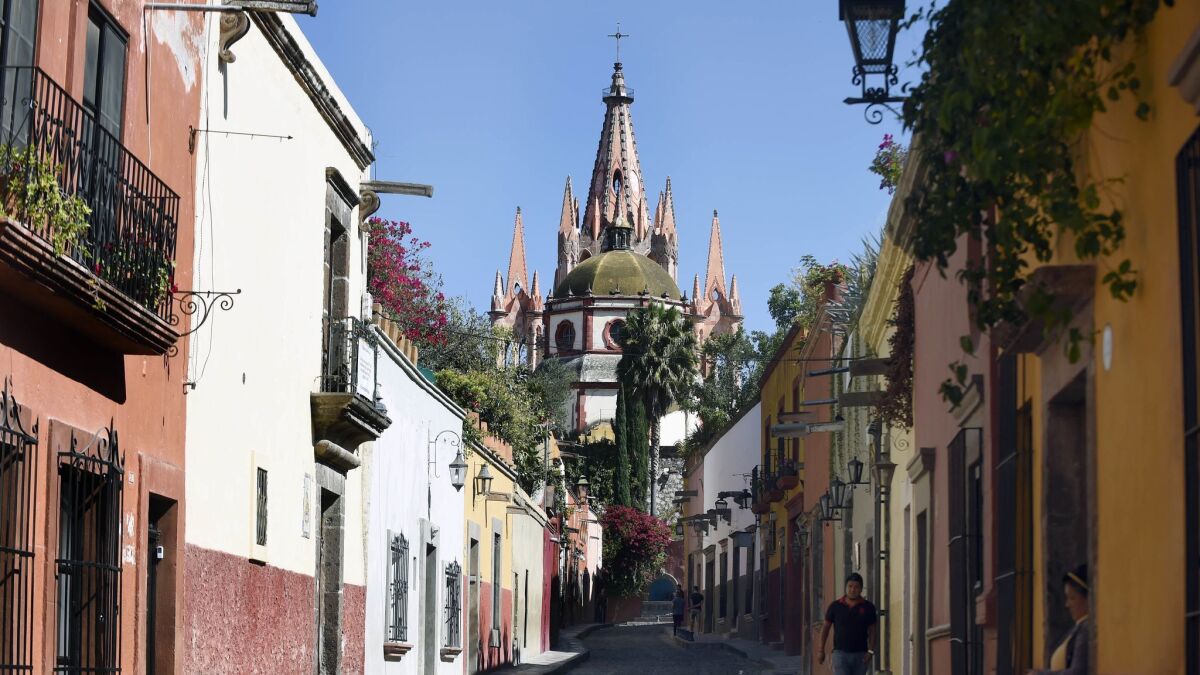 Take a nice, languid look at Travel + Leisure's the World's Best Awards 2018. The readers' choices will have you dreaming and drooling about:
--Paros, the Greek island chosen as the best island in Europe, for its "natural beaches, cosmopolitan nightlife and ancient monuments."
--San Miguel de Allende, Mexico, rated No. 1 in the top 15 cities in the world, described as "a colonial oasis in the country's central highlands." (Oaxaca follows No. 2.)
--Hilton Head, S.C., the top U.S. island, and Java, Indonesia, No. 1 among the 15 best islands in the world. (Indonesia's earthquake-battered Lombok came in at No. 3. The list was compiled long before the Aug. 5 earthquake.)
But among place names, one is conspicuous by its absence.
Best U.S. city? Charleston, S.C. (Not on the list: Los Angeles.)
Best cities overall? The aforementioned No. 1 and No. 2: San Miguel de Allende and Oaxaca. (Not on the list: Los Angeles.)
Top city hotels in the U.S.: The Lowell in New York. Well, thankfully, there are several L.A. hotels definitely on the list: Viceroy L'Ermitage in Beverly Hills; London West Hollywood at Beverly Hills; Waldorf Astoria Beverly Hills.
Best domestic airport: Portland, Ore. (Not on the list: LAX, but John Wayne landed at No. 8.)
Is it possible we're biased? Perhaps. But we're not offended, just puzzled and, in the end, maybe pleased we aren't on the list.
Go ahead and traipse off to Carmel (No. 15). We love Carmel too, and its deep photographic history for which we thank Edward Weston, and several Westons after him. Boston's a beauty, although it came in only at 14. (Love you, Back Bay. Mean it.)
What's not to love in Austin, Texas, at lucky No. 13? Besides South by Southwest, there's Torchy's Tacos. Williamsburg, Va., at 12 is full of lovely Colonial architecture.
No. 11: San Francisco, whose fog-shrouded visage I glimpsed just recently (as I was driving back to Oakland airport, whose weather has never stranded me) and sighed a shivery sigh of pleasure.
At No. 10, Honolulu made the list, despite some fierce traffic but perhaps because, well, how can you not love a place whose scenery includes Diamond Head?
Nashville at No. 9? Music to our ears.
No. 8: Ashville, N.C., which is becoming cooler and cooler all the time, thanks partly to its perch in the Blue Ridge Mountains. No. 7: San Antonio, which has done a terrific job of reinventing itself while not reinventing itself (witness that the Alamo and the Hipster Pearl District live side by side).
At No. 6, Chicago is an architectural feast definitely worth devouring. No 5: New York City. Really? Only fifth in the country? Um, OK, but … really?
No. 4: Santa Fe, N.M., whose Southwestern history and design speak to our sensibilities as well. No. 3: Savannah? Definitely easy on the eye, although "Midnight in the Garden of Good and Evil" drew a creepy, quirky portrait.
The same quirkiness is true of No. 2, New Orleans, but our recent story on its food scene has me hankering to revisit its much more inclusive food scene. And then there is Charleston, the winner. It also has much to recommend it, including its architecture and its history, and its disquieting elements are starting to be addressed.
So there it is. The readers have spoken. But when they were speaking they also forgot (besides L.A.) a couple of other great Western cities: Seattle and Denver.
The upside: We'll keep them all for ourselves.
Info: Travel + Leisure's The World's Best Awards 2018
ALSO
Looking for somewhere new to stay? 11 California hotels among best new hotels in 2018
Vintage California hotels where Gold Rush and early California dreams live on
Want to see more of the sea? See about a cabin with a balcony, which isn't as pricey as you might think
Get our L.A. Goes Out newsletter, with the week's best events, to help you explore and experience our city.
You may occasionally receive promotional content from the Los Angeles Times.