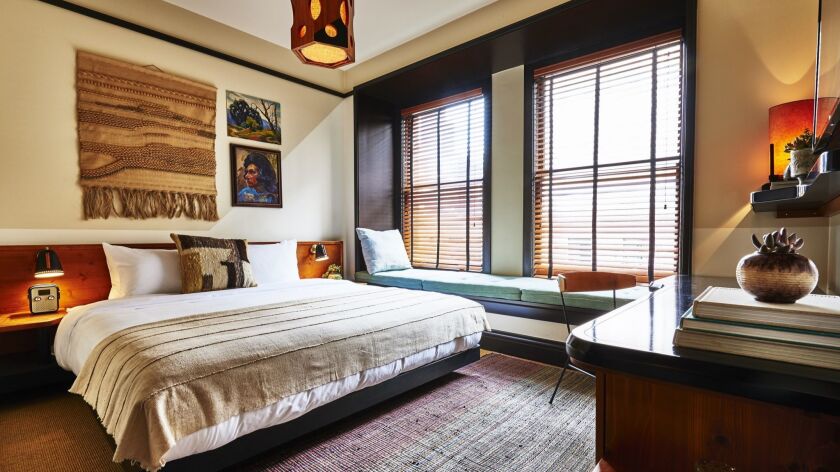 Conde Nast Traveler calls its selection of 102 best new hotels in the world The Hot List. That means the dreamiest, coolest places to stay that live up to the pre-opening hype. Or as the magazine puts it: "Most of these openings are good. Many of them, great. But only a fraction are what we'd deem hot."
Eleven hotels in California, mostly in Southern California, made the cut among U.S. locations. These are the California hotels on the Hot List.
Freehand Los Angeles, 416 W. 8th St., Los Angeles
Holiday House Palm Springs, 200 W. Areanas Road, Palm Springs
Hotel Californian, 36 State St., Santa Barbara
Kimpton Rowan Palm Springs Hotel, 100 W. Tahquitz Canyon Way, Palm Springs
Las Alcobas Napa Valley (Luxury Collection), 1915 Main Street, St. Helena, Calif.
Pendry San Diego, 550 J St., San Diego
Proper Hotel San Francisco, 1100 Market St., San Francisco
The Rossi, 375 W. Arenas Road, Palm Springs
The Surfrider Malibu, 23033 Pacific Coast Highway, Malibu
Ventana Big Sur, An Alila Resort, 48123 Highway 1, Big Sur
Waldorf Astoria Beverly Hills, 9850 Wilshire Blvd., Beverly Hills
Top hotels in other cities in the U.S., include:
1 Hotel Brooklyn Bridge in New York City
Ace Hotel, Chicago, Ill.
The Adelphi Hotel, Saratoga Springs, N.Y.
Anvil Hotel, Jackson, Wyo.
Austin Motel, Austin, Texas
The DeBruce, Livingston Manor, N.Y.
Detroit Foundation Hotel, Detroit, Mich.
Four Seasons Hotel at The Surf Club, Surfside, Fla.
The magazine makes choices based on stays by Conde Nast Traveler staff "as well as a network of trusted contributors across six continents that we call on year-round," a news release said.
Info: Conde Nast Traveler Hot List 2018
ALSO
Waterford is known for its crystal, but what may not have been clear until now is its brilliant history
Walk in detective Harry Bosch's footsteps on DTLA pop-up walking tour
Hurricane Irma pounded the Florida Keys, but now they're back — some say better than ever
---