Out with the new, in with the old on a California antiquing trip on U.S. 101
You don't have to cross state lines to take a memorable road trip. Case in point: This 530-mile route north on U.S. 101, which takes antiques fans from Los Angeles to Sebastopol in Northern California. On the way are coastal views, majestic mountains and, with luck, antique treasures. Make the trip any time of year, but you might want to plan your dates around seasonal markets and street fairs happening this summer. Smaller shops tend to have less regular hours, so call before you go.
Day 1: Los Angeles to Ventura and Monterey
L.A. to Ventura: Admire palm trees and canyons as you drive northwest on U.S. 101. You'll want to hit the road in the morning if you have early-bird tickets ($10 instead of $5) to the Ventura Flea Market on June 2. The seaside event happens six times a year and hosts 500 vendors of antiques and other goods.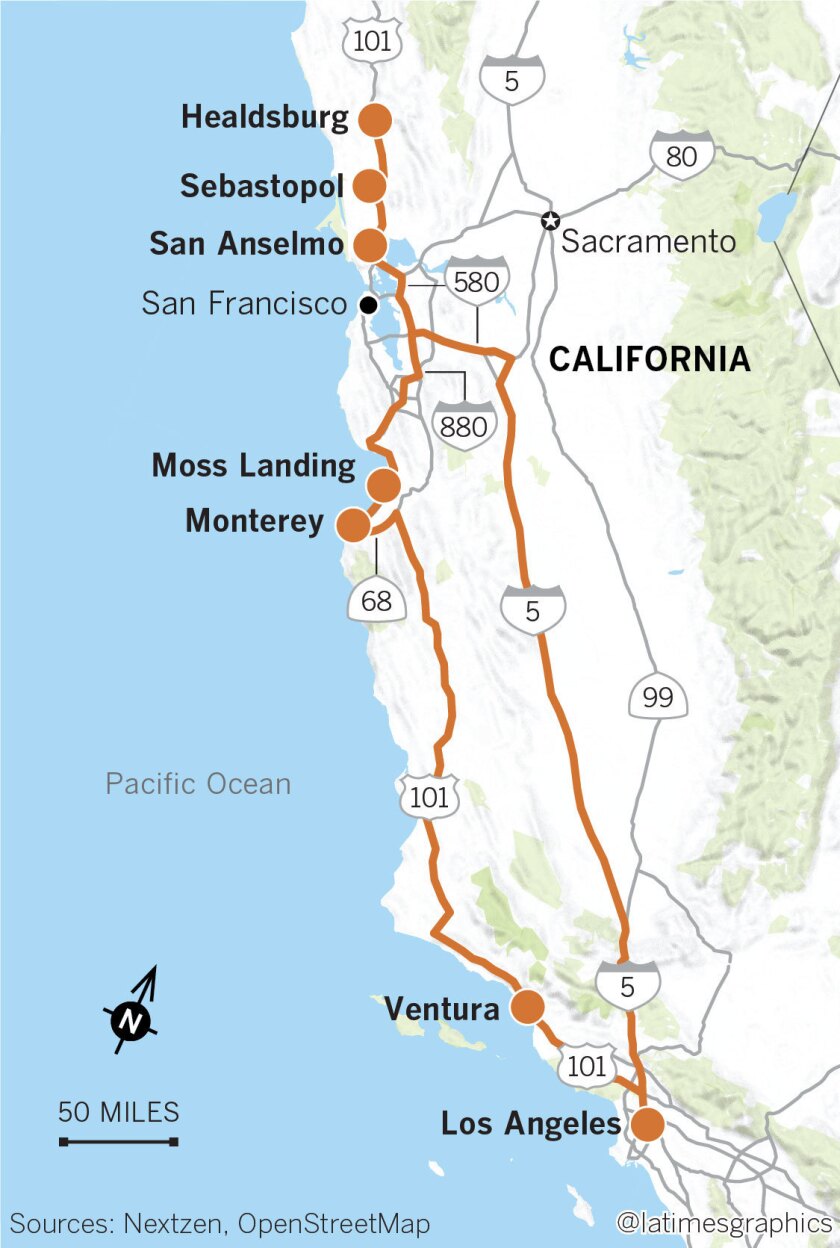 If you can't make it to the market, an antiques crawl in Ventura is still worthwhile. Find an old-school gas stove at the Antique & Vintage Stove Shop, furniture and decor from around the world at 1585 Thompson Antiques and all kinds of rarities at Times Remembered Antiques & Collectibles. Browse AntiqueMalls.com for more stops in Ventura and beyond.
Ventura to Monterey: The views are blue as you pass through coastal Santa Barbara and Pismo Beach — and increasingly green and rolling as you near Big Sur — on the four-hour drive to Monterey.
Take your time exploring for fine silver, jewelry and ephemera at more than 100 antiques dealers at the Cannery Row Antique Mall, housed in a 1920s canning company building. A couple of miles southeast is Orientations, stocked with antiques from China, Japan, Korea and southeast Asia on the site of the landmark Marsh Building and gardens.
If you're visiting on June 23, stroll through the monthly Monterey Bay Antiques & Vintage Market (check website for other dates). On July 28, the Moss Landing Antique Street Fair takes place about 20 miles up the coast.
Day 2: Monterey to San Anselmo, Sebastopol and Healdsburg
San Anselmo, Sebastopol and Healdsburg are three antique-stocked stops near U.S. 101. As you drive north, notice larger trees and greener mountain ranges interspersed with big-city views of San Jose and San Francisco.
San Anselmo: Acquaint yourself with San Anselmo on a one-mile antique walk down Sir Francis Drake Boulevard. If you like estate jewelry or anything silver, make Dove Place Antiques, Consignment & Estate Liquidation your first stop. Next door is Sanford's Antiques, which specializes in wood furniture and stained-glass windows, and Antiques Legacy, a destination for costume jewelry, cocktail glasses and cutlery. Finish at Laurel House Antiques for decorative items.
Sebastopol: You'll find many places to shop as you exit U.S. 101 and take Gravenstein Highway toward Sebastopol, but you're likely to find loot among Antique Society's 125 dealers. Cross the street for a whimsical collection of furniture and garden art at Food for Thought, which donates proceeds to its charity for Sonoma County residents with HIV and other illnesses. If it's a weekend, search for gifts at Midgley's Country Flea Market.
Healdsburg: Twenty miles north is Healdsburg, a popular antiquing destination for locals and travelers. Find everything from sparkly chandeliers and brooches to functional cameras and tea sets at Antique Harvest downtown — and a kitchen's worth of unique glassware at Modern Antiquarium. More shops can be found on the Sonoma County Tourism website.
Return: Healdsburg to L.A.
From Healdsburg, take U.S. 101, Interstate 580 and Interstate 5 toward Los Angeles. The trip clocks in at 444 miles and about seven hours.
---
Get inspired to get away.
Explore California, the West and beyond with the weekly Escapes newsletter.
You may occasionally receive promotional content from the Los Angeles Times.