Still crazy for wildflowers? Colorado road trip leads to the summer bloom
You love flowers. Though Southern California's super bloom is past its prime, you can still soak up the sights and smells of wildflowers in cooler regions. Head out on this three-day road trip from L.A. to Crested Butte, Colo., to bask in the beauty of the bloom.
Colorado wildflowers
If there's a single best place to see wildflowers in Colorado, it just might be the Crested Butte Wildflower Festival, a 10-day celebration of the blue lupine, yellow mule's ear and multicolored Rocky Mountain columbine that speckle the town in the summer.
From July 5 to 14, you can explore the Wildflower Capital of Colorado through guided walks, journaling sessions, photography lessons and even outdoor painting classes. The 2019 program guide includes events for all ages and abilities from free to $275; most are in the $50 to $80 range.
You could fly there, but a 925-mile road trip from Los Angeles to Crested Butte takes about 2½ days and is a chance to cross a few places off your bucket list. The route along Interstates 15 and 70 and U.S. 50 passes through the desert Southwest landscape of Las Vegas, the paleontological paradise of St. George, Utah, and Colorado's Grand Junction and Montrose.
Info: Crested Butte Wildflower Festival
Here's what to do, where to eat and where to stay along the way:
Day 1: Los Angeles to Las Vegas and St. George, Utah
Depending on how much time you want to spend in Vegas, you should begin the five-hour drive — with views of Joshua trees, ghost towns and lots of desert southwest from I-15 — in the wee hours to arrive before noon.
Do: We don't need to tell you what to do in Vegas, but ideas beyond gambling include museums (the Neon Museum, the Mob Museum and Titanic: The Artifact Exhibition at the Luxor hotel offer lessons for history fans) or lunch at one of the city's newer restaurants, such as Roy Choi's Best Friend or new-style Hong Kong restaurant Mott 32.
If you're traveling with kids, Dig This, a heavy-equipment playground where participants 3 and older can push tires with a bulldozer or dig trenches with an excavator, is an atypical way to blow off steam. Fifteen-minute kids digs are $20; longer digs for those 8 and older start at $169. Reservations recommended.
This desert road trip brought me close to rogue writer of the West Edward Abbey. Maybe too close »
Cheaper but still adventurous are the rides at the Stratosphere Observation Deck (from $25) and the Circus Circus Hotel and Resort Adventure dome ($19.95 for kids, $33.95 for adults). Gaming family? The nostalgic Pinball Hall of Fame has 225 pinball games from the '40s to the 2000s.
Las Vegas to St. George: Around 2 p.m., get back on the road toward Utah and a changing landscape. Past Littlefield, Ariz., you'll drive through a narrow opening in towering rock as I-15 winds through the Virgin River Gorge. Closer to St. George, the blue-gray Pine Valley Mountains loom behind the red-orange rock formations of Red Cliffs National Conservation Area and Zion National Park.
Do: Arrive in St. George in time to check out the Dinosaur Discovery Site at Johnson Farm, where dinosaurs and other prehistoric animals left tracks millions of years ago. General admission is $8. Find more fossils, plus 5,000 water-efficient plants and native fish, for free at the Red Hills Desert Garden, about four miles northwest.
Eat: Come dinnertime, the tourism office recommends Angelica's for Mexican, Cappeletti's for Italian and Anasazi Steakhouse, where you can cook your own meat and seafood on hot volcanic rock.
Day 2: St. George to Grand Junction, Colo.
It will take as long as six hours to Grand Junction, so hit I-15 in the early morning to enjoy a full day of outdoor activities. Views alternate between red rock, lush green national forests, cows and farmland as you drive northeast on I-15 and exit onto I-70 past Sulphurdale, Utah.
You'll want to stop for pictures during the last third of the drive, when I-70 curves through the craggy, deep-red sandstone of the San Rafael Swell.
Do: You'll find plenty of ways to stretch your legs in Grand Junction. Powderhorn Mountain Resort, about 40 miles east, overlooks the red-orange Plateau Valley desert, blue Mesa Lakes and lots of green aspens from its perch on the northern edge of the Green Mesa. The resort is known for mountain biking in the summer (all-day bike rentals cost $79 for adults and $29 for youths), but you can also admire the scenery along free hiking trails and on $14 chair rides.
Alternatively, take advantage of the nearby Colorado River by renting a kayak or stand-up paddleboard from Rapid Creek Cycles. Twenty-four-hour rentals start at $40, and staff can give you route suggestions when you arrive.
If time permits, end the day at the Colorado National Monument. Park staff suggest watching the sunset at Historic Trails View overlook, about 2½ miles from the west entrance, but if you're willing to wake up early the next day, you might want to catch sunrise instead. The canyons face east, so just about any location in the park provides direct views of the rising sun. Maps are available online from the park service.
Eat: Pablo's Pizza has about 30 different pies, Cafe Sol makes healthful salads and sandwiches, and Spoons Bistro & Bakery serves burgers, pasta dishes and dishes in between.
Day 3: Grand Junction to Montrose, Colo., and Crested Butte
Grand Junction to Montrose: Taking U.S. 50 60 miles southeast toward Montrose is the fastest route, but if you're willing to drive an extra 45 miles, Powderhorn staff suggests driving along the Grand Mesa Scenic Byway. The road heads south through the resort from Mesa, Colo., and allows you to take in the mountain's lakes and greenery before you return to a desert landscape.
Do: Near Montrose, spend at least half a day at the Black Canyon of the Gunnison National Park exploring a 2,000-foot-deep gorge formed by the Gunnison River. Hiking trails offer views of pinyon-juniper woodland, nearby mountain ranges, the river and the canyon's steep walls, including the famous Painted Wall, said to be the tallest cliff in Colorado. Aside from views, the park is known for first-rate trout fishing (A required one-day Colorado Parks and Wildlife fishing license costs $16.75) and wildlife watching; look out for mule deer, peregrine falcons and swallows this time of year.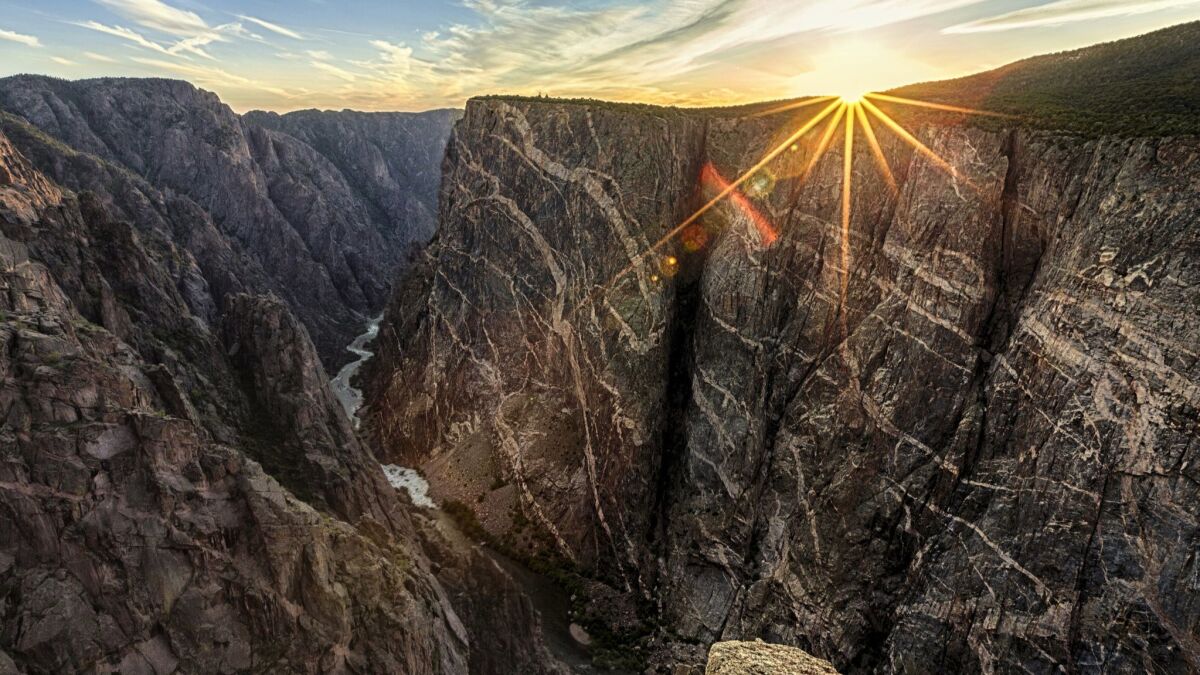 Montrose to Crested Butte: Ready for wildflowers? The views along the final two-hour stretch to Crested Butte are some of the finest of the trip. East of Montrose, you'll see blue for 26 miles as U.S. 50 winds along the Blue Mesa Reservoir. Views get greener and more mountainous as you climb Colorado 135 north toward Crested Butte. Expect 12,000-foot peaks, green high-alpine terrain and, finally, flowers.
Return: Crested Butte to Flagstaff, Ariz., and L.A.
You'll save a little more than an hour (and 30 miles) driving back the way you came, but for a change of scenery, go the southern route by way of Interstate 40, which passes through Flagstaff, Ariz., about halfway to L.A.
Get our L.A. Goes Out newsletter, with the week's best events, to help you explore and experience our city.
You may occasionally receive promotional content from the Los Angeles Times.