Perspective: If you're thinking like Trump, these 10 parks and monuments might be totally overrated
President Trump has decided he'd like to go somewhere no president has gone before with our national park system.
Is it a First Family camping trip worthy of its own reality TV show? (Melania cooking over a portable stove. Donald Jr. pitching a tent.) No. The president is thinking about rescinding protections for national monuments set aside by previous presidents.
Trump likes talking about doing things no one has ever done before. And let the record show that no president has ever suggested this.
I'm here to say this idea deserves a closer look.
Trump has asked Secretary of the Interior Ryan Zinke to review the status of monuments of at least 100,000 acres set aside by Presidents Clinton, George W. Bush and Obama since 1996. Prominent on the list is Utah's 1.3-million acre Bears Ears National Monument. In 2016, Obama set it aside despite opposition from many of the state's top-ranking Republicans.
Here are the national monuments being reconsidered under Trump >>
The law that made Obama's move possible is the 1906 Antiquities Act, enacted when President Theodore Roosevelt, a Republican, was nervous about possibly losing archaeological sites in the West. Later it was applied more broadly by presidents from both parties. They liked the law because it allows them to set aside monuments without votes by Congress, even if some regional leaders hated the idea.
Over time, this got to be a popular way of doing business. The National Parks Conservation Assn. says that 16 presidents have used the Antiquities Act to designate 157 national monuments. Many of those monuments have gone on to become national parks. Sure they've boosted tourism, but what have they contributed in the way of mineral extraction or manufacturing? Nothing.
Many Americans will want to debate whether it's wise to lift safeguards everybody thought were permanent. Some will argue that we should err on the side of preservation when it comes to matters of national heritage. I say, if we have doubts about the Antiquities Act, why only look back three decades? Why not go all the way back to the beginning and reconsider everything since 1906? Why only look at the big public land designations? We should also think smaller.
In fact, if we can work together to unprotect just a few of these places, future generations might not waste the hours, days and weeks I've squandered at these sites over the years. All that hiking, watching animals, snapping pictures and thinking about history! Where has it gotten us?
A look into the National Parks Service, as it turned 100 »
Here, from my own travels in the last few years, are 10 pieces of Antiquities Act history to think about.
César E. Chávez National Monument
Up on the oak-strewn foothills of California's Tehachapi Mountains, the César E. Chávez National Monument (set aside by Obama in 2012) commemorates the farm worker-labor leader's life and includes historical displays along with his gravesite. Maybe the place represents an important era in American labor relations and the changing demographics of the West. Or maybe we should dismantle those buildings and use the bricks for the wall.
El Morro National Monument, N.M.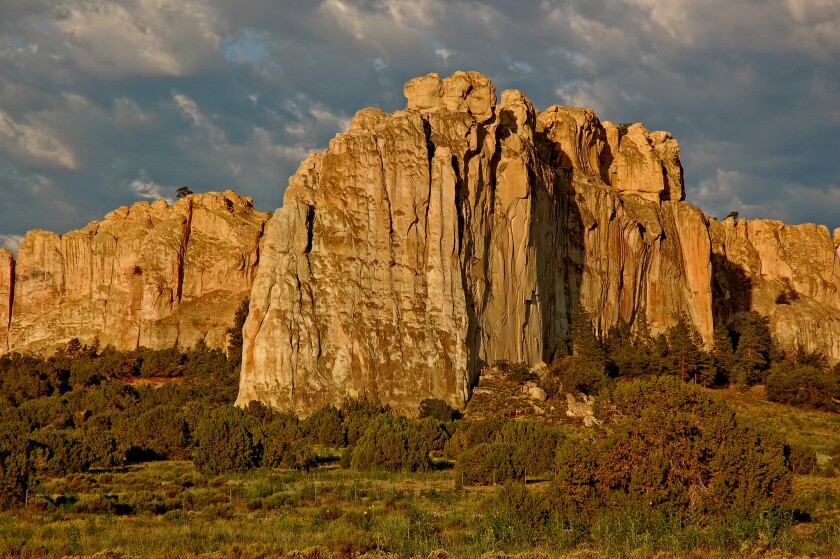 El Morro National Monument (Theodore Roosevelt, 1906) is a lonely stone tower on the windswept plains of western New Mexico. Up close, you see that it bears inscriptions going back centuries, from prehistoric petroglyphs to scribbles from Spanish explorers to signatures from American soldiers. You could think of it as the oldest guest register in North America. Or maybe it's just old graffiti.
Cabrillo National Monument, San Diego
Cabrillo National Monument (set aside by Woodrow Wilson in 1913) covers the wave-lashed tip of Point Loma, the finger of land that reaches out to protect San Diego Bay. The hilltop offers views south to Mexico. The rangers will tell you all about 1542, when explorer Juan Cabrillo landed here on behalf of Spain, becoming the first European to set foot on what is now the West Coast of the U.S. But think of this real estate at market rates. A five-star resort on top of these cliffs. Maybe a golf course …
Muir Woods National Monument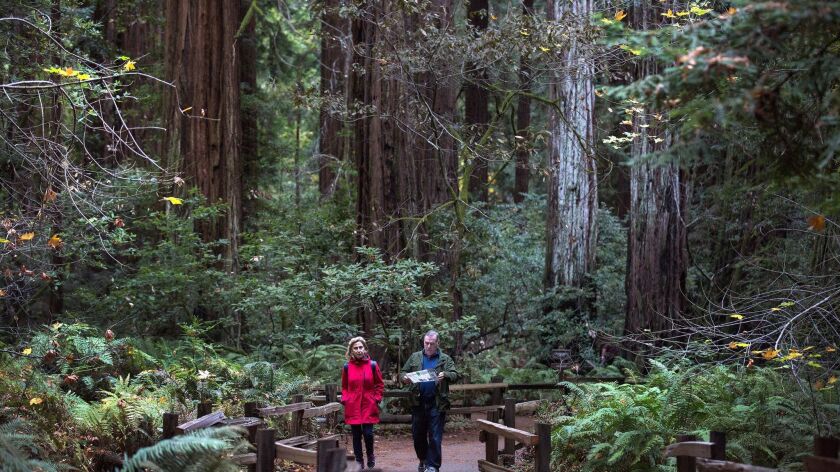 The redwoods of Muir Woods National Monument (Theodore Roosevelt, 1908) rise like a natural cathedral, just 16 miles north of San Francisco in Marin County. Perhaps these hills are a haven for some of the tallest trees on Earth. But think of the second homes that lumber could build.
Death Valley National Park
The forbidding expanses of Death Valley National Park (set aside as a monument by Herbert Hoover in 1933, promoted to park status in 1994) include some of the continent's lowest-lying desert and highest temperatures. But in those mineral-rich slopes, surely there's something we could profitably extract.
Joshua Tree National Park
Joshua Tree National Park (set aside as a monument by Franklin Delano Roosevelt in 1936, promoted to park status in 1994) offers many more miles of desert scenery, along with its strangely shaggy namesake flora. But have all the possibilities of those rocks been considered? What kind of shape is the granite quarry industry in?
Channel Islands National Park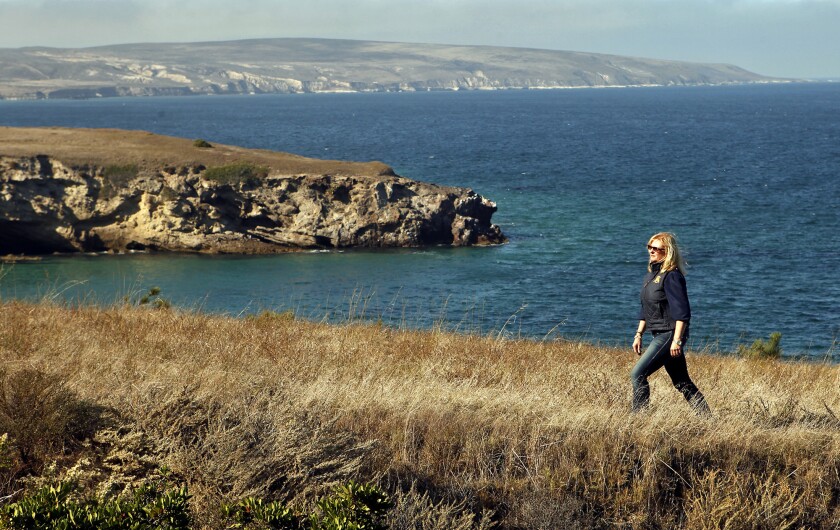 Channel Islands National Park (set aside as a monument by FDR in 1938, promoted to park status in 1994) harbors fetching foxes and shows us what California's coast looked like before any bulldozers came. But look what resorts and restaurants have done for Catalina.
Katmai National Park and Preserve
Alaska's Katmai National Park and Preserve (set aside as a monument by Woodrow Wilson in 1918, promoted to park status in 1980) is an essentially roadless wonderland of rivers, lakes, bears and salmon. But it gets fewer visitors in a year than Dodger Stadium gets in a single night.
Statue of Liberty National Monument, N.Y.
Statue of Liberty National Monument (set aside by Calvin Coolidge in 1924) is as iconic as America gets. But is the National Park Service the right agency there? The Department of Homeland Security might have some great ideas for her. Ellis Island too.
Grand Canyon National Park, Arizona
Grand Canyon National Park (set aside by Theodore Roosevelt in 1908, promoted to park status in 1919). All right, maybe we should leave the Grand Canyon be. But have you noticed that every time somebody comes up with a great idea for a motorcycle jump or a see-through viewing platform, the project ends up outside park boundaries? Where's the respect for entrepreneurial spirit?
Come on, America. If you're on board with the president's view of the Antiquities Act, there's a lot of work to be undone. And if you're not on board, now is a good time to say so.
christopher.reynolds@latimes.com
Follow Reynolds on Twitter: @MrCSReynolds
ALSO
For Arbor Day, 6 trees worth hugging and where to find them
Trump signs order to reconsider national monuments created by Obama, George W. Bush and Clinton
National parks saw a record-setting number of visitors last year. Were they too much of a good thing?
---
Get inspired to get away.
Explore California, the West and beyond with the weekly Escapes newsletter.
You may occasionally receive promotional content from the Los Angeles Times.