Uruguay: Coastal reveries, away from it all
Portions of Coastal Uruguay seem to slip free of the outside world. That's especially true of Barra de Valizas, a remote village of 300 that lacks Wi-Fi or an ATM. Instead, its whispering beach offers such meditative sights as solitary fishermen and a tumbledown beach shack.
(Sasha Vasilyuk)
Punta del Este is more of a resort town. Its main beach, Playa Brava, is too rough for swimming, but a sculpture of a gigantic hand, emerging from the sand, offers workout possibilities, not to mention photo opportunities.
(Sasha Vasilyuk)
A sunset stroll around Punta del Este's narrow peninsula takes in a yacht marina, impressive seaside mansions and a rare view of the Rio de la Plata mixing with the Atlantic Ocean.
(Sasha Vasilyuk)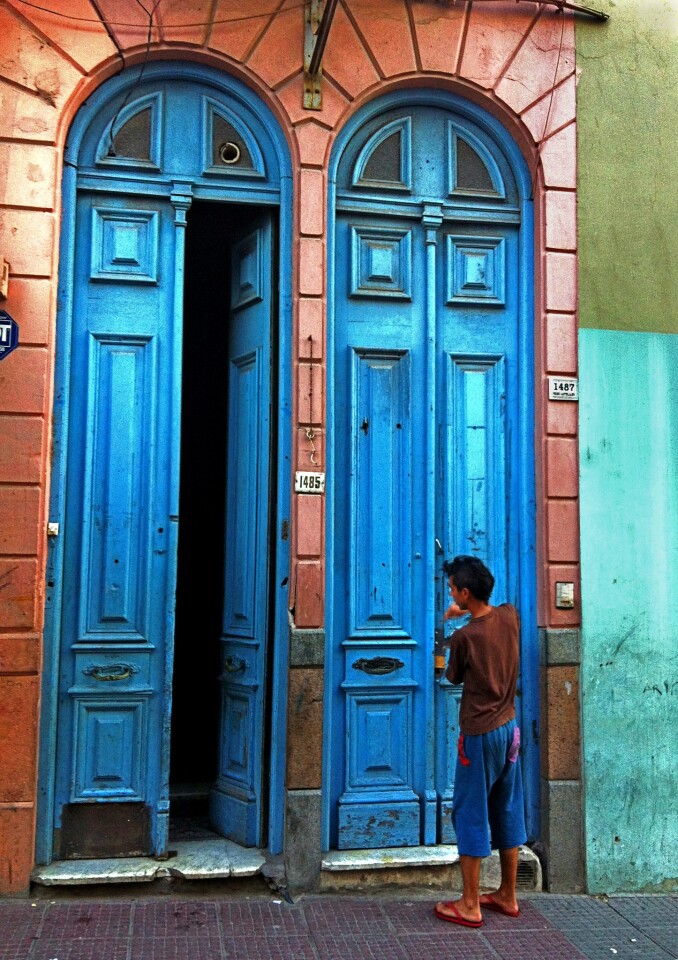 Uruguay's capital, Montevideo, is a great walking city. Along the 300-year-old cobblestone streets of the Old City, visitors soak in the colonial vibe among palm trees and colorful buildings with carved-wood doors and railed balconies.
(Sasha Vasilyuk)
Stalls selling fresh produce are ubiquitous on Montevideo's streets.
(Sasha Vasilyuk)
Colonia del Sacramento is a popular day trip from Montevideo or from Buenos Aires, across the Rio de la Plata. It's a UNESCO World Heritage Site, its picturesque streets lined with galleries, gelato parlors and vintage clothing shops.
(Sasha Vasilyuk)
Back in the late 1600s, Colonia del Sacramento was an important Portuguese port for traders and smugglers that competed with Buenos Aires across the river. Now it's a UNESCO World Heritage Site full of flowers and romantic restaurants.
(Sasha Vasilyuk)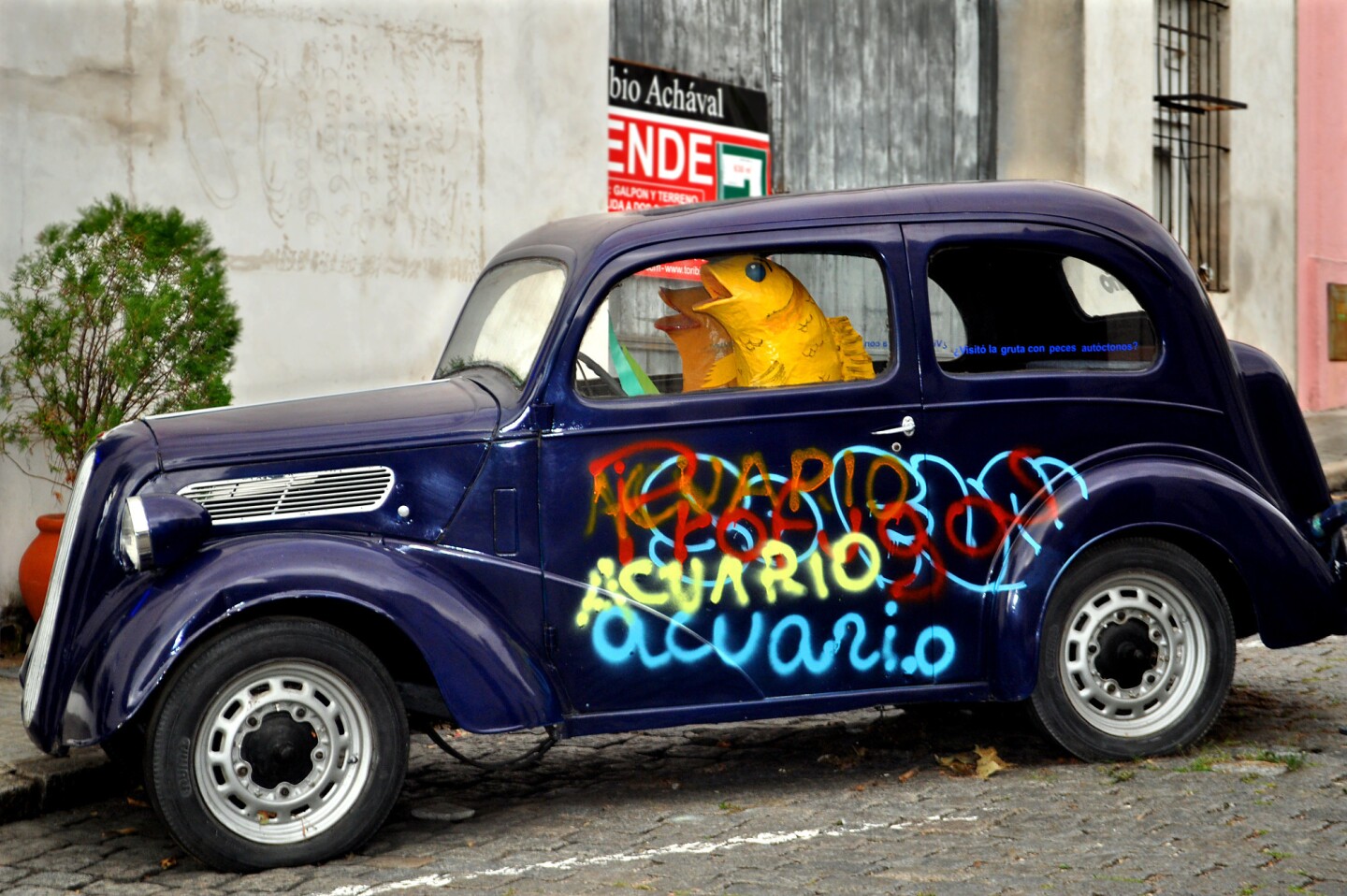 A unique advertisement for a local aquarium.
(Sasha Vasilyuk)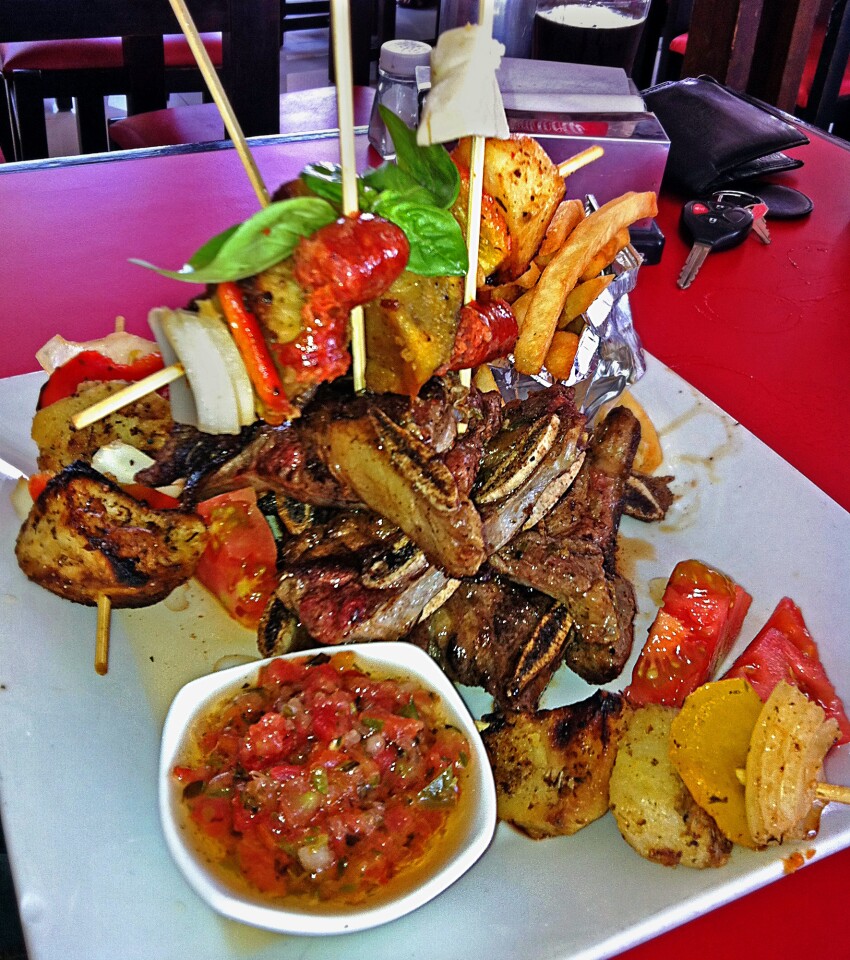 Just like its neighbor Argentina, Uruguay is famed for its succulent parrilla -- a choice of juicy grilled steak cuts, sausages, pork chops and vegetables. Can't decide? Follow the locals and order the whole thing.
(Sasha Vasilyuk)
COLONIA DEL SACRAMENTO, Uruguay — Straddling the crest of a sand dune, my back to the Atlantic Ocean, I watched a Uruguayan boy net fish in a river lagoon. He waded through the chest-high water, dragging behind him the reflection of the setting sun.
The world was still drying from an earlier rain, but a young couple managed to sled down a damp dune onto the empty beach. Perched on the highest point between two fishing villages in this corner of eastern Uruguay, I felt as though I had stepped off the map and disappeared. It was exactly what I had hoped for when I booked my trip here last spring.
I didn't know much about this nation of 3.3 million. Guidebooks devoted solely to Uruguay are scarce; information is found mostly in a chapter crammed into tomes on its neighbor Argentina and often feels like an afterthought. But I knew there must be a reason Argentines, Brazilians and Paraguayans have a soft spot for this nation of cowboys, colonial towns and secluded beaches.
Not only is it just an hour's ferry ride from the bustle of Buenos Aires, but Uruguay also is a great way to ease into South America. It was a nice surprise that airfare to Montevideo, its capital, often costs less than a ticket to the Argentine capital.
Montevideo is a great walking city: The tree-lined streets were abuzz with fruit markets, leather goods stores and maté cup salesmen. Maté, a bitter herbal drink meant to be shared, is even more popular here than in Argentina. On my way to the Old Town, I passed the Plaza Independencia, where a dozen couples sipped maté from hollowed gourds and bombilla, a metal strainer that doubles as a shared straw.
Across the plaza, I toured the country's oldest performance space, the 157-year-old Solis Theater, which has renowned acoustics, and strolled around the colonial Old Town. The cobblestone streets housed bars filled with wrinkled men and buildings with peeling paint and carved wooden doors. The bygone feel of this 300-year-old neighborhood is a photographer's playground.
For lunch, I followed the aroma of grilled meat to the Port Market, where rows of stalls offered sizzling steaks, sausages and ribs straight from the grill. Just like their neighboring Argentines across the muddy Río de la Plata, Uruguayans love their meat. I tried the national dish — chivito, a monster of a sandwich packed with sliced filet mignon, mozzarella, olives, tomatoes, ham, hard-boiled egg and mayonnaise. I canceled my dinner plans.
Instead, I headed to Barba Roja, a bar in the hip Buceo neighborhood, then followed the crowds to the nearby nightclub Asia de Cuba, where dancing doesn't start until 2 a.m. and doesn't end until sunrise.
I, nonetheless, got an early start the next day with a jog down the Rambla, a road that stretches along Montevideo's beach coves, then boarded the bus for the two-hour ride to Punta del Este, a resort town with popular beaches and wild night life.
It was Monday, so the town's main beach, Playa Brava, was not as crowded. Punta del Este is on a narrow peninsula that separates the Río de la Plata from the Atlantic Ocean, so it was no surprise that the ocean-facing Playa Brava was too rough for swimming. More unexpected, perhaps, is the sculpture of a gigantic hand emerging from the sand, made by a Chilean artist in 1982.
After some beach lounging, I strolled past the marina to the town's narrow residential tip filled with seaside mansions, checked out an open-air art show and finished the night with a dulce de leche gelato. Because many Uruguayans have Italian origins, gelato, pizza and pasta in this country are as ubiquitous as steak and often just as tasty.
The next day, a three-hour bus ride took me up the coast to Punta del Diablo, a fishing village whose name, Devil Point, must have discouraged crowds until word got out about its stunning shoreline. Though the village has attracted a sprinkling of restaurants and artisans selling their wares, the heart of Punta del Diablo remains a three-block stretch along a dirt road.
During the day, I lounged on the beach watching a mix of travelers and friendly locals play soccer and surf. At night, I sat in the town center sharing fresh seafood with some new friends. Across the dirt road, a small jazz band played to a full bar. Later, we wandered back to the beach, where groups of Uruguayan travelers strummed guitars and nursed beers accompanied by the crackle of bonfires.
From Punta del Diablo, I headed back down the coast, arriving at an even more remote village of 300 called Barra de Valizas. The high season was over, and the dirt roads were empty, save a few stray dogs and a shopkeeper in purple parachute pants.
I walked through the tiny town onto a wide, empty beach where the only things disturbing it were a fisherman and an abandoned wooden house on stilts. The old house was so askew that it had to be tied to a nearby post. Later someone told me it was still furnished.
Farther down the beach I found a sign, placed mid-sand, that said, "End of the area with lifeguards." This didn't seem like a beach that had ever afforded such luxury as a lifeguard.
I walked toward a sand dune and sat on its crest and watched the world — the teenage boy wading through the water, the setting sun, the bumpy trails left by a couple who sledded down the dunes.
Valizas doesn't have Wi-Fi or an ATM. It has grown, but it's still a place where you forget that there is another world beyond the sand and hippies in purple pants.
My last stop in Uruguay was Colonia del Sacramento, which occupies a strategic location on the Río de la Plata. The Portuguese founded it in 1680, and today it is a UNESCO World Heritage Site. It's a popular day trip that can feel a bit too picturesque.
Even so, who doesn't want to spend a day peeking into art galleries, eating mascarpone blackberry gelato or enjoying a candlelight steak dinner on an open-air terrace as the lights of Buenos Aires twinkle in the distance?
For the last day in this small oasis of peace called Uruguay, I couldn't have asked for more.
---
Get inspired to get away.
Explore California, the West and beyond with the weekly Escapes newsletter.
You may occasionally receive promotional content from the Los Angeles Times.