Newsletter: Escapes Las Vegas: Hotel comings and goings, plus some major show news
Vegas is always happening, but somehow, the waning days of September seem to be hot, hot, hot. We have news of one hotel closure that comes on the heels of a hotel rebrand, a magical moment for one young man, a chance to see the almost-Stanley-Cup-winning Golden Knights and an opportunity to be a spectator at an important matchup in an increasingly popular new sport. (Hint: It's kind of a big dill.)
Plus, a new museum comes to Vegas that we are sure will get high marks, and a move by yet another group of hotels to become better citizens of Earth.
My name is Catharine Hamm, and I'm the travel editor for the Los Angeles Times. This month's edition of our Escapes Las Vegas newsletter (to which you can subscribe for free) will bring you all you need to keep current in a city that's soon to be without Céline Dion.
Will it ever be the same? No. But that's what keeps it fresh and new, a siren song, as it were, for 42 million visitors a year.
When luck runs out
The Lucky Dragon, which was designed and created with Asian customers in mind, opened in 2016. Less than two years later, it is close to shutting its doors. Read more about the timetable for the Lucky Dragon's departure.
Meanwhile, the Mandarin Oriental has morphed into the Waldorf Astoria in the same area as the Aria resort. Find out what's staying and what's going.
One more day
Tickets for Céline Dion's last concerts next year go on sale Friday, as the chanteuse wraps up 16 years of singing at the Colosseum. Her last show will be June 8.
Unreal!
As we say goodbye to Dion, we say hello to the dazzling Shin Lim, whose magic wowed viewers of "America's Got Talent," the competition show that pits all sorts of entertainers against one another for a chance at $1 million and four other performances on the Strip. Info on tickets for the Nov. 2, 3 and 4 performances that also include 13 finalists from the show.
Play ball!
The competition will be winding up Sept. 29 at Vegas' Plaza Hotel & Casino in a hotly competitive and popular sport. We speak, of course, of the Pickleball Open, whose winners will share a $25,000 purse. It's said to be one of the fastest-growing sports in America. Go figure.
Golden moments
In other sporting news, doesn't it seem as though we just watched the Stanley Cup Finals? And yet here we are, excited about a chance to see the Golden Knights hockey team in action again. The good news: Practices in Summerlin, Nev., just 11 miles from the Strip, are free but they're popular, so go early. A couple of exhibition games will be played this weekend, so you can chill till the start of the season on Oct. 4.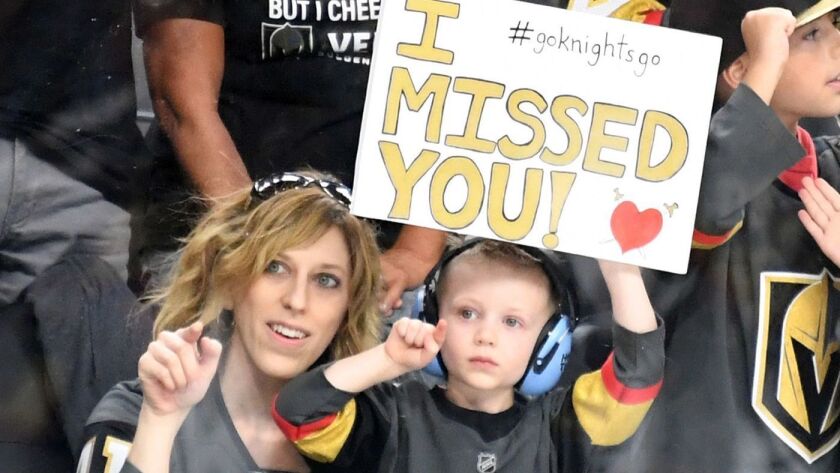 Some cultivated culture
Another museum, another addition that may grow on you. Welcome to Cannabition, which gives a look at the history and sociological implications of marijuana, which is legal for medical and recreational uses in Nevada. Just don't attempt to sample the product while you're there; that is against a law that the museum's founder hopes will change.
The last straw
Plastics may have been the advice in the move "The Graduate," but they have become the enemy of the environment when it comes to their use in drinks. Several Vegas hotel properties are beginning to put an end to their use in drinks, including Caesars resorts (think Paris Las Vegas, Bally's, Harrah's and, of course, Caesars Palace). But some drinks just won't stand up to a paper straw so read about some of the options to ensure you can drink deeply of the contents of your cup.
End paper
Have comments, questions, concerns or souvenir hockey pucks from the Golden Knights? You can email us at travel@latimes.com about the first three but you'll have to drop the last one in the mail. Until next month, we wish you all the fun you can handle and all the cash you need to have it.
---
Get inspired to get away.
Explore California, the West and beyond with the weekly Escapes newsletter.
You may occasionally receive promotional content from the Los Angeles Times.