As Caesars Palace celebrates 50 years in Vegas, it looks to its past, present and future
Reporting from Las Vegas —
Caesars Palace may be celebrating its 50th anniversary this summer, but the resort isn't resting on its laurels.
Caesars welcomed its first guests on Aug. 5, 1966. The 680 guest rooms in the Roman Tower offered such touches as floor-to-ceiling windows and oh-so-stylish shag carpeting, and some rooms had round beds and whirlpools.
To mark the golden anniversary, the building has been remodeled and rechristened the Julius Tower. The shag carpeting and round beds are long gone, but the upholstered headboards with mirror insets echo the decadence of the past.
Suites on the 15th-floor Signature Level, which debuted in late July, feature custom stone entryways and oversize bathrooms. The 14 suites, from 550 to 1,140 square feet, take up the entire floor. Rates start at more than $900 a night.
Caesars is "unquestionably one of the most recognized brand names in the world," said Gary Selesner, the president of Caesars Palace. He credits the founders for an "audacious" vision that created what's considered the first themed destination in Vegas.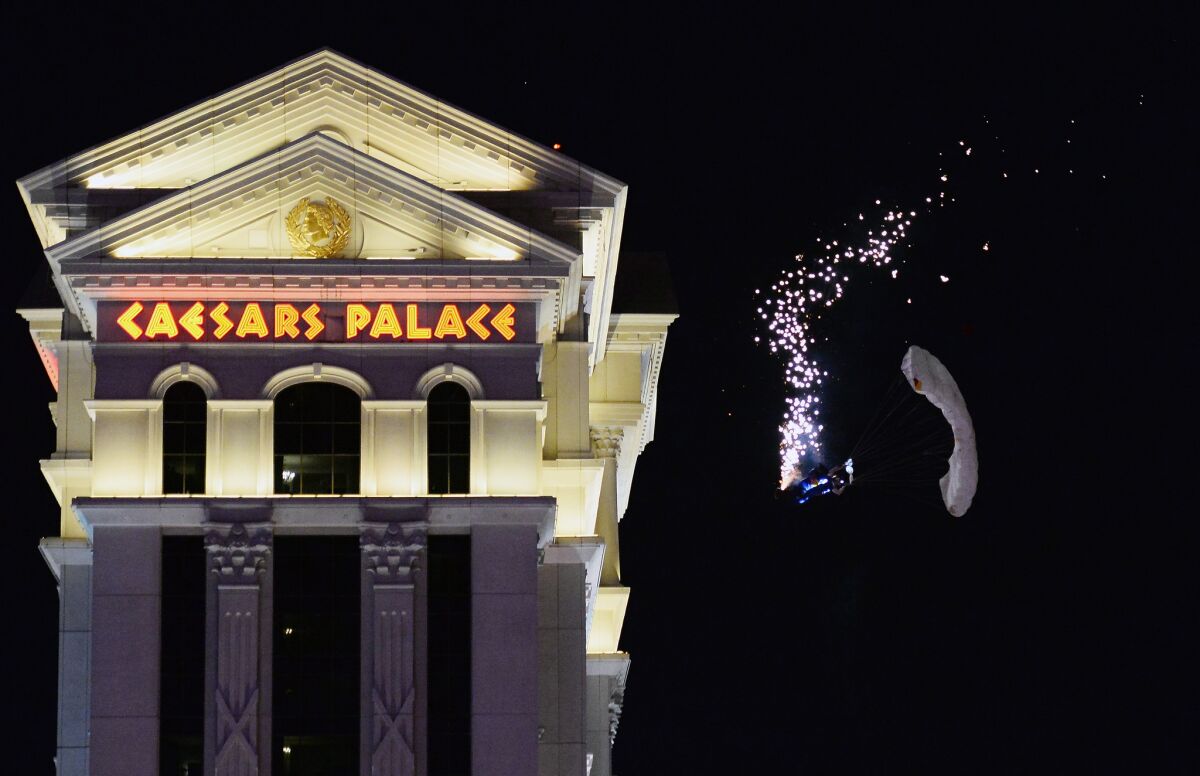 Michael Green, a professor of history at University of Nevada, Las Vegas, described it as a shining example of Sin City's reputation as a "monument to excess."
"Las Vegas, historically, has encouraged the idea that bacchanalia is what you come here for," Green said. "You come here and you eat more than you should. You drink more than you should. And you gamble more than you should."
Caesars has always been about more than just, well, more.
Dancing fountains greeted guests more than 30 years before Bellagio created bigger ones. Inside, nude statues of ancient Romans, women and men, shocked some.
"I, Caesar, invite you to nosh," read the original menu from the Noshorium coffee shop. In those days, a hamburger with cheddar cheese and fries cost $3.75. Today, the Old School Burger (Angus beef topped with aged white cheddar) served with a side of fries at Café Americano costs $22.
Entertainment has always been important at Caesars, and headliners have graced the showrooms from the start. Andy Williams sang on opening night, followed by a long list of performers including Tony Bennett, Cher, Judy Garland, Liberace and Bette Midler. (Bennett is back for an invitation-only gala this weekend.)
Legendary sports figures were also part of the mix. Caesars once was synonymous with boxing, and such greats as Sugar Ray Leonard and Oscar de la Hoya competed for huge purses. In 1980, 23,000 people watched Larry Holmes brutalize Muhammad Ali in a fight staged outdoors in a Caesars parking lot.
Boxing inspired restaurateur Gordon Ramsay to visit Vegas. His memories were made in the wee hours in Stratford-upon-Avon, Shakespeare's English birthplace.
"I grew up watching Muhammad Ali on a black-and-white television in my parents' kitchen at the age of 6, live at 4 o'clock in the morning," he said at his namesake pub and grill at Caesars.
The celebrity chef is still in love with Vegas. Besides the pub, he has a steakhouse at Paris Las Vegas and a burger bar at Planet Hollywood. His fish-and-chips shop is to open later this year at the Linq Promenade.
In 2017, he plans to launch a fifth outpost along the Strip.
"We have a really exciting restaurant planned," he said. "But we can't 'go there' yet because I'll get my ... kicked in," said Ramsay, whose TV persona is best described as "boorish."
The three-star Michelin chef will preside over an anniversary pool party at the Garden of the Gods Oasis on Friday evening. Registered hotel guests are invited. Fireworks viewable from various vantage points along the Strip will illuminate the resort.
Ramsay is among several well-known chefs who have brought their culinary skills to the palace, including Bobby Flay, Guy Savoy and Wolfgang Puck, who opened Spago, a satellite of his Beverly Hills restaurant, 24 years ago at the Forum Shops at Caesars Palace.
With its dozens of boutique shops amid moving statuary and beneath an ever-changing sky ceiling, the Forum Shops' 1992 launch brought a new vibe to the retail experience. Its changing lineup of stores and innovations, including a spiral escalator, makes the center an attraction unto itself.
Just a few steps from the shopping center's entrance, the 4,000-seat Colosseum was purpose-built to showcase singer Celine Dion. Detractors scoffed at the notion before its 2003 opening.
"I thought that was a preposterous idea," said Selesner, then an executive at the Rio, "but it worked magnificently."
Thirteen years later, Dion is expected to perform her 1,000th concert in the Colosseum in October.
Today, Caesars has expanded into a behemoth boasting nearly 4,000 rooms, including 182 rooms in Nobu, a hotel within the hotel. There are 25 restaurants, from grab-and-go to fine dining.
Despite the innovations, Caesars faces a new challenge: Its core audience is aging.
"There will come a time when younger acts appealing to millennials will perform more regularly in the Colosseum," Selesner said.
Keeping pace with changing expectations, Caesars last year opened Omnia, a nightclub that can hold 5,000 people.
"Omnia is, in effect, a millennial concert hall, because what the millennials want to see is the world's biggest DJs," Selesner said.
In the next couple of years, all of the resort's bars will be remodeled, he said, many of them with the younger crowd in mind. He described the new Vista lounge as "an audio-visual powerhouse."
This summer, though, the resort is tripping down memory lane.
The hotel has a self-guided walking tour, complete with old-fashioned print maps that lead to historic sites such as the fountains — over which motorcycle daredevil Evel Knievel made an unsuccessful jump in 1967 — and Cleopatra's Barge, a vintage Vegas lounge.
Parking valet Jim Dunbar has seen it all. Dunbar was starting his new job when Andy Williams headlined on opening night 50 years ago.
Now 78, with two artificial knees, Dunbar is still parking cars. He is the only employee still working at Caesars who was there on opening day.
"I'm not running anymore," he said as he took a break from the summer heat just inside the front doors. "I cover a lot of ground, though. I can go right out there and work with the best of them."
Dunbar, like Caesars, doesn't see age as a hindrance.
MORE
Caesars Palace: 50 years of Roman dominance in Las Vegas
Grab and go at Guy Savoy in Vegas' Caesars Palace? Yes, you can
Yoga in a Ferris wheel? Only in Vegas
travel@latimes.com
Get our L.A. Goes Out newsletter, with the week's best events, to help you explore and experience our city.
You may occasionally receive promotional content from the Los Angeles Times.