15 extremely fun things to do in L.A. under $15
L.A. is so expensive.
As a 20-something who drives with the windows rolled down not to get a whiff of that sticky Los Angeles breeze, but because turning on the AC costs money, I feel the sentiment completely.
With gas prices still rising, it often feels most logical to turn down a night out on the town for one on the couch with leftovers. But with creativity and careful strategizing, it's possible to experience the city in exciting ways while staying on a budget.
Here are 15 things you can do under $15 that are actually fun, not just pass-the-time fun. There is something for everyone on this list: the botanists, the foodies, the yogis, the hipsters, the cinephiles and the book worms.
Search for treasure at the Rose Bowl Flea Market
When you're on a budget, shopping "for fun" can be hard. But the Rose Bowl Flea Market makes it easier.
On the second Sunday of every month, as many as 2,500 vendors set up shop in the Pasadena stadium. You'll find the expected vintage T-shirts and antique home goods, along with eye-popping oddities: Ronald McDonald action figures, life-size Santa Claus statues, bejeweled animal skulls. Food stands offer everything from breakfast burritos to shaved ice.
Admission
begins at $12 per person and there is limited free parking available a walk away. Bring a tote bag (or a wagon) to collect all of your goodies, a hat to shield yourself from the sun and your bargaining skills. Even if you don't find anything that tickles your fancy (which is nearly impossible), you can always spend your time observing the eclectic crowd. The next flea market takes place on July 10.
More Info
Satisfy your cravings at Grand Central Market
Downtown L.A.
Food market
The only downside to visiting Grand Central Market is that there won't be enough room in your stomach to sample everything. But here's my advice:

1. Go with a group and don't let anyone order the same thing. The point is to try as much as possible.
2. Once you get past the sensory overload, make at least two, maybe three trips around the entire market before you decide what you're going to get. Something new will catch your eye each time.
3. Ask each vendor what they recommend from the menu.
4. Remember that there is always room for dessert.

Almost every one of the more than 35 vendors have menu offerings below $15. To name a few, you can get fried chicken and waffles for $12 from Lucky Bird, pork belly tacos for $4.80 a piece at Villa Moreliana, a McConnell's ice cream sundae for $10.25 or a personal margherita pizza for $9.90 from Olio.
More Info
Get lost in the stacks at the Last Bookstore
Even if you're more an e-reader type, you will be able to find something to love about this magical bookstore-emporium-museum.

You could spend an entire afternoon browsing the aisles, exploring the various book vaults, perusing the artisan galleries and trying to wrap your brain around the completely kooky and enchanting decor (e.g. the planters converted out of old record players and the famed archway made entirely of books).

You can pick out a Stephen King paperback for $10 in the horror annex upstairs, $1 vinyl from the store's handpicked selection or a $14 logo mug while waiting in the checkout aisle.
More Info
Frolic around at the Getty Villa
The Getty Villa may be a tourist attraction, but it is worth the hype.

Situated right off of Pacific Coast Highway, the property will transport you to back to ancient Rome with luxurious, breathtaking architecture, classical art and unmatched views of the Pacific.

There's bound to be a handful of other visitors but the property is so large that you'll have plenty of space to yourself (and opportunities to take photos in front of a picturesque garden backdrop).

Advanced reservations are required but you can stay as long as you'd like. Plus, by scanning a QR code on your phone, you can get access to a free guided tour. If you arrive after 3 p.m., parking is $15. Bring a picnic basket and some friends and explore under the afternoon sun.
More Info
Get a glamorous drink at Clifton's Republic
This is not your average bar. It may not even make sense to call it a bar at all. It's more like the setting of a Tim Burton film that just so happens to serve drinks and play music.

Every floor of this four-story oasis has a different theme with corresponding drinks and antiques, from a mythical forest lodge to a 20th century ballroom to a tiki bar. And Clifton's spares nothing when it comes to decor. It is curated within an inch of itself with life-size taxidermied animals, very convincing fake trees, grandfather clocks, grand staircases and crystal chandeliers. It is impossible not to feel glamorous here. There is even a dress code — "innovative, sophisticated and cultured attire is highly encouraged," the website states.

Before 9 p.m., there is no cover and cocktails start at $12.
More Info
Challenge your friends at the Arroyo Seco Mini Golf course
South Pasadena
Golf Course
If it's a sunny day and you want to be outside, but laying on the beach feels a little too sedentary, why not throw on your best visor and play nine holes at the Arroyo Seco Mini Golf Course in Pasadena?

For $12, you can get your go at maneuvering a colorful golf ball under a wooden lighthouse, through a pink castle and around a green barn house. It will surely ignite your competitive edge and maybe even cause you to break a little sweat.
More Info
Find solace at the Los Angeles Central Library
The Los Angeles Central Library is so much more than a place to borrow books. It's an architectural marvel, a cultural landmark, a community center and a rainy day sanctuary. (Not to mention, as
The Times podcast explains
, the city's library system is also "an incubator for making libraries hip," helping to launch poet Amanda Gorman and teen punk group the Linda Lindas into the world.)
You can wander around the building with its 89 miles of shelves and a breathtaking, mural-lined rotunda and find surprises at every corner. Weekly events include rock art and graffiti workshops, meditation sessions and docent-lead tours.
Entrance to the library and all workshops are free. The library doesn't operate its own public parking facilities, but lists reduced-rate parking options
here
.
More Info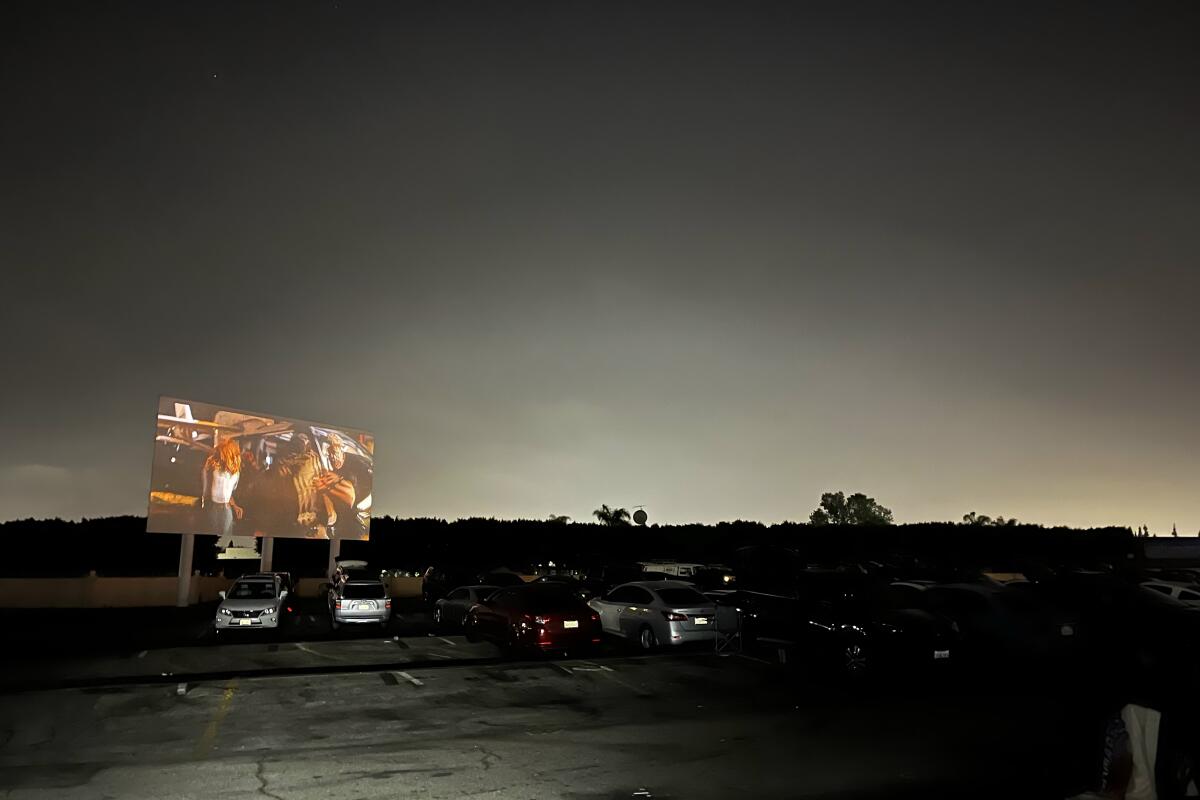 Remember why people go to the movies at the Paramount Drive-In Theater
Paramount
Drive-in theater
For a night out that feels as cozy as a night in, head to the Paramount Drive-In Theater. In the comfort of your own car, you can spread out, munch popcorn and make all the commentary you want without getting looks from other moviegoers.

Tickets are only $11 (purchased on arrival), and the parking lot is huge, so you're bound to secure a good view of the big screen. There is a concession store on site with candy, chips and drinks, but you are free to bring all the snacks you want from home. Recline your seat all the way back, relax and enjoy the show.

The theater is currently showing "Jurassic World: Dominion," "Minions: The Rise of Gru" and "Lightyear." The new Thor movie and Jordan Peele's "Nope" are set to show later this summer.
More Info
Find your zen with a pay-what-you-can sunset yoga class in Santa Monica
This no-experience-necessary yoga class takes golden hour to a whole new level.
Every Tuesday and Thursday, yogi Tina Kinds leads a group on a grassy field just across from the beach at Ocean View Park. Kinds walks you through each stretch, pose and flow (and respects your space if you prefer to navigate the moves on your own) as a vibrant sunset creeps across the Pacific Ocean. By the end of class, you'll have thoroughly relaxed your body and possibly met some new fitness friends. Before you head home, cool off with a leisurely walk down the pier.
The 45-minute yoga session starts at 7 p.m. and is pay as you wish (
advanced reservations required
). Parking at the beach is $10 for the day. Don't forget to bring your own mat and water bottle.
More Info
View marine life at the edge of the of the world at Roundhouse Aquarium
In an unassuming gazebo at the tip of the Manhattan Beach pier is what might just be the world's most adorable aquarium. The studio-sized structure is home to more than 100 species of marine life, including sharks, octopi, eels, sea urchins and sea cucumbers.

It's a delightful attraction for kids, but adults will also want to linger in front of the various tanks. Plus, after making your way through the aquarium, you can relax on the pier and watch the glistening waves alongside local fishermen.

Admission to the aquarium is free and donations are graciously accepted. Beach parking is $2 per hour.
More Info
Catch flamingo-shaped shrubbery at South Coast Botanic Garden
Rolling Hills Estates
Public garden
It wouldn't be possible to cover all 87 acres of the South Coast Botanic Garden in one day with its meadows, trails, groves and topiaries, but that doesn't mean you shouldn't try.

This massive property has gorgeous horticultural surprises at every turn. There are bushes shaped like flamingos, a rare fruit orchard and an interactive "garden for the senses." Plus, because it's so big, you are bound to find a meadow you can have to yourself — even on a busy weekend.

Entrance to the garden is $15 (with discounts for children, students and seniors), and parking is free.
More Info
Work up a sweat kayaking in Alamitos Bay
Alamitos Bay is the ideal destination for an afternoon kayak trip. The water is calm and just chilly enough to refresh but not freeze you. The minimal boat traffic gives you the freedom to paddle around at your will, but you can also kayak with a destination in mind.

You can pass by the charming Naples Island canals or explore the moon-jelly cove, filled with jellyfish that you can actually touch. Should you work up an appetite on the water, you can also paddle right up to a Starbucks or Chipotle, or pack a picnic to eat on a quiet stretch of beach.

Kayak rentals are $12 an hour and there is limited free parking nearby. If you'd rather stand up while traversing the bay, you can also rent a stand-up paddleboard starting at $16 an hour.
More Info
Get cultured at Hammer Museum
Hammer Museum isn't big. There's around five exhibitions on view on a typical day. But the avant-garde selection of artworks and unique architecture make it worth the visit.

All walkways in the museum are outdoors, making it almost feel as if each gallery is its own store in a beautiful outdoor mall. Once you finish exploring one collection of art, you can cleanse your palette outside before entering the next space.

After you're done looking at the art, which shouldn't take more than an hour, you can relax on some funky furniture on the patio or play a game of ping pong with your friends on colorful tables. There's also an outdoor cafe on the main floor where you can order a gourmet snack or sandwich.

Entry to the museum is free with valet parking for $10 and limited nearby street parking. Stopping by the gift shop on your way out is a must. It's not cheap, but even if you don't buy anything, you can still smell the candles, flip through the books and play with the gadgets.
More Info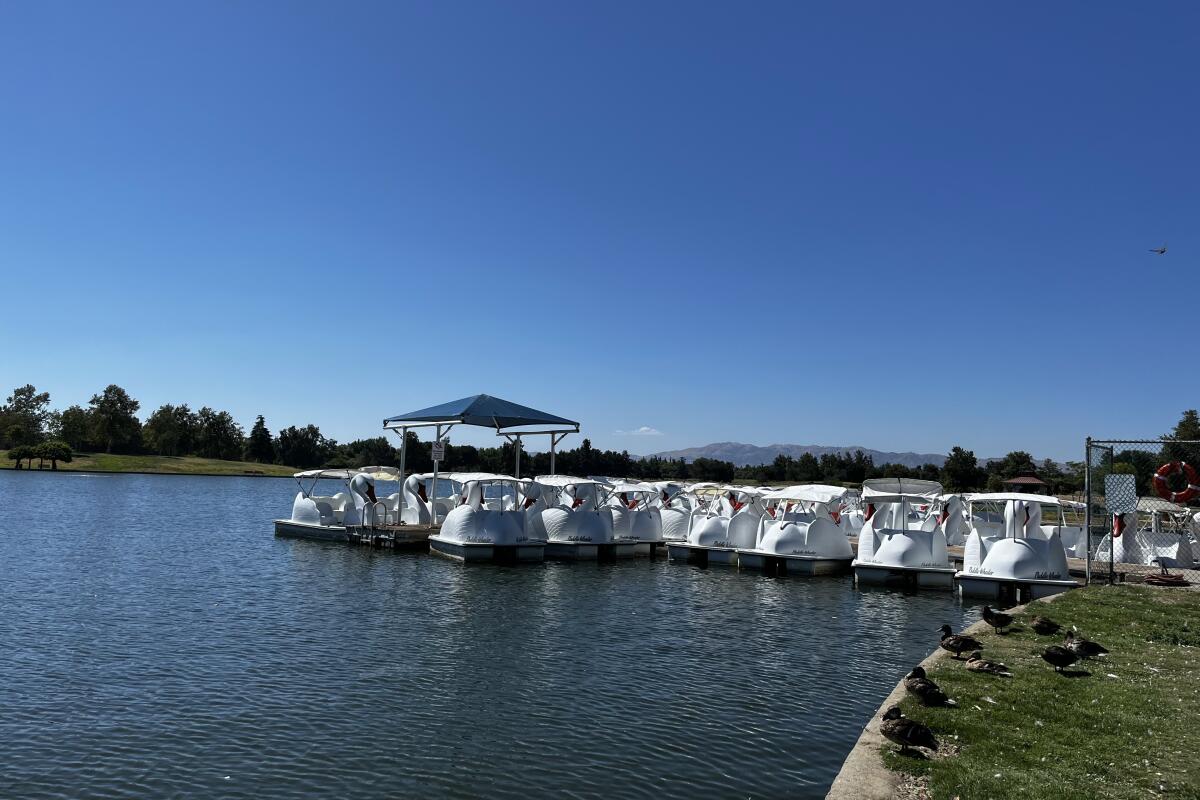 Pedal around in a giant swan at Lake Balboa Park
Sepulveda Basin
Pedal boats
When you arrive to Lake Balboa park, you'll be greeted by birds. I'm not talking about the live ducks and geese, which there are plenty of, but the massive swan-shaped pedal boats.

These white, cartoon-ish vessels are an ideal way to explore the park and a great activity for a family outing or unique date. (The ideal guest is one willing to put in the literal legwork while you just take "a little break" to stretch your legs.) You can bring all the food and drinks you'd like onto the boat (no alcohol allowed), and when your quads finally begin to give out, throw up the Bimini top and have a picnic right on the water.

Prices start at $11 an hour for adults and $6 for kids 17 and under. On-site parking is free.
More Info
Travel back in time at the Virginia Robinson Gardens
From the outside, the Virginia Robinson estate appears no different than the rest of the homes on its quiet residential road. Beyond the gates though, it is a sprawling oasis complete with themed gardens, pools and an orchid house.

Nature-lovers and history buffs alike are free to geek out on this 6.2-acre property. Not only is it picturesque, but it is also a historical landmark: It was the first luxury estate built in Beverly Hills. A 90-minute guided tour will take you through the mansion and the various gardens including the kitchen garden and the king palm forest.

The property is only available to view by a guided tour, which costs $15 (with discounts for children, students and seniors) and must be reserved in advance. There is free parking on site.
More Info
Get our L.A. Goes Out newsletter, with the week's best events, to help you explore and experience our city.
You may occasionally receive promotional content from the Los Angeles Times.