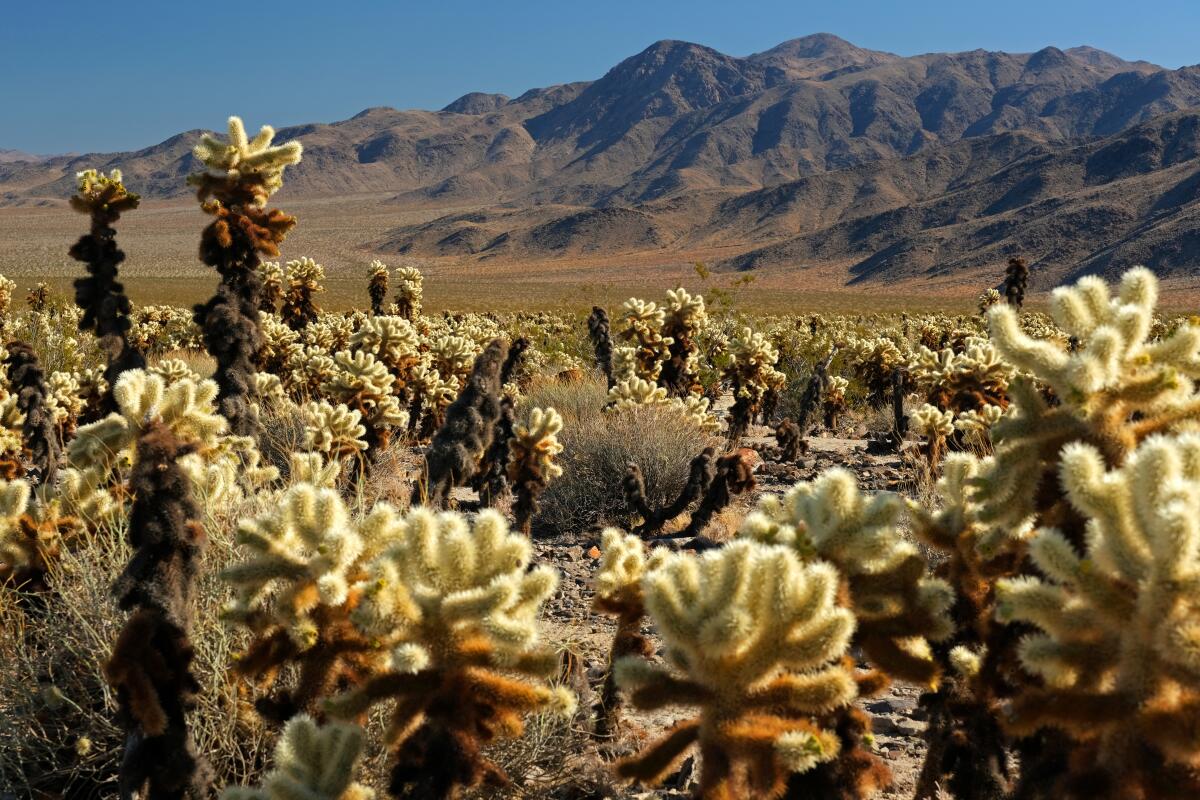 The 14 best desert hikes in Southern California
There are millions of acres of deserts to explore within driving distance of L.A. The big boulders at Joshua Tree National Park, the famed low point at Death Valley National Park, and the remote canyons of Anza-Borrego Desert State Park are woven into Southern California's landscape. The best time to hike is in spring, late fall and winter when temperatures are cool and wildflowers may be abundant.
Here are trails we recommend for those who want to explore the desert on foot. For more trail options, see the 50 best hikes in L.A.
Amboy Crater
Panoramic desert vistas, wildflower fields and an ancient cinder cone volcano: What's not to love about Amboy Crater in
Mojave Trails National Monument
? The extinct volcano, rising nearly 300 feet above the basalt lava plains surrounding it, last erupted 10,000 years ago. Today the hike traverses a lava field where jagged igneous rock contrasts with seasonal blooms such as desert sand verbena, sunflowers and fivespot. After a steep ascent to the rim by way of the western slope, you're rewarded with expansive views of the Mojave preserve to the north as well as the Bullion and Bristol mountain ranges to the west and east, respectively. Don't leave without exploring the 1,500-foot-diameter caldera of the
national natural landmark
.
Start at the parking lot (free) at Crater Road and Route 66 in Mojave Trails National Monument.
Directions to trailhead
.
More Info
Willow Hole/Wonderland of Rocks
A journey into Joshua Tree always feels like a trip down the rabbit hole, but take a hike to Willow Hole on the Boy Scout Trail to discover a wonderland that channels your inner Alice. The hike begins gently in a dense field among vibrant succulents before entering the geological fantasyland. Trudge through the sandy wash and around the mad maze of monzogranite boulders that form the aptly named Wonderland of Rocks. Look for chuckwalla lizards on the exposed slabs and climb up to get a view of the surrounding region and Mt. San Gorgonio to the west. At the turn-around point, you reach a hidden watering hole amid dense green trees. Yep, these are willow trees.
Start on the Boy Scout Trail near Quail Springs Picnic Area.
Directions to trailhead
.
More Info
Wall Street Mill
You won't find investment firms or hedge funds at Wall Street Mill in Joshua Tree, but you will find preserved ruins and mining history on an unoccupied trail through a peaceful landscape. The dirt path is lined with Joshua trees and, in spring, dense patches of desert dandelions, brittlebush and purple mat flowers. You can see a lot of historical junk — rusted cars, a windmill and the pink-walled remains of a ranch — on your way to the mill. This also is where desert pioneer William Keys shot and killed a neighbor in one of the last gunfights of the Old West. At the well-preserved stamp mill, scramble up a boulder to get a better perspective of the not-so-ancient gold-extracting site nestled among piñon pines and granite outcroppings. Talk about rich history!
Park at paved lot, start at Queen Valley Road just past Barker Dam.
Directions to trailhead
.
More Info
Rattlesnake Canyon
The park (affectionately dubbed JTree) is known for its endless climbing routes, but you don't have to be Alex Honnold to get in on the fun. Enter Rattlesnake Canyon, a do-it-yourself rock scrambling adventure that lacks maintained paths or directional signs (and most likely, fellow hikers). The "trail" down a sandy wash among cottonwood trees and a monzonite-walled ravine soon dead ends. Keep going to explore the granite playground ascending into the canyon. As you scramble on the towering rocks, look for water pools and slot canyons and listen for croaks (California tree frogs), chirps (verdins) and, of course, rattles (the hike's namesake serpents). The desert vistas are phenomenal, best enjoyed where the path plateaus.
Start at the Rattlesnake Canyon Picnic Area in Joshua Tree National Park, a little more than a mile east of Indian Cove Campground.
Directions to trailhead
.
More Info
49 Palms Oasis
Are you tree lover, log lover, grove groupie? The copse of fan varieties at the 49 Palm Oasis in the northeast corner of Joshua Tree National Park is the place to go. On this roller coaster out and back, a steep, shadeless climb nets you rugged desert views to the north and vistas of the oasis. Coyotes, bighorn sheep and resident birds, such as Gambel's quail and orange-and-black hooded orioles, rely on the space for water and a cooldown under the thicket of fan palms. You might even spot the rare desert tortoise on the trail; watch out on your drive in so you don't hit one on the paved road. Enjoy bouldering or a peaceful picnic as you try and count all 49 floral specimens.
Free parking in paved lot; start 1¾ miles south of California 62 off Fortynine Palms Canyon Road.
Directions to trailhead
.
More Info
Hidden Valley/Barker Dam
If you have time to do only one hike during your trip to sprawling high-desert Joshua Tree National Park, do two. The Hidden Valley and Barker Dam trails are across the main road (Park Boulevard) from each other and provide the perfect highlight reel of the park's geological, botanical and historical gems. Start at Hidden Valley, a loop enclosed by massive rock formations that were blasted by desert legend William Keys to gain easy access for cattle. Climb the rocks for incredible views of the circle of boulders and the area's diverse plant life, including juniper, pinyon, yucca and, of course, Joshua trees. Continue your greatest hits tour at Barker Dam Nature Trail, where you can look for desert kit fox at sunset. The serene path also offers ancient petroglyph rock art and one of the most picturesque fields of Joshua tree in the park.
Park in a paved lot.
Directions to trailhead
.
More Info
Mesquite Flats
Sometimes you gotta go your own way. Explore Death Valley's Mesquite Flats with a dune-it-yourself journey through some of the most accessible and beautiful sand dunes in California. It's easy to get otherworldly vibes, which is probably what inspired director George Lucas to use the setting for Tatooine in the "Star Wars" movies. The dunes are most comfortably explored from the ridges, the tallest of which rises more than 100 feet and offers a strenuous ascent up the sand (and a dramatic sand-boarding descent for thrill seekers). The desert vistas here are gorgeous at sunrise and sunset and provide a magical star-gazing opp.
Start two miles east of Stovepipe Wells on California 190.
Directions to trailhead
.
More Info
Badwater Basin Salt Flats
Want to go down in history? Everybody can at
Badwater Basin Salt Flats
in
Death Valley National Park
. At 282 feet below sea level, the mostly sodium chloride-covered flats cover nearly 200 square miles. The high-salinity habitat, home to an endemic snail and pickleweed, formed when water evaporated from an ancient lake. Walk over the crust toward prominent Telescope Peak (11,049 feet), which is particularly gorgeous at sunset. Check out the sea level marker on the cliffs to the east for another reminder that you are at the lowest point in North America. It's all uphill from here. One last thing: Check out Dante's View, a breathtaking lookout that offers a different perspective of the basin.
Park in paved lot and start on trail 17 miles south of Furnace Creek off Badwater Road.
Directions to trailhead
.
More Info
The Slot
No list of desert classics is complete without a trip through a slot canyon. Simply named the Slot, the narrow silt-stone canyon in
Anza-Borrego
is the place to squeeze, duck and maneuver through the geological ravine, which houses creosote bush and cholla cactus. Negotiating around the 40-foot rock walls is half the fun (or claustrophobic for some) and is especially awesome when the trench-traversing trail winds under a natural bridge formed by a sedimentary slab. The tapered slot itself is less than a mile, but you can steeply ascend to get views of the epic chasm, nearby West Butte Mountain and, farther out, the Laguna Mountains framing the desert backdrop. One caveat: Don't go in heavy rains. $10 to park in dirt lot.
Start at the trail two miles north of California 78 near Buttes Pass Road.
Directions to trailhead
.
More Info
Hellhole Canyon
What's in a name? A likely question asked by all who visit
Anza-Borrego Desert State Park
's Hellhole Canyon. Despite the name, it's home to a heavenly oasis (and a helluva hike). Far less trafficked than nearby Borrego Palm Canyon, Hellhole offers a great workout among barrel cactuses and ocotillo before reaching the welcoming palms and sycamores of not one but two shaded desert oases. Climb the boulders, get out the binoculars and scan the cliffs for the park's elusive mascot, the peninsular bighorn sheep. Continue up the creek by way of rock scrambling to reach Maidenhair Falls, a pleasant plus to your Anza adventure.
Park in the dirt lot (free) at Montezuma Valley Road, one mile south of Palm Canyon Drive.
Directions to trailhead
.
More Info
Kim Nicol Trail
Prepare to get sand in your boots on this all-desert loop that opened in 2018. Dunes and sedimentary formations provide clues to how erosion and uplift formed the rugged landscape that unfolds before you near Desert Hot Springs. A high point on the trail offers 360-degree views of the valley and San Jacinto and San Gorgonio peaks. Look for endangered Coachella Valley fringe-toed lizards during a spring visit. Just don't go on a 115-degree day.
Park and start at 20th Avenue and Corkill Road in unincorporated Desert Edge, east of Desert Hot Springs.
Directions to trailhead
.
More Info
Indio Hills Badlands Trail
Seashells and beach sand in the desert? You'll find both on the recently opened trail in Indio, remnants of ancient Lake Cahuilla that once covered the area. The AllTrails app describes the loop's landscape as "twisted and tortured rocks that have been uplifted and moved over millions of years." Creosote bushes and tilted sedimentary slabs, including a skull-like rock formation, keep things interesting.
Park and start at Golf Center Parkway in Indio.
Directions to trailhead
.
More Info
Long Canyon Trail
Desert lovers take note: A new route that connects Desert Hot Springs and Joshua Tree National Park is set to open in fall. It's part of a trail network created by the
Coachella Valley Mountains Conservancy
and
Friends of the Desert Mountains
(which also created the next two trails). Parts of the Long Canyon route are already in use; this trail connects the dots for 12 miles with signs to keep hikers on track. "You get great vistas of the Coachella Valley," executive director Jim R. Karpiak said. "It's a beautiful landscape, a mix of pure desert and woodlands in the higher desert."
You may need to set up a car shuttle to complete the point-to-point trek. Check with the conservancy at
cvmc.ca.gov
to find out when this trail comes online.
Directions to trailhead
.
More Info
Zabriskie Point/Golden Canyon/Gower Gulch Loop
Looking for an awe-inspiring hike in Death Valley? The highly rewarding trek from famous Zabriskie Point combines Golden Canyon and Gower Gulch loop trails for a showstopping workout. The panoramic lookout, named after the manager of the Pacific Coast Borax Co. (partly responsible for increased tourism here),offers jaw-dropping vistas of the golden-brown hills below as well as the salt flats and Panamint Mountains beyond. Few hikers go farther than the paved overlook, but those who descend into the slot canyons of the badlands are rewarded with close-ups of Manly Beacon, Red Cathedral and other prominent rock features. The hike back up is tough but make it your turning point, not your breaking point, as you complete your ascent through the dry gorge.
Park in paved lot, start five miles southeast of Furnace Creek in Death Valley National Park.
Directions to trailhead
.
More Info
Get our L.A. Goes Out newsletter, with the week's best events, to help you explore and experience our city.
You may occasionally receive promotional content from the Los Angeles Times.