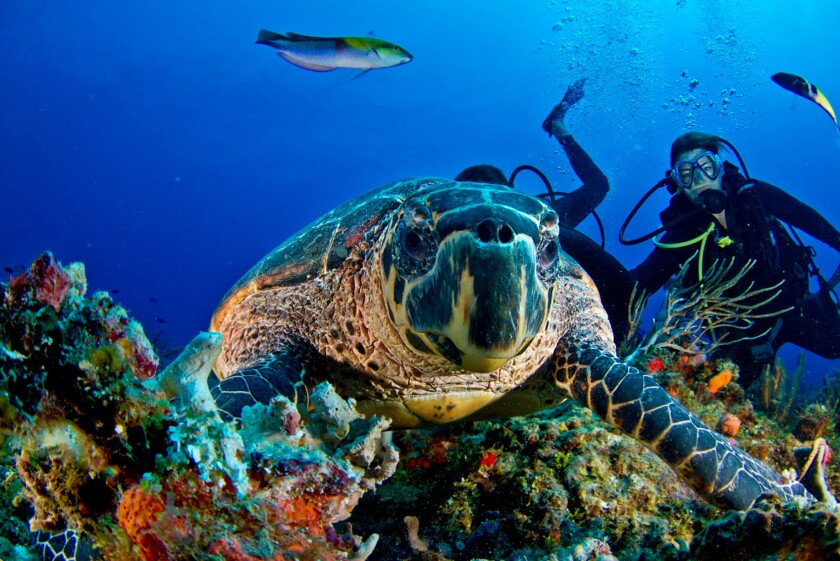 Reporting from PLAYA DEL CARMEN, Mexico —
Our scuba group plopped into the cenote and slipped below the surface into a spectacular light show of wavering, laser-like sunbeams that sliced through the crystal clear water.
They reminded me of the northern lights and were just the beginning of the visual treats my family and I would experience in the Yucatán Peninsula.
Many of these cenotes — limestone sinkholes — are connected to huge, freshwater caverns filled with stalagmites and icicle-like stalactites created tens of thousands of years ago when the seas were significantly lower and the caves well above water.
Though not for everyone, a guided scuba trip in a cenote is something I would recommend for gutsy and experienced divers who won't be intimidated by swimming through chambers with overhead enclosures. I first dived in a cenote here 20 years ago and was eager to return, this time as part of a family scuba trip.
After we settled in at the Sandos Caracol Eco Experience Resort, which features a large cenote at its center, my diving adventure began at the Phantom Divers shop in nearby Playa del Carmen, a laid-back town on the peninsula's Caribbean coast.
Guide Carlos Estrabeau briefed our group of four divers before we headed south toward Tulum and then east down a dirt road leading to the Dos Ojos (Two Eyes) cenote, one of hundreds of limestone sinkholes on the peninsula. First explored in 1987, Dos Ojos (so named for its twin openings) is part of a 50-mile underwater cave system.
My wife, Kathleen, and 14-year-old daughter, Maddie, are both certified divers. But Maddie had less than a dozen dives under her belt, so her mother decided they would wait a day. So while our dive group went over our plans with Estrabeau, my family, including 12-year-old son Anders, snorkeled in Dos Ojos' eastern opening.
Geared up, the divers entered the cenote's western opening, formed when the roof of a limestone cavern collapsed eons ago.
As we descended, I was stunned by the clarity of the water. Because it is filtered through limestone, most of the impurities were gone. Visibility was easily 300 feet.
Our underwater route took us along a thin, brightly colored guide rope. A sign — with a skull, crossbones and stern warnings in English and Spanish — told us not to venture into side passages.
But there was plenty to see as we slowly kicked along the so-called Barbie line, which ran hundreds of yards from the western opening to its eastern counterpart. (The route got its name when a jokester placed a Barbie doll in the jaws of a toy gator in a far cavern.)
On the return, we swam along a wall with countless stalactites and stalagmites before entering a tunnel that led back into the sparkling light of the main cavern.
On our second dive, there were more exquisite formations, some of which had broken off from the ceiling. On this outing, we followed another line that led us through smaller, darker passages (we had lights) to the "bat cave" where we rose to the surface and emerged into the fresh air of a dome-like cavern.
A hole in the roof let in light as well as the bats that flitted about our heads. Back under the water, we swam slowly through smaller passages to the east entrance, stopping to look at a stalagmite that resembled a sculpture of a woman holding a baby.
After a lunch of tacos and shrimp at a roadside stand, my family strolled through the Maya ruins at Tulum, a former religious and trading center and now a major archaeological treasure with temples and a cliff location overlooking the Caribbean.
Then it was back to the all-inclusive Sandos, where we hiked the grounds and found two other small cenotes and some overgrown ruins before dinner at the Mediterranean-style La Riviera, one of the resort's half-dozen restaurants.
Just before sundown, I got the chance to chat with some Britons who were headed for a night dive in the Caribbean, where they hoped to see octopuses, grunts, lobsters on the move and moray eels.
The next day, we took a big ferry from Playa del Carmen to the island of Cozumel and met scuba guide Sergio Sandoval, who runs Aquatic Sports. Kathleen, Maddie and I did two dives near the southern end of the island while Anders snorkeled.
Moments after we jumped into the Caribbean from our dive boat, Sandoval pointed out a large spotted ray that drifted by on our left. On the second dive, we saw turtles, lobsters, crabs, brightly hued angel fish, barracudas and tiny eels hidden in the nooks of a coral wall.
That night, we experienced more Maya culture when we watched the dramatic Fire of Life ceremony at the Sandos resort. Fierce-looking deities with painted faces and large feathered headdresses leaped over roaring flames to the beat of thunderous drumming.
I hadn't had enough of cenote diving, however. So while my wife and kids went to church the next morning in Playa del Carmen, I met Scuba Libre guide Rigo Fernandez on the Sandos beachfront, where Scuba Libre has a shop, for dives in the Chac Mool cenote, west of the beachfront town of Akumal.
Not far inside Chac Mool, Fernandez pointed out calcified sea shells, laid down when the peninsula was a coral reef, and tree roots descending from cracks in the ceiling that were calcified at the waterline. We also encountered the halocline, where fresh water and salt water from the Caribbean mix.
On the second dive, we swam to a large cavern where we emerged into an air pocket. In this chamber, we saw small stalactites, drops of sparkling water at their tips, that were growing from the ceiling.
But we weren't done yet.
Over the next few days, we dived again in the Caribbean and saw hawksbill turtles and large schools of yellow-striped French grunts, sergeant majors, porkfish, several big green moray eels, one little black and gold moray and three lionfish.
On our final day, we visited the adventure park at Xel-Há inlet. There, in addition to jumping off rope swings and sailing over the water on zip lines, Anders got to dive with his family and a guide in shallow water using a "snuba" system, a combination of snorkeling and scuba, and see colorful fish without coming up for air.
If you go
THE BEST WAY TO PLAYA DEL CARMEN, MEXICO
From LAX, Delta, United and Virgin America offer nonstop service to Cancún, Mexico, and United, American, US Airways, Aeromexico and Delta offer connecting service (change of planes). Restricted round-trip airfares range from $410 to $712. Playa del Carmen is about an hour's drive south of the Cancún airport.
WHERE TO STAY
Sandos Caracol Eco Experience Resort, Carretera Cancún-Chetumal, Playa del Carmen; (866) 336-4083, www.sandos.com/hotel-sandos-caracol-in-playa-del-carmen.htm. Standard room for two adults and two children ranges from $244 to $393.
DIVE OPERATORS
Phantom Divers, 1 Avenida Norte No. 238, Playa del Carmen; 011-52-984-879-3988, phantomdivers.com/en/home. Cenote Dos Ojos dive requires a minimum of three participants and costs $120 per diver and $60 per snorkeler. Equipment rental is extra.
Aquatic Sports & Expeditions, Cozumel, Mexico; 011-52-987-872-0640, cozumeldivingwithsergio.com
Scuba Libre Dive Shop, Calle 4 Norte, Playa del Carmen; 011-52-984-803-2671, www.scubalibre.com.mx.
TO LEARN MORE
For more information about diving, lodging and other activities, go to rivieramaya.com
---