Giant sequoias, desert land and alpine peaks? California's 280 state parks have it all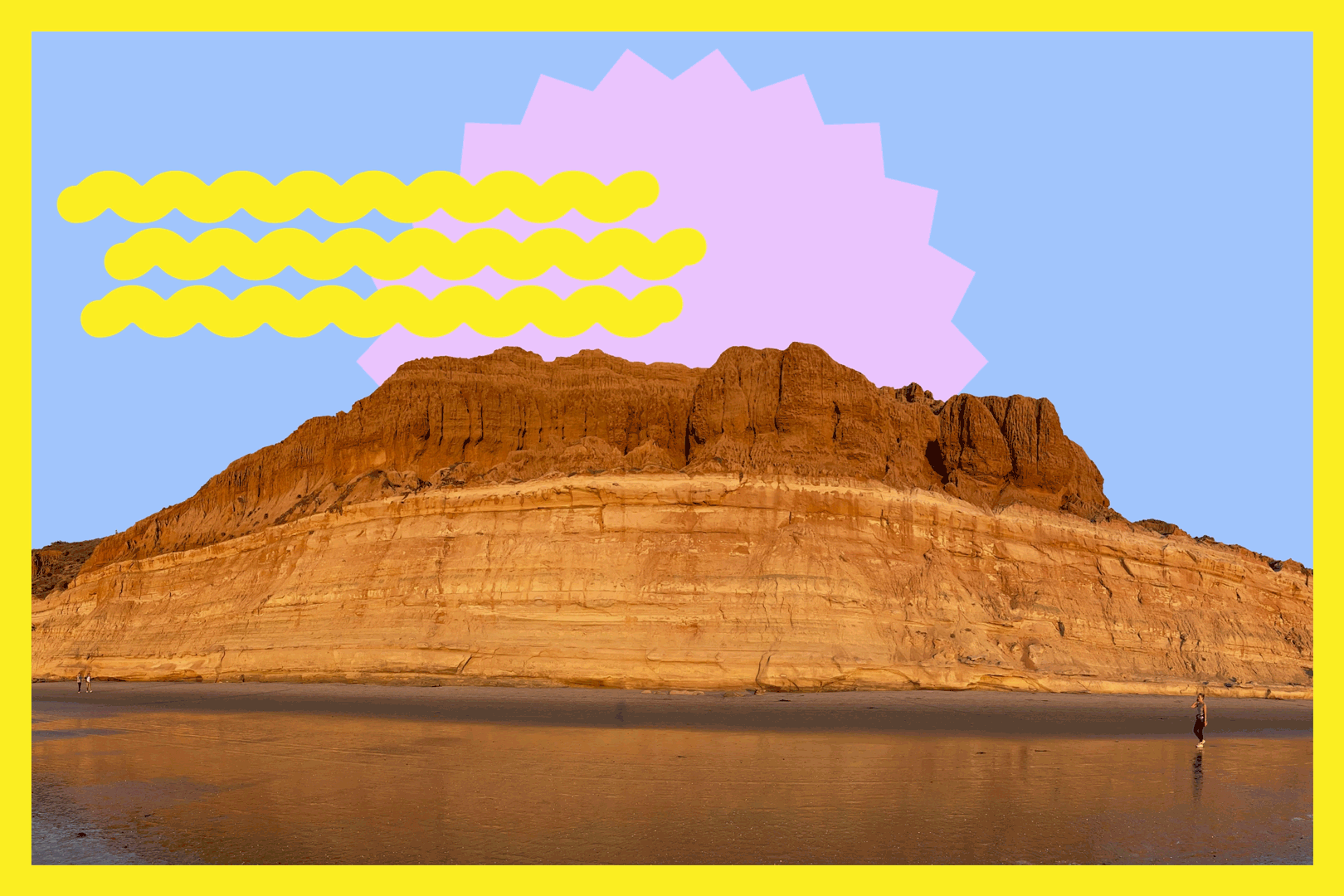 Ah, the spring bloom (this year isn't quite a superbloom). To go or not to go, that is the question. Whether 'tis nobler to let wildflowers bloom in the desert without trampling them while Instagramming, or to visit them and encourage a love for parks … one may never know. (Well, one botanist does.)
Sure, the allure of swaths of purple verbena and dune primrose is real, but if you only visit state parks during the spring for their abundant flowers, you're missing out on so many transformative experiences: peaceful groves of towering redwoods, charming beach campgrounds and hidden Joshua trees.
That's why I have a new mission for you: Visit all 280 California state parks and stamp each one on a new digital passport created by the state. California State Parks just launched this program to encourage us to give some love to our state parks, which don't get as much attention as national or local parks. To tackle the challenge, you'll need OuterSpatial, an app that gives you updates on your local trails and helps you find outdoor areas to explore.
The essential weekly guide to enjoying the outdoors in Southern California. Insider tips on the best of our beaches, trails, parks, deserts, forests and mountains.
You may occasionally receive promotional content from the Los Angeles Times.
Visiting all 280 state parks, including our newest, Dos Rios, could take you 10 years, or it could take you a lifetime. In the case of the author of "Day Hiker's Guide to California's State Parks," John McKinney, this grand California adventure took three years. McKinney fell in love with state parks while writing a book about walking the entire length of the California coast from Mexico to Oregon. Along the way, he hiked through 75 beach state parks, marveling at the sheer number of them and the diversity of their landscapes.
The history of our state park system is curious, kickstarted in the 1920s by widespread middle-class car travel, with tracts of land selected by landscape architect Frederick Law Olmsted Jr. (Several of Olmsted's intended state parks, such as Lost Horse Valley and Kings Canyon, were subsumed into national parks, which has resulted in higher entrance fees.)
More than 68 million people visit California state parks every year. It's the second largest and second most visited park system in the nation (next to the National Park Service, natch), encompassing 3,000 miles of trails. McKinney points out that these parks offer clear trail signage, friendly rangers and family-friendly facilities and camping — and 150 of them have at least one hike. Many of these hikes are in the two- to five-mile range, and often, they're loops that are hard to get lost on. In other words, our state parks are a road-trip dream come true.
A former hiking columnist for The Times and author of numerous hiking books, McKinney has been advocating for state parks for 25 years. But, he says, even avid hikers often can't name just five of them. We're missing out: "Think about state parks as a whole cross-section of California ecology," he says. "There's the Central Valley, there are alpine peaks and dry desert lands, redwoods and giant sequoias, Torrey pines and calaveras — a whole array of nature's handiwork."
If you have one day, immerse yourself in one state park at a time, maybe starting with the nearest. If you have a long weekend or several weekdays, canvas two or three state parks that are geographically close. If it tickles your brain to notice trends and relationships in flora, fauna, geology and weather, head to a region like Wine Country, Lake Tahoe, Gold Country or Big Sur. Each of those regions has four or five state parks you can visit.
Want to stay local? We've got a list of state parks near Los Angeles. In our neck of the woods, McKinney recommends Santa Monica Mountains Park (especially on its "wild west end"), Leo Carrillo State Park and Point Mugu State Park, where the hills are "starting to look like Ireland right now, it's so green." Flower seekers will see various showy beauties throughout the season.
When it comes to the whole state, McKinney's favorites are Montana de Oro State Park on the central coast, Sinkyone Wilderness State Park on the Lost Coast, Jedediah Smith Redwood State Park near the Oregon border and Anza-Borrego (my personal fave too), which he says "is National Park quality. It's by far the largest state park, and it's got everything you could want: desert, badlands and palms, great views and flat canyons. You could spend a week hiking there."
If you love history, our many lighthouses, several of which are in state parks (Point Sur and Point Cabrillo among them), tell the stories of mariners, and Gold Country offers tales of the rush for fabled wealth. Jack London State Historic Park's historic trails trace the novelist and explorer's life.
Looking for a challenge? You have to boat in via canoe, small power boat or PG&E public boat to reach Ahjumawi Lava Springs State Park, a remote northeastern Shasta County site. Once there, hike through 20 miles of rugged lava rock that's thousands of years old, feeling like you're in Iceland.
With all these great features, why do state parks miss out on the limelight? McKinney thinks it might have something to do with a lack of PR, along with the fact that dogs aren't allowed at many of our state parks (here are the rules). But he has high hopes for the new digital state parks passport and free pass programs improving awareness and access. Recently, he gave a talk at his local Santa Barbara Llibrary; to his delight, more than 100 hikers turned out to hear him speak. Then, a librarian showed attendees how they could check out hiking equipment from the library.
So, this year, I'm adapting my hiking plan. Instead of Yosemite, I'd like to visit Torrey Pines State Reserve to be enshrouded in mystical fog hovering amid rare, critically endangered pines. Instead of looking for bison at Yellowstone, I'll take a guided elephant seal walk at Año Nuevo State Park, where one of the largest elephant seal colonies in the world lives. Instead of driving over two hours to Joshua Tree National Park, I can see my favorite Seuss-like tree at Arthur B. Ripley Desert Woodland State Park or at Saddleback Butte State Park, both an hour and 20 minutes from me, and with far fewer crowds.
Thanks to Gov. Newsom's "California for All" outdoors initiative, there are four ways to get California State Parks passes for free. If you're in fourth grade, you get a free Adventure Pass. If not, see if you qualify for a free Golden Bear Pass as a resident who receives CalWORKs or SSI, or is 62 or older and low-income. If you're 62 or older but not low-income, you can get a free off-season access Limited Use Golden Bear Pass. If none of those apply, grab your local library card, because Los Angeles Public Library has free California State Library Park Passes you can put on hold (you get to keep them for three weeks). Just know that not all state parks accept the passes. Here's a list of parks that don't.
To learn more about McKinney's state parks recommendations, watch his virtual tour of a few California state parks here.
3 things to do
Fête the 30th anniversary of Hahamongna Watershed Park. Enjoy this important bird sanctuary by taking a walk with the Pasadena Audubon Society, which worked hard to protect the park as a natural sanctuary. On Saturday, group expert Darren Dowell will lead you to the Devils Gate Dam at 9 a.m. Or join hourly walks starting at 9:30, 10:30 and 11:30 a.m., led by Javier Vazquez. Keep an eye out for the 55 species that nest at the park, including the bright yellow warbler and the least bell's vireo (the babies will soon be fledging!). The event is free and no RSVP is required. Meet at Hahamongna Watershed Park near the Hahamongna Nursery, on the east side of the park. For more info, check out the flyer.
Cheer on the L.A. Marathon (or avoid it). Rouse yourself bright and early to holler encouragement and pass out refreshments to our 26-milers with the Pasadena Pacers on Sunday. The running group's sign-up sheet offers plenty of opps. If you're running the marathon, celebrate yourself on March 25 at the Pacers' Los Angeles Marathon Celebration Breakfast at Dog Haus in Pasadena, with some damn good dogs (both vegan and meat), fries and lots of slurpable craft beers. If you'd rather avoid the fray, most parts of Santa Monica, Culver City, Koreatown and the San Gabriel Valley will remain untrodden. Here's the course map.
Find quiet weekdays and a Sunday celebration at Sunnylands. When I'm out in Palm Springs, I like to visit Sunnylands, a peaceful desert botanic garden in Rancho Mirage with two reflecting pools, a labyrinth and more than 70 species of native and arid-adapted plants, including patterned lines of barrel cacti and cheerful yellow wedelia flowers. The garden has a Giverny sort of feel, with plant reflections in water, long open promenades and shady nooks here and there. Inside, there's birding and art exhibitions, as well as a huge kids' playspace. On Sunday at 11 a.m., the Lentones will play a free concert on the lawn, with no RSVP required. Check out the stacked event calendar!
The must-watch
Yes, the must-read is a must-watch this week. "Ice Merchants," João Gonzalez's wordless vignette of a father and son's life as ice merchants living in a house attached to a cliffside, is one of the animated short nominees for this year's Academy Awards. It's well worth its 14-minute run time.
The pair live in a colder climate than most, where their job is to freeze ice and then skydive with it to a town below, where they sell it and then return to their home above the clouds by a pulley system. The sense of isolation and repetition in their daily life lulls the viewer into a serene comfort. Of course, that means a reckoning is looming. When their quiet life is shattered by a dramatic event, a magical rescue brings an opportunity for healing, as well as a reentrance into society.
As I watched, my mind fluttered with thoughts: how terrified I am of BASE jumping, especially after the deaths of so many incredible athletes, like climber Dean Potter; whether the love of one other person is enough to sustain anyone; and where our civilization would be without ice and refrigeration systems (plus, the drastic things we've done to ship ice to hot places).
Mostly, I thought about how isolating grief can feel, as if you're stranded on an island. The film sparks the realization that, try as we might, we can't separate ourselves from others, or from the natural forces that tie us together. Gonzalez's evocative film is a revelation on how to adapt to the ever-changing world we live in.
Happy adventuring,
Check out "The Times" podcast for essential news and more.
These days, waking up to current events can be, well, daunting. If you're seeking a more balanced news diet, "The Times" podcast is for you. Gustavo Arellano, along with a diverse set of reporters from the award-winning L.A. Times newsroom, delivers the most interesting stories from the Los Angeles Times every Monday, Wednesday and Friday. Listen and subscribe wherever you get your podcasts.
P.S.
Is there an environmental way to celebrate St. Patrick's Day? Some thoughts: Take a hike in the green hills of Point Mugu (which, as John McKinney noted, currently resemble Ireland), take the train up to hike the Irish Hills of San Luis Obispo or throw a potluck with naturally green foods.
Or head to one of our best craft breweries and take the time to read about L.A.'s Irish immigrant history over a stout hearty enough to be dinner. There's Andrew A. Boyle, whose colorful life transported him from County Mayo to New Orleans and the Gold Rush (he eventually became a vineyard owner in Los Angeles, which is why Boyle Heights is named after him), and William Mulholland, namesake of your favorite twisty drive and one of David Lynch's most iconic films, who developed the Los Angeles Aqueduct and funneled drinking water to a thirsty, growing city. Happy St. Paddy's Day!
For more insider tips on Southern California's beaches, trails and parks, check out past editions of The Wild. And to view this newsletter in your browser, click here.
Get our L.A. Goes Out newsletter, with the week's best events, to help you explore and experience our city.
You may occasionally receive promotional content from the Los Angeles Times.