Las Vegas' new safety features? The city wants to stay fun -- and secure
Las Vegas is on a self-improvement kick. The city wants to keep the vibe fun but also make sure the 42 million visitors who come each year feel safe. Vegas is adding thousands of metal traffic barriers to protect the Strip's sidewalks from careening cars, and new pedestrian bridges to keep crowds moving on crowded streets.
"Obviously, we're an economy that's based on tourism, so we want that whole visitor experience … to be very positive," said deputy chief Andy Walsh of the Las Vegas Metropolitan Police Department.
The most visible safety upgrade is the addition of bollards -- 5-foot-high metal posts anchored by rebar and sunk into 12 inches of concrete -- being installed this month on sidewalks along the Strip. When completed, 4,600 posts will guard a six-mile stretch of Las Vegas Boulevard between Sahara Avenue and the Las Vegas welcome sign.
"They're made [to stop] a flatbed truck," said Jimmy Floyd, a construction manager with the Clark County Department of Public Works. "You know, a typical truck hauling material, traveling at 55 miles an hour."
Some posts were first installed in 2017 and already have averted at least one incident.
On June 7, a car driven by an alleged drunk driver slammed into the barriers in front of Paris Las Vegas, heavily damaging the vehicle but only scraping the posts in front of a busy bus stop. "He was literally 4 feet from the bench. [The bollards] undoubtedly saved lives," said Clark County Commissioner Michael Naft, whose district includes part of the Strip. "Had those bollards not been there, that would have been front page news likely all across the country."
Construction also is expected to be finished this month on the Strip's 17th pedestrian bridge, which will connect the Park MGM with a strip mall across the street. It's expected to help ease the flow of people along the Strip's 15-foot-wide sidewalks. "That bridge is going to help 10,000 pedestrians who cross every day," Naft said. An additional bridge that will link Bellagio with Planet Hollywood is expected in 2021.
In addition to the physical safety buffers, officials say, above all, they want to keep things upbeat so tourists will have a "positive perception" and keep coming to Vegas. Tourism declined right after the shooting rampage at an outdoor country music festival that left 58 people dead in 2017. "If you have the expectation that it won't happen again, then you're naive," Walsh said. "We're aware of how vulnerable we are."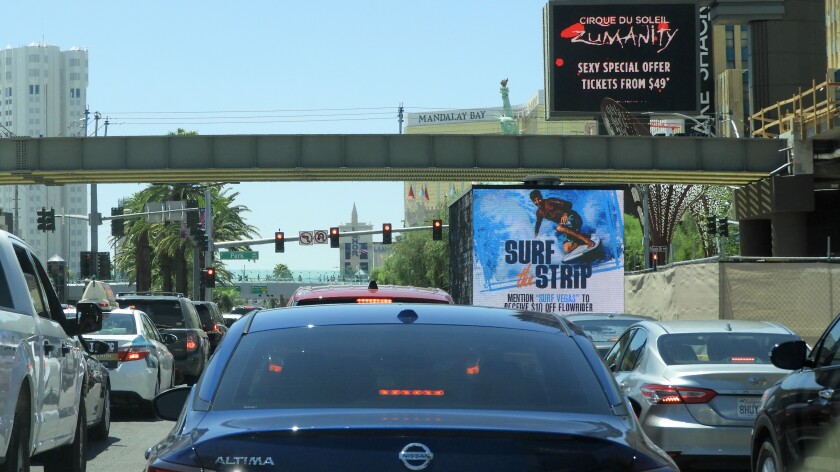 Since that event, the city added 40 police officers to patrol the Strip, bringing the current number of officers to about 220. Also, heavily used tourist corridors along the Strip and on downtown's Fremont Street are monitored by a number of closed- circuit television cameras whose images are continuously viewed at the Southern Nevada Counter Terrorism Center.
Hotels and casinos have their own security measures, so visitors shouldn't be surprised to see bomb-sniffing dogs in the lobby or elsewhere. In 2016, the Stratosphere's casino was evacuated after a dog detected something suspicious in a suitcase. It turned out the bag contained medicine, not explosives.
But it's often smaller safety issues -- personal thefts or illegal three-card monte games -- that sour people on Vegas. "It's usually those low-level offenses that will prevent people from coming back," Walsh said.
And there are misunderstandings about the city's recreational marijuana law. The deputy chief warned people not to smoke marijuana on city streets; it cannot be consumed in public or at hotel-casinos. "People come here to experience legal marijuana, thinking they can smoke in public," he said. "Officers are constantly engaging folks that think that that's legal. Their initial reaction is shock when the officer tells them they can't do it."
Citations are issued and arrests made only when people refuse to cooperate, he said.
Visitors also often are surprised that prostitution isn't legal in Las Vegas. (Clark County is one of three Nevada counties in which it is banned.) "The two girls you just met at the bar who want $500 are not in love with you," Walsh said. "Don't take them up to your room. Chances are you're going to wind up missing some property when you wake up."
---
Get inspired to get away.
Explore California, the West and beyond with the weekly Escapes newsletter.
You may occasionally receive promotional content from the Los Angeles Times.