Eric Buterbaugh takes floral design to the next sense: perfumes
Eric Buterbaugh, seen at the Four Seasons Los Angeles at Beverly Hills, is a celebrity-favored floral designer who is now releasing his first fragrance collection.
(Ricardo DeAratanha / Los Angeles Times)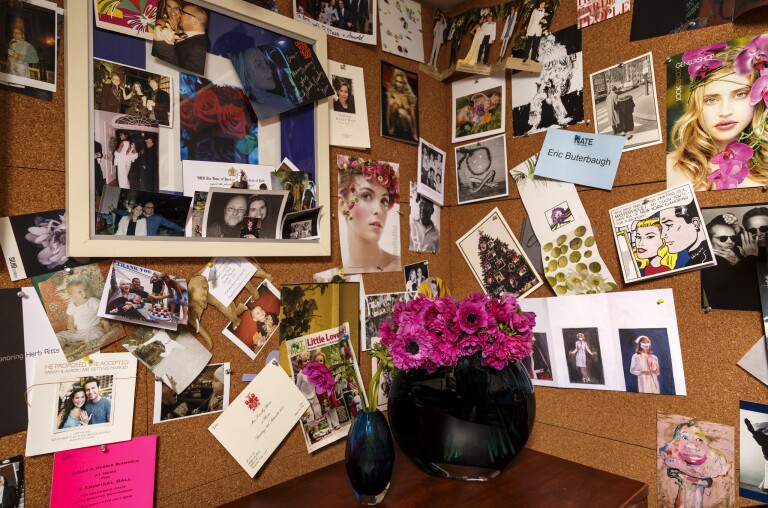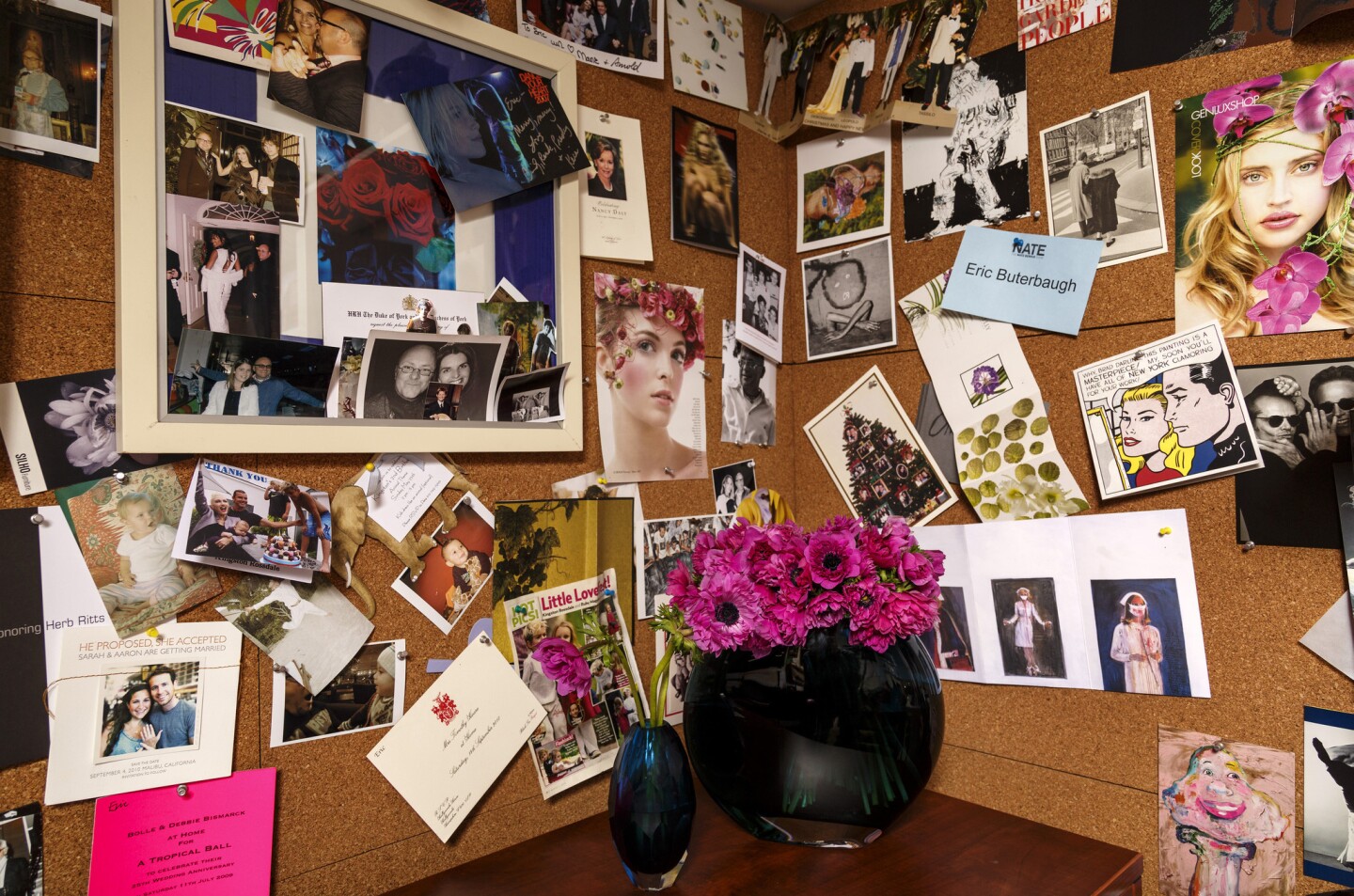 Buterbaugh's inspiration board at his floral shop at the Four Seasons.
(Ricardo DeAratanha / Los Angeles Times)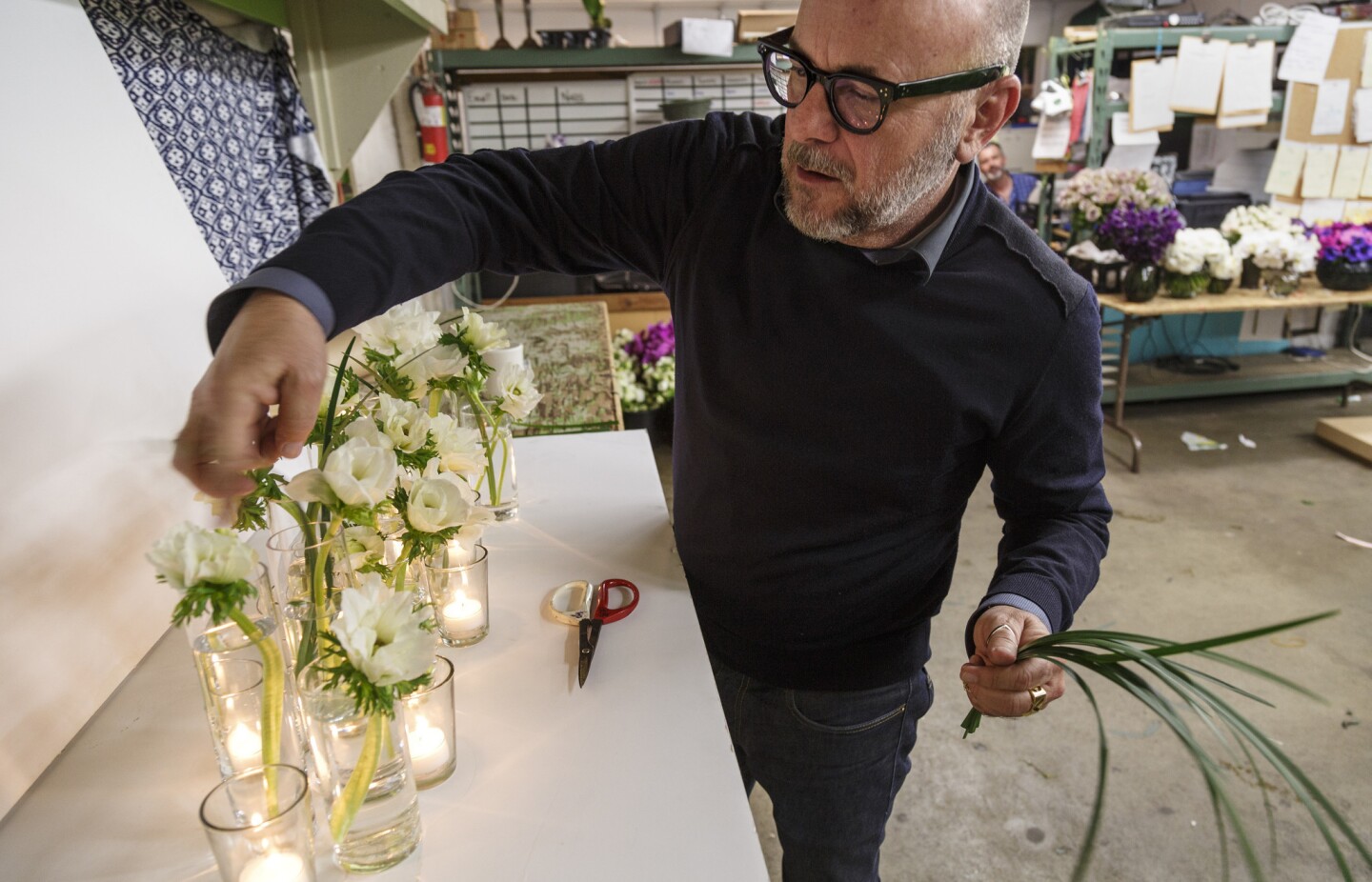 Buterbaugh works on floral arrangements at his shop.
(Ricardo DeAratanha / Los Angeles Times)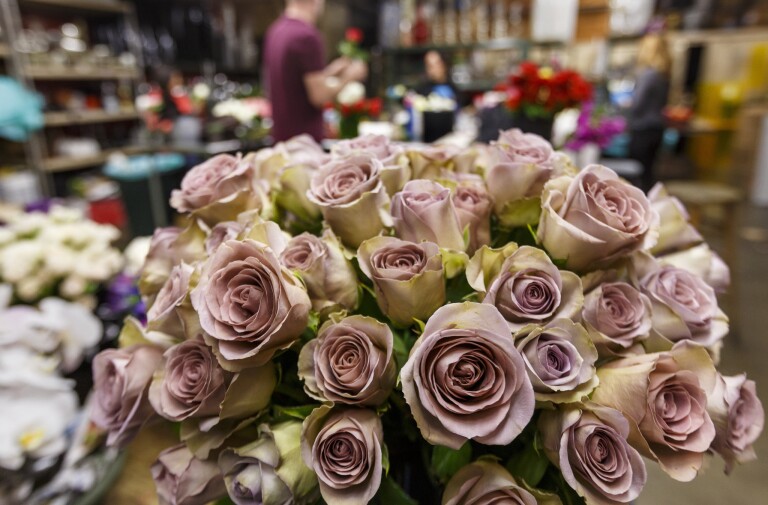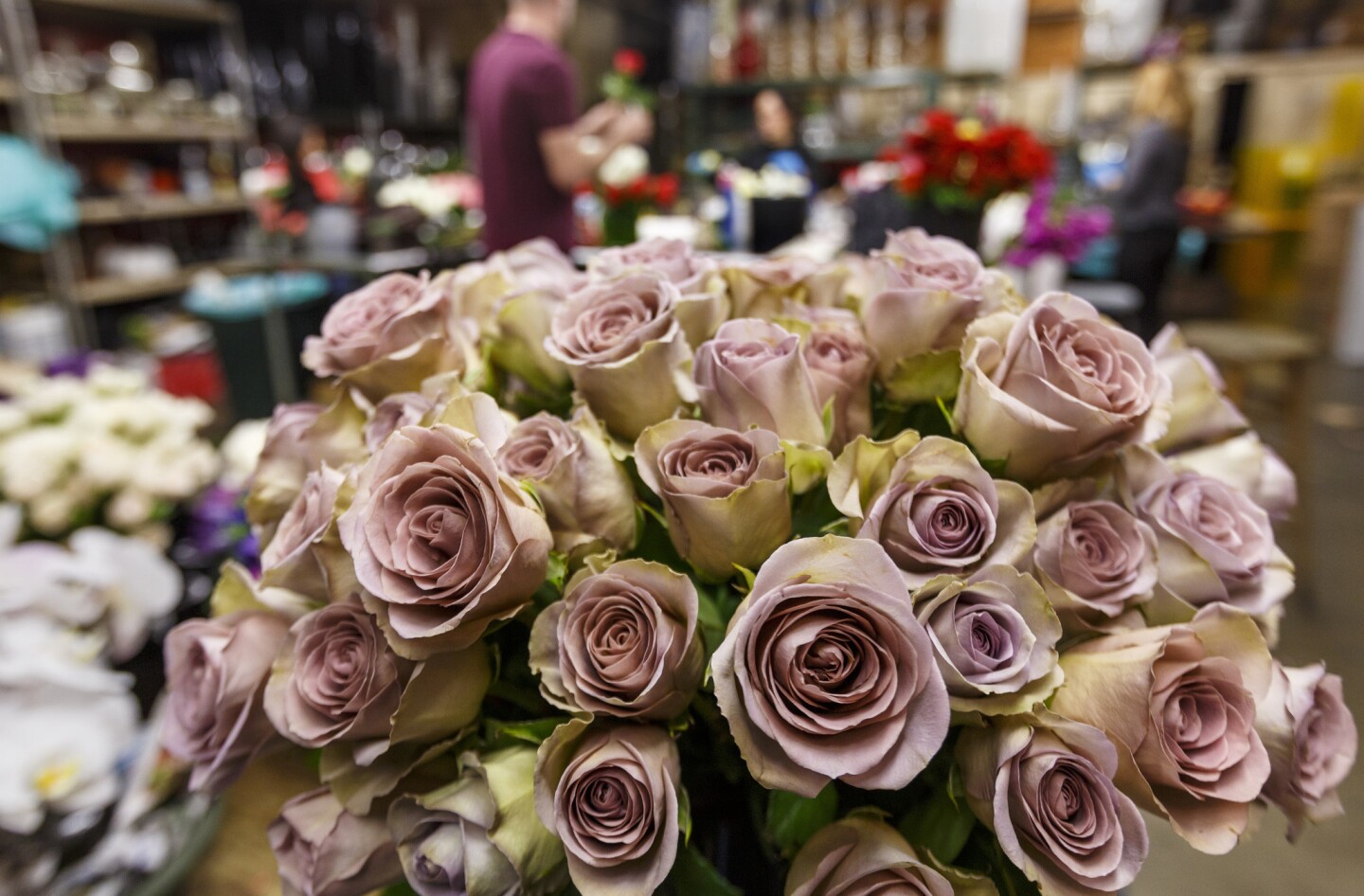 An arrangement at Buterbaugh's shop.
(Ricardo DeAratanha / Los Angeles Times)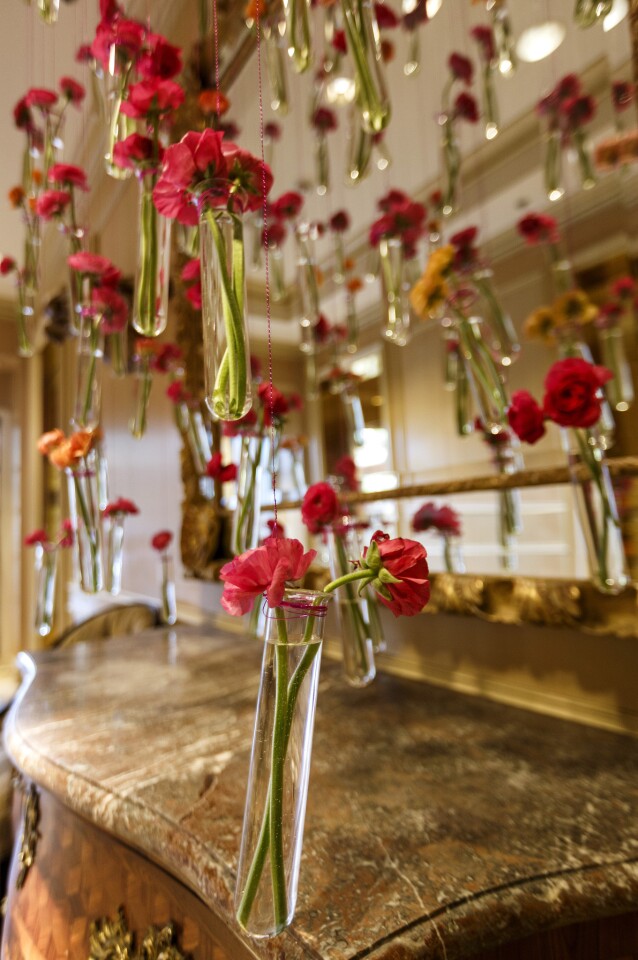 Flowers in tubes hang from Buterbaugh's shop.
(Ricardo DeAratanha / Los Angeles Times)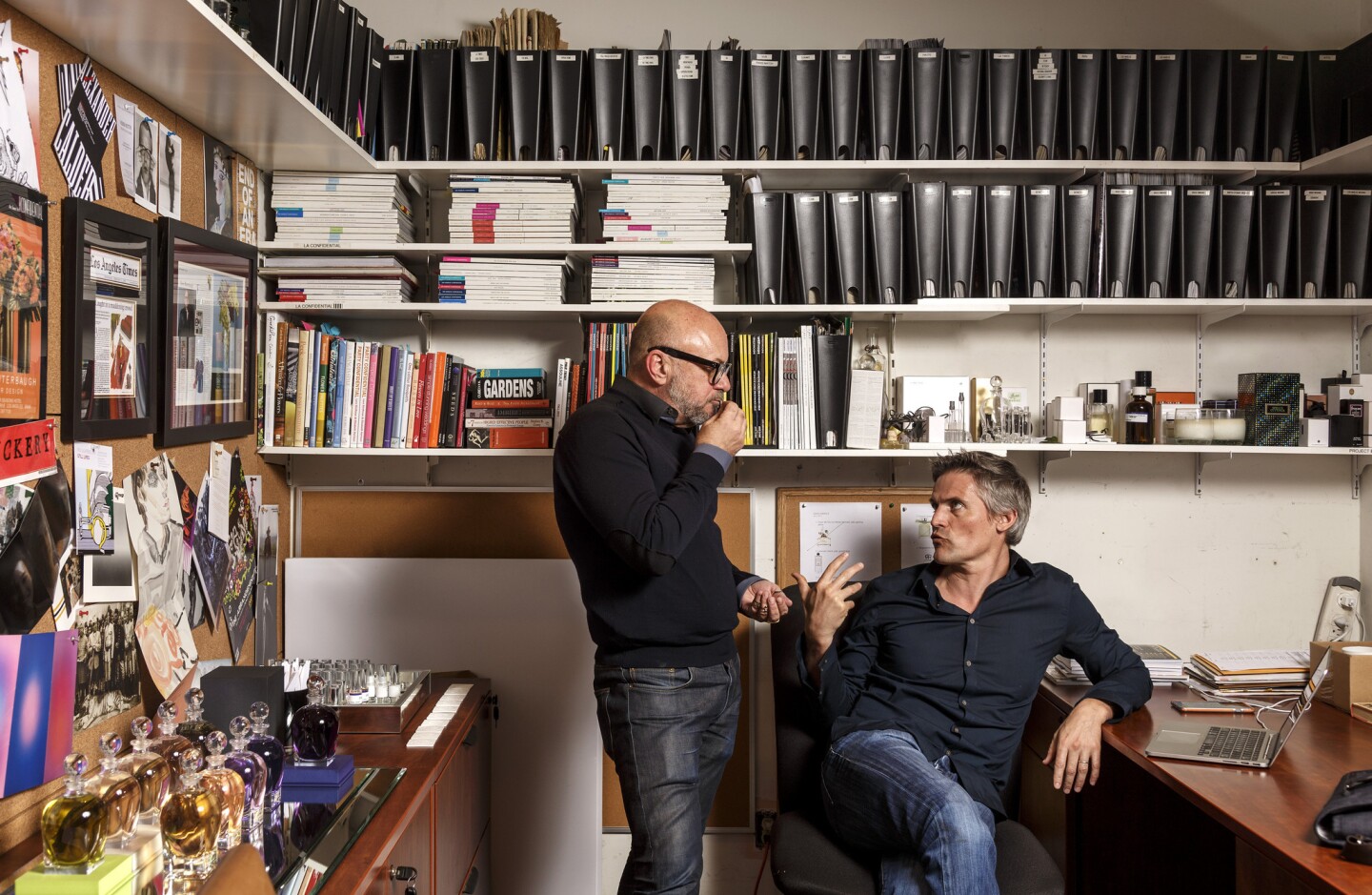 Buterbaugh partnered with Fabrice Croise, right, to develop his floral-inspired fragrance line.
(Ricardo DeAratanha / Los Angeles Times)
When Tory Burch wants centerpieces for a rooftop dinner at her Rodeo Drive boutique, Louis Vuitton executives need gifts for VIPs, or Tom Ford wants to say "thank you," they call Eric Buterbaugh.
For 17 years, Buterbaugh has been the go-to floral designer for L.A.'s stylish set. And after he dresses up the tables for dinners hosted by Jessica Alba, jewelry designer Jennifer Meyer or super-stylist Rachel Zoe, Buterbaugh joins the party as one of the most sought-after guests in town.
Now he's bottling the essence of what he does into his first fragrance collection, Eric Buterbaugh Florals.
"I've liked smelly stuff all my life," says Buterbaugh, 53, who was raised in the small town of Purcell, Okla., but "escaped to Dallas as soon as possible." He took up floral design after working for Gianni Versace in London and L.A. during the designer's heyday in the 1980s and early '90s. "Growing up, I had a tray of perfume and candles in my room by Guerlain, Ralph Lauren and Rigaud. And I devoured fashion magazines.... So I've wanted to do this always."
As the resident florist at the Four Seasons Los Angeles, he creates fantastical arrangements, which might include a group of tall glass cylinders filled with exotic "ink-stained" orchids for the Culina restaurant entry, pink ranunculus floating in glass tubes suspended from the ceiling by the elevators, or an urn of white lilies as big as a Smart car in the lobby foyer. Other regular gigs include designing flower arrangements for the Chateau Marmont (looser, more old-fashioned arrangements), the Cartier (red or white roses) and Dior boutiques (the brand's designated flower of the year) and the homes of a host of society mavens.
"My flowers are for the 10% of the population who notice details, whether it's the stitch on a jacket or a reflexed open rose," says Buterbaugh, whose uniform includes Saint Laurent jeans and boots, Lanvin shirts, playful charm necklaces by Meyer, rings by Daniela Villegas and chunky eyeglasses by RetroSpecs.
Buterbaugh's blooms may be among the most beautiful to look at, but to smell — not so much. That's why he wanted to get into fragrance. He was interested in reviving the scents of his favorite flowers, which he noticed had faded over the last two decades. "So few flowers really smell anymore, because the scent has been bred out of them," he says.
A chance meeting with Fabrice Croise, a French branding expert with 20 years' experience in product design, development and marketing, led to a partnership. Buterbaugh and Croise developed the fragrance line with leading perfumer Firmenich, giving the "noses" there free rein to create florals without financial or market research restraints.
The result is a collection of 10 pure florals, including a violet with balanced leaf and petal notes; a rose with subtle notes of pepper and licorice; an intense "rose grande" that smells as if you are engulfed by a rosebush; and a lily of the valley. The fragrances are bottled in crystal flacons, modeled after liquor decanters, and will sell for $500 for 250 milliliters and $300 for 100 milliliters at ebflorals.com starting in late spring.
This foray into the product world is a natural for Buterbaugh, who has been part of the fashion and beauty business for 30 years.
During his years managing the Versace boutiques in London and L.A., he made friends in the modeling, music and film worlds who were willing to give him a try when he left retail and started designing flowers on a whim, first for a friend's book party.
Early on, he earned a following for wrapping glass vases in "couture-like" taffeta, snakeskin or ostrich leather, or encrusting them with Swarovski crystals. He'd wrap vases in fur for fashion photographer Helmut Newton and his wife, June — "the more eccentric, the better," Buterbaugh remembers of the regular deliveries he made to them during the winters they spent at the Chateau Marmont.
"They would photograph the arrangements and send me signed prints. I have a wonderful little collection."
Today, Buterbaugh's most famous floral design signature is the reflex open rose, which entails flipping back each petal, so it becomes what Buterbaugh calls a "power flower."
"It's very labor-intensive," he says.
"A rose arrangement could take 15 or 20 minutes, but if you're reflexing the roses, it can take an hour and a half. When we have big orders, sometimes we have someone in the shop doing nothing but that all day long."
"What he does, it's not even flowers; it's sculpture," Alba says.
Almost as popular as his reflex open roses is his naughty sense of humor, which appears at the dinner table and on his popular Instagram account, with more than 35,000 followers, where shots of blooms are mixed with cheeky sayings such as, "Bad ain't no good, but good ain't no fun" and "Don't be afraid to be a bitch."
"He's one of my best friends," says Meyer, who gave Buterbaugh just two hours' notice to round up flowers for her surprise wedding to Tobey Maguire in 2007, when they all were vacationing together on the Big Island of Hawaii. "He went to the airport, bought a bunch of leis, pulled apart the flowers and sprinkled them on the tables, in the pool, everywhere. He created the sweetest moment for me and my husband."
After the fragrance launch, Buterbaugh's next project is to complete work on the House of Eric, a Midcentury Modern space on Beverly Boulevard that will serve as a fragrance boutique, party space and gallery for flower-related shows. He's aiming for a June opening date.
"This has been a dream," he says, beaming. "Genuinely, I want to pinch myself."
This story is part of the Los Angeles Times' Image Magazine spring fashion and travel issue.
---
Get inspired to get away.
Explore California, the West and beyond with the weekly Escapes newsletter.
You may occasionally receive promotional content from the Los Angeles Times.