A visually stunning multi-launch roller coaster debuting this summer at a German theme park combines an endlessly twisting track with dark ride elements inside a craggy crater of faux volcanic rockwork.
Built by Switzerland-based Intamin, the new Taron coaster coming this summer to Phantasialand outside Cologne will serve as the centerpiece of a new themed land called Klugheim.
The new ride will race around a backdrop of towering rockwork sculpted from cement plaster and painted to look like volcanic basalt extrusions.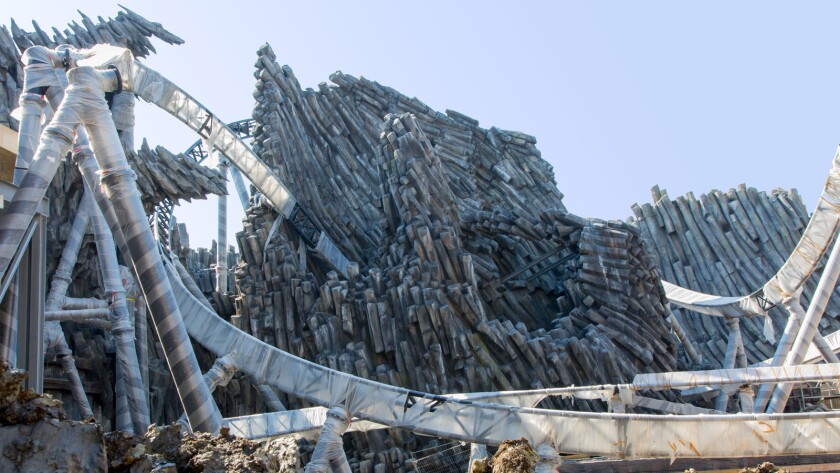 Phantasialand has released few details about Taron, allowing ride enthusiasts to speculate about the new coaster and gush over the possibilities. Fans from around the world watching construction progress in chat forums have run out of superlatives to describe the the ride: "stunning," "awesome," "startling," "amazing" and "absolutely insane."
Basic specifications like height (less than 50 feet), speed (more than 60 mph), length (more than 4,500 feet), number of launches (at least two) and number of inversions (possibly an Immelman, corkscrew and zero-g roll) remain elusive and officially unconfirmed.
The one detail Phantasialand has revealed is intriguing: The Taron coaster train will cross the track 116 times at 58 intersections, a world record without comparison.
Filled with a plethora of ground-hugging and near-miss moments, the custom Intamin Blitz coaster will be similar to Maverick at Ohio's Cedar Point and Cheetah Hunt at Florida's Busch Gardens Tampa.
The complexity of the criss-crossing track recalls the Smiler coaster at the United Kingdom's Alton Towers while the towering rockwork is reminiscent of the Cadillac Range buttes of Cars Land at Disney California Adventure. The result for riders will be a nearly nonstop sequence of head-chopping elements courtesy of an abundance of rock outcroppings and track intersections. The spaghetti bowl of steel track has been wrapped in nearly 20 miles of plastic film to protect the rails during construction.
A fan-created point-of-view video shows the track passing through at least nine tunnels, several of which are expected to house dark ride elements or electromagnetic launch zones.
Screamscape reports Taron will include a free-fall drop track element like Alton Towers' Thirteen coaster and a tilt-track segment similar to Harry Potter and the Escape from Gringotts dark ride at Universal Orlando.
The Taron coaster will be part of a new themed area at Phantasialand called Klugheim, which roughly translates to Clever Home. Klugheim replaces Silver City, a themed land that paid tribute to the American West. The new land will also include a Vekoma family Boomerang shuttle coaster called Raik.
MORE
32 best new theme park additions of 2016
8 unanswered questions about Disneyland's Star Wars Land
Disneyland 2055: What the future may hold for the original Disney park
Hey, Harry Potter fans, here's an exclusive sneak peek at Universal's Wizarding World
Everything you need to know about Shanghai Disneyland
21 creepiest abandoned amusement parks
> Sign-up for our weekly In the Loop theme park newsletter
> Follow the Los Angeles Times Funland theme park blog on Twitter, Facebook, Google+ and Instagram
---