Atmospheric river leaves a destructive path through California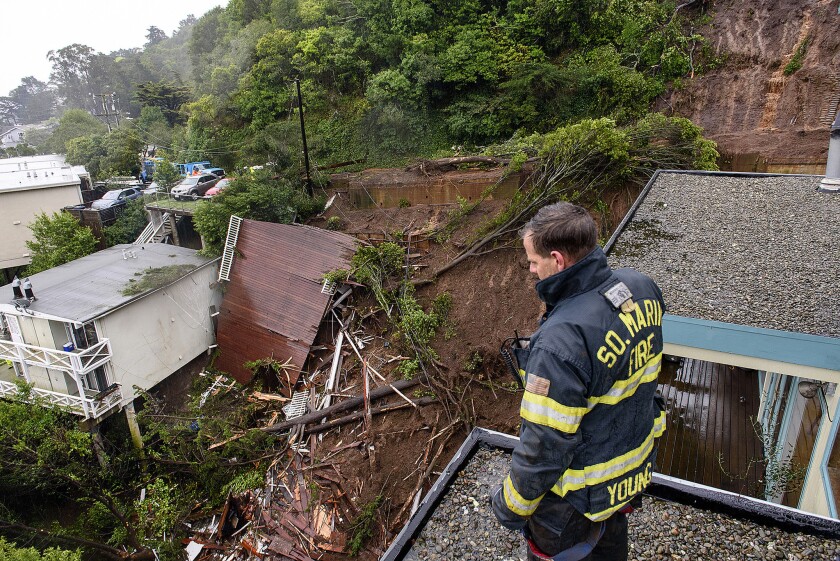 A fierce winter storm packed with subtropical moisture continued its destructive path across California, triggering widespread flooding that prompted evacuations and unleashing a mudslide that sent one home sliding into another in Marin County.
Southern Marin fire officials said the mudslide dislodged the home from its foundation and pushed it down a hill before it slammed into another residence.
Northern California
Clockwise from top left; Southern Marin Fire Protection District members search a crushed house in the aftermath of a mudslide that destroyed three homes in Sausalito; a house rests at an angle after the mudslide; Pacific Gas and Electric crews survey the damage in Sausalito; muddy water cascades down stairs near the slide. (Michael Short / Associated Press / Peter DaSilva / EPA / Rex / Shutterstock)
Rescuers pulled a woman from the wreckage after they saw her hand sticking out of the debris. Caked in mud, she was wheeled on a stretcher into an ambulance. Officials evacuated 50 homes in the area after the hillside gave way.
"Surprisingly, she was in great condition," Southern Marin Fire Protection District Capt. Doug Paterson said of the woman. "She was talking to us. She was alert. She was able to tell us exactly what had happened."
Other Bay Area cities also got a solid soaking. San Francisco received more than 3 inches of rain in the same time frame and faced wind gusts of up to 50 mph. The conditions prompted the National Weather Service to issue a flash-flood watch and high-wind warning for the region.
The massive storm has already broken daily precipitation records after 1.94 inches of rain fell in downtown Sacramento on Wednesday. That shattered the record of 1.61 inches set in 1926, according to the weather service.
At top, an aerial view shows a levee breached during the rainstorm in Novato. A tree, at left, was downed by the storm near the Golden Gate Bridge. At right, residents in the Sycamore Court area of Guerneville paddle through floodwaters. (Justin Sullivan / Getty Images; Michael Short / Associated Press; Kent Porter / The Press Democrat)
Southern California
At top, flooding undermined the foundation of a Leach Canyon home near the Holy fire burn scar in Lake Elsinore. Bottom right, Robert McDonough sizes up the erosion to riverbanks along his Lake Elsinore property. The Leach Canyon area, at left, experienced heavy flooding. (Allen J. Schaben / Los Angeles Times)
Forecasters said San Diego, Orange and Riverside counties were hit hard during the storm. Some areas saw more than 3 inches of rain along the coast and more than 10 inches at higher elevations, said Casey Oswant, a meteorologist with the weather service in San Diego. ​​​​​​
​​​​​"Usually these storms are stronger up north, but this one is hitting our area much harder," said James Brotherton, a meteorologist with the weather service in San Diego. "It's definitely stronger than others we've experienced, and it's likely the strongest we've seen this winter."
Some residents whose communities were affected by last year's Holy fire in Riverside and Orange counties were told to leave their homes before the brunt of the storm hit Thursday.
In Orange County, Modjeska Canyon resident Tanya Morgan and daughter Jaden walk through their backyard as Santiago Creek rises during a morning downpour. At right, floodwaters spill over the top of the Trabuco Canyon Road bridge. (Mark Boster / For The Times)
Laguna Beach in Orange County faced a similar concern hours later, prompting officials to evacuate a cluster of homes and businesses along Laguna Canyon Road. Officials warned residents on social media and made announcements over a loudspeaker at the city's beaches that Laguna Canyon Creek had reached levels that could trigger flooding in the city's downtown.
Downtown Los Angeles saw more than 2 inches of rain. That means the area has seen 15.5 inches of precipitation this rainy season, which began Oct. 1, surpassing the annual average of 14.93 inches.
Clockwise from top left; David Jaouny braves the rain outside the Petersen Automotive Museum in the Mid-Wilshire neighborhood of Los Angeles; Chris Burden's Urban Light assemblage sculpture is seen behind a visitor to the Los Angeles County Museum of Art; a florist sweeps up roses from the wet sidewalk in downtown L.A.; rain didn't keep fans away from the opening of the Frieze art fair, held at Paramount Studios. (Genaro Molina / Dania Maxwell / Luis Sinco / Los Angeles Times)
Parting shot
---