From the Archives: Cree folk singer Buffy Sainte-Marie gets Native Americans hired for 'The Virginian'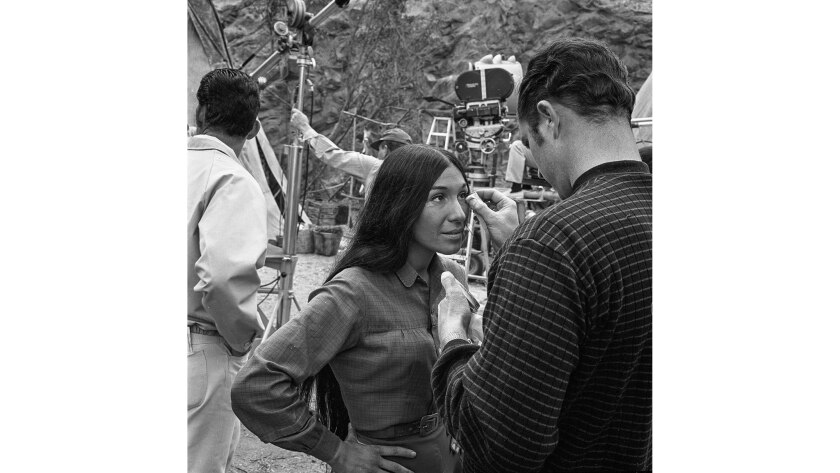 When popular folk singer Buffy Sainte-Marie accepted a lead role in one episode of "The Virginian," she demanded that additional Native Americans be hired.
Times staff writer Hal Humphrey explained in the April 25, 1968, Los Angeles Times:
Buffy Sainte-Marie, the folk singer and a sprig of a girl, has single-handedly upset a long-standing Hollywood tradition. A Cree Indian herself, she insisted when hired to act in an episode of "The Virginian" that all the other Indian parts in it be cast with real Indians, too.
This was an unheard-of request because it is a well-known fact in film circles here that real Indians never play Indians in westerns. The Screen Actors Guild has a large assortment of Mexicans, Italians and mixtures who pass as Indians in all movies and TV. Even Benny Rubin, the Jewish comedian, has played Indian roles. ….
"They always used the excuse that real Indians can't be found," says Miss Sainte-Marie, "but I have made it so they cannot say that anymore. Do you know there are 20,000 Indians in the Los Angeles area, representing 110 different tribes?"
The 40 to 50 Indian roles in the episode all were filled with Native Americans.
"The Heritage" episode of "The Virginian," starring Buffy Sainte-Marie, aired Oct. 30, 1968.
See more from the Los Angeles Times archives here
---