From the Archives: Earth Day 1970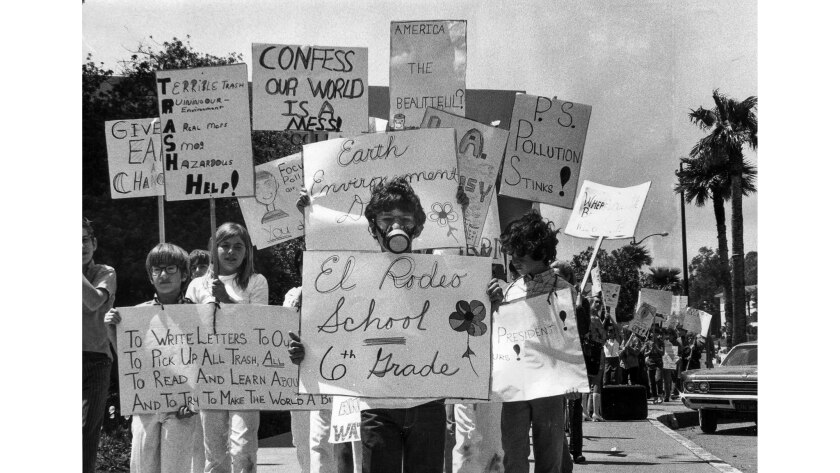 Designed as an environmental teach-in day, 20 million Americans participated in the original Earth Day -- with events in numerous communities and on school campuses.
This photo, by retired Los Angeles Times photographer George Fry, accompanied a story by Times writer Ed Meagher that reported:
Earth Day was marked in Los Angeles Wednesday by a host of antipollution programs and a notable absence of smog.
As the Air Pollution Control District reported barely marginal smog readings, thousands of Southland students and their elders heaped abuse upon all forms of environmental pollution.
They deployed it in speeches, exhibits, demonstrations and stunts on high school and college campuses.…
Some 60 students at Miraleste High School in Palos Verdes observed Earth Day by arriving at school on horseback instead of driving their cars.
Daylong programs were held at USC, UCLA, Caltech, San Fernando Valley State College, Cal Poly, UC. Irvine, Pasadena City College and others…
Santa Monica High School students donned surgical masks and ceremoniously buried an automobile engine. Other engines were buried on a number of campuses, including at USC, where the Tommy Trojan statue wore a gas mask.
Since 1970, Earth Day has been celebrated every year. The Earth Day Network now coordinates the international observance.
This post was originally published on April 21, 2011.
---