Today's Headlines: Despite warnings, Trump refused to give up on false claims of voter fraud
By Elvia Limón, Laura Blasey and Amy Hubbard
Hello, it's Tuesday, June 14, and here are the stories you shouldn't miss today:
TOP STORIES
Trump ignored warnings that election fraud claims were 'bogus'
Former Trump campaign manager Bill Stepien and former Atty. Gen. William Barr recounted in video depositions their repeated warnings to then-President Trump that his election fraud claims were groundless. The depositions were part of the second hearing this month by the House committee investigating the Jan. 6, 2021, Capitol insurrection.
Several of Trump's closest aides in the White House and his campaign told the committee of their growing dismay when Trump dismissed multiple warnings between the Nov. 3, 2020, election and Jan. 6, 2021, that the claims he pushed had been investigated but could not be proved.
In a deposition presented at the hearing, Barr recounted a conversation he had with Trump the day the electoral college met and voted, in which the president told Barr that new purported evidence of problems with voting machines in rural Michigan would assure Trump would serve a second term.
Must-read stories from the L.A. Times
Get the day's top news with our Today's Headlines newsletter, sent every weekday morning.
You may occasionally receive promotional content from the Los Angeles Times.
More politics
Sign up for our California Politics newsletter to get the best of The Times' state politics reporting and the latest action in Sacramento.
Still no deal on California gas rebates
The California Legislature sent Gov. Gavin Newsom a preliminary state budget plan totaling more than $300 billion, a framework that includes $8 billion in tax rebates but could change once a final deal is struck with Newsom.
While negotiations between the governor and Democratic legislative leaders continue, the spending plan approved by the state Senate and Assembly is sufficient to meet a constitutional deadline of June 15 for lawmakers to avoid forfeiture of their paychecks.
Lawmakers expect to land a budget deal with Newsom later this month and then amend the placeholder budget with a final spending plan.
A for-profit housing mission earns praise and takes flak
SoLa Impact is the brainchild of Martin Muoto, an entrepreneur who spent nearly a decade investing in one of the most neglected parts of the city of Los Angeles, rehabilitating distressed rental properties and, now, building new ones. Muoto has won admirers such as Oprah Winfrey and Los Angeles Mayor Eric Garcetti, housing more Section 8 tenants than any other landlord in the city.
But his for-profit, investor-backed model also racked up criticism from tenants' advocates, some of whom vilify him as just another corporate landlord maximizing profit at the expense of tenants' quality of life. The dueling views reflect the conflict inherent in a for-profit company with a social mission, and what a battlefield affordable housing in Los Angeles has become for tenants and landlords alike.
Home sellers are cutting list prices as more buyers take pause
Home sellers are increasingly cutting their asking prices as buyers, constrained by higher mortgage rates and overall inflation, have become less willing to jump into the housing market at any cost.
The growing number of price cuts, a trend showing in data from Southern California to across the nation, is one of the strongest signs yet that the previously red-hot market, fueled by low mortgage rates and all-cash bidding wars, is cooling.
Environmentalists want to stop forest thinning in Yosemite
For over a century, the national park was viewed as a refuge where nature prevailed unmolested by human forces. But this year is different. The park has become the latest cauldron in controversial federal forest-thinning operations unfolding on public lands across the West in response to climate change, drought and the risk of catastrophic wildfires.
A U.S. District Court judge was expected to hear a request by the nonprofit Earth Island Institute for a preliminary injunction to halt the National Park Service's ongoing "biomass removal project" across nearly 2,000 acres within the park. In a recent lawsuit, environmentalists argued that the work violated federal environmental requirements.
Like podcasts? Tell us what you think!
To help us with our daily news podcast, we hope you'll take a minute to answer some short questions on what you'd like to hear from us! You many answer as many or as little as you'd like. Every answer helps us improve and cater to you! Take the 5 minute survey now.

PHOTO OF THE DAY
SoCal's lush golf courses face new water restrictions. Although the golf industry has long weathered the resentment of nongolfers, owners and managers of links are finding themselves targeted by state water officials who say California is not doing enough to conserve water in a time of severe drought.
CALIFORNIA
Jury selection is underway for Paul Flores' trial, after it was moved 126 miles. The first steps began in one of California's most famous cold cases. After deciding there was enough evidence to try Paul Flores for killing Kristin Smart, a San Luis Obispo judge ordered the trial be moved to Monterey County to ensure a fair trial.
Sheep fire near Wrightwood swells to 990 acres, prompting evacuations. A wildfire burning in the Angeles National Forest swelled, prompting evacuations in San Bernardino County. The blaze, dubbed the Sheep fire, was sparked Saturday evening near Wrightwood in heavy, dry vegetation.
Thirty sites in Yosemite National Park have been vandalized with graffiti. Park rangers received multiple reports of vandalism on the popular Yosemite Falls Trail. When rangers visited the trail, they found about 30 sites that were spray-painted with white and blue graffiti. They're now looking for help identifying the people behind the incident.
A man and woman were arrested in connection with the fatal shooting of rapper Slim 400 in Inglewood. Michael Lanell Terry, 33, of Los Angeles and Tamara Lynn Bell, 42, of Inglewood were arrested, according to police. Slim 400, whose real name was Vincent Cohran, was shot while exiting his vehicle in Inglewood on Dec. 8.
Support our journalism
Subscribe to the Los Angeles Times.
NATION-WORLD
The Supreme Court has rejected bond hearings for immigrants facing deportation. The court decided that immigrants being held for deportation had no right to seek their release on bond, regardless of how long they may be held. The justices ruled 9-0.
Russian oil has been shunned by the West, but India and China are eager buyers. Asian nations are becoming an increasingly vital source of oil revenues for Moscow despite strong pressure from the U.S. not to increase their purchases, as the European Union and other allies impose sanctions over the war on Ukraine.
British health officials have detected an additional 104 cases of monkeypox in England. There are now 470 cases across the country, the biggest outbreak beyond Africa of the normally rare disease. The vast majority infected are gay or bisexual men, though scientists warn that anyone is susceptible if they are in close physical contact with an infected person, their clothing or bed sheets.
Pfizer's COVID-19 shot appears effective in kids under 5, the FDA says. A federal health review says Pfizer's COVID-19 vaccine appears effective in children under 5, the only group not currently eligible for inoculation.
HOLLYWOOD AND THE ARTS
Character actor Philip Baker Hall dies at 90. Hall's prolific career ranged from collaborations with director Paul Thomas Anderson, including "Magnolia" and "Boogie Nights," to a scene-stealing turn as hard-bitten library cop Lt. Bookman on "Seinfeld."
Pixar's 'Lightyear' goes to adequacy and not beyond. Though visually grander and more cosmic in scale than the "Toy Story" quadrilogy, the story feels thinner and more generic. It rests comfortably within an accessible, highly allusive branch of family-friendly science fiction, writes film critic Justin Chang.
Post Malone says his fiancee just had a baby. Oh, and he writes 60% of his songs on the toilet. Malone didn't provide details about the engagement or when his daughter was born or her name. Earlier in June, Malone described his excitement about being a prospective father in an interview with Apple Music's Zane Lowe.
BUSINESS
Stocks slump on Wall Street, moving into bear market territory. Wall Street tumbled even more Monday, sending the S&P 500 down more than 20% from its record, amid fears that a recession later this year is more likely given how unshakeable inflation has become.
A Russian-owned successor of McDonald's opens in Moscow. In its exit from Russia over the country's war in Ukraine, the company sold its 850 restaurants to Alexander Govor, who is moving fast to reopen them under a new name: Vkusno-i Tochka (Tasty, Period).
OPINION
A 'Go Brandon' joke is the latest sign of right-wing extremism in law enforcement. Law enforcement has never exactly recruited from the liberal crowd. But actions like mocking a directive to help protect the president are yet another indication of how far down the polarization hole too many officers and deputies have fallen, writes Times columnist Gustavo Arellano.
The Jan. 6 committee report feels like a '70s rerun. Here's why it's definitely not. For those of us who lived through the Watergate hearings, the Jan. 6 committee report has eerie similarities — and stark differences.
Free online games
Get our free daily crossword puzzle, sudoku, word search and arcade games in our new game center at latimes.com/games.
SPORTS
In the NHL's salary cap era, the Lightning aim to become a Stanley Cup dynasty like no other. If the Tampa Bay Lightning defeat the Avalanche for their third straight Stanley Cup title, they'll establish one of the greatest dynasties in NHL history, writes Times sports columnist Helene Elliott.
State Department officials meet with Brittney Griner's WNBA team. The administration has previously said that it is working to bring Griner and another American, Michigan corporate security executive Paul Whelan, home from Russia.
Why LAFC signing aging Italy star Giorgio Chiellini makes sense. They're not looking for him to play 90 minutes every week. What the team really wants him to do is mentor and inspire a young, talented back line that could be critical to LAFC's success for years.
ONLY IN L.A.
Luxury is not a walk-in shower with a toilet. It's a vintage tile L.A. bathroom. You've seen them before: bathrooms decked out in pastel or candy-colored tile. Love them or hate them, you can't deny the craftsmanship and artistry of a bygone era of L.A. interior design.
Vintage tile bathrooms often come with other bygone luxuries: tidy mortar that lasts forever, a tub stopper that actually stops water, and the holy grail itself — high water pressure. In a world where the past exists on an ever-diminishing scale as buildings get put up and knocked down, it's always a surprise — and a thrill — to find a midcentury L.A. bathroom left untouched.
FROM THE ARCHIVES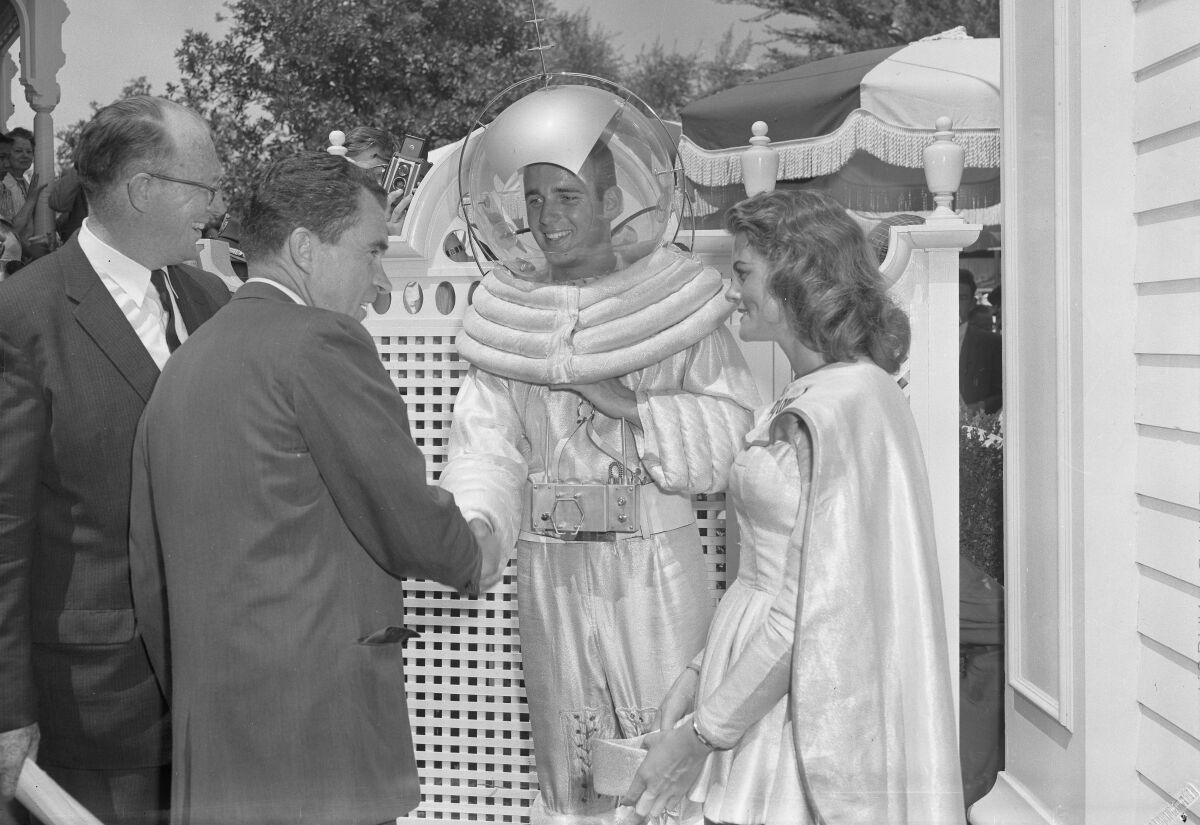 Sixty-three years ago today, on June 14, 1959, "Disneyland '59" was launched as the theme park introduced "about $6 million worth of new attractions," including the Matterhorn, the Submarine Voyage Beneath the Seven Seas, and the monorail. The monorail in particular excited interest, The Times reported a few days later: "It's the only one located in the United States and has caused so much interest that officials of MTA and the Detroit Transit System have been out to take a look."
Vice President Richard Nixon and family were on hand for the ceremony introducing the new attractions. They led a parade with marching bands and floats that ended with 10,000 balloons being released and a band of 76 trombone players in tuxedos and top hats playing "76 Trombones" from "The Music Man."
We appreciate that you took the time to read Today's Headlines! Comments or ideas? Feel free to drop us a note at headlines@latimes.com.

Must-read stories from the L.A. Times
Get the day's top news with our Today's Headlines newsletter, sent every weekday morning.
You may occasionally receive promotional content from the Los Angeles Times.