Today's Headlines: Scientists uncover high amounts of pure DDT off the L.A. coast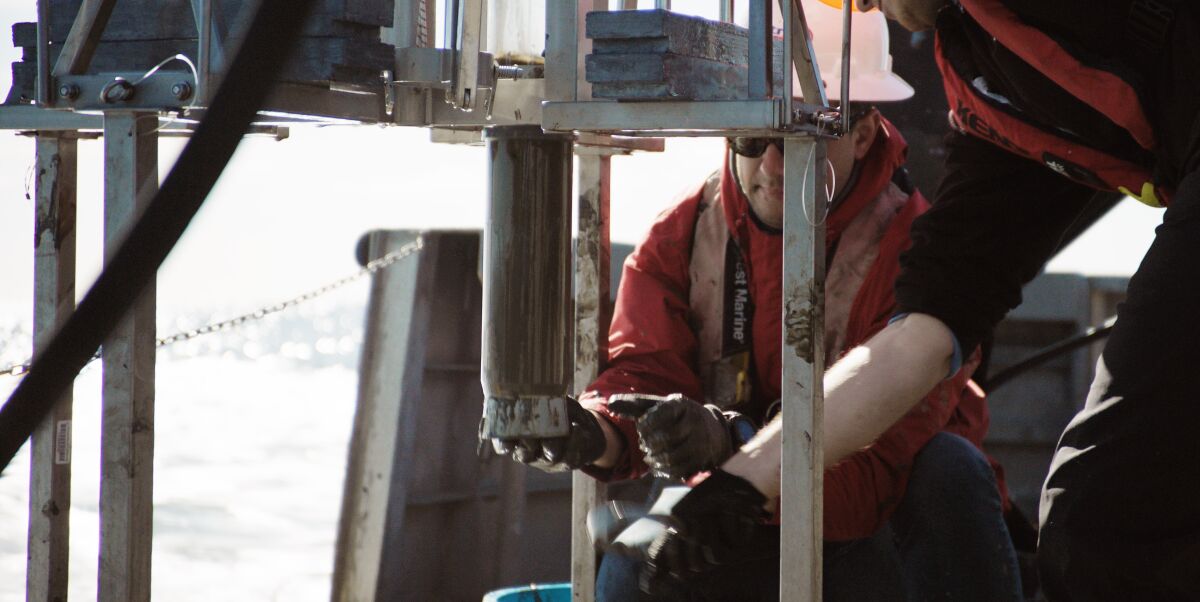 Hello, it's Friday, March 24, and here are the stories you shouldn't miss today:
TOP STORIES
Scientists uncover high amounts of pure DDT off the L.A. coast
In a sobering update, researchers shared their latest findings on the legacy of DDT ocean dumping off the Los Angeles coast — which turned out to be even more widespread than expected.
These revelations confirm some of the science community's deepest concerns — and further complicate efforts to understand DDT's toxic and insidious legacy in California.
Public calls for action have intensified since The Times reported in 2020 that dichlorodiphenyltrichloroethane, banned in 1972, is still haunting the marine environment today.
Must-read stories from the L.A. Times
Get the day's top news with our Today's Headlines newsletter, sent every weekday morning.
You may occasionally receive promotional content from the Los Angeles Times.
L.A. housing prices push many LAUSD workers to strike
For many public school workers who went on strike for three days this week, the crux of their fight is the ability to live decently in Los Angeles, where the exorbitant cost of housing exerts a brutal burden on the working class, forcing families to live in overcrowded homes or pushing workers to commute for hours to more affordable communities.
In a survey of about 3,300 members conducted by the union last year, about 10% of workers reported having been homeless at some point while working for the district. Nearly 30% reported being at "high risk" of becoming homeless.
More about the strike

Pajaro residents and children deal with displacement after flooding
After a flood, families and children are still grappling with the sudden and devastating losses of their homes in Pajaro, a largely Indigenous, farmworking community in unincorporated Monterey County.
The Pajaro Valley Unified School District, which serves students in Pajaro and Watsonville, saw a drop in attendance rates as students were displaced. While some have been living out of family cars or have moved out of the area to stay with relatives, several ended up at the Santa Cruz County Fairgrounds, where bus service began pickups and dropoffs after the district resumed classes March 15.
More on the floods

Nearly two weeks after a levee broke on the Pajaro River and flooded the nearby town, residents have received little in terms of federal help. They want to know why.
Which weather forecasters should you trust?
Independent and amateur forecasters, armed with global data available online, have disrupted the quiet, calm science of meteorology by posting their own weather predictions on blogs and social media.
But professional meteorologists worry some try to grab attention by predicting massive storms when the chances are slim. Or try too hard to be first, issuing forecasts based on premature, unreliable information.
Newsom wants to extend Hollywood tax credits — and give out millions in refunds
Movie studios would be eligible for a long-sought perk under Gov. Gavin Newsom's proposal to let them convert a portion of their state tax credits into cash payments, essentially creating a government subsidy for Hollywood that California doesn't offer to any other industry.
If Newsom's plan is passed by the Legislature and signed into law, California's film tax credit program would become "refundable" in 2025 — meaning that on top of giving qualifying film and TV productions credits that wipe out their state tax liability, the state also would give them payments totaling tens of millions of dollars a year.
Sign up for our California Politics newsletter to get the best of The Times' state politics reporting and the latest action in Sacramento.
Our daily news podcast
If you're a fan of this newsletter, you'll love our daily podcast "The Times," hosted every weekday by columnist Gustavo Arellano, along with reporters from across our newsroom. Go beyond the headlines. Download and listen on our App, subscribe on Apple Podcasts and follow on Spotify.
PHOTO OF THE DAY
CALIFORNIA
Signatures of hundreds of dead people were found in a Dist. Atty. George Gascón recall petition. Los Angeles County's registrar-recorder/county clerk has asked the California attorney general to launch an investigation into the petition to recall Gascón after it found 364 signatures that belonged to dead people.
End of the rainbow? California bill targets Skittles, other snacks with 'toxic' chemicals. A proposed California law would ban the sale of foods, including Skittles and other snacks, that contain certain 'dangerous chemicals.'
'Fed up' California workers across industries demand more amid the rising cost of living. California workers from fast food to school staff are demanding better wages and benefits through legislation backed by unions.
Support our journalism
Subscribe to the Los Angeles Times.
NATION-WORLD
Ukrainian President Volodymyr Zelensky visits the front line as a possible new phase of war looms. Zelensky on Thursday made his third visit in two days to areas that have felt the brunt of Russia's war, journeying to the recaptured southern Kherson region as a senior military commander hinted that a new Ukrainian counteroffensive could come "very soon."
Antisemitic attacks and incidents reached a 43-year high, according to a new report. Anti-Jewish incidents hit a record high in U.S. and California in 2022, the Anti-Defamation League says. Some harassers referenced Ye's antisemitic remarks.
Planned defense witness in Proud Boys sedition trial revealed as a government informant. Federal prosecutors disclosed that a planned defense witness at the sedition trial of former Proud Boys leader Enrique Tarrio and four associates was secretly acting as a government informant for nearly two years after the 2021 Capitol riot, a defense lawyer said in a court filing.
Iraq is the war no one wants to remember. As an Iraqi American, I can never forget. The invasion changed the course of my life and my family's, writes Times TV critic Lorraine Ali. Twenty years on, its aftermath is still playing out.
HOLLYWOOD AND THE ARTS
Alec Baldwin questions prosecutor's conduct in 'Rust' case. In a court filing, Alec Baldwin questioned the conduct of a prosecutor and said his right to a fair trial had been threatened in the closely tracked "Rust" shooting case.
Ahmed Best, a.k.a. Jar Jar Binks, returns to 'Star Wars' galaxy as 'Mandalorian' Jedi. The "Star Wars" universe got a blast from the past during an episode of "The Mandalorian," and fans are saying "Meesa like it!" Ahmed Best, who played Jar Jar Binks in the prequel trilogy, makes a triumphant return to that universe as a vaunted Jedi.
A comedian explains why life as a lowly background actor is still worth the struggle. It's not considered a glamorous job in L.A., although for some who just arrived in Hollywood, standing next to Jennifer Aniston or Bryan Cranston on a set is as close as they're likely to get to stardom.
BUSINESS
Automated writing? Not so fast, says the Writers Guild of America. As AI is becoming more ubiquitous, the Writers Guild is proposing some guidelines for how to regulate it and avoid writers being cut out of the creation of TV and film.
GM to stop making the Camaro but a successor may be in works. The Chevrolet Camaro, for decades the dream car of many teenage American males, is going out of production. General Motors, which sells the brawny muscle car, said that it will stop making the current generation early next year.
SPORTS
The story behind Anthony Davis' 'dominant' third quarter in Lakers' win over Suns. Anthony Davis awoke from a quiet first half and dominated in the third quarter of the Lakers' win over the Phoenix Suns in L.A. Lakers coach Darvin Ham was more than willing to share why.
Toughness is key for UCLA siblings Gabriela and Jaime Jaquez Jr. Gabriela Jaquez's defense, rebounding and effort mirrors her award-winning brother and helped her earn a spot in the UCLA women's basketball rotation. She and Jaime are the first brother-sister duo to reach the Sweet 16 in their respective tournaments during the same year.
Undefeated boxing champion Seniesa Estrada is now the role model she never had. When Seniesa Estrada first stepped into a boxing gym at 8 years old, women's pro boxing was dormant. Now 30 and a champion, she has become the role model for aspiring champions she never had. Girls attend her fights wearing capes — her ring walk staple.
Free online games
Get our free daily crossword puzzle, sudoku, word search and arcade games in our new game center at latimes.com/games.
OPINION
Why California will still have a water shortage no matter how much it rains this year. During a winter of blizzards, floods and drought-ending downpours, it's easy to forget that California suffers from chronic water scarcity — the long-term decline of the state's total available fresh water. This rainy season's inundation isn't going to change that. It's all about groundwater.
Do we have a banking crisis in the United States or don't we? We certainly have some of the symptoms, including two prominent banks that just failed and downward pressure this week on the share prices of other midsize banks. Yet on Wednesday, the Federal Reserve raised interest rates by 0.25 percentage point. There's a better way to protect regional banks in trouble.
YOUR WEEKEND
How to navigate the expanded Hammer Museum, plus must-attend L.A. arts events. Your guide to a reimagined version of Shakespeare's "The Tempest," how to navigate the newly expanded and renovated Hammer Museum and more events to attend this weekend.
11 things to do in this hidden roadside town bursting with history (and wildflowers.) In the Cuyama Valley, just a two-hour drive from Los Angeles, you'll find history, wine tasting, great food, hiking, camping, thrifting and plenty of wildflower peeping.
Ready to embrace cluttercore? Head to these eclectic L.A. shops. Cluttercore is about channeling a nostalgic home decor aesthetic. These Los Angeles spots offer eclectic collectibles and vintage goods to satisfy clutter-hungry tastes.
WHAT OUR EDITORS ARE READING
Why the news is so negative and what we can do about it. Communications scholars have discovered that across many years and countries, coverage of political topics tends to be conveyed in a negative or cynical tone rather than a positive one. Vox
Stephen Smith's death is officially being investigated as a homicide. The death of Smith, whose body was found in the middle of a road in 2015, is being investigated as a homicide, a representative for the South Carolina Law Enforcement Division told CNN. The finding comes almost two years after the killings of Margaret "Maggie" Murdaugh and Paul Murdaugh attracted renewed scrutiny to the fate of the 19-year-old nursing student. CNN
This visual shows how climate change will affect generations. A key graphic from the United Nations Intergovernmental Panel on Climate Change shows how the average global temperature has changed across generations — with each generation born into an ever-warmer world. The Washington Post
FROM THE ARCHIVES
On March 24, 1989, a Long Beach-bound Exxon oil tanker ran aground on a reef and spilled roughly 11 million gallons of crude oil into Alaska's Prince William Sound, a pristine Pacific waterway heavily used by kayakers, fishermen and tourists. It was the largest Alaskan oil spill ever.
The channel connecting the Alaskan port of Valdez with Prince William Sound was riddled with icebergs shed from the deteriorating Columbia Glacier, a massive river of ice that had begun breaking apart only a few years earlier. The Exxon Valdez swerved out of its designated shipping lane to avoid the ice. It was a standard maneuver carried out hundreds of times before.
But on this night, the tanker charged into the rocky outcropping of Bligh Reef.
The oil spill killed between 90,000 and 270,000 sea birds, making it the deadliest such accident in history.
We appreciate that you took the time to read Today's Headlines! Comments or ideas? Feel free to drop us a note at headlines@latimes.com.

Must-read stories from the L.A. Times
Get the day's top news with our Today's Headlines newsletter, sent every weekday morning.
You may occasionally receive promotional content from the Los Angeles Times.