G-7 nations pledge tens of millions of dollars to fight Amazon fires
PORTO VELHO, Brazil —
The Group of 7 nations on Monday pledged tens of millions of dollars to help fight raging wildfires in the Amazon and protect its rainforest, even as Brazilian President Jair Bolsonaro accused rich countries of treating the region like a "colony."
The international pledges at a G-7 summit in France included $20 million from the group, as well as a separate $12 million from Britain and $11 million from Canada. Ottawa has also offered to send firefighting planes to Brazil.
Other groups are contributing support for a region whose rainforests are a major absorber of carbon dioxide from the atmosphere. Earth Alliance, a new environmental foundation backed by Leonardo DiCaprio, is pledging $5 million in aid, saying the Amazon is one of the "best defenses" against climate change.
The funds are widely seen as critical support, but a relatively small amount for dealing with an environmental crisis of such scale threatening what French President Emmanuel Macron called "the lungs of the planet."
More than $1 billion, for example, has been paid into a fund to help the Amazon in the last decade. And major donors Germany and Norway recently cut donations to Brazilian forestry projects, saying Bolsonaro's administration isn't committed to curbing deforestation.
It was unclear how exactly the new money would be administered. Bureaucracy can slow and reduce the amount that reaches programs in the field. Brazil's environment minister, Ricardo Salles, said the aid was welcome and that Brazil should decide how the resources are used.
More global funding and political will in Brazil will be needed once the fires are extinguished, said John Robinson, chief conservation officer at the Wildlife Conservation Society.
Brazil needs "legislation and regulations that set clear limits preventing landowners — especially large ones — from burning the forest and converting it to agriculture and rangeland, backed by incentives and investment in alternatives," Robinson said.
The international pledges came despite tensions between European countries and the Brazilian president, who suggested the West was angling to exploit Brazil's natural resources.
"Look, does anyone help anyone without something in return? What have they wanted there for so long?" Bolsonaro said.
A handout aerial picture released by Greenpeace shows a patch of forest on fire in the municipality of Candeias do Jamari, close to Porto Velho in Rondonia State, in the Amazon basin in northwestern Brazil.
(Victor Moriyama / AFP/Getty Images)
A view of fire in the Amazon rainforest, near Abuna, Rondonia state, Brazil.
(Carl De Souza / AFP/Getty Images)
A fire burns out of control after spreading onto a farm along a highway in Nova Santa Helena municipality in northern Mato Grosso state. Official figures show 78,383 forest fires have been recorded in Brazil this year, the highest number of any year since 2013.
(Joao Laet / AFP/Getty Images)
Aerial view of burned areas of the Amazon rainforest near Boca do Acre, Amazonas state, Brazil.
(Lula Sampaio / AFP/Getty Images)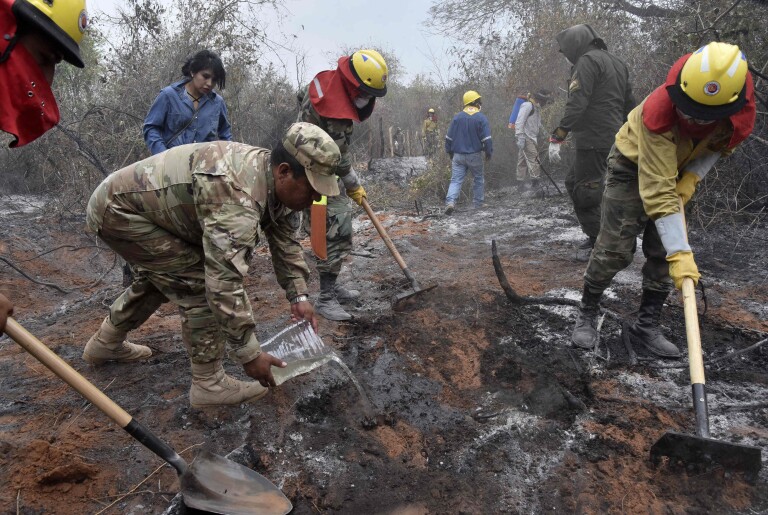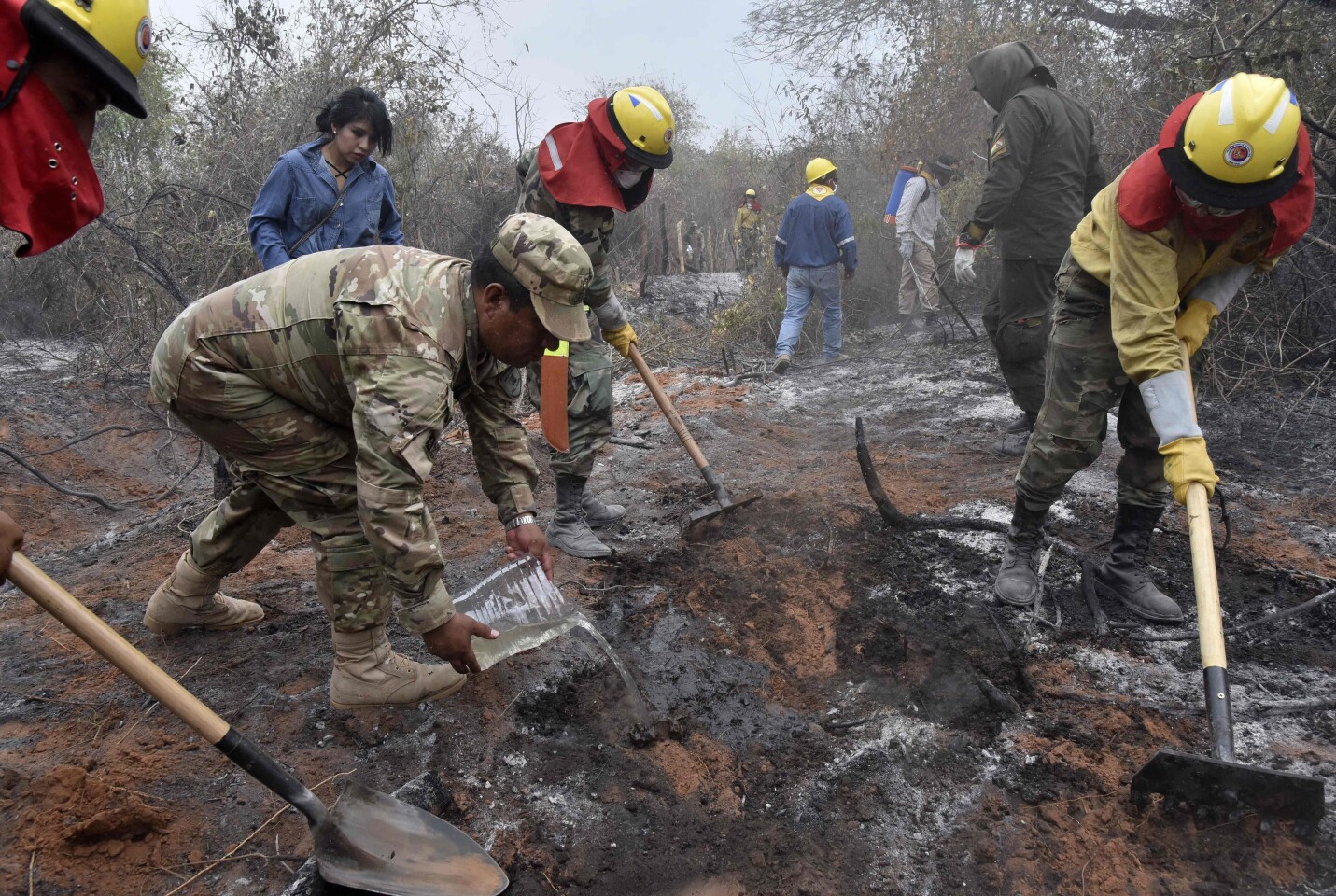 Soldiers, firefighters and volunteers combat forest fires in Robore in eastern Bolivia.
(Aizar Raldes / AFP/Getty Images)
Trees are destroyed after a fire in the Alvorada da Amazonia region in Novo Progresso, Brazil.
(Leo Correa / Associated Press)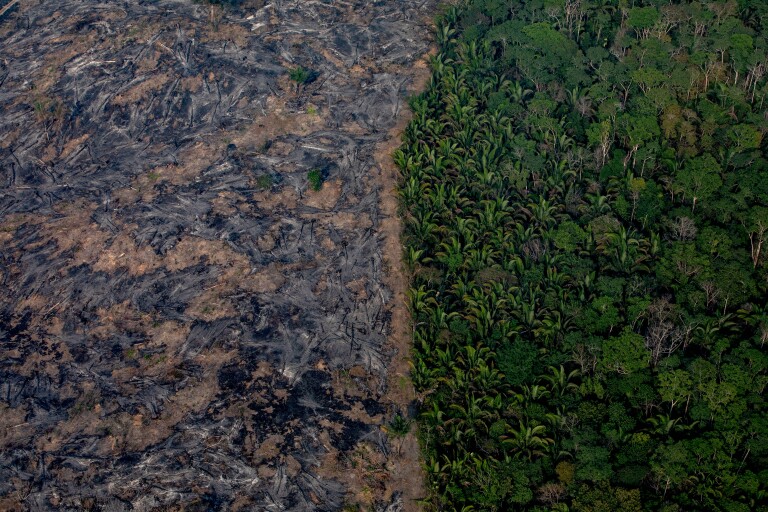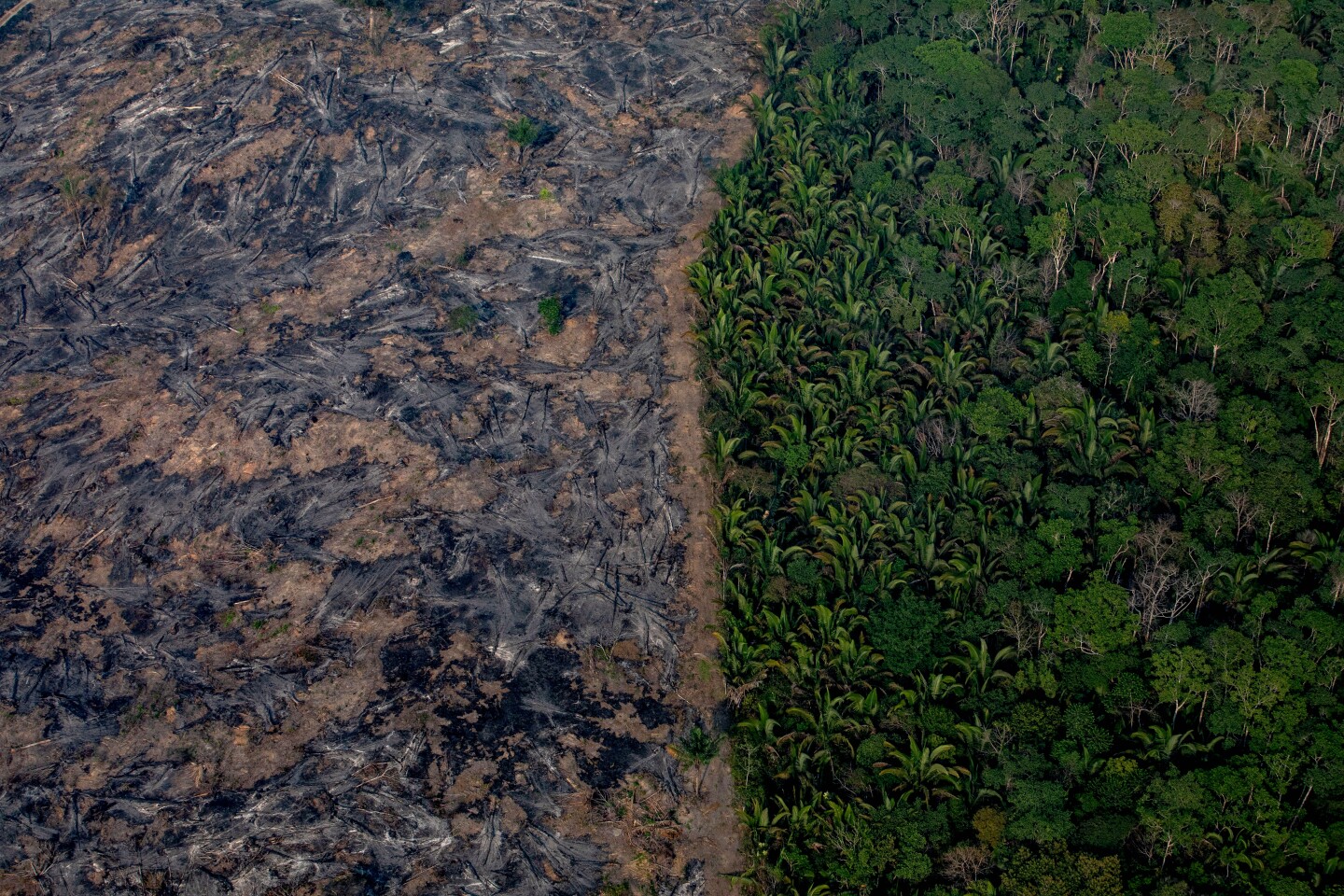 A section of the Amazon rainforest that has been decimated by wildfires in the Candeias do Jamari region near Porto Velho, Brazil.
(Victor Moriyama / Getty Images)
A burned area in the Jamanxim National Forest in municipality of Novo Progresso, Brazil.
(Victor Moriyama / AFP/Getty Images)
---
Must-read stories from the L.A. Times
Get the day's top news with our Today's Headlines newsletter, sent every weekday morning.
You may occasionally receive promotional content from the Los Angeles Times.