Combative Israeli Prime Minister Benjamin Netanyahu calls corruption indictment an 'attempted coup'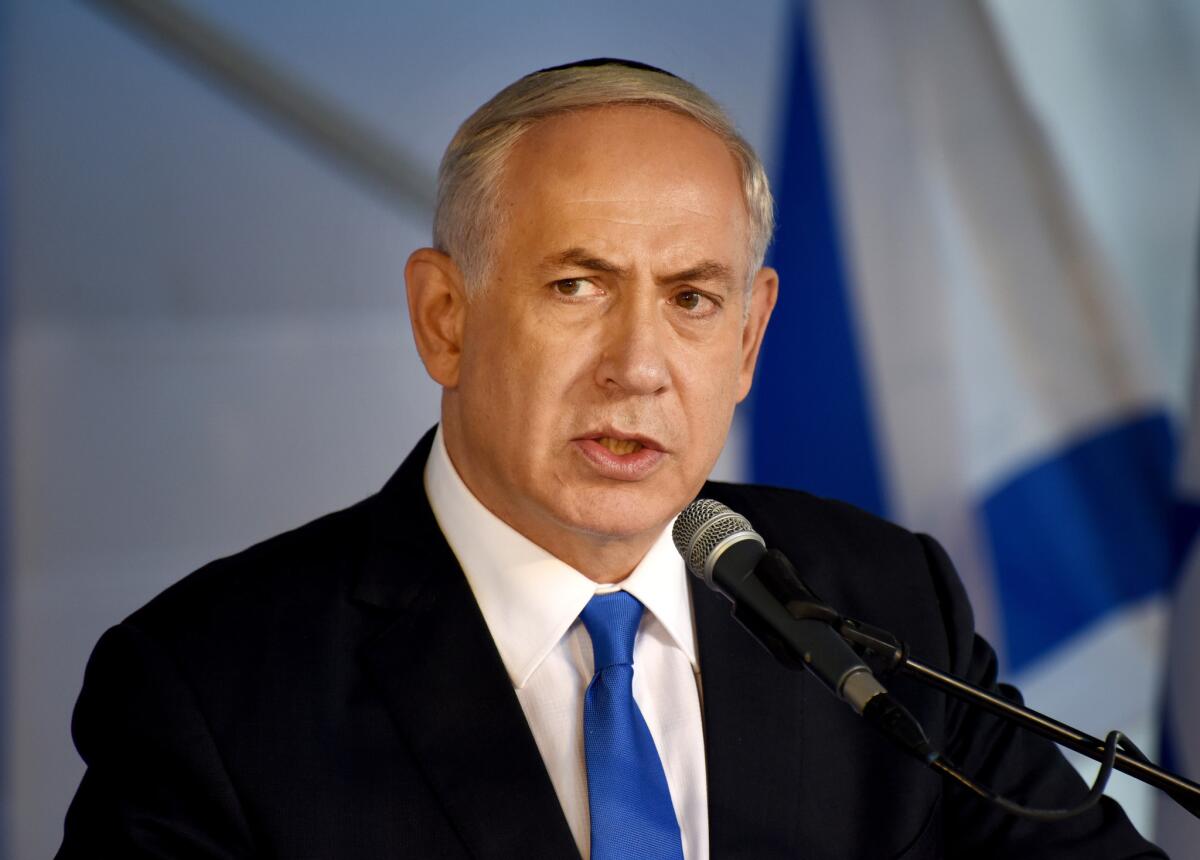 JERUSALEM —
Israeli Prime Minister Benjamin Netanyahu on Thursday was indicted on charges of fraud, bribery and breach of trust, throwing the country's political scene into even greater disarray and raising the prospect that its longest-serving leader will be forced out of office.
The indictment, though a possibility for months, marked a stunning fall from grace for a politician accustomed to basking in adoring supporters' shouts of "Bibi, King of Israel!" — a leader so adroit at sidestepping adversity that one of his nicknames was "the Magician."
A combative Netanyahu, the first Israeli prime minister to be indicted while in office, made a nationwide television and livestreamed appearance soon after the attorney general announced the criminal charges, calling the investigation into him "tainted" and tantamount to "an attempted coup."
Clad in his customary dark suit and tie, with four blue-and-white Israeli flags behind him at his official residence in Jerusalem, the 70-year-old prime minister forcefully declared: "They weren't after the truth — they were after me."
Atty. Gen. Avichai Mandelblit, who in February announced Netanyahu could be indicted on corruption charges, vehemently denied any motivation other than the law of the land.
"A day in which the attorney general decides to serve an indictment against a sitting prime minister for serious crimes of corrupt governance is a heavy and sad day — for the Israeli public and for me personally," he told reporters in Jerusalem.
The charges against Netanyahu allege that he accepted hundreds of thousands of dollars in gifts from business figures, including luxury items such as cigars and Champagne. He is also accused of handing out political favors in exchange for more positive coverage by an Israeli newspaper and an online outlet.
Netanyahu could face a 10-year prison sentence if found guilty of bribery. Fraud and breach of trust are punishable by a maximum of three years in prison.
Netanyahu in July surpassed the longevity in office of the country's founding father, David Ben Gurion, who served 4,875 days. As corruption clouds have gathered over him in the last three years, his determination to remain in office became a key bulwark in his legal strategy.
Under Israeli law, a sitting prime minister does not have to resign if accused of criminal charges — although critics and rivals demanded he step aside. Former army chief Benny Gantz, the centrist who has spent months trying to dislodge Netanyahu, said in a tweet after the prime minister's appearance that he should "leave … go focus on his legal affairs" and turn government matters over to someone who could concentrate on the country's well-being.
Gantz, in a statement, also pointedly expressed confidence that proceedings against Netanyahu were being carried out "faithfully, honestly and professionally" by law enforcement authorities and the attorney general. In his livestreamed statement, Netanyahu said it was time to "investigate the investigators," demanding an independent inquiry into the judicial process against him.
As a caretaker prime minister, Netanyahu is expected to request parliamentary immunity. But the bombshell disclosure could make it difficult for him to remain in office, especially after two inconclusive national elections and the looming prospect of a third.
The indictment, carrying the prospect that the prime minister could ultimately be forced off the political stage, will undoubtedly color Israel's dealings with Washington.
Over the last three years, President Trump has showered Netanyahu with political favors, including the declaration this week that in the Trump administration's view, Jewish settlements in the West Bank do not violate international law. Most of the international community contends otherwise.
Trump also moved the U.S. Embassy to Jerusalem from Tel Aviv and recognized Israeli sovereignty over the Golan Heights, captured from Syria in 1967.
Trump and Netanyahu have often touted their warm friendship, which has carried political dividends for both leaders. But the president distanced himself somewhat after Gantz's Blue and White party narrowly won more parliamentary seats in September's elections than Netanyahu's Likud, though neither garnered a parliamentary majority.
With the prime minister appearing politically vulnerable, Trump reminded reporters then that the U.S. relationship is "with Israel" — with the unstated corollary that the partnership wasn't only with Netanyahu himself.
Trump, weathering an impeachment inquiry in Washington, maintained Twitter silence in the hours after word of the indictment broke.
The Netanyahu indictment dramatically heightens what had already been a state of chronic political uncertainty in Israel.
On Wednesday, Gantz acknowledged after a weeks-long effort that he could not secure a parliamentary majority needed to form a government — a step that could set Israel on the path to yet another national election.
Netanyahu had also failed in his own earlier attempts to assemble a governing coalition, following the most recent election in September, and a previous one in April.
News of the indictment coincides with the start of a 21-day period during which any Israeli lawmaker — including Gantz, and theoretically Netanyahu — can try to win the backing of a majority in the 120-member Knesset, or parliament.
If no one succeeds, Israel would hold another national election, which would probably take place in March. That would mark the third such balloting in less than a year, a first for Israel.
There's also the possibility that the Likud Party could push Netanyahu aside, opening the way for a "national unity" government with Gantz's Blue and White party. Gantz had resisted an alliance with any party whose leader was under indictment.
One Likud politician, Gideon Saar, offered himself up as a possible leadership candidate. Saar, who is 18 years younger than Netanyahu but has held a variety of Cabinet posts, suggested it was time for a fresh start for party and country alike. He told a conference in Jerusalem on Thursday that he could "form a government … unify the nation."
Analysts said the indictment threw Netanyahu's future into doubt.
"The truth is that I don't think he'll be able to serve, no matter what the law says," said Amos Gilad, head of the Institute for Policy and Strategy at the Interdisciplinary Center Herzliya.
Netanyahu would have to resign if convicted, but it's not yet known whether the indictment alone will turn the prime minister's most ardent supporters against him.
Yohanan Plesner of the Israel Democracy Institute said polls had consistently suggested that "the Israeli public does not feel comfortable and is unwilling to accept the reality" of a prime minister serving under indictment.
Mainstream U.S. Jewish groups appeared to want to avoid preempting the Israeli legal process.
The Conference of Presidents of Major American Jewish Organizations said in a statement that as a "strong, vibrant democracy," Israel holds "even its top officials to account by the most stringent standards." Netanyahu, it said, was "entitled to his day in court and to a fair and full process."
Special correspondent Tarnopolsky reported from Jerusalem. Times staff writer King reported from Washington.

Sign up for Essential California for news, features and recommendations from the L.A. Times and beyond in your inbox six days a week.
You may occasionally receive promotional content from the Los Angeles Times.