Britain moves to limit early release for terrorism offenders after stabbing revives 'de-radicalization' debate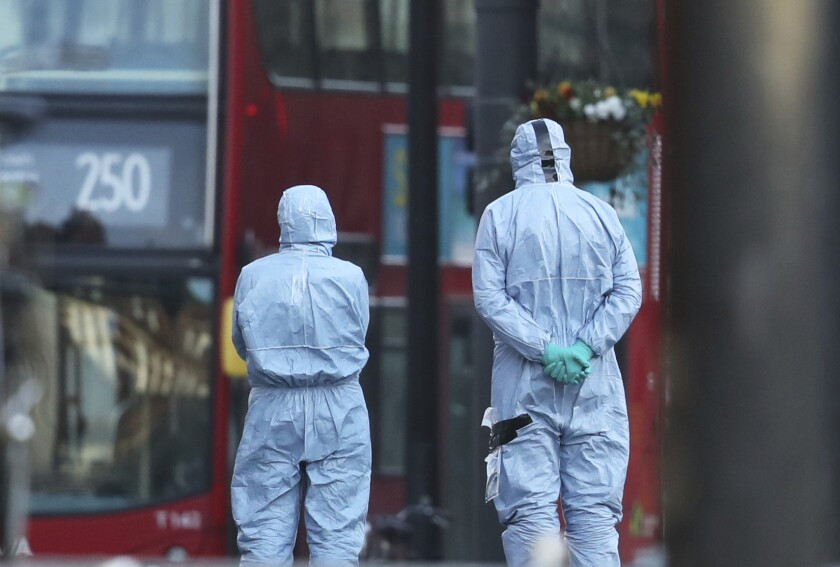 LONDON —
Britain, like most other countries in Western Europe, has been struggling with ways to rehabilitate Muslim extremists. To that end, it has tried programs meant to steer them away from violent ideology and help them reintegrate into society.
But now, following the second stabbing attack in just over two months by a recently freed young Islamist, many in Britain are seriously questioning whether such de-radicalization works.
Prime Minister Boris Johnson's government announced Monday that it is moving to curtail early release for those jailed for terrorism-related offenses, including acts that stop short of violence.
Proponents of early release for such convicts say jailhouse experiences sometimes heighten the likelihood they will go on to carry out an attack.
But the argument against long incarcerations took a hit on Sunday, when 20-year-old Sudesh Amman stabbed two people in a busy London street before being shot to death by police.
He had been freed from prison days earlier, eligible for release under current criteria after serving half of his 40-month sentence for possessing terrorism-related documents and disseminating terrorist literature. Authorities said he had also expressed sympathy for Islamic State and suggested his girlfriend behead her parents for being insufficiently devout Muslims.
About 220 Britons are behind bars for terrorism-related offenses. There has also been heated public debate about what should happen to Britons who joined Islamic State and are now detained in Iraq or Syria. The government has not given a precise figure for how many such cases exist, but some of those detainees have been stripped of British citizenship rather than being repatriated to face charges.
Amman was under police surveillance since his release in late January, but nonetheless managed steal a 10-inch knife from a shop and use it to attack passersby in a bustling commercial area in Streatham, a suburb about five miles south of central London.
In an apparent attempt to frighten off anybody who might try to subdue him, Amman wore a fake suicide bomb — as had Usman Khan, a 28-year-old who stabbed five people, two fatally, in a Nov. 29 attack near landmark London Bridge.
Khan, who had served eight years in prison in connection with a bomb plot against the London Stock Exchange, was also shot to death by police — after being charged by passersby, including one who jabbed at him with a rare narwhal tusk snatched from the wall of the nearby Fishmongers' Hall, where the attack began.
At the time of the attack, Khan was attending a prisoner-rehabilitation event at the hall. The two people he stabbed to death — Saskia Jones, 23, and Jack Merritt, 25 — were both recent graduates of the University of Cambridge who were taking part in the program.
Some of the most urgent calls for action have come from lawmakers whose constituents were targeted. Bell Ribeiro-Addy, the member of Parliament who represents Streatham, questioned why someone considered dangerous enough to be shadowed by plainclothes officers was not kept behind bars.
"If someone needs to be under surveillance it brings the questions on why they were released in the first place," she said. In some cases, eligibility for early release is automatic, without individual review.
Sunday's attack, swiftly deemed a terrorist incident, dominated British headlines and took some of the spotlight away from Brexit, the country's departure from the European Union that took effect Friday.
"We do think it is time to take action," Johnson said Monday in a speech intended to lay out Britain's future trading relationship with the bloc. "The anomaly we need to clear up is the process by which some people are coming out under automatic early release without any scrutiny or parole system."
Justice Secretary Robert Buckland later told lawmakers that the government would seek emergency legislation mandating that those convicted of terrorism-related offenses would have to serve at least two-thirds of their sentences, with tighter parole provisions.
Britain has long wrestled with its approach to radical Islamists convicted of crimes. Four years ago, concerned that prisons were becoming breeding grounds for extremism, the government announced plans to isolate those considered a particular threat in special high-security units away from the general prison population.
"We may need to accept there are certain people who are so dangerous they must be kept in prison indefinitely," Ian Acheson, who carried out a review of how such offenders were treated, told BBC radio.
London Mayor Sadiq Khan, a frequent critic of Johnson, said the government needed to ensure that those jailed on terrorism charges were "properly punished and reformed." But he said he feared that British prisons sometimes served as "warehouses" where inmates became more deeply radicalized.
Amman's mother, Haleema Faraz Khan, told Sky News that her son had adopted more extreme views while serving time in Britain's notorious Belmarsh prison. "He became more religious inside prison," she said.
The former chief crown prosecutor for the northwest of England, Nazir Afzal, said longer incarcerations alone might serve only to delay "inevitable crime." But he also said in a radio interview that many de-radicalization programs were underfunded and ineffective.
Acknowledging the public mood, the former head of U.K. counter-terrorism, Mark Rowley, said he understood the appeal of indeterminate sentences in terrorism cases, but spoke out against an all-encompassing "lock-up-and-throw-away-the key" approach. He said authorities needed to be "as equally aggressive about trying to help people turn their lives around as we are determined to protect the public."
At the same time, Rowley told the BBC there was no definitive template for de-radicalization programs. "What works in Denmark or in Saudi Arabia or in Singapore doesn't always work in the U.K.," he said.
Special correspondent Boyle reported from London and staff writer King from Washington.
---
The stories shaping California
Get up to speed with our Essential California newsletter, sent six days a week.
You may occasionally receive promotional content from the Los Angeles Times.