German leader Angela Merkel's chosen successor to step down as party leader, creating political crisis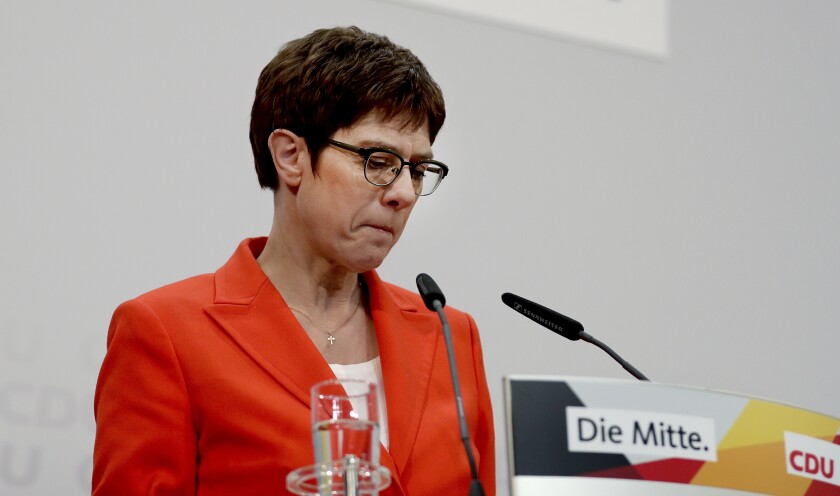 BERLIN —
Germany's ruling conservative party Monday faced unexpected turmoil when Chancellor Angela Merkel's designated successor announced she no longer had any interest in leading the nation and would also step down as party leader.
The decision by Annegret Kramp-Karrenbauer came after a failed attempt to stop conservative Christian Democrats lawmakers in the Thuringia region from cooperating with a far-right extremist party in a governor's race. The move was unprecedented in post-World War II Germany and has hurt the stability of Chancellor Angela Merkel's federal coalition with its center-left partners.
Kramp-Karrenbauer said Monday that the Christian Democrats party had been weakened by the split of the party leader and chancellor jobs in late 2018. Kramp-Karrenbauer became party leader while Merkel remained chancellor but said she would not run for a fifth term in an election scheduled for fall 2021.
"I will not be the candidate for chancellor," Kramp-Karrenbauer told a news conference in Berlin. "We're stronger when the two jobs are held by the same person. . . . I've been thinking about this for a long time, and the decision kept growing on me."
Kramp-Karrenbauer, who was elected party chair 14 months ago, was unable to stop her Christian Democrat party members in Thuringia from aligning themselves with the normally ostracized Alternative for Germany party. The governor who was elected and took office last week resigned two days later after the election result was condemned by Merkel and the nation saw widespread demonstrations from Germans incensed by the alliance with Alternative for Germany.
Kramp-Karrenbauer, who will remain Germany's defense minister, plans to stay on as party leader until a new one is chosen.
Analysts and former Foreign Minister Sigmar Gabriel said her surprise announcement nevertheless could open the door for early elections this year.
"The chances of Merkel staying in power are a lot lower now," said Thomas Jaeger, a political scientist at Cologne University in an interview. "Merkel had hand-picked the weakest possible successor she could find in the hopes that she could stay in power as long as she wanted. The gamble didn't work out. The party will likely pick a stronger successor now as party leader who won't want to wait in the wings."
Kramp-Karrenbauer, who is more commonly known in Germany as "AKK" because of her tongue-twisting name, won a tense inner party battle against a conservative millionaire to lead the party but faced a steady drumbeat of criticism laced with sexism from allies of Friedrich Merz, once the party's whip in parliament and more recently a businessman who has also taken over an advisory position in the party.
"This is an unusually grave situation for the Christian Democrats — for all Christian Democrats," Economy Minister Peter Altmaier, a close Merkel ally, told reporters outside Christian Democrat party headquarters ahead of a meeting with other leaders to discuss the resignation.
The Christian Democrats, who have ruled Germany for 51 of the last 71 years, have been the epitome of stability for most of those decades. Merkel, chancellor since 2005, was the party leader for 18 years before turning over the reins to Kramp-Karrenbauer in late 2018 following a series of regional election defeats. And before her, Helmut Kohl was the party chair for 25 years and chancellor for 16 years.
"Our next candidate for chancellor won't be elected as chancellor if we continue to carry on like this," said Wolfgang Schaeuble, long a powerful leader in the Christian Democrats who was briefly chairman as well in 1998 to 2000.
The conservatives long tried to conceal deeper divisions about Merkel, who gradually moved her party to the political center but upset many of its conservatives in the process. Her decision in 2015, for example, to open the country's borders for more than 1 million refugees from Syria and troubled countries such as Iraq and Afghanistan deeply angered many conservatives and contributed to the rise of the Alternative for Germany — which positioned itself as an anti-refugee, anti-Islam bastion. The Alternative for Germany siphoned away millions of votes from the Christian Democrats and cost the party dearly in regional elections.
"I've got a lot of respect for AKK's decision, but this still really hurts," said Markus Soeder, the Bavarian governor and head of the Christian Social Union in Bavaria who is considered by many to be a possible successor to Merkel. "It's important that we thoroughly clear up the conservative position on policy and candidate."
Other possible successors include Merz and Health Minister Jens Spahn, both of whom were defeated by Kramp-Karrenbauer in the December 2018 campaign for the party chair. Also mentioned as a possible successor to Merkel is Armin Laschet, the governor of Germany's most populous state of North Rhine-Westphalia.
The conservatives are still Germany's most popular party, according to opinion polls that put them at about 28% of eligible voters. The pro-environment Greens have climbed to about 22% while the center-left Social Democrats have fallen behind the Greens to 14%. The Alternative for Germany is at about 10% in opinion polls. The conservatives are currently in a grand coalition with the SPD.
Kirschbaum is a special correspondent.
---
Must-read stories from the L.A. Times
Get the day's top news with our Today's Headlines newsletter, sent every weekday morning.
You may occasionally receive promotional content from the Los Angeles Times.