Postmaster general suspends Postal Service changes until after election; Democrats keep pressure on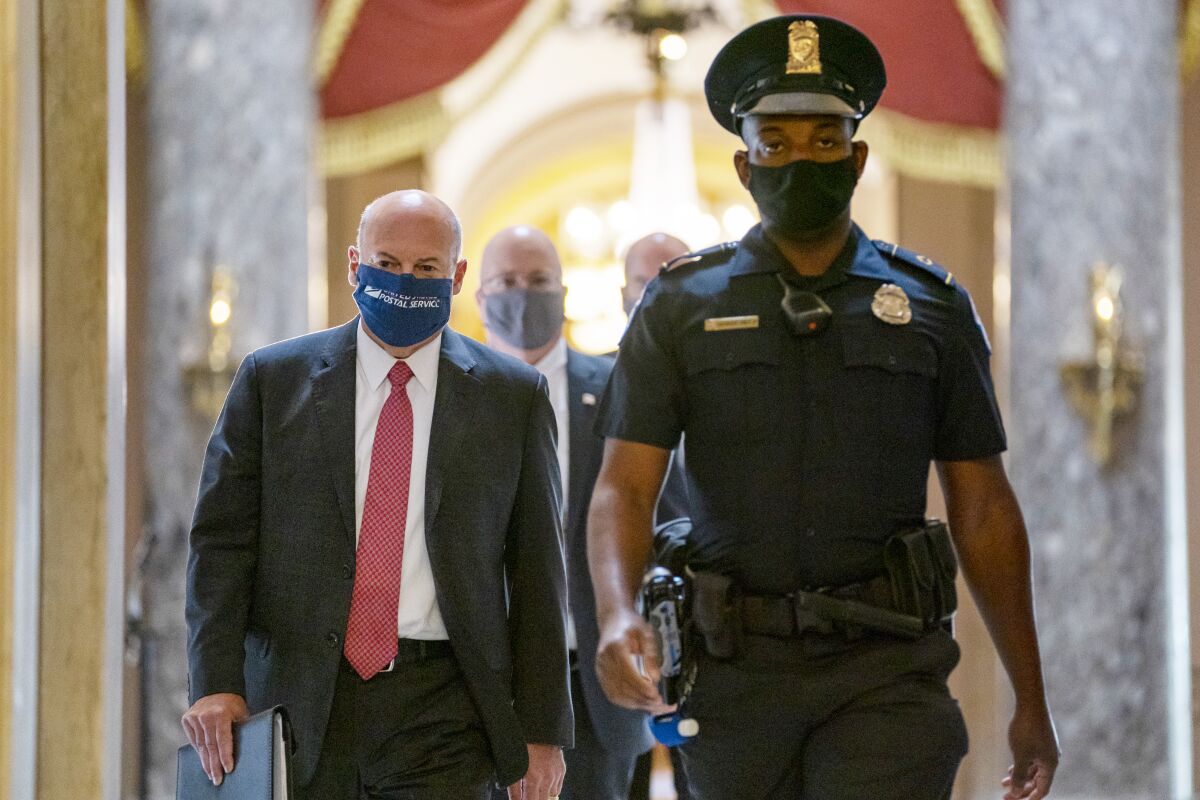 WASHINGTON —
Postmaster Gen. Louis DeJoy said Tuesday he would postpone controversial changes to the U.S. postal system that have been blamed for delays in mail services, but his promise did little to assuage Democrats' worries that the Trump administration is trying to undermine the mail system for an advantage at the ballot box this fall.
The U.S. Postal Service will suspend any operational changes — which have included reductions in service, overtime pay restrictions and removal of public collection boxes and mail-sorting machines — until after election day to "avoid even the appearance of any impact on election mail," DeJoy said.
Retail hours at post offices won't be changed, and overtime will be approved as needed, DeJoy added. As of Oct. 1, the Postal Service will also have standby resources to respond to additional demand.
DeJoy did not explicitly list which other changes would be halted except to say that they are "some long-standing operational initiatives" that "have been raised as areas of concern as the nation prepares to hold an election in the midst of a devastating pandemic."
DeJoy's announcement comes as the Postal Service's changes — which began last month — have grown politically toxic for Republicans. Cognizant of the strong public support for the Postal Service, Democrats have held events at post offices around the country in recent days to draw attention to the delays.
"They felt the heat," House Speaker Nancy Pelosi (D-San Francisco) said of DeJoy's reversal during a virtual Politico interview. "That's what we were trying to do — is to make it too hot for them to handle."
In a further attempt to blunt the political fallout, DeJoy also said the Postal Service is prepared to deal with "whatever volume of election mail it receives this fall." There is expected to be an unprecedented number of voters who cast their ballot by mail.
Republicans had hoped that the postmaster general's announcement would take the wind out of the sails of Democrats' efforts to beef up oversight of the service. But Democrats dismissed DeJoy's pledge as worth little more than the price of a stamp.
"There are still too many unanswered questions," said Sen. Gary Peters (D-Mich.), the top Democrat on the Homeland Security and Governmental Affairs Committee, which oversees the service.
House Democrats still plan to vote Saturday on a bill that would halt the new policies. And they are demanding that DeJoy reverse the changes that have already taken effect.
He will have to provide answers as soon as Friday, when he appears before the Senate Homeland Security and Governmental Affairs Committee. He is slated to testify at a second hearing before the House Oversight Committee on Monday.
The appearance in the Senate, which is controlled by Republicans, will be before a friendlier crowd than the one he is likely to face in the Democratic-controlled House.
"I hope the postmaster general comes prepared. I know I will," Rep. Katie Porter (D-Irvine), one of the toughest questioners in the House, said via Twitter.
Republicans say Democrats have manufactured a crisis for political gain.
"This issue is a political smokescreen being driven by Democrats because they want to advance their policy objective of universal mail-in votes," said Sen. Ted Cruz (R-Texas). "The problem with universal mail-in voting is it is particularly susceptible to voter fraud. And unfortunately, too many partisan Democrats view that as a feature and not a bug."
Studies have found that voter fraud is rare, including in states with widespread voting by mail.
Trump says he won't approve emergency funding for Postal Service, raising the chances of political chaos in November when mail-in ballots flood in.
DeJoy took office in June with a mandate to reform the postal system, and he quickly took action to cut costs and ensure the long-term sustainability of mail delivery. For instance, the Postal Service had planned to take about 10% of its mail-sorting machines offline to cut spending and had removed or relocated public mailboxes in several states, according to published reports. Post offices were told to keep mail until the following day if postal distribution centers were behind.
As recently as last week, the service warned many states — including California — that there would be slowdowns in mail delivery, and election mail could be delayed.
California Atty. Gen. Xavier Becerra said Tuesday that despite the halt in service changes, he would join several other states in suing the Trump administration over the cutbacks. The suit is expected to be filed by the end of the week.
"Americans have a right to know that their government won't sabotage their right to vote. Every vote counts. It's time that DeJoy's deeds match his words today," Becerra said in a statement.
The move comes as the postmaster general backs off changes for now. California's attorney general calls the changes an attack on a fair election.
In his announcement Tuesday, DeJoy said the changes will still be needed to keep the Postal Service functioning.
"Postmaster Gen. DeJoy has nothing to be ashamed of," said Rep. James Comer (R-Ky.), the top Republican on the House Committee on Oversight and Reform. "The Postal Service has been in dire straits long before Mr. DeJoy's leadership, and he rightfully took action to improve its efficiency and operations to better serve the American people."
The House vote on Saturday will be on a bill that is expected to halt the changes and provide additional funding to the Postal Service. But the bill is likely to be largely symbolic. Senate Majority Leader Mitch McConnell (R-Ky.) has not signaled any willingness to call his chamber back to vote on the measure, which would be required for it to become law.
However, Senate Republicans are expected to release new legislation as soon as this week to provide funding for the service, combined with funding to respond to the coronavirus pandemic. The Senate left last week without holding a vote on further coronavirus relief.
"The Postal Service is going to be just fine," McConnell said Monday in Kentucky. "We're going to make sure the ability to function going into the election is not adversely affected."
Times staff writer Maya Lau contributed to this report.
---
Life is stressful. Our weekly mental wellness newsletter can help.
You may occasionally receive promotional content from the Los Angeles Times.