As U.S. rolls out COVID-19 vaccine, some in Europe chafe at their wait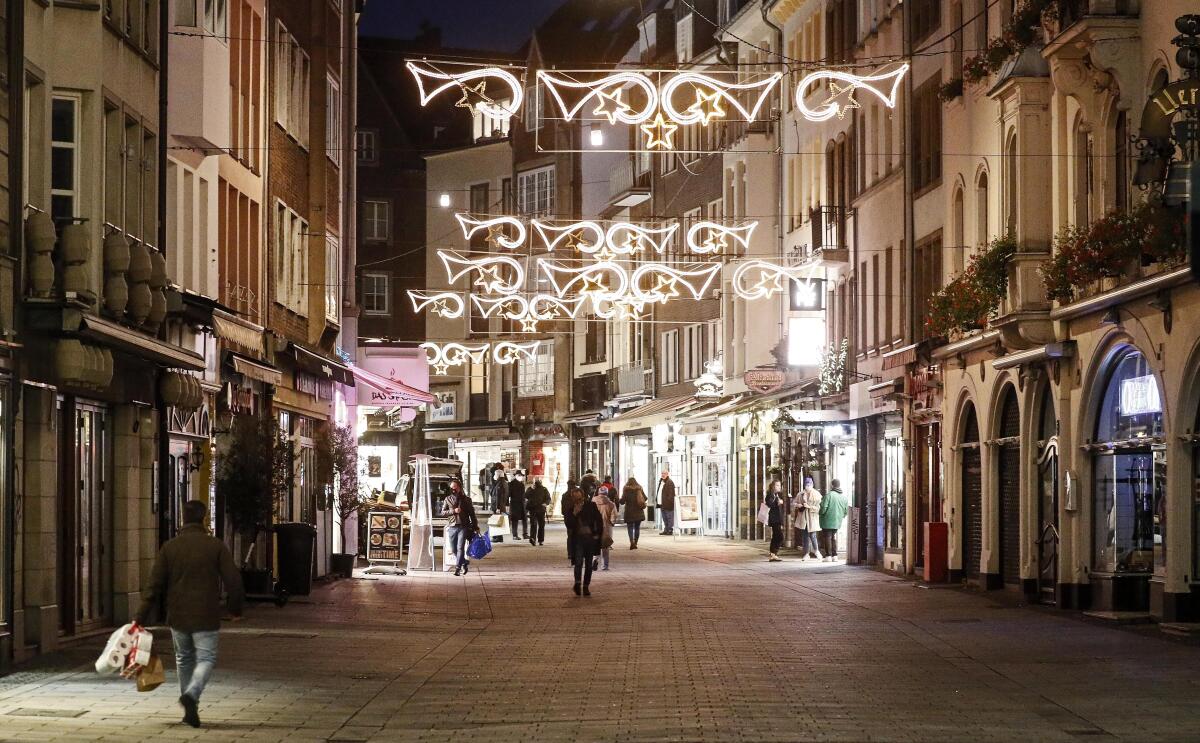 BERLIN —
As the U.S. starts its mass-inoculation drive and Britain continues its vaccine rollout, some in Europe are chafing at their wait for approval of a COVID-19 shot, which Germany is now demanding happen sooner than planned.
That may indeed come to pass following Tuesday's announcement by the European Medicines Agency that it was moving its previously scheduled Dec. 29 meeting on the Pfizer-BioNTech COVID-19 vaccine to Monday. The regulator said it made the decision after receiving additional data from the vaccine-makers.
But the date change also came after Berlin and other European capitals increasingly expressed impatience with the EMA's timetable.
"Our goal is an approval before Christmas," German Health Minister Jens Spahn told reporters Tuesday. "We want to still start vaccinating this year."
The EMA said its human medicines committee would "conclude its assessment" of the Pfizer-BioNTech vaccine as early as possible "once the data on the quality, safety and effectiveness of the vaccine are sufficiently robust and complete to determine whether the vaccine's benefits outweigh its risks."
As Americans, Britons and Canadians begin receiving shots, pressure is building on the EU's regulator to approve the Pfizer-BioNTech COVID-19 vaccine.
If the committee recommends authorization, the EU's Executive Commission would "fast-track its decision-making process" to giving the vaccine approval for all 27 EU nations within days, the EMA said.
Spahn suggested that approval could be granted by Dec. 23.
Beside Germany, Italy, where Europe's coronavirus outbreak erupted in February and which now leads the continent in the COVID-19 death count, also pressed for a safe, accelerated approval process.
"My hope is that the EMA, in compliance with all safety procedures, will be able to approve the Pfizer-BioNTech vaccine earlier than expected and that vaccinations can also begin in the countries of the European Union as soon as possible," Italian Health Minister Roberto Speranza said in a statement.
The first coronavirus vaccinations came on a day when the U.S. death toll climbed past 300,000 — nearly 11 months after the nation's first case was diagnosed.
Germany has set up more than 400 vaccination centers, has activated about 10,000 doctors and medical staff and was prepared to start mass vaccinations as early as Tuesday, Spahn said. But as a member of the EU, Europe's most populous country is still awaiting approval of a vaccine by the EMA.
The shot developed by Pfizer and Germany's BioNTech has already been authorized for use in Britain, which began administering injections last week, and the U.S. and Canada, which launched their vaccination campaigns Monday.
Seeing the vaccine being given to thousands of people elsewhere was galling for many Germans.
"It cannot be that a vaccine that has been developed in Germany is only approved and [used here] in January," said Christine Aschenberg-Dugnus, a federal lawmaker with the pro-business Free Democrats.
The first coronavirus vaccinations arrive nearly 11 months after the nation's first case was diagnosed.
The German Hospital Assn. chimed in, demanding that the EU shorten its lengthy approval process and issue emergency authorization for the Pfizer-BioNTech vaccine.
"I am asking myself if we really need time until Dec. 29 to reach the approval of the vaccination in Europe — Europe should try to get an emergency authorization earlier," Gerald Gass, president of the association, told the RND media group. "That way we could still go into nursing homes with mobile teams before Christmas and vaccinate the residents."
Part of the problem could be that the EU is seeking to kick off vaccinations in all of its 27 nations at the same time, forcing Germany to wait as other countries catch up in getting their distribution networks ready.
Spahn's growing anxiety comes as Germany has been hitting records of new daily coronavirus infections and COVID-19 deaths in recent weeks. Although Germany's death toll remains far lower than Italy's or Britain's, the country is going into a hard lockdown Wednesday, with schools and most stores shutting down at least until Jan. 10 to stop the exponential rise of cases.
Spahn's ministry says Germany is ready to give 3 million to 4 million Pfizer-BioNTech vaccination doses in January and up to 11 million doses in the first quarter of 2021.
The country would be able to vaccinate up to 60% of Germany's citizens by the end of the summer, Spahn said Monday night on public broadcaster ZDF. The World Health Organization has said that about 60% to 70% of a population needs to be vaccinated to successfully tamp down the pandemic.
The Robert Koch Institute, Germany's disease-control agency, on Tuesday reported 14,432 new confirmed cases and 500 new deaths, the third-highest number of daily deaths since the pandemic began. Germany has logged more than 22,600 COVID-19 deaths overall.
Sign up for Essential California for news, features and recommendations from the L.A. Times and beyond in your inbox six days a week.
You may occasionally receive promotional content from the Los Angeles Times.