'I feel like healing is coming': Coronavirus vaccinations begin in historic U.S. campaign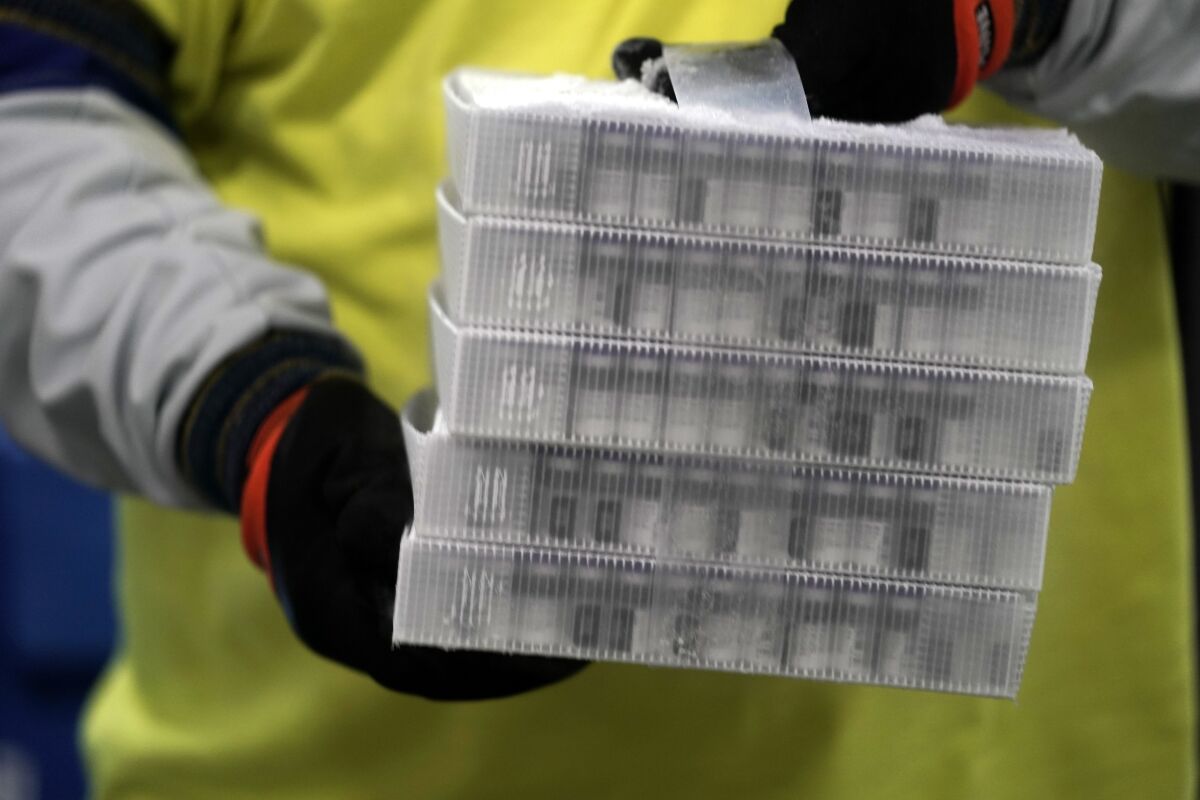 It was a day America had been waiting for, a moment touted as the beginning of the end of a pandemic that has divided our politics, battered our economy, roused our culture wars and left us one of the most infected countries on the planet.
At Long Island Jewish Medical Center in New York, news cameras whirred as critical-care nurse Sandra Lindsay sat with her hands in her lap and received an injection in her left arm.
"I feel like healing is coming," she said.
The months of pain and loss were evident hours after she received her shot — the first known U.S. inoculation against COVID-19 since the Food and Drug Administration authorized a vaccine — when the nation's death toll breached 300,000.
Throughout the pandemic, Lindsay had cared for its victims, despite the risk of becoming infected herself.
Now she would be able to worry less.
Germany has upped the pressure on the European Union's medicines regulator by demanding that a COVID-19 vaccine be approved before Christmas.
The most ambitious vaccine rollout in American history promises to end a crisis that has jammed hospitals, overwhelmed funeral homes and brought much of the nation to a standstill.
But a return to some semblance of normalcy remains many months away. Most Americans won't be eligible for a vaccine until spring at the earliest, and even with widespread inoculations, many pandemic-era public health measures will remain in place.
Experts say American individualism and a lack of leadership made the coronavirus catastrophe worse than it had to be. The inaugural vaccinations are a snapshot of another quintessential America: a nation that leverages technological prowess to escape dire situations.
The vaccine, developed by Pfizer with the German company BioNTech, was authorized by the FDA Friday for emergency use. A competing vaccine developed by Moderna is widely expected to gain authorization later this month.
Some 145 sites across the country were expected to receive the vaccine Monday, and another 500 were set to receive shipments by midweek, according to Gen. Gustave Perna, the chief operating officer of Operation Warp Speed, which is overseeing the distribution.
Pfizer expects to ship no more than 6.4 million doses this week. The federal government has allotted the first shipments to states based on their populations and recommended that the nation's 24 million frontline healthcare workers and residents of long-term care facilities be first in line.
The initial shortage means that even within hospitals, deciding who to vaccinate immediately is a massive exercise in triage. At least in some places, workers with the greatest exposure to the virus go first.
The current surge in COVID-19 cases adds another challenge. Overwhelmed hospitals are staggering inoculation schedules so that patients won't be left in the lurch if workers who experience side effects need to take time away.
The first coronavirus vaccinations arrive nearly 11 months after the nation's first case was diagnosed.
In Texas, the first 19,500 doses arrived Monday at four sites: UT Health Austin Dell Medical School, UT Health San Antonio, Methodist Dallas Medical Center and MD Anderson Cancer Center in Houston. A state panel decided which hospitals would receive the vaccine first, based not on their burden of COVID-19 patients but on their freezer capacity.
"We expect we'll have more vaccine next week to allocate to more providers and every week going forward," said Chris Van Deusen, a spokesman for the Texas Department of State Health Services.
The Pfizer vaccine ships in containers that each contain 975 doses. The containers must be stored at minus 94 degrees Fahrenheit and can be opened only twice a day, for a maximum of three minutes each time.
Van Deusen said approval of the Moderna vaccine, which is expected to ship in batches as small as 100 doses, will "expand the ability to get vaccine to smaller providers."
But that was of little comfort to Texas doctors and nurses whose hospitals were left out of the initial vaccine distribution.
"We're in limbo," said Dr. Joseph Varon, who on Monday was treating 41 COVID-19 patients at United Memorial Medical Center in Houston. "We have no idea when we are going to get the vaccine. It's just not right."
Varon suggested that hospitals like his — which has treated many COVID-19 patients of color from low-income neighborhoods — should have been given higher priority.
"If this is how they are doing the allocation of vaccines now ... how are the underserved communities going to get it?" Varon asked.
It is up to each state to decide how to dole out the vaccine it receives.
COVID-19 vaccines are now being administered to healthcare workers in the U.S. What are your questions about the timeline, the safety or the science?
After vaccinating health workers, some states will focus on grocery-store personnel and other workers deemed "essential," while other states might turn to people over 65 or to those with high-risk factors like obesity and diabetes. In most states, those essential workers are often people of color, who have been disproportionately affected by the pandemic.
The vaccination campaign is expected to last well into 2021, but the success of its inaugural days depends on attention to detail.
Pfizer conducted months of empty-box trial runs with airlines and logistics firms. This week will provide a clearer picture of potential issues such as broken vials, misdirected deliveries or even theft.
Each box of vials is equipped with a tracking device that also monitors temperature.
On the receiving end, hospitals have been preparing for weeks, running mock distribution exercises, testing back-up power sources and adjusting freezer temperatures. They must be prepared with saline, syringes and other supplies — and a steady stream of people ready to receive two injections several weeks apart.
Officials in California — which received nearly 330,000 doses Monday — warned about the potential for fraud while the vaccine remains in short supply.
"Don't let someone hoodwink you into thinking that they can get you in line faster for a vaccine, or for a certain price they will give you a better vaccine," state Atty. Gen. Xavier Becerra told reporters.
Here's a timeline of when the general public can expect to begin receiving the COVID-19 vaccine.
As the vaccine moves beyond the initial priority groups, another worry is that many people will be unwilling to take it.
Two allergic reactions were reported during Pfizer's trials, and at least 15% of trial participants for Pfizer and Moderna have reported fatigue, chills or other side effects. Such reports will become more widespread as mass vaccinations proceed, potentially fostering distrust in the public health initiative.
Dr. Brad Sellers, medical director at Methodist Dallas Medical Center's emergency room and one the first staff members vaccinated there Monday, said that even he had a moment of doubt — "that split second when you pull up your sleeve and feel the needle go in and think, 'I hope I'm making the right decision.'"
Hours later, he hadn't felt any side effects, he said.
"I see what COVID does to people every day in the emergency room on the front line," he said. "People die from it — old people, young people.
"Having this extra level of protection takes a lot of the stress and the worry off."
Staff writer Kurtis Lee contributed to this report.
---
Must-read stories from the L.A. Times
Get the day's top news with our Today's Headlines newsletter, sent every weekday morning.
You may occasionally receive promotional content from the Los Angeles Times.