U.S. urges pause of Johnson & Johnson vaccine over 'extremely rare' blood clotting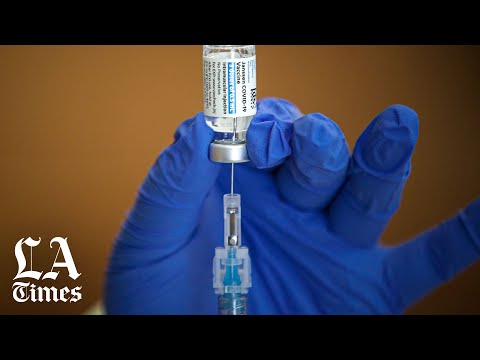 U.S. health officials urged a pause in the use of Johnson & Johnson's COVID-19 vaccine after serious blood clots were reported in six recipients nationwide.
WASHINGTON —
Local and state officials nationwide scrambled Tuesday to keep their COVID-19 vaccination campaigns on track after federal health agencies recommended pausing the use of Johnson & Johnson shots while they studied reports of very rare but dangerous blood clots.
The White House said Pfizer and Moderna were producing enough of their own vaccines to meet President Biden's goal of having enough doses for every American adult by the end of May. But the announcement was still a blow to the U.S. inoculation effort, which relies on public faith in the rapidly developed vaccines to persuade enough people to get shots to prevent another wave of infections and end the pandemic.
Officials have been struggling to overcome some public hesitancy over receiving the shots, and Tuesday's development raised concerns that the news could spark unnecessary fear about vaccine safety.
Questions about COVID-19 vaccines' safety have led to hesitancy for some Americans. Experts say there is almost zero cause for concern.
Federal health officials said the pause in using Johnson & Johnson vaccines may last only a few days, depending on what they learn in their review of medical data, and it's possible they will adjust their guidance on the best candidates to receive the company's product — for example, by age group. The Centers for Disease Control and Prevention scheduled an emergency meeting for Wednesday.
Officials are investigating blood clots suffered by six women between the ages of 18 and 48. One woman died and another is in critical condition. About 7 million Johnson & Johnson shots have been administered — less than 5% of those received to date, according to the White House.
By comparison, about 185 million shots of Moderna and Pfizer vaccines have been given out in the United States, without raising similar concerns about clotting. Recipients must receive two shots of the Moderna and Pfizer versions to be fully vaccinated, but just one dose of the Johnson & Johnson vaccine.
"Out of an abundance in caution, we're recommending a pause in the use of the Johnson & Johnson COVID-19 vaccine," said Janet Woodcock, the acting commissioner of the Food and Drug Administration. "We're recommending this pause while we work together to fully understand these events and also so we can get information out to healthcare providers and vaccine recipients."
She emphasized that reports of serious blood clots are "extremely rare," but "COVID-19 vaccine safety is a top priority for the federal government, and we take all reports of adverse events after vaccination very seriously."
One reason for federal agencies' sweeping response is because the most common anticoagulant drug, called heparin, can be dangerous when used to treat this particular kind of blood clot, known as a cerebral venous sinus thrombosis. Federal officials said people who received a Johnson & Johnson vaccine in recent weeks should contact their healthcare provider if they experience severe headaches, abdominal pain, leg pain or shortness of breath.
Kathleen Neuzil, director of the Center for Vaccine Development at the University of Maryland School of Medicine, said it was "a very wise move" to warn doctors and patients about the potential for these rare clots and how to treat them. However, she acknowledged that the announcement could increase concerns about the vaccines.
"News like this is scary," she said. "And we can be rational, and we can give numbers, and it all makes sense. That doesn't take away the fact that people are concerned when they hear this news."
Neuzil said Americans should be reassured by how the federal government handled the situation. "We have government officials who are taking action so quickly and putting safety first," she said.
California will temporarily stop administering the Johnson & Johnson COVID-19 vaccine after reports of six serious blood clots nationwide.
The fallout rippled across the country as state and local governments took stock of their vaccine supplies and adjusted their inoculation programs.
Health officials in Los Angeles and elsewhere said they would heed the federal recommendation and pause administering Johnson & Johnson shots. Some appointments are being rescheduled; others are being fulfilled with vaccines from other companies. Federal vaccination sites also stopped providing Johnson & Johnson shots.
Anne Schuchat, the CDC's principal deputy director, said people should continue to get inoculated when an appointment is available, although she acknowledged that the process "may be a bit bumpy" in the days ahead.
The country has been averaging 3 million shots per day. Biden, during an Oval Office meeting, said there will be enough vaccines for every American adult. "That is basically 100% unquestionable," he said.
Johnson & Johnson's vaccine was the third to be authorized in the U.S. Biden has been trying to accelerate the U.S. inoculation effort to protect more Americans and to prevent any new variants from spreading. He's scheduled to participate in a star-studded NBC television special on Sunday to encourage Americans to "roll up your sleeves" for the vaccine.
New York City Councilman Mark Levine, who chairs the city's health committee, tweeted that officials now faced "the biggest messaging challenge yet." He added, "We have to do everything possible to avoid a collapse in confidence in vaccination overall."
Unlike the Pfizer and Moderna vaccines, the Johnson & Johnson version requires just one shot and does not need to be stored at extremely cold temperatures, making officials optimistic that it could be transported and administered more easily.
The New Jersey-based company, however, has been battling perceptions that its vaccine is less effective than others, as well as the revelation that millions of doses produced by a Baltimore factory had to be thrown out because of quality problems. The latest announcement created an even greater cloud.
Johnson & Johnson said it was working with officials to investigate the reported blood clots.
"At present, no clear causal relationship has been established between these rare events and the Janssen COVID-19 vaccine," the company said in a statement, referring to the division that developed the vaccine. "We continue to work closely with experts and regulators to assess the data and support the open communication of this information to healthcare professionals and the public."
Gigi Gronvall, a senior scholar of immunology at the Johns Hopkins Center for Health Security, described the blood clots as "literally a one-in-a-million adverse event" given how many Johnson & Johnson shots had been administered so far. She said the FDA was "a very conservative organization" and people should have confidence that officials were carefully scrutinizing the vaccines.
"There will be more of an effort to help people understand all of the complexities involved here," she said. "But it's an important job, and we'll just have to do it."
Scattered cases of such clots have also arisen in Europe among recipients of the AstraZeneca COVID-19 vaccine, leading several countries to restrict use of that shot for older people.
In Britain, residents younger than 30 will be given the choice of other vaccines as a precautionary measure. The European Union's drugs regulator, however, has ruled that the benefits of the AstraZeneca vaccine, as a generally safe and highly effective guard against COVID-19, outweigh the risks. It has not recommended any age restrictions for recipients.
AstraZeneca has said it intends to apply for emergency-use authorization of its vaccine in the United States.
The AstraZeneca and Johnson & Johnson versions, unlike the Pfizer and Moderna vaccines, rely on an adenovirus to stimulate an immune reaction and protect against COVID-19.
Blood clots can occur in the general population, most notably among women taking oral contraceptives. Dr. Rebecca Weintraub, a Harvard Medical School professor, said more research needs to be done to determine whether there's any connection to the COVID-19 vaccines.
"This is a very small set of data points," she said. "And it needs to be studied further."
Sign up for Essential California for the L.A. Times biggest news, features and recommendations in your inbox six days a week.
You may occasionally receive promotional content from the Los Angeles Times.