Accusing Russia of 'genocide', Biden to step up military aid to Ukraine
DNIPRO, Ukraine —
President Biden and other Western leaders pledged additional military aid for Ukraine on Wednesday, while Russia sharply rejected the president's description of its wartime acts as "genocide."
After an hourlong call with Ukrainian President Volodymyr Zelensky, Biden announced his administration was authorizing an additional $800 million in weapons, ammunition and other security assistance to Ukraine.
Biden — with the seventh week of the war drawing to a close — said the new military aid "will contain many of the highly effective weapons systems we have already provided and new capabilities tailored to the wider assault we expect Russia to launch in eastern Ukraine."
"The steady supply of weapons the United States and its allies and partners have provided to Ukraine has been critical in sustaining its fight against the Russian invasion," Biden said. "It has helped ensure that [Russian President Vladimir] Putin failed in his initial war aims to conquer and control Ukraine. We cannot rest now."
The latest package will include new capabilities that the U.S. hasn't sent to Ukraine before, Pentagon spokesman John Kirby said, including 18 howitzer artillery guns and 40,000 shells for the weapons and protective equipment against chemical, biological, radiological and nuclear warfare. Earlier Wednesday, officials from the European Council announced it agreed to $544 million in additional support for Ukrainian forces.
Kremlin spokesman Dmitry Peskov, meanwhile, fired back after Biden said earlier in the week for the first time that Russia was committing genocide in Ukraine. Peskov told reporters that the remark was "hardly acceptable from a president of the United States, a country that has committed well-known crimes in recent times."
Ukraine says it is investigating a claim that a poisonous substance was dropped on the besieged city of Mariupol.
As Russia's assault on Ukraine continued, Finland and Sweden took steps to join the U.S.-led North Atlantic Treaty Organization, which for years Putin has warned them against.
Finnish Prime Minister Sanna Marin said the Nordic country, which shares a border with Russia, would decide on whether to join NATO "within weeks."
"Everything changed when Russia invaded Ukraine," Marin said alongside Sweden Prime Minister Magdalena Andersson at a news conference in Stockholm.
"I think people's mind-sets in Finland, also in Sweden, changed and [were] shaped very dramatically because of Russia's actions," Marin said.
On Wednesday, Russian artillery pounded Ukrainian cities and towns in preparation for what is expected to be an all-out offensive in the country's eastern industrial heartland known as the Donbas. Satellite imagery from the U.S. firm Maxar Technologies has shown a growing buildup of Russian troops and heavy equipment in at least three likely staging grounds for an assault.
Western military officials and analysts have predicted a ferocious new phase of combat when that offensive begins but question whether Moscow's military command can pivot away from previous strategic stumbles.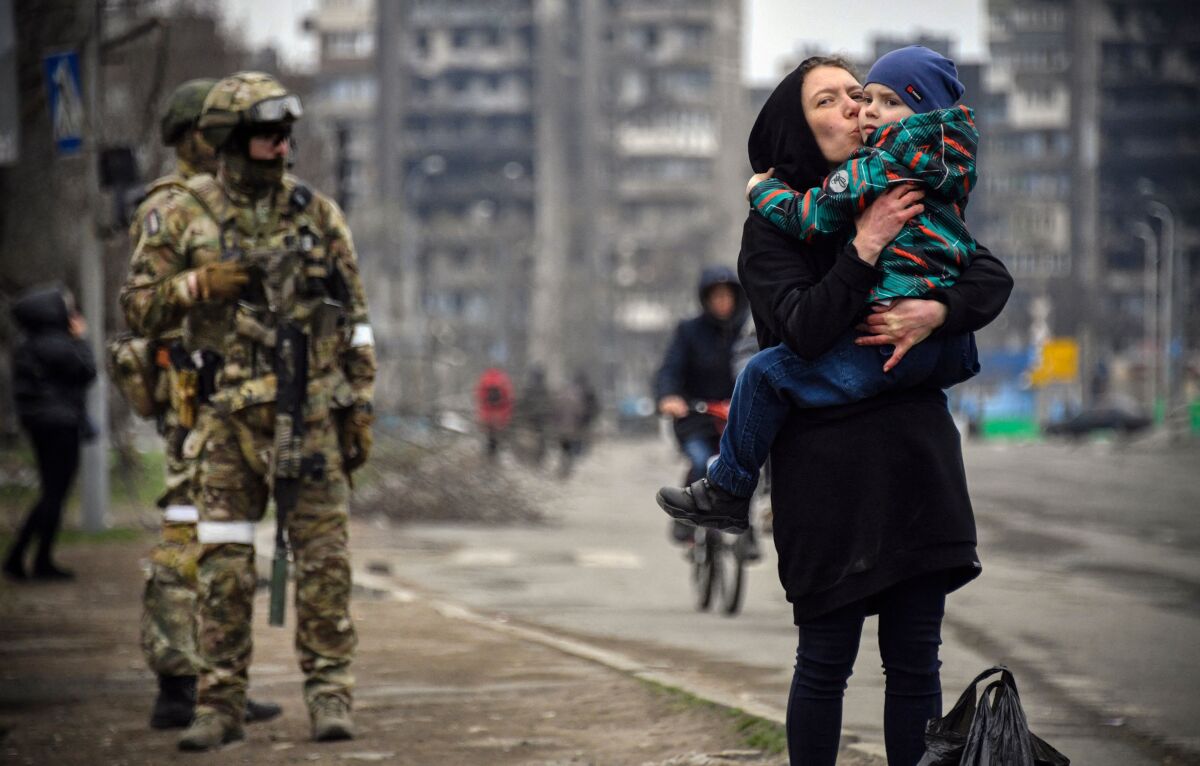 In a continuing show of support for Ukraine from front-line NATO countries, the presidents of Poland and the three Baltic states arrived in Kyiv, Ukraine's capital, on Wednesday for talks with Zelensky.
Ukrainian officials took the visiting presidents to see firsthand one of the Kyiv area's worst-damaged towns: Borodyanka, where Russian shelling and bombardment destroyed numerous high-rise apartment buildings, among other structures. Authorities say dozens of people were killed but have provided no definitive casualty count.
In Moscow, a Defense Ministry spokesman said 1,026 members of Ukraine's 36th Marine Brigade, including more than 160 officers, had voluntarily laid down their arms as a result of "successful offensives" by Russian troops and militia allies in Mariupol. It was unclear from the announcement when the alleged surrender had occurred.
Earlier in the week, the brigade had said in a Facebook post that it was running out of ammunition and had suffered a "mountain" of wounded. The Russian Defense Ministry said 151 Ukrainian soldiers were treated on the spot for injuries or hospitalized.
Ukrainian military officials did not immediately comment on the Russian claim, saying only that the fight for the city continued.
Many previous Russian claims, including weeks of the Kremlin's insistence before the war that Russia had no plans to invade, have been proved false, and Moscow has justified the war with an elaborate campaign of disinformation, including claims that Ukraine is controlled by Nazis.
If borne out, however, the episode would represent one of the war's largest single captures of Ukrainian troops.
Mariupol, on the Sea of Azov, is considered a strategic prize because it offers control of a land corridor between Russian-held territory and the Crimean peninsula, which Russia seized in 2014. The city, which had a prewar population of more than 400,000, has been battered by daily Russian bombardment since the earliest days following the Feb. 24 invasion, and its mayor says an estimated 20,000 people have been killed.
Before Russia's claim concerning Mariupol, Ramzan Kadyrov, the pro-Moscow leader of the Russian republic of Chechnya who has joined in the invading force, went on the messaging app Telegram to urge remaining Ukrainian forces to "end this pointless resistance." Mykhailo Podolyak, an advisor to Zelensky, said on Twitter that defenders were fighting "for each meter of the city."
Another presidential aide, Oleksiy Arestovych, said online that elements of the Ukrainian brigade in question, in a risky maneuver, had managed to link up with other Ukrainian forces. He did not comment on the alleged surrender.
Russian state television showed images of what it said were the surrendering Ukrainian marines being marched down a road.
The monthlong Russian occupation of several Kyiv suburbs and satellite towns left a gruesome trail of death and destruction, triggering an international outcry. Russia denies its troops committed atrocities against civilians, but international investigators have been amassing evidence of possible war crimes including execution-style killings and rapes.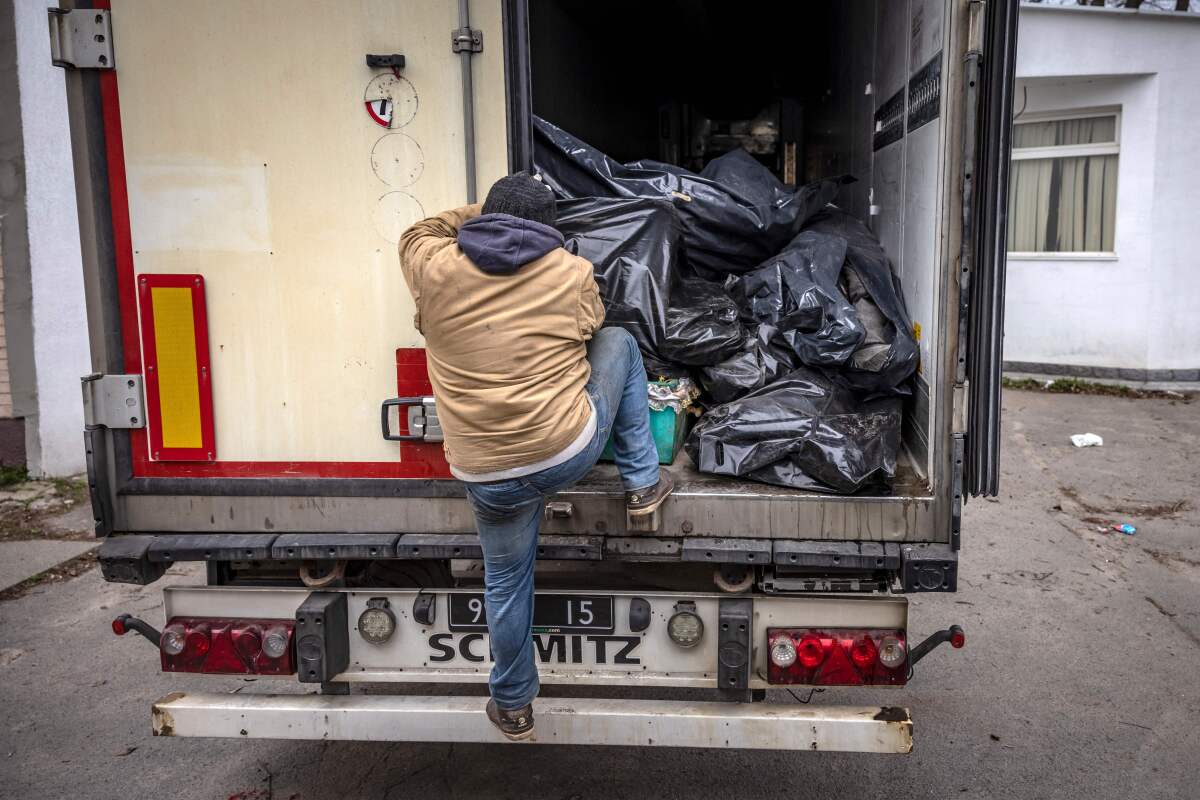 The Organization for Security and Cooperation in Europe said in a report Wednesday that Russia had shown a "clear pattern" of breaking international humanitarian law. At the same time, International Criminal Court prosecutor Karim Khan, visiting the devastated Kyiv suburb of Bucha, has described the country as a "crime scene" in interviews with reporters.
The Ukrainian prosecutor's office said Wednesday that nearly 6,000 war crime complaints had been lodged, and Zelensky, in his overnight video address, expressed outrage over Putin's claim a day earlier that alleged atrocities in Bucha were fake.
"There are not as many 'specialists in staging' in the world as there are murderers in the Russian army," Zelensky said, describing it as "inevitable" that Russia would be held accountable.
In the eastern regions of Luhansk and Donetsk, Ukrainian officials have for days been urging civilians to leave in advance of expected widespread fighting. Departing involves deadly dangers, however; nearly 60 people were killed last week in a Russian missile strike on the railway station in the city of Kramatorsk when it was full of people trying to flee.
Finding a way out of the war zone is getting increasingly difficult. On Wednesday, the deputy prime minister, Iryna Vereshchuk, said it had been impossible to open any humanitarian corridors for the day because Russian forces were violating local truces and blocking buses sent to evacuate civilians.
President Biden, in a speech on rising gas prices, says Russia's actions in Ukraine amount to 'genocide,' a term the administration has previously avoided.
Despite growing fears over a Russian push to seize more eastern territory, there was little outward sign of concern in Dnipro, a central city that is the country's fourth largest and a way point for those fleeing the Donbas. Shops and restaurants were open, with roads packed with cars and traffic jams on major intersections.
Still, a train from the west into the city was mostly empty, with few traveling toward the zone where battles are expected to occur. Another train, hauling a pair of tanks, moved along the tracks, heading somewhere toward the eastern front lines.
Bulos reported from Dnipro, Lee from Los Angeles and King from Warsaw. Times staff writers Patrick J. McDonnell in Kyiv, Carolyn Cole in Dnipro and Anumita Kaur in Washington contributed to this report.
Must-read stories from the L.A. Times
Get the day's top news with our Today's Headlines newsletter, sent every weekday morning.
You may occasionally receive promotional content from the Los Angeles Times.