Ultimatum ignored in Mariupol as attacks intensify in east Ukraine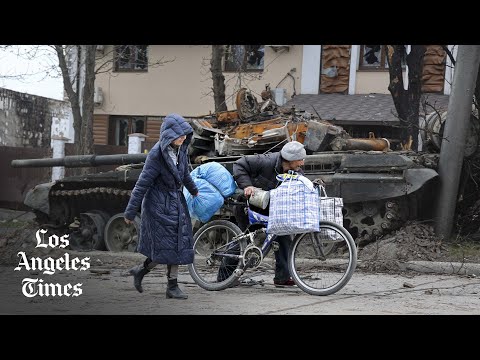 Rubizhne has become a landscape of smashed, scorched buildings and cratered boulevards.
RUBIZHNE, Ukraine —
Russia tightened its grip Wednesday around Ukraine's last stronghold in the besieged port of Mariupol, whose desperate defenders, holed up in underground shelters beneath a massive steel plant, pleaded for international help, declaring that they were "probably facing our last days, if not hours."
Along hundreds of miles of a scythe-shaped battlefront in Ukraine's east, the din of Russian bombardment echoed in cities and towns, while Moscow's ground forces made a series of what Ukrainian military officials described as probing attacks that did not yield any substantial new territorial gains.
With the war about to grind into a ninth week and Western powers racing to supply Ukraine with heavier weapons, Ukrainian President Volodymyr Zelensky said in a video address to the nation that nearly all of Russia's combat-ready forces were "concentrated on the territory of our state" and just outside its borders. Moscow, he said, was deploying "almost everyone and everything that is capable of fighting."
Russia's Feb. 24 invasion of its smaller neighbor has triggered a refugee crisis on a scale not seen in Europe since World War II. The United Nations' refugee agency Wednesday put the the number who have fled Ukraine at 5 million. More than 7 million people are internally displaced.
As investigators gather evidence of possible Russian war crimes in Ukraine, family members visit mass graves and claim their dead in suburbs of Kyiv.
As the fighting's ferocity has increased — and in the weeks since gruesome evidence began emerging of Russian atrocities against civilians in the suburbs of Kyiv, the capital — diplomatic efforts have foundered. On Wednesday, Kremlin spokesman Dmitry Peskov blamed Ukraine for the impasse, saying that Moscow had sent Zelensky's government a draft document with "absolutely clear" proposals and that Ukraine had not responded.
"The ball is in their court," Peskov told reporters. In the past, Ukraine has accused Moscow of distorting what was said in negotiations.
Less than three weeks remain before May 9, Russia's annual celebration of the historic victory over Nazi Germany in 1945. Russian President Vladimir Putin is thought to be determined to notch a significant triumph by then in a military campaign in Ukraine that has been beset by setbacks for Moscow.
The Monday morning missile strike was another unnerving reminder that Kramatorsk is firmly in the firing line of advancing Russian forces. The battle for eastern Ukraine has begun.
The likeliest prospect of that is the capture of Mariupol, a port city on the Sea of Azov that has been nearly wiped off the map by continuous Russian bombardment. In a message recorded deep within a sprawling steelworks plant where Ukrainian forces and some frightened civilians are holed up, a Ukrainian commander said the defenders were outnumbered 10 to 1 by Russian attackers.
"We are probably facing our last days, if not hours," the officer, Serhiy Volnya of the 36th marine brigade, said in the video, which was posted on Facebook. He pleaded with world leaders to arrange for Ukrainian forces remaining in the steel plant and its underground tunnels to be evacuated and taken "to the territory of a third-party state."
Russia has been dropping heavy bombs on the steel complex even as it issues repeated surrender demands, promising that holdouts who give up would be unharmed. But previous ultimatums, on Sunday and Tuesday, were ignored by the Ukrainian side, as was Wednesday's. Ukraine says a Mariupol hospital where hundreds of civilians had taken shelter was also targeted Wednesday.
Officials have tried to arrange the evacuation of tens of thousands of residents who remain trapped in the city under dire conditions, without access to drinking water, food or medical supplies.
Iryna Vereshchuk, Ukraine's deputy prime minister, said that a plan to rescue civilians from Mariupol via a humanitarian corridor "did not work as planned" Wednesday and that another attempt would be made Thursday. "Due to the lack of control over their own military at the place, the occupiers were unable to ensure a proper cease-fire," she said of Russia.
Mariupol, a once-thriving city of nearly half a million people, now lies in ruins, with three-quarters of its prewar population either displaced or dead. Still, it is considered a strategic prize. Capturing it would allow the creation of a land corridor linking Russian-controlled parts of the Donbas — Ukraine's eastern industrial heartland — to the Crimean peninsula, which Moscow illegally annexed eight years ago.
Family and attorneys recall the difficulty of finding and communicating with people in immigration custody.
While Russia was focusing its "main effort" on capturing Mariupol, the Ukrainian military said Moscow's forces were also making repeated thrusts in the eastern regions of Donetsk and Luhansk, which make up the Donbas. Ten Russian ground attacks were repulsed in the previous 24 hours, the military said in an operational report early Wednesday.
Since both sides declared Monday that the war had entered a new phase, Russian forces have captured Kreminna, an eastern town of about 18,000 people on the front lines.
Nearby, the city of Rubizhne was the site of intense artillery fusillades.
Shelling had devastated wide parts of the city, turning Rubizhne into a landscape of smashed, scorched buildings and cratered boulevards.
Russian forces had reportedly taken much of the city, but on Wednesday, street battles were ongoing, with an especially intense skirmish around the train station.
Although some Western officials and analysts have questioned whether the Russian offensive in the east was underway in earnest, British military intelligence said in a new assessment that fighting in the Donbas was growing in intensity, with Russian forces seeking to break through Ukrainian defenses and disrupt supply lines and troop redeployment on the Ukrainian side.
"Russian attacks on cities across Ukraine show their attempt to try and disrupt the movement of Ukrainian reinforcements and weaponry to the east of the country," the assessment said.
Supply and reinforcement, combined with serious morale problems, were key weaknesses in Russia's drive to capture Kyiv, an effort that Moscow abandoned a month ago. Analysts say those same issues could beset Moscow's efforts in the east as well.
But vast tracts of open territory and superior firepower could favor the Russian push in the east — the main reason that Zelensky has been making near-daily pleas for more heavy weaponry from the West.
"If we had access to all the weapons we need, which our partners have and which are comparable to the weapons used by the Russian Federation, we would have already ended this war," he said in his address.
Photojournalist Carolyn Cole documents Ukrainian life amid Russia's invasion.
The United States, Canada and Britain have promised Ukraine more artillery, and Norway is sending air-defense missiles. In addition to new sanctions on Russia that the White House says are in the works, President Biden is expected to announce a new military aid package for Kyiv in coming days.
Some allied countries, including Germany, have been name-checked by Ukrainian officials as flagging in their provision of armaments just when the need is greatest. Seemingly stung by the criticism, German Foreign Minister Annalena Baerbock on Wednesday cited recent shipments of antitank weapons and Stinger antiaircraft missiles to Ukraine.
Baerbock, speaking at the start of a visit to the three Baltic states, said Germany was also providing "other things that we didn't talk about in public."
Meanwhile, Russia's Defense Ministry released footage Wednesday showing the test launch of what it described as a powerful new missile that could deploy nuclear warheads at supersonic speeds. The missile is still in a trial phase, the ministry said, and would not be added to Russia's arsenal immediately. Still, Putin said the test launch should show Russia's enemies that they should "think twice" before threatening his country.
In the Ukrainian capital, Western VIPs continued to arrive despite renewed bombardment in recent days. Charles Michel, head of the European Council, on Wednesday became the latest senior European official to make a visit to Kyiv aimed at showing support for Ukraine.
After touring Borodyanka, a suburb of the capital that was heavily bombed, Michel wrote on Twitter: "These are atrocities. These are war crimes. They must be punished."
Bulos reported from Rubizhne, King from Berlin and Linthicum from Mexico City.
Sign up for Essential California for news, features and recommendations from the L.A. Times and beyond in your inbox six days a week.
You may occasionally receive promotional content from the Los Angeles Times.