Election-denying lawmakers hold key election oversight roles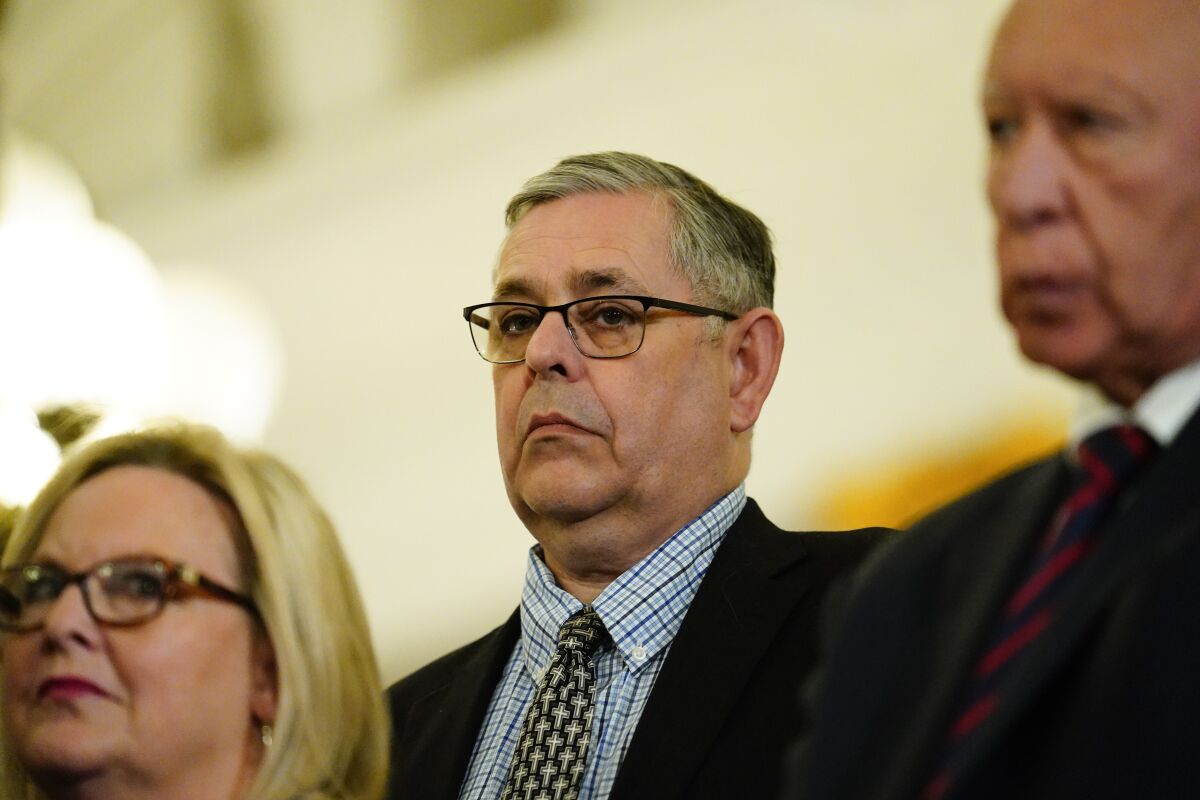 HARRISBURG, Pa. —
Republican lawmakers who have spread election conspiracy theories and falsely claimed the 2020 presidential outcome was rigged are overseeing legislative committees charged with setting election policy in two major battleground states.
Divided governments in Pennsylvania and Arizona means that any voting restrictions those GOP legislators propose are likely to fail. Even so, their high-profile appointments give the lawmakers platforms to cast further doubt on the integrity of elections in states that will be pivotal in selecting the next president in 2024.
Awarding such plum positions to lawmakers who have repeated conspiracies and spread misinformation cuts against more than two years of evidence that there were no widespread problems or fraud in the last presidential election. It also appears to run counter to the message delivered in November's midterm elections, when voters rejected election-denying candidates running for top offices in presidential battleground states.
At the same time, many mainstream Republicans are trying to move past the lies told by former President Trump and his allies about his loss to President Biden.
On Jan. 21, the Monterey Park community was shattered when the Star Ballroom Dance Studio became the site of one of California's worst mass shootings in recent history. Many of the victims were studio regulars united in their passion for dance. Here are their stories.
"It is an issue that many Americans and many Pennsylvanians are tired of seeing litigated and relitigated over and over," said Pennsylvania state Sen. Amanda Cappalletti, the top Democrat on the committee that handles election legislation. "I think we're all ready to move on, and we see from audit after audit that our elections are secure, they are fair and that people's votes are being counted."
Multiple reviews and audits in the six battleground states where Trump disputed his loss, as well as dozens of court rejections and repeated admonishments from officials in his own administration, have underscored that the 2020 presidential results were accurate. There was no widespread fraud or manipulation of voting machines that would have altered the result.
The legislative appointments in Pennsylvania and Arizona highlight the divide between the two major parties over election law. Already this year, Democratic-controlled legislatures are moving to expand access to voting and heighten penalties for intimidating voters and election workers, while many Republican-led states are aiming to pass further restrictions, a trend that accelerated after Trump's false claims about his 2020 loss.
Democratic governors and legislative victories last fall will blunt the influence of Republicans who took steps or pushed rhetoric seeking to overturn the 2020 results.
But in Arizona and Pennsylvania, two lawmakers who dismiss the validity of that election — and other elections since then — will have key positions of influence as the majority chairs of legislative committees that oversee election legislation.
In Arizona, Republican Sen. Wendy Rogers is taking over the state Senate Elections Committee after being appointed by an ally, Senate President Warren Petersen. He was one of two lawmakers who signed subpoenas that led to Republicans' widely derided audit of the 2020 election.
Rogers, who gained a national following as she spread conspiracy theories and questioned elections, has faced repeated ethics charges for her inflammatory rhetoric, support for white supremacists and conspiracy-filled social media posts.
She now will be a main gatekeeper for election and voting bills in Arizona, where some Republican lawmakers are making election changes a top priority. Some want to eliminate early and mail voting options that are used by more than 80% of the state's voters.
Rogers has scheduled a committee meeting for Monday to consider bills that would ban unmonitored drop boxes, prohibit drive-through voting or ballot pickups, and impose what voting rights advocates say are additional burdens on early voting.
In Pennsylvania, Republican state Sen. Cris Dush has taken over as chair of the Senate State Government Committee after pushing to block the state's electoral votes from going to Biden in 2020. Dush also mounted an election investigation that he hoped would use the Arizona audit as a model.
He was appointed by the Senate's ranking Republican, President Pro Tem Kim Ward, whose office explained Dush's appointment only by saying that seniority plays a role and that members have priority requests.
In the first weeks of this year's session, Dush has moved along measures that would expand voter identification requirements and add a layer of postelection audits. Both are proposed constitutional amendments designed to bypass a governor's veto and instead go to voters for approval.
He said he also plans to develop legislation that would tighten security measures for drop boxes and ballots.
"The things that I'm doing here as chair of State Government, it's going to be things that will be conducted in a fair, impartial manner," Dush said in an interview. "You know, we've just got to make sure that we can ensure the integrity of the vote and people aren't disenfranchised."
Arizona and Pennsylvania have newly elected Democratic governors who presumably would veto hard-line GOP bills.
Democrats, county election officials and voting rights advocates in both states also want changes to election laws that, with Dush and Rogers in place, may never see the light of day.
Alex Gulotta, the Arizona director for the voting rights group All Voting is Local, said he anticipates the Legislature there will pass a lot of "bad elections bills." He said moderate Republican lawmakers who might have voted down problematic measures under a Republican governor now might let them pass because they know Democratic Gov. Katie Hobbs will probably veto them.
"This is performative," Gulotta said. "This isn't substantive."
The question, he said, is whether Rogers and other Arizona lawmakers can cooperate on "small fixes" where there is consensus. That, he said, will take "real statesmanship."
Liz Avore, a senior advisor to the Voting Rights Lab, said the nonpartisan organization expects another busy period of lawmaking related to voting and elections ahead of the 2024 presidential vote, even as candidates who repeated Trump's lies about a stolen 2020 election lost bids for governor, secretary of state and attorney general in key battleground states.
Democratic and Republican-led states are often moving in opposite directions, but some bipartisan consensus has emerged around certain aspects of election law, such as restoring voting rights to felons and expanding early in-person voting, Avore said.
Republican proposals, such as expanding voter identification requirements, are popular and have majority support, as do some Democratic proposals to broaden access, said Christopher Borick, a political science professor and pollster at Muhlenberg College in Allentown, Pa.
But to be successful with voters, Republicans need to mind the lessons from 2022. Denying the outcomes of fair elections, he said, "is a loser for the Republican Party. Straight up."
.

Life is stressful. Our weekly mental wellness newsletter can help.
You may occasionally receive promotional content from the Los Angeles Times.