South Korean government minister impeached over Halloween crowd crush that killed 158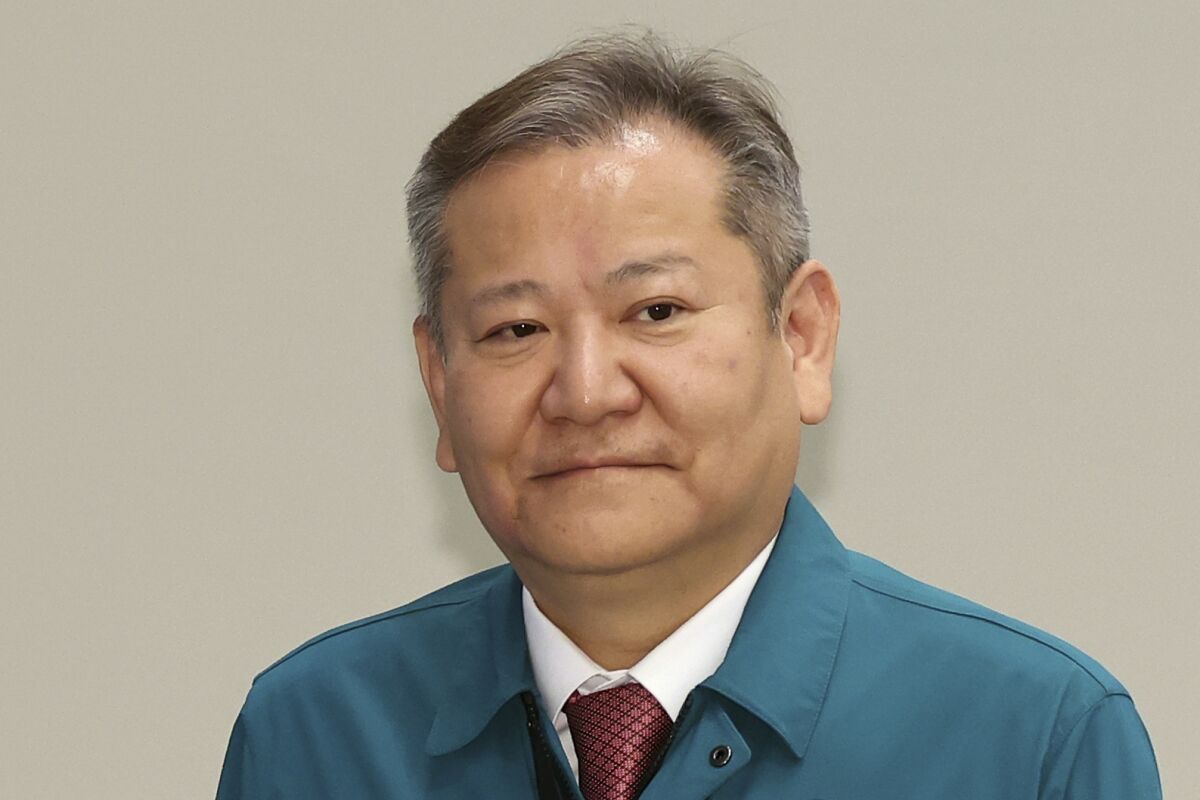 SEOUL —
South Korean lawmakers Wednesday voted to impeach the country's interior and safety minister, Lee Sang-min, holding him responsible for government failures in disaster planning and the response to a crowd crush that killed nearly 160 people in October.
The impeachment means that Lee has been suspended from his duties while the country's Constitutional Court deliberates whether to unseat him for good or give him back the job.

For the record:
8:08 p.m. Feb. 8, 2023An earlier version of this article incorrectly stated that the crowd crush turned deadly on Oct. 28. It happened on Oct. 29.
Vice Minister Han Chang-seob will step in as acting minister until the Constitutional Court decides on Lee's fate within 180 days.
Lee is seen as a key ally of conservative President Yoon Suk-yeol, whose office issued a prickly response to Lee's impeachment by the opposition-controlled parliament, accusing lawmakers of abandoning legislative principles and creating "shameful history."
Lee issued a statement expressing regret after lawmakers voted 179-109 in favor of impeaching him and said he would defend his case in the Constitutional Court.
Lee said he hoped that "the vacuum in public safety [management] created by this unprecedented situation would be minimized."
A stunned Seoul is beginning to determine the scope of a crowd surge that killed more than 150 mostly young people out enjoying Halloween festivities.
Lee is the first South Korean Cabinet minister to be impeached by the National Assembly, although lawmakers impeached a president, Park Geun-hye, in December 2016. Three months later, Park was formally removed from office by the Constitutional Court and arrested over a huge corruption scandal.
Lee's impeachment highlights the growing impasse Yoon faces in a parliament controlled by his liberal opponents. The move could further intensify the country's partisan divide.
Lee's impeachment came weeks after police announced that they would seek criminal charges, including involuntary manslaughter and negligence, against 23 officials, about half of them law enforcement officers, for the lack of safety measures seen in the crowd crush in Itaewon, a major nightlife district in Seoul.
Following a 74-day inquiry into the incident, a special investigation team led by the National Police Agency concluded that police and public officials failed to employ meaningful crowd-control measures despite anticipating huge gatherings of Halloween revelers. They also ignored pedestrian calls placed to police hotlines that warned of a swelling crowd hours before the surge turned deadly Oct. 29.
South Korea's National Police Agency is investigating whether ineptitude by local police contributed to the more than 150 deaths in the crush on Saturday.
Officials also botched their response once people began getting toppled over and crushed in a narrow alley clogged with partygoers. Officers failed to establish control of the scene and to ensure that rescue workers could reach the injured in time.
However, opposition politicians claimed that police investigators went soft on higher members of Yoon's government, including Lee and National Police Agency Commissioner General Yoon Hee-keun, who faced calls to resign.
The police investigators said they had closed their investigations of Lee's ministry and the National Police Agency before handing the case over to prosecutors, saying it was difficult to establish the direct responsibility of those offices.
Oh Yeong-hwan, a lawmaker and spokesperson for the main opposition Democratic Party, said lawmakers "carried out the order of the people" in impeaching Lee. Oh criticized Yoon for sticking with Lee in the face of mounting calls for his removal.
Some say a cultural gap between South Korea's elder and younger generations may have contributed to inadequate security at a crowded Halloween event.
"The National Assembly had to hold [Lee] to account, because President Yoon Suk-yeol refused to accept that responsibility," Oh said.
Lawmaker Jang Dong-hyuk of Yoon's People's Power Party accused the opposition of "tramping on [South Korea's] constitutional order," insisting that Lee was impeached without a justifiable cause.
He insisted that the liberals were motivated by a political vendetta against Yoon as prosecutors under his government push forward an investigation into corruption allegations surrounding Democratic Party Chairman Lee Jae-myung, a firebrand lawmaker who narrowly lost to Yoon in last year's presidential elections.
Lee Sang-min faced huge criticism shortly after the crowd crush after he insisted that having more police and emergency personnel on the ground still wouldn't have prevented the tragedy, in what was seen as an attempt to sidestep questions about the lack of preventive measures.
Get breaking news, investigations, analysis and more signature journalism from the Los Angeles Times in your inbox.
You may occasionally receive promotional content from the Los Angeles Times.
Despite anticipating a crowd of more than 100,000, Seoul police had assigned 137 officers to Itaewon on the day of the crush. Those officers were focused on monitoring narcotics use and violent crimes, which experts say left few resources for pedestrian safety.
Some experts have called the crush a "man-made disaster" that could have been prevented with fairly simple steps, such as employing more police and public workers to monitor bottleneck points, enforcing one-way walk lanes and blocking narrow pathways or temporarily closing Itaewon's subway station to prevent large numbers of people moving in the same direction.
Must-read stories from the L.A. Times
Get the day's top news with our Today's Headlines newsletter, sent every weekday morning.
You may occasionally receive promotional content from the Los Angeles Times.