U.S. says China's military is likely behind a vast aerial spy program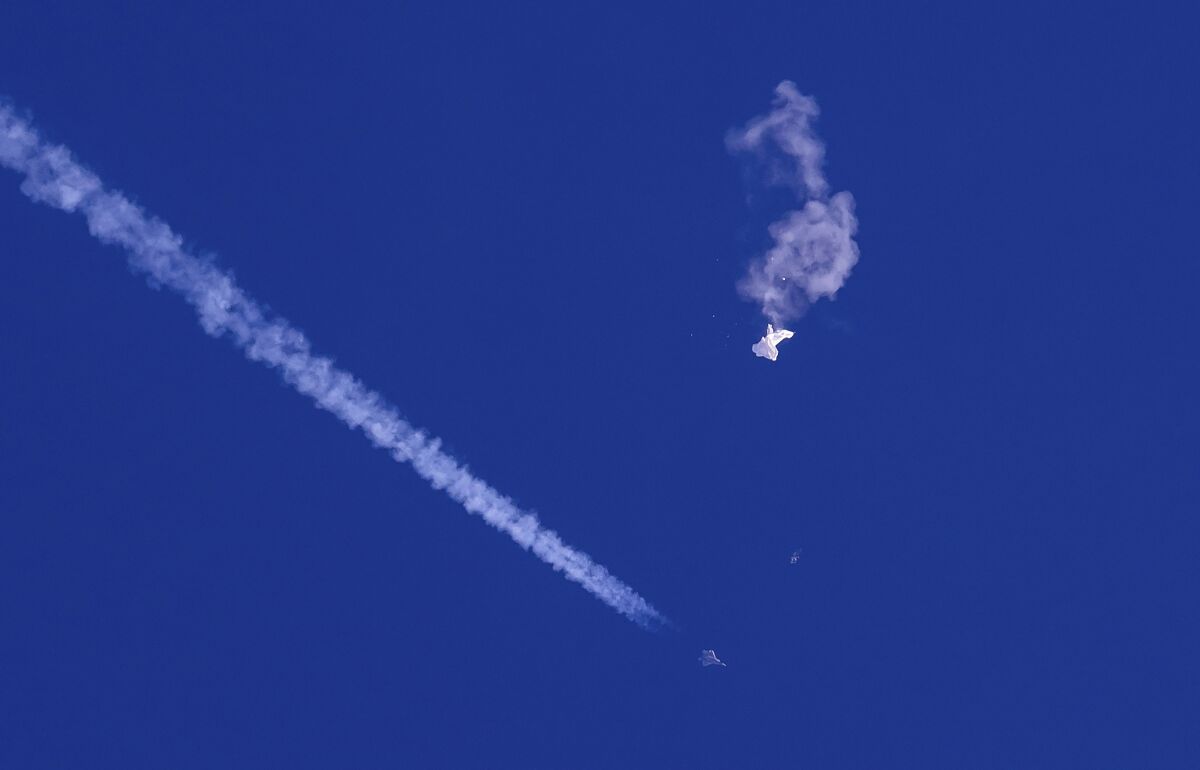 WASHINGTON —
The Chinese balloon that traveled thousands of miles across the United States before being shot down over the Atlantic Ocean was part of a vast military espionage program that Beijing launched over more than 40 countries in five continents, the Biden administration said Thursday in releasing the most detailed description yet of the intelligence-gathering project.
The U.S. assertions come as Navy divers, FBI agents and salvage crews comb the debris field and recover pieces from where the balloon went down off South Carolina, felled by an Air Force F-22 fighter jet firing a single Sidewinder missile Saturday. U.S. officials also want to put to rest Beijing's claims that the balloon was a civilian aircraft being used for weather research that accidentally strayed into U.S. airspace.
The high-altitude balloon was part of a fleet equipped with high-tech equipment and an array of antennae capable of eavesdropping, collecting signals intelligence and geolocating communications, administration officials said, noting that the balloon also had solar panels for sustained power. Officials were able to make those determinations and reveal the information to the public upon declassifying high-resolution imagery from flybys made by U-2 spy planes.
"The high altitude [balloon's] equipment was clearly for intelligence surveillance and inconsistent with the equipment onboard weather balloons," a senior State Department official said in a statement. "We know these balloons are all part of a [People's Republic of China] fleet of balloons developed to conduct surveillance operations."
The balloons are almost certainly the work of China's military, the People's Liberation Army, the statement said, maintaining anonymity of the official to discuss intelligence matters.
The information provided by the Biden administration offered the first look at how extensive the Chinese surveillance program may be. Officials said they were reaching out to counterparts in dozens of the 40 nations where the balloons are believed to have flown, including parts of Latin America and Europe.
"They have a lot of explaining to do," State Department spokesman Ned Price said of the government of President Xi Jinping.
The Pentagon says the Chinese balloon shot down off the South Carolina coast was part of a large surveillance program that China has been conducting for 'several years.'
The balloon's flight over the U.S., which started in Alaska on Jan. 28, detoured over Canada and then traversed the American Midwest and South before being shot down seven days later, forced Secretary of State Antony J. Blinken to cancel a trip to Beijing. His visit, which would have been the first by an American official of his rank in nearly five years, was meant to find ways to ease the fraught geopolitical issues straining U.S.-Chinese ties, including Taiwan, trade and human rights.
Instead, the relationship has grown even more tense.
Administration officials also gave classified briefings to members of Congress on Thursday. Republicans and some Democrats have criticized President Biden for failing to destroy the balloon sooner.
Pentagon officials said it was their recommendation to wait until the gigantic craft — larger than the size of three buses — was no longer over land to avoid harming people and property. In addition, the officials said, they were able to monitor the balloon and gather intelligence from it as it tried to surveil targets in the United States, an effort U.S. officials said they were able to block.
Democratic Sen. Jon Tester of Montana, the first continental state where the balloon was detected and home to one of America's three nuclear missile silo fields at Malmstrom Air Force Base, was critical of Biden, saying he was in the "shoot-it-down-now" camp. But after a classified briefing with military and intelligence officials, Tester said he had come around to understanding the delay in destroying the balloon.
Sen. Mitt Romney of Utah broke with most of his Republican colleagues to agree with the Biden administration's actions.
"I believe that the administration, the president, our military and intelligence agencies, acted skillfully and with care," he told CNN as he emerged from a classified briefing. "At the same time, their capabilities are extraordinarily impressive. Was everything done 100% correctly? I can't imagine that would be the case of almost anything we do. But I came away more confident."
Other Republicans, though, faulted the administration, saying it shot down the balloon too late and failed to inform the public about the situation in a timely fashion.
"As an Alaskan, I am so angry," Sen. Lisa Murkowski (R-Alaska) said during the public hearing, noting that Biden was not even briefed about the balloon until it had left Alaskan airspace. "The fact of the matter is, Alaska is the first line of defense for America.
"If you're going to have Russia coming at you, if you're going to have China coming at you, we know exactly how they come," she said.
The Pentagon also said on Wednesday that the Chinese surveillance program had been going on for years and that there were at least four additional balloon spottings — three during the Trump administration and another one under Biden — in recent years, though at the time they were not identified as belonging to the Chinese government.
U.S. officials also said Thursday they will consider sanctions against Chinese firms or entities involved in the balloon project, which they said constituted an unacceptable violation of U.S. sovereignty. "We will also look at broader efforts to expose and address the PRC's larger surveillance activities that pose a threat to our national security, and to our allies and partners," said the State Department official speaking on condition of anonymity.
The expansive surveillance program is further evidence of China's aggressive attempts to dominate world order, Deputy Secretary of State Wendy Sherman testified Thursday to the Senate Foreign Relations Committee.
"This irresponsible act put on full display what we've long recognized: that the PRC has become more repressive at home and more aggressive abroad," Sherman said. "The PRC is the only competitor [to the U.S.] with the intent and means to reshape the international order."
In a rare display of overwhelming bipartisanship, the House on Thursday passed a resolution unanimously blaming China for a "brazen violation of United States sovereignty." China is trying to "deceive the international community through false claims about its intelligence collection campaigns," the resolution said.
Rep. Michael McCaul (R-Texas) introduced the resolution as chair of the House Foreign Affairs Committee. He said he helped steer the measure away from attacking Biden and instead aimed it squarely at China.
"We wanted it to be America against China — not internal fighting, because China would see that as a moment of weakness, that we're divided on party lines, and we didn't want to project that," McCaul told CNN. "We want to project that we're unified with one voice against China."
Despite the swirl of controversy around and revelations about the incident in Washington, China continued to insist its balloon was innocuous and to accuse the U.S. of overreacting for propaganda purposes.
In Beijing, Foreign Ministry spokeswoman Mao Ning repeated the claim that the unmanned balloon was a civilian meteorological airship that had blown off course, and that the U.S. had overreacted by shooting it down.
"It is irresponsible," Mao said, adding that the accusations "may be part of the U.S. side's "information warfare against China."
China's defense minister refused to take a phone call from U.S. Defense Secretary Lloyd J. Austin III to discuss the balloon issue Saturday, the Pentagon said. Blinken has said he will reschedule his trip to China, but only when conditions are right.
Must-read stories from the L.A. Times
Get the day's top news with our Today's Headlines newsletter, sent every weekday morning.
You may occasionally receive promotional content from the Los Angeles Times.