Students slain at Michigan State were 'incredibly loved,' 'tremendous' leaders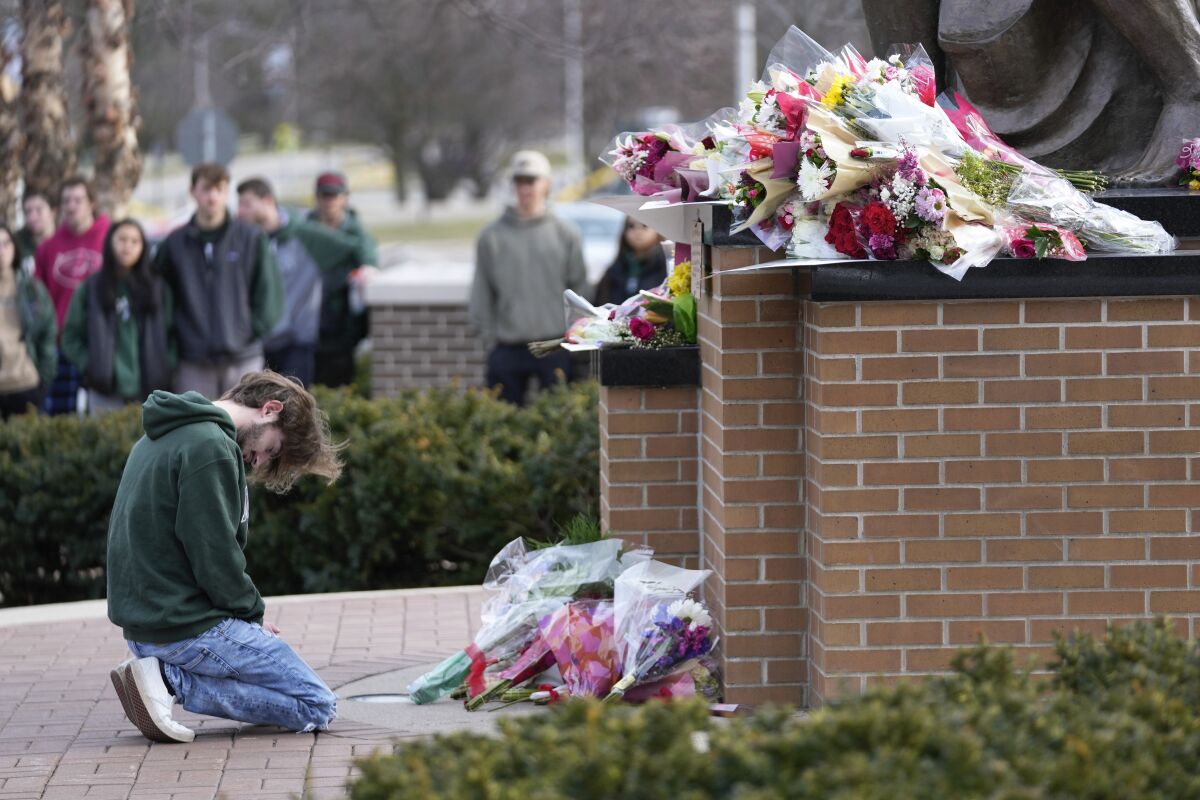 EAST LANSING, Mich. —
One student was a fraternity chapter president. Another was a science student with fond memories of her days as a high school athlete. The third was a frequent volunteer who wanted to become a surgeon.
Family and friends mourned the three Michigan State University students killed in a Monday night shooting that critically wounded five others. The gunman, 43-year-old Anthony McRae — who had a previous gun violation — fatally shot himself hours later when police, alerted by a tipster who recognized him in photos, confronted him about five miles away from the East Lansing campus.
All three students who were killed came from the suburban Detroit area. The names of the five who were injured have not been released.
Among those slain was Alexandria Verner, a junior from Clawson, whose LinkedIn profile said she was studying integrated biology and anthropology.
A 2020 graduate of Clawson High School, Verner "was and is incredibly loved by everyone," school district Supt. Billy Shellenbarger said in a statement Tuesday. "She was a tremendous student, athlete, leader and exemplified kindness every day of her life.
"If you knew her, you loved her and we will forever remember the lasting impact she has had on all of us," Shellenbarger said, adding that Verner's parents, sister and brother were "grieving but are certainly already feeling the uplifting support of this tremendous community. "
Verner's Twitter bio says, "Can't stop dreaming," and features photos and videos from Clawson basketball and volleyball games.
Hundreds of mourners flowed onto a suburban Detroit high school football field Tuesday night to light candles and reminisce about Verner in a vigil led by Shellenbarger.
Those in attendance also observed a 24-second moment of silence; Verner wore jersey No. 24 when she was a basketball player at Clawson High.
"While you are silent," Shellenbarger said over the public-address system, "think about her smile, think about that hero that was among us for 20 years."
Police are still searching for a motive in the shooting deaths of three students at Michigan State University by a gunman who later killed himself.
Also killed was Brian Fraser, a sophomore who had attended Grosse Pointe South High School.
Fraser was president of Michigan State's chapter of Phi Delta Theta fraternity, which said in a statement Tuesday that its members were "heartbroken."
"Brian was our leader, and we loved him," the fraternity said. "He cared deeply about his Phi Delt brothers, his family, Michigan State University, and Phi Delta Theta. We will greatly miss Brian and mourn his death deeply as our chapter supports each other during this difficult time."
University police identified the third victim as Arielle Anderson, a junior who graduated from Grosse Pointe North High School.
"As much as we loved her, she loved us and others even more," her family said in a statement. "She was passionate about helping her friends and family, assisting children and serving people." They described her as "sweet and loving," with an "infectious smile."
Anderson was pushing to graduate early from Michigan State, hoping to become a surgeon as quickly as possible, the statement said.
"We are absolutely devastated by this heinous act of violence upon her and many other innocent victims," her family said.
Jon Dean, superintendent of the Grosse Pointe schools, mourned the loss of his district's former students in an open letter.
"I can't even process what I just wrote," Dean said. "It is with a great deal of sadness that I bring this news to you and my thoughts go out to the many families that are suffering from another senseless act of violence."
Must-read stories from the L.A. Times
Get the day's top news with our Today's Headlines newsletter, sent every weekday morning.
You may occasionally receive promotional content from the Los Angeles Times.