Vice President Kamala Harris says Russia has committed crimes against humanity in Ukraine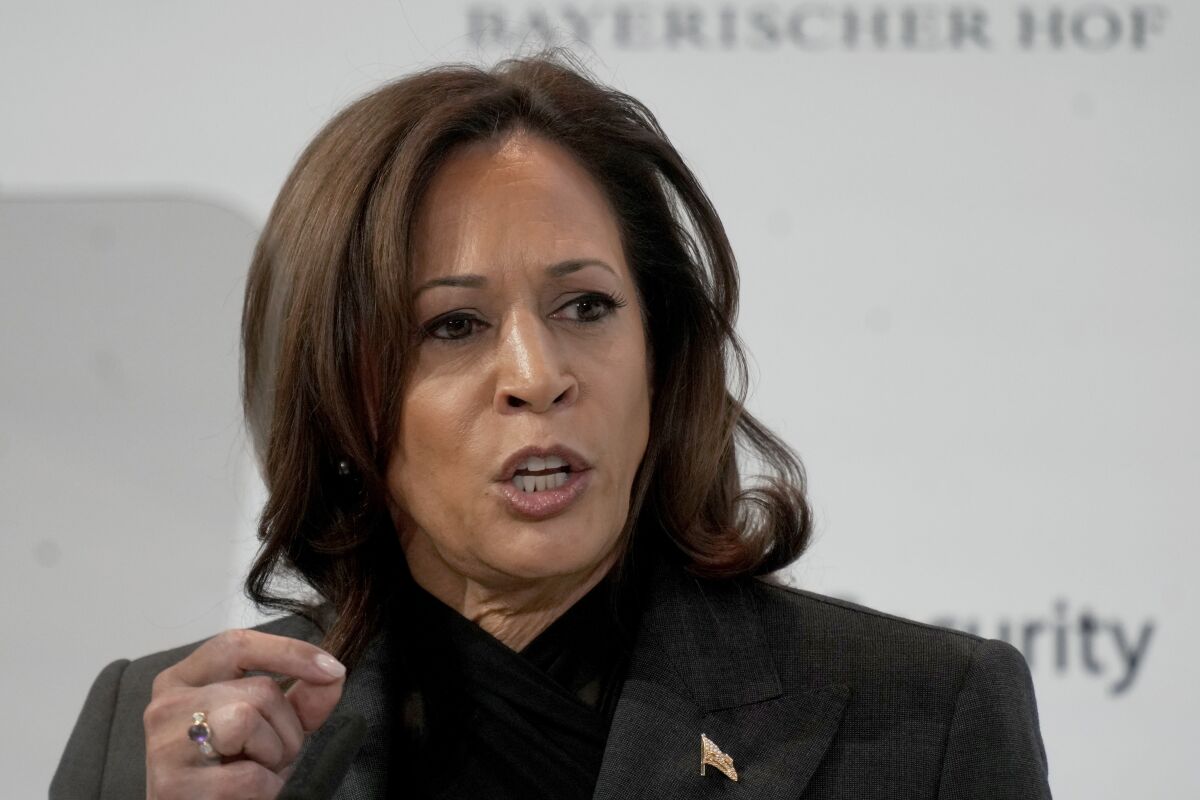 MUNICH —
The United States has determined that Russia has committed crimes against humanity in Ukraine, Vice President Kamala Harris said Saturday, insisting that "justice must be served."
Speaking at the Munich Security Conference, Harris said the international community has a moral and a strategic interest in pursuing those crimes, pointing to a danger of other authoritarian governments taking advantage if international rules are undermined.
"Russian forces have pursued a widespread and systemic attack against a civilian population — gruesome acts of murder, torture, rape and deportation," Harris said. She also cited "execution-style killings, beatings and electrocution."
The Biden administration determined in March that Russian troops had committed war crimes in Ukraine and said it would work with other countries to prosecute offenders. A determination of crimes against humanity goes further, indicating that attacks against civilians are being carried out in a widespread and systematic manner.
"Russian authorities have forcibly deported hundreds of thousands of people from Ukraine to Russia, including children," Harris said. "They have cruelly separated children from their families."
She also pointed to the March attack on a theater in Mariupol where civilians had been sheltering, which killed hundreds, and to images of civilians' bodies left on the streets of Bucha after the Russian pullback from the Kyiv area last spring.
Harris said that as a former prosecutor and former head of California's Department of Justice, she knows "the importance of gathering facts and holding them up against the law."
On the Belarusian border, Ukrainian drones monitor a long expanse of marsh and woodland for a possible Russian offensive from the north.
"In the case of Russia's actions in Ukraine, we have examined the evidence, we know the legal standards, and there is no doubt," she said. "These are crimes against humanity."
U.S. Secretary of State Antony J. Blinken, also attending the Munich conference, said in a statement that "we reserve crimes against humanity determinations for the most egregious crimes."
The new determination underlines the "staggering extent" of suffering inflicted on Ukrainian civilians and "the deep commitment of the United States to holding members of Russia's forces and other Russian officials accountable for their atrocities," he said.
In an address to his country Saturday, Ukrainian President Volodymyr Zelensky said his government last week had gotten "strong signals from our partners, specific agreements on the inevitability of holding Russia accountable for aggression, for terror against Ukraine and its people."
"Every Russian attack … on every corner of our state will have concrete legal consequences for the terrorist state," Zelensky said, citing not just the past year of war but events dating back to 2014, when fighting with Russia-backed separatists first broke out in eastern Ukraine.
He did not refer specifically to Harris' remarks or name countries that had provided agreements on Russian accountability.
Russia's invasion of Ukraine has dominated discussions at the Munich conference, an annual gathering of security and defense officials from around the world.
Harris told the partici-pants: "Let us all agree — on behalf of all the victims, both known and unknown, justice must be served.
"Such is our moral interest," she added. "We also have a significant strategic interest.
"No nation is safe in a world where one country can violate the sovereignty and territorial integrity of another, where crimes against humanity are committed with impunity, where a country with imperialist ambitions can go unchecked," Harris said.
Russia unleashed bombers, drones and rockets in a barrage of attacks on Ukrainian targets, as Moscow's military push appeared to pick up pace.
If Russian President Vladimir Putin succeeds in attacking international rules and norms, "other nations could feel emboldened to follow his violent example," she said. "Other authoritarian powers could seek to bend the world to their will, through coercion, disinformation and even brute force."
There were no Russian officials in attendance; conference organizers did not invite them.
Asked on the sidelines of the event about the U.S. declaration, Ukrainian Foreign Minister Dmytro Kuleba said, "Russia waged a genocidal war against Ukrainians because they do not recognize our identity, and they do not think we deserve to exist as a sovereign nation.
"Everything that stems from that is crimes against humanity, war crimes and various other atrocities committed by the Russian army in the territory of Ukraine," he added. "Let lawyers sort out specifically which act belongs where in terms of legal qualification."
Kuleba voiced confidence that Ukraine would receive fighter jets from partners, despite their current reluctance.
He noted that partners initially resisted providing six other types of heavy weapons that were later delivered or promised to Ukraine: antitank weapons, artillery, multiple-launch rocket systems, air defense systems, tanks and long-range missiles.
"So the only outstanding type of weapon is planes," Kuleba said.
Geir Moulson contributed to this report from Berlin.

Must-read stories from the L.A. Times
Get the day's top news with our Today's Headlines newsletter, sent every weekday morning.
You may occasionally receive promotional content from the Los Angeles Times.