Xi calls for 'more quickly elevating' China's military amid tensions with the U.S.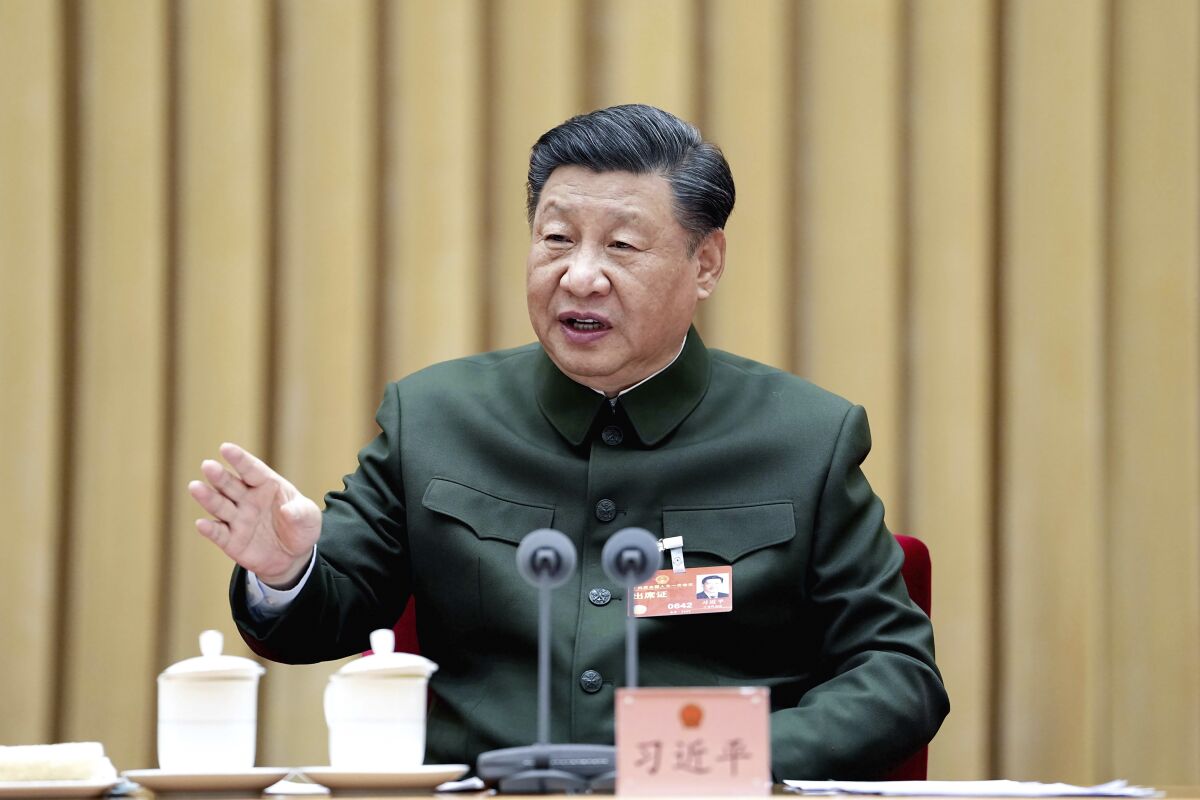 BEIJING —
Chinese President Xi Jinping has called for "more quickly elevating the armed forces to world-class standards," in a speech just days after a top Chinese diplomat warned of the growing possibility of conflict with the U.S. unless Washington changes course.
China must "systematically upgrade the country's overall strength to cope with strategic risks, safeguard strategic interests and realize strategic objectives," Xi said Wednesday.
His remarks to delegates to the ceremonial parliament representing the People's Liberation Army, the military wing of the ruling Communist Party, and the paramilitary People's Armed Police were carried by the official Xinhua News Agency.
Xi issued a series of calls to accelerate the buildup of self-reliance in science and technology, bolster strategic capabilities in emergency fields, make industrial and supply chains more resilient and make national reserves "more capable of safeguarding national security."
The program laid out by Xi dovetails with a number of national strategies already underway, including the "Made in China 2025" campaign to make China dominant in 10 key fields, including integrated circuits and aerospace, and a decades-old campaign for civilian-military integration in the economy.
Xi also mentioned the need for "achieving the goals for the centenary of the PLA in 2027," a date by which, according to some U.S. observers, China intends to have the capability of conquering self-governing Taiwan, an American ally, by military means.
Residents of Taiwan's outlying islands, near the mainland Chinese coast, have been without internet access since two undersea cables were severed.
China has defined the centenary goals in mostly vague terms, such as greater "informatization" and raising the PLA to "world-class standards."
China needs to build "a strong system of strategic deterrent forces, raise the presence of combat forces in new domains and of new qualities, and deeply promote combat-oriented military training," according to a speech Xi gave last year.
On Tuesday, Foreign Minister Qin Gang warned in unusually stark terms about the possibility of U.S.-China frictions leading to something more dire.
"If the United States does not hit the brake, but continues to speed down the wrong path, no amount of guardrails can prevent derailing, and there surely will be conflict and confrontation," Qin said in his first news conference since taking up his post last year.
China has underscored its commitment to its claim to Taiwan.
"Such competition is a reckless gamble, with the stakes being the fundamental interests of the two peoples and even the future of humanity," he added.
That echoed remarks made by Xi a day earlier that seemed to underscore Chinese frustration with U.S. restrictions on access to technology and its support for Taiwan and regional military blocs in unusually blunt terms.
"Western countries led by the United States have implemented all-round containment, encirclement and suppression of China, which has brought unprecedented grave challenges to our nation's development," Xi was quoted as saying by Xinhua.
A State Department spokesman, Ned Price, responded by saying that Washington wants to "coexist responsibly" within the global trade and political system and has no intention of suppressing China.
The high-altitude balloon was equipped to collect intelligence signals as part of a program targeting more than 40 countries, officials said.
"This is not about containing China. This is not about suppressing China. This is not about holding China back," Price said in Washington. "We want to have that constructive competition that is fair" and that "doesn't veer into that conflict."
Meanwhile, on Wednesday, Gen. Laura J. Richardson, Commander of the U.S. Southern Command, which is responsible for South America and the Caribbean, testified before the House Armed Services Committee that China and Russia were "malign actors" that are "aggressively exerting influence over our democratic neighbors."
China is "spreading its malign influence, wielding its economic might, and conducting gray zone activities to expand its military and political access and influence," Richardson said.
"This is a strategic risk that we can't accept or ignore," she added.
Get breaking news, investigations, analysis and more signature journalism from the Los Angeles Times in your inbox.
You may occasionally receive promotional content from the Los Angeles Times.
Among other activities, China has built a massive embassy in the Bahamas, just 50 miles off the coast of Florida.
"Presence and proximity absolutely matter, and a stable and secure Western Hemisphere is critical to homeland defense," Richardson said.
On Thursday, Beijing's Foreign Ministry dismissed U.S. questions and criticisms of Chinese intentions as an attempt to "make excuses for its military expansion and pursuit of hegemony."
"Before criticizing and blaming other countries, the U.S., as the only military superpower armed to the teeth, should reflect on what it can and should do," spokeswoman Mao Ning said at a daily briefing.
In a nod to a China-U.S. relationship that has sunk to its lowest level in decades, she said Washington "should meet China halfway and push China-U.S. relations back on the track of sound and stable development, which is beneficial to both countries and the world."
Must-read stories from the L.A. Times
Get the day's top news with our Today's Headlines newsletter, sent every weekday morning.
You may occasionally receive promotional content from the Los Angeles Times.