Putin arrest warrant an issue for summit of developing nations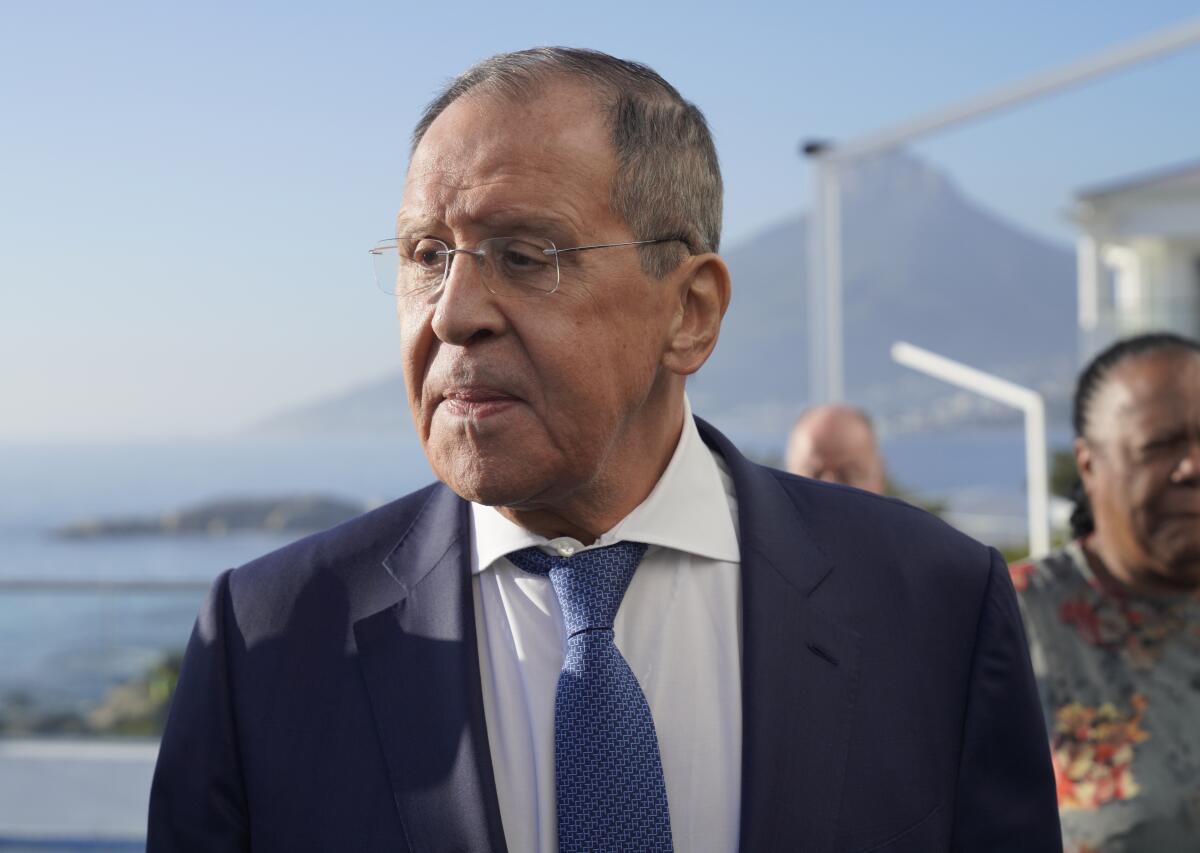 CAPE TOWN, South Africa —
Russian Foreign Minister Sergey Lavrov met in South Africa with counterparts from the BRICS economic bloc of developing nations for discussions Thursday that were preceded by officials questioning the West's intentions in the war in Ukraine and calling the United Nations Security Council a "failing" institution.
South African Foreign Minister Naledi Pandor also confirmed that an invitation had been extended to Russian President Vladimir Putin to attend a larger BRICS summit in South Africa in August despite him being the subject of an arrest warrant by the International Criminal Court.
Thursday's meeting in Cape Town of foreign ministers or representatives from the BRICS countries of Brazil, Russia, India, China and South Africa is a precursor to that main BRICS summit and comes less than two weeks after the world's most advanced economies held their own summit in Japan.
The Group of 7 gathering was dominated by extending sanctions against Russia as punishment for its invasion of Ukraine and finding ways to deal with China's global economic influence.
BRICS, with the presence of Russia and China, is increasingly viewed as an emerging counterpoint to the G-7 and the West. Before the talks in Cape Town got underway, South Africa's ambassador to BRICS, Anil Sooklal, referred to the West's military aid to Ukraine as one of the things that "fuels the conflict."
Putin arrest warrant: The International Criminal Court issues warrant for Russian president, alleging the abductions of children from Ukraine.
"Any endeavor that fuels the conflict does not solve the problem," Sooklal said when asked for his reaction to Western "attempts" to transfer weapons to Ukraine.
"We do not know of any global conflict that has been solved though war," he said. "All it does is cause more pain and suffering and, as BRICS countries, this is what we are saying: Let's focus on finding a peaceful resolution to the challenges, rather than fueling the conflict."
Amid statements by Lavrov and others of an unfair world order dominated by the West to the detriment of developing countries, Pandor said the current makeup of the U.N. Security Council was one of the key problems because of its lack of permanent African representation.
"Today, we can see it is failing," she said. "So, [it's] absolutely imperative that the U.N. [Security Council] is reformed."
Pandor, who hosted the talks at a luxury hotel on Cape Town's Atlantic seaboard, was also peppered by questions from reporters on the possibility of a visit in August by Putin, who has been indicted by the ICC for war crimes for the alleged abduction of children from Ukraine.
BRICS in the development wall: Competing interests
South Africa is a signatory to the treaty of the ICC and is obliged to arrest Putin if he visits. It hasn't stated whether it will.
Rather, the South African government has said that it is taking legal advice on its options, a move seen by critics as an attempt to find a way out of its obligation. Pandor was asked if South Africa was "fudging" its position when it had a clear obligation to detain Putin and hand him over to the international court.
"The obligations are clear but the answer is not fudged," Pandor said. "The answer is that the [South African] president will indicate what the final position of South Africa is."
Pandor declined to comment on any behind-the-scenes talks between South Africa and Russia to strike some kind of agreement over a Putin visit for the summit in Johannesburg.
"Diplomacy does not take place in front of cameras and microphones so I'm not going to reveal what deliberations we're having," she said.
Allowing Putin to travel freely for the summit would likely further strain South Africa's relationship with the West following U.S. allegations that South Africa has provided Russia with weapons for its war in Ukraine. South Africa has denied the allegation.
Another key topic up for discussion Thursday was the expansion of BRICS, and with it a possible strengthening of Russian and Chinese political and economic influence.
The so-called BRICS countries agreed to form an international development bank with aspirations to challenge the dominance of the World Bank and the International Monetary Fund.
Sooklal said that more than 20 countries had "formally or informally" requested to join the BRICS bloc, among them Saudi Arabia, Iran and the United Arab Emirates, which had submitted official requests.
A bloc containing China, Russia and three of the largest oil-producing nations in the world could be seen as a direct economic challenge to the U.S. and the West, some analysts have said.
Sooklal said he had prepared a report on admitting new members, and that would go to Lavrov and the other foreign ministers for them to give "guidance" on how to move forward with any expansion at August's summit.
While Lavrov's participation was central to the talks, Chinese Foreign Minister Qin Gang, who was expected to attend, sent his deputy instead. All the other foreign ministers were present.
Foreign ministers from at least 15 other countries from the Global South were also invited to a second BRICS meeting in Cape Town on Friday.
Pandor added that some of the countries applying to become new members had been invited to that second set of talks. Lavrov met with Saudi Arabia Foreign Minister Prince Faisal bin Farhan Al Saud on the sidelines of the Cape Town talks on Thursday.
Sign up for Essential California for the L.A. Times biggest news, features and recommendations in your inbox six days a week.
You may occasionally receive promotional content from the Los Angeles Times.