Guatemalans rally on behalf of president-elect, displaying a will to defend democracy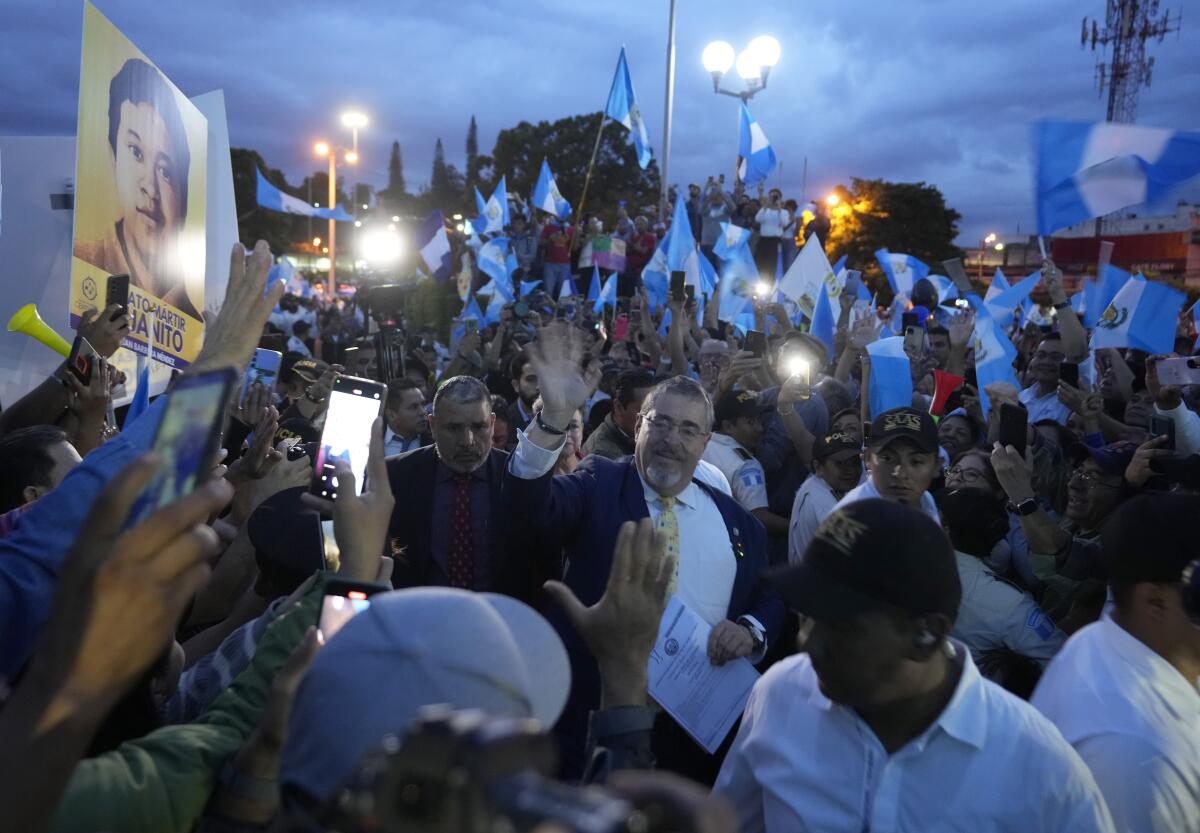 GUATEMALA CITY —
Protests by thousands of Guatemalans this week supporting President-elect Bernardo Arévalo suggest that the efforts by some officials to derail his presidency have awakened a new will among many citizens to defend democracy.
Public displays rejecting machinations by the attorney general's office had been modest in the month since Arévalo's resounding victory. But on Monday, thousands marched peacefully through the capital's streets, and on Tuesday, protesters blocked major highways across the country.
Historically, Guatemala has ranked lowest among Latin American countries in its support for democracy, according to the AmericasBarometer survey, which has been measuring attitudes there for three decades. Over the last 15 years, support for democracy as the best form of government reached as high as 62.9% in 2014 and as low as 48.4% in 2017.
Even as recently as the weeks before this year's election, only 48% of those surveyed said democracy was the best form of government, putting Guatemala last in the region, according to not-yet-published data shared by researchers at Vanderbilt University's LAPOP Lab, which conducts the AmericasBarometer surveys.
But since the election, Guatemalans have seen attempts by losing parties and the attorney general's office to challenge the results. Arévalo has characterized investigations into his party and electoral authorities as an attempted coup d'etat, and the Organization of American States observation mission said prosecutors' actions appeared to be aimed at keeping Arévalo from taking office.
Sandra Paz, 55, marched through the capital waving the Guatemalan flag Monday.
Fearing democracy is at risk, Guatemalans are posting certified election forms on social media to show there wasn't fraud in the presidential vote.
"I'm here in support of our new president's democracy, so that he can do his job without corruption," said Paz, who lives on the outskirts of Guatemala City. "I've come to the capital, I have arthritis, it's painful to walk, but I'm here supporting him."
Rachel Schwartz, a professor at the University of Oklahoma who was a research affiliate and Guatemala expert on the AmericasBarometer survey, said that though the survey data were gathered before the election, what she's seen since suggests that the tumultuous electoral process has struck a chord.
"Based on what I've seen on the streets and in the Plaza de la Constitución and on social media, I think this process is mobilizing people," said Schwartz, who was in Guatemala for the first round of voting in June.
She said that Guatemalans' perceptions of democracy are very much intertwined with their perceptions of corruption.
Guatemala President-elect Bernardo Arévalo plans to call people into the streets to protest efforts to derail his presidency before he can take office.
Some 76% of Guatemalans surveyed said that more than half or all of the country's politicians are involved in corruption, the highest level ever recorded in the country, and trailing only Ecuador and Peru this year.
Then along came Arévalo, the last anti-corruption candidate in the race. His campaign resonated with voters, especially with young voters, when contrasted with former First Lady Sandra Torres, who was associated with the establishment, in the Aug. 20 runoff.
A central target of this week's protests has been Atty. Gen. Consuelo Porras. On Monday, protesters shouted: "Resign, Consuelo!"
Guatemalans' trust in the attorney general's office has declined steadily since reaching a high point in 2017 and this year registered 42%, according to the AmericasBarometer surveys.
Sign up for Essential California for the L.A. Times biggest news, features and recommendations in your inbox six days a week.
You may occasionally receive promotional content from the Los Angeles Times.
Porras took over as attorney general in 2018 and in 2021 was sanctioned by the U.S. government for being an undemocratic actor and undermining investigations into corruption. She has denied any wrongdoing.
Porras' office is investigating the way Arévalo's Seed Movement gathered the necessary signatures for its registration years earlier, as well as allegations of election fraud that independent observers have said are unsubstantiated.
Arévalo is among those who believe that the country's democracy has been on shaky footing, but he sees that changing since the election. Now, more people "are betting on democracy," Arévalo said in a recent interview with the Associated Press, "because in some way this corrupt state that we have lived with has authoritarian government practices [hidden] beneath the shape of democratic institutions, and the people are beginning to see that that does not lead anywhere."
Sign up for Essential California for news, features and recommendations from the L.A. Times and beyond in your inbox six days a week.
You may occasionally receive promotional content from the Los Angeles Times.