U.S. stealth bombers, drones launch airstrikes against Islamic State in Libya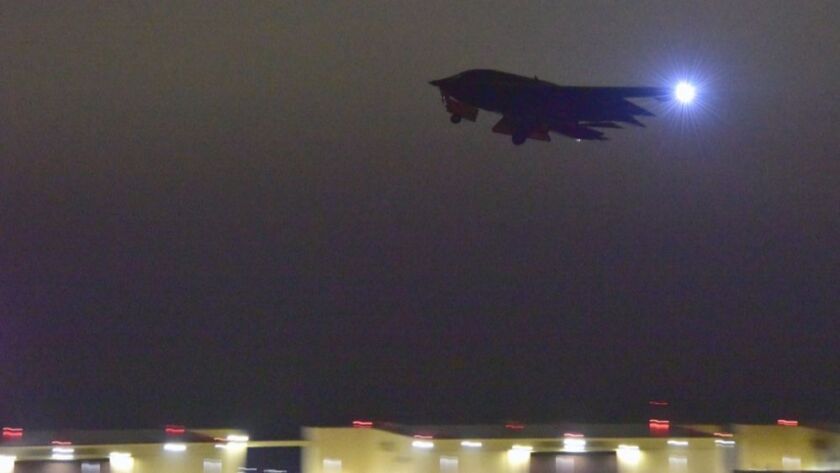 Reporting from Washington —
In a dramatic use of U.S. air power, a pair of B-2 stealth bombers flew from Missouri to North Africa on Wednesday and dropped dozens of bombs on two camps in the Libyan desert, killing more than 80 suspected Islamic State militants, U.S. officials said Thursday.
The long-range air raid, authorized by President Obama two days before he leaves office, marks the first use of the radar-evading B-2 bombers in combat since the first night of the U.S.-led air war that helped local insurgents overthrow Libyan strongman Moammar Kadafi in 2011.
Defense Secretary Ashton Carter told reporters at the Pentagon that some of the Islamic State operatives targeted Wednesday "were involved in plotting attacks in Europe."
Launched from Whiteman Air Force Base, the B-2s bombed two sites about 30 miles southwest of Surt, a port city on the central Mediterranean coast that U.S.-backed Libyan forces recaptured last year from the militants.
Multiple armed MQ-9 Reaper drones circled overhead during the attack, U.S. officials said, firing missiles at anyone trying to flee.
The Air Force said it used 15 aerial refueling tankers to enable the B-2s to make the 10,000-mile, 34-hour, nonstop trip from Missouri to Libya and back.
The elaborate operation appeared to involve some posturing by the outgoing Obama administration, which is concerned that President-elect Donald Trump may pull back U.S. support for Libya's struggling central government.
Last week, Russia moved the Admiral Kuznetsov, its only aircraft carrier, close to the Libyan coast and hosted the leader of one of Libya's largest militias, one who is not part of the U.S.-backed unity government.
Pentagon officials insisted that the B-2s were selected over U.S. warplanes based in Europe or on U.S. aircraft carriers closer to Libya only because the B-2 can carry 20 tons of bombs and stay above a target longer than other aircraft.
Pentagon spokesman Peter Cook was asked if the Pentagon sought to send a message to Russia, China and other potential adversaries on the eve of Trump's inauguration.
"This was a mission designed to kill terrorists who threaten the United States, our allies and our interests," he replied. "And it shows our willingness to go after [Islamic State] wherever they appear. And if there's a message sent to terrorists around the world, so be it."
He showed an aerial surveillance video that he said depicted Islamic State fighters unloading rocket-propelled grenades, small arms and weapons from white trucks draped with camouflage tarps.
Cook said dozens of militants had escaped from the battle in Surt to the desert camps and that Obama had authorized the air raid after a request was transmitted from the unity government, known as the Government of National Accord.
Marine Gen. Thomas Waldhauser, commander of U.S. Africa Command, must approve each airstrike in Libya. His authority previously was limited to Surt, but Obama expanded the "area of hostilities" where U.S. forces may operate, according to officials.
Islamic State took advantage of Libya's political instability in late 2014 by attacking oil fields and installations, hobbling a major source of income for the fledgling government.
The group attracted hundreds of recruits from elsewhere in Africa, raising fears that militants would use Libya to launch terrorist attacks in Europe and Africa.
They built Islamic State's largest and most powerful affiliate outside the group's self-declared caliphate in Syria and Iraq. Their area of control has shrunk considerably over the last year, however, especially with the loss of Surt.
The Pentagon began bombing around Surt in August and positioned the amphibious assault ship Wasp about 20 miles offshore to assist in the operation. That mission ended last month when the militants finally abandoned the city.
Twitter: @wjhenn
ALSO:
Climate change is real: Just ask the Pentagon
Overweight, tattooed, stoned? The Pentagon may still want you
Captured battlefield cellphones, computers are helping the U.S. target and kill Islamic State's leaders
---
UPDATES:
1:07 p.m.: This article was updated throughout with additional details from the Pentagon.
This article was originally published at 6:30 a.m.
---
Must-read stories from the L.A. Times
Get all the day's most vital news with our Today's Headlines newsletter, sent every weekday morning.
You may occasionally receive promotional content from the Los Angeles Times.