China's leader to announce carbon emissions limits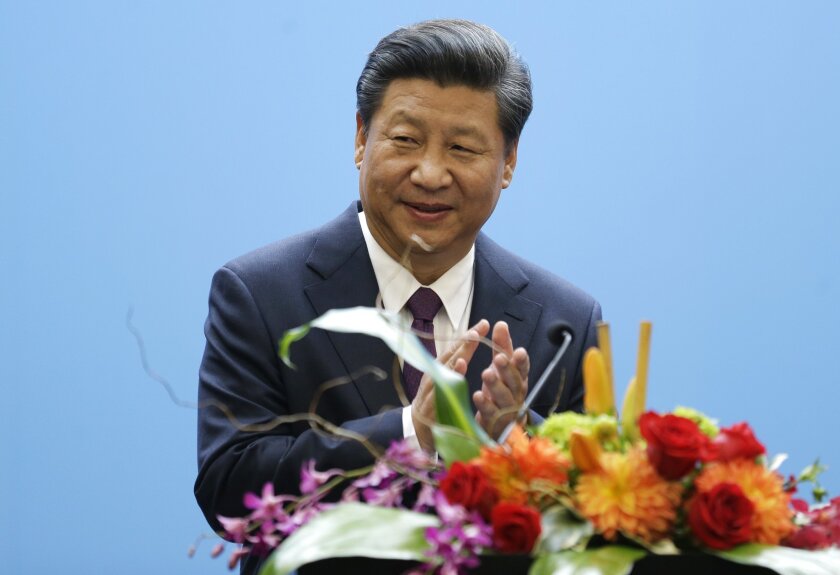 Reporting from Washington —
Chinese President Xi Jinping plans to announce Friday that his country will launch a program limiting carbon emissions starting in 2017, setting in motion a cap-and-trade program similar to one that President Obama pushed for, but has been unable to achieve, in the U.S.
White House officials briefed reporters on the expected move, which they described as a centerpiece of Xi's state visit to the U.S. The Chinese leader and Obama will hold a meeting in the Oval Office on Friday, where they're expected to discuss economic and military issues in addition to climate change, though tensions over cyberattacks and territorial claims had lowered expectations for any major breakthroughs during Xi's visit.
The cap-and-trade plan is part of an effort by the two leaders to spur an international agreement to fight climate change. Such a deal is expected to be reached at a worldwide summit in Paris in December.
Xi's announcement in Washington will come nearly a year after he and Obama reached a landmark agreement on behalf of their countries, the world's two biggest polluters, to cut carbon emissions beyond 2020. Critics have questioned how realistic the goals are, but the Obama administration has defended them as important steps nonetheless.
"I don't think you'll see a sudden surge in support for cap-and-trade among Republicans, but I think this will somewhat undermine the argument that some Republicans have made that China is not serious and what they announced last year is all smoke and mirrors," said Alden Meyer, the director of strategy and policy for the Union of Concerned Scientists.
NEWSLETTER: Get the day's top headlines from Times Editor Davan Maharaj >>
Xi's plans may be hard to carry out, given his country's heavy reliance on coal. As its name suggests, the plan would impose a cap on carbon emissions and then put a price on greenhouse gas emissions.
Even so, the White House hopes that the Chinese president's willingness to try will spur other leaders around the world to step up their commitments to cutting carbon as they prepare for Paris.
"Last year's joint announcement was about setting targets," said one senior Obama administration official, requesting anonymity to discuss the plans ahead of Xi's announcement. "And this year is about showing the world our countries' conviction to implement policies to reach those targets and to lead the world toward a durable global climate agreement."
The announcement may be the most significant outcome of the meeting between Obama and Xi, which advisors to Obama described as more an exercise in tending their delicate relations.
The subject of climate change offers the leaders a place where they can agree. The two sides will lay out other plans meant to demonstrate the world's leading carbon producers are taking their commitments seriously.
Last week in Los Angeles, Vice President Joe Biden announced that local leaders in the U.S. and China, including in L.A., have agreed to their own carbon emission reductions, embracing a faster timeline than the one Obama and Xi agreed upon last year. China has already rolled out pilot programs at the city and regional levels on carbon pricing, cap and trade programs, building renewable power and energy efficiency.
See the most-read stories this hour >>
But Xi's cap-and-trade plan is of special symbolic significance, given Obama's failed efforts to persuade lawmakers to impose such a significant change on the American economy.
Xi has his own domestic reasons to push for change -- a need to curb energy demand, deal with choking smog and shift economic growth away from manufacturing toward service industries. In 2008, China surpassed the United States as the largest global emitter of carbon dioxide. In 2012, Chinese emissions reached 8.2 billion tons, 265% higher than they were in 1990.
At the same time, China is eager to find ways to be seen as a global leader, and climate is one area where international imperatives dovetail nicely with domestic ones.
"A national carbon trading program in China should send a strong signal to businesses and investors of the growing promise of low-carbon energy. China's indication that it will limit its international investments in high-carbon projects is another clear sign of its intent," said Andrew Steer, president of the World Resources Institute, regarding Friday's planned announcement. "China has repeatedly shown that it's serious about moving to a low-carbon economy."
The emissions trading plan offers an opportunity to take a step further.
"The announcement tomorrow will add momentum to a global agreement in Paris and undercut some of the opponents to action here at home that other countries aren't joining us," said Meyer. "It's a pretty useful signal."
Parsons reported from Washington and Makinen from Beijing.
For more White House coverage, follow @cparsons
ALSO
With Obama and Putin set to meet, U.N. gathering will be less of a party
NSA chief says Chinese government encourages cybertheft
Many details remain as Colombia and FARC rebels move toward peace
---
Must-read stories from the L.A. Times
Get the day's top news with our Today's Headlines newsletter, sent every weekday morning.
You may occasionally receive promotional content from the Los Angeles Times.