Defying China blacklist, some Hong Kong celebrities are speaking out during protests
Reporting from Beijing —
Hong Kong singer Denise Ho spoke past two interruptions by a Chinese diplomat at the United Nations Human Rights Council in Geneva on Monday.
Ho said that Hong Kong's democracy and human rights were under "serious attack" and that China should be removed from the council for kidnapping booksellers, jailing activists, disqualifying Hong Kong lawmakers and preventing universal suffrage.
Although more than 1 in 4 Hong Kongers have participated in recent protests, according to organizers' counts, most Hong Kong celebrities have steered clear of participation or public comment.
Entertainers across the Chinese music sphere as well as Western artists have been banned from performing in China because of perceived insult to the Chinese government and its policies.
Ho is among those who have been blacklisted, banned from the mainland, had concerts canceled and lost sponsorship deals because of their pro-democracy activism.
Yet she continues to speak out.
Ho's talk came after a month of protests in Hong Kong against an extradition bill that would allow suspected criminals to be sent to China to face trial. Millions of Hong Kongers have protested against the bill, fearing it would erode the region's rule of law and freedom of speech.
The bill has now become a symbol of Hong Kong protesters' resistance to Beijing's growing control over the territory. Protests have erupted into clashes with police and led to dozens of arrests.
Ho had just mentioned the police's use of rubber bullets and tear gas when the Chinese representative to the human rights council interrupted, saying she had used incorrect legal terminology for Hong Kong.
"Four people committed suicide, as an ultimate cry of despair. This anger of Hong Kongers follows years of deceitful promises," Ho said when she regained the floor. "China is preventing our democracy at all costs."
At Ho's mention of the "one country, two systems" model and its violation by China, the Chinese diplomat interrupted again, saying the singer was "defaming" China.
The Cantopop singer, also known as HOCC, has become a symbol of Hong Kong's pro-democracy movement and its LGBTQ community (she was the first singer to come out as lesbian in Hong Kong). She wore a black blazer and T-shirt to the U.N. meeting that read: "We stand as one."
After she waited for the interruption to end, she asked for China's removal from the human rights council and for an urgent U.N. session to "protect the people of Hong Kong."
Chinese Foreign Ministry spokesman Geng Shuang said Tuesday that Ho's request was a "pipe dream" and that foreign powers, specifically the United States, were interfering in China's domestic affairs.
"It is wrong for any external forces to interfere in Hong Kong affairs in whatever form," he said. "Any attempt to incite chaos in the [special administrative region] by hyping up this issue has no support and will not succeed."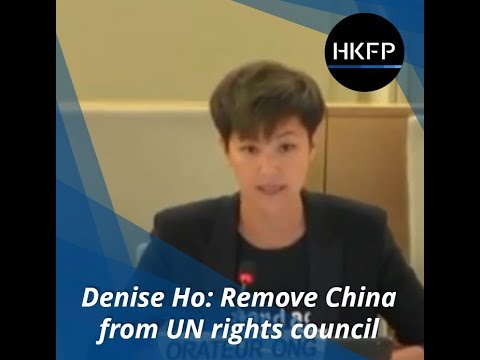 Politics has increasingly seeped into the entertainment sphere in China, where artists who touch on anything deemed sensitive to Beijing risk losing access to a market of 1.4 billion potential fans.
It's a make-or-break calculation that has pushed many Chinese-language celebrities into silence on issues such as Hong Kong's anti-extradition bill protests.
Actor and martial artist Jackie Chan, who performed at a concert in Hong Kong to support pro-democracy protesters in Tiananmen Square in 1989, was asked about the Hong Kong protests during an album promotion in Taiwan last month.
"I don't know anything about it," said Chan, who over the years has become known for his pro-Beijing stance.
Other artists have made even more drastic turnarounds.
Hou Dejian, a Taiwanese singer whose songs were popular during the 1989 protests and who went on a hunger strike alongside dissidents including Liu Xiaobo in Tiananmen Square, now composes nationalistic songs in Beijing.
In 2018, he released a song called "Chinese Dream," praising President Xi Jinping's Belt and Road development plan.
Hong Kong actress Charmaine Sheh received backlash from mainland Chinese internet users after "liking" an Instagram post about the anti-extradition bill protests last month. She later retracted the "like" and posted an apology.
"I love my country and I love Hong Kong," Sheh said.
In 2016, 16-year-old Taiwanese singer Chou Tzu-yu was forced to make a televised apology for waving a Taiwanese flag on a television show in South Korea. Mainland internet users had called for her and her band, Twice, to be banned from performing in China.
"There is only one China," Chou said in her apology, reading flatly from a piece of paper. "I have always felt proud to be Chinese."
Western artists aren't spared from political censorship either. Lady Gaga, Maroon 5 and Bon Jovi have all been banned for having met with or tweeted to the Dalai Lama.
Singer Katy Perry stopped receiving visas to China after she wore a dress featuring sunflower appliques during a performance in Taiwan in 2015 in a seeming nod to the Sunflower Movement, an occupation of the Taiwanese legislature by students protesting a trade agreement they believed would give Beijing too much influence over Taiwan.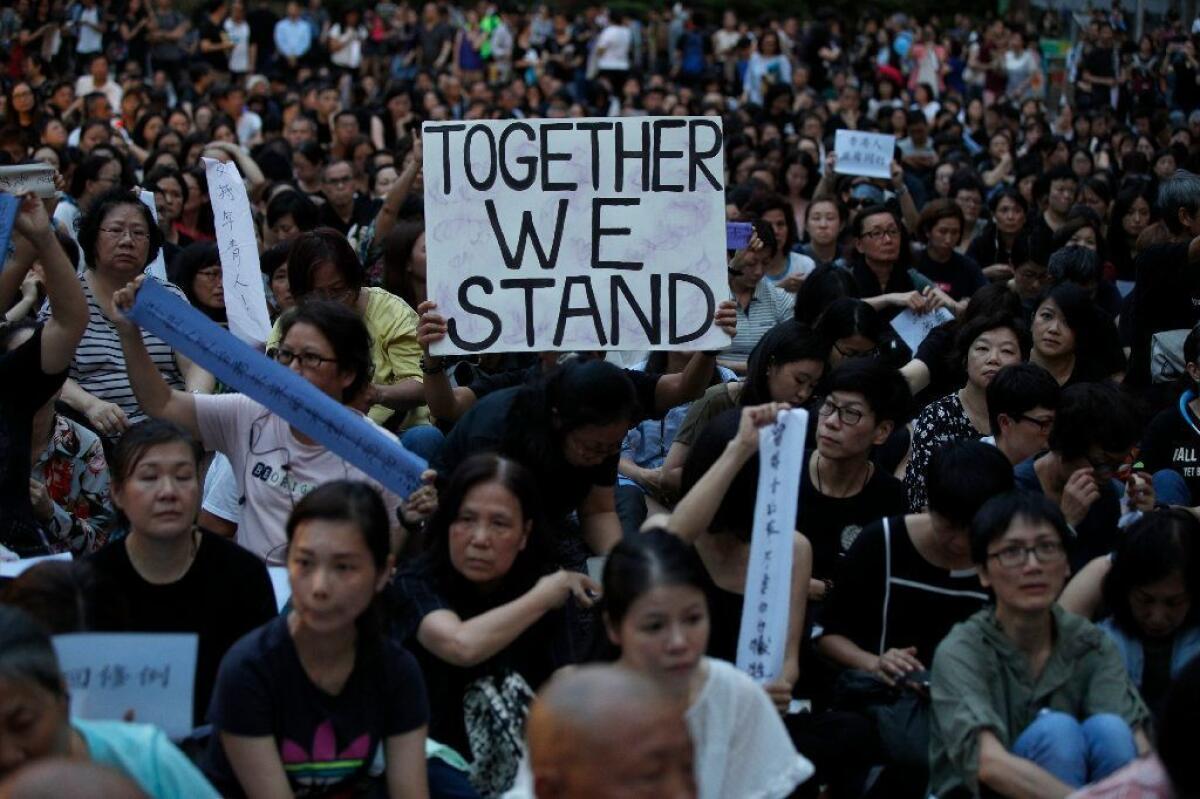 Ho faced similar pressures after supporting Hong Kong's pro-democracy Umbrella Movement of 2014, even composing a song called "Raise the Umbrella."
Yellow umbrellas became the movement's symbol after students raised them as protection from tear gas in the streets.
State media in China labeled Ho and other artists who had supported the protesters as traitors, circulating lists of singers and actors who were no longer to be mentioned or allowed in mainland China.
But Ho has remained defiant, alongside actors Anthony Wong and Chow Yun-fat, all of whom have taken hits to their careers for supporting pro-democracy protesters.
Meanwhile, artists perceived to be pro-Beijing also face backlash from Hong Kong's protesters. After Hong Kong singer Alan Tam appeared at a pro-police rally last month, angry Hong Kong fans shared photos of themselves cutting his records apart.
But losing Hong Kong fans may not make a significant dent in the finances of stars who can make big money in China. Tam has three concerts scheduled within the next month in major cities of mainland China.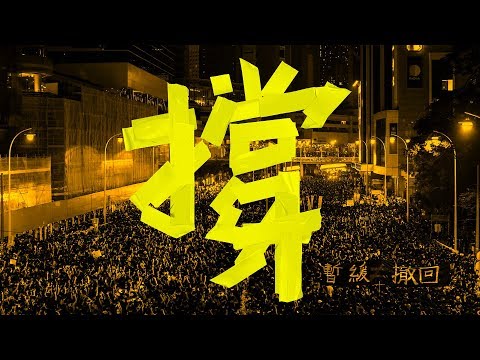 Ho's music has meanwhile placed her values above profit and pragmatism.
"It was because of this loss of the China market, because I could no longer rely on this easy revenue, that I became grounded to reality," she said at the Oslo Freedom Forum in Taipei, Taiwan, in November.
"As I was forced out of my glamorous world, I gained a new perspective of what I could actually accomplish."
Stripped of glitzy advertising deals and tours in Chinese cities, she now holds crowdfunded concerts supported by local businesses and runs her own record label, signing indie artists in Hong Kong and performing on "tour" in Hong Kong trams, sidewalks and shops.
She recently collaborated with Taiwanese singers on another song supporting the anti-extradition bill protesters.
"Walking on the road of non-sycophancy, footsteps are destined to be slow," she sings in Cantonese. "Yet, I don't believe I'll be standing firm alone."
The song's title is a Chinese character that means "support" or "sustain," expressing solidarity and perseverance between Taiwan and Hong Kong.
It's also the verb used for opening an umbrella.
ALSO:
Hong Kong protesters reach out to mainland Chinese in Kowloon march »
Hong Kong leader says extradition bill is 'dead' »
In Hong Kong, one protester pulls off his mask and defines a movement »
Sign up for Essential California for the L.A. Times biggest news, features and recommendations in your inbox six days a week.
You may occasionally receive promotional content from the Los Angeles Times.