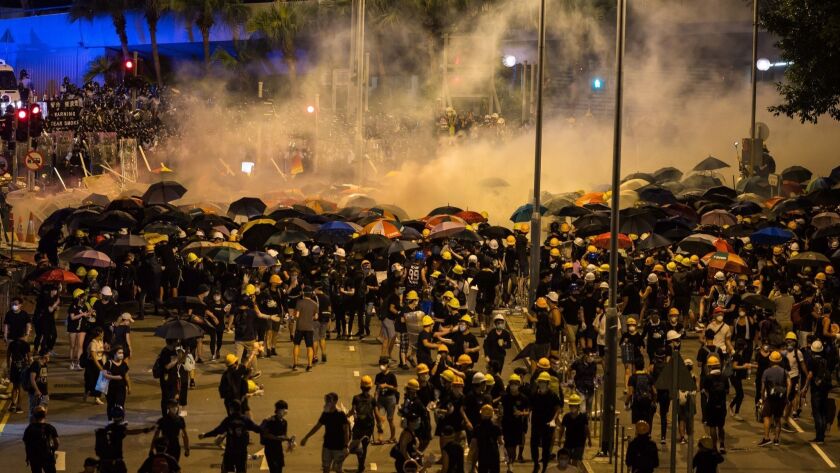 Reporting from Hong Kong —
China's central government on Tuesday condemned Hong Kong protesters who smashed their way into the legislative chambers a day earlier, while demonstrators used social media to illustrate their fears of dangerous confrontations with police.
Beijing officials said they supported the semiautonomous territory's government and its police, including an investigation of the protest and the treatment of some participants as criminals for illegal acts of violence.
Pro-Beijing lawmakers in Hong Kong said the damage to the legislative chamber by those who charged the building was stunning.
"No slogan, no demand can justify this violence," said lawmaker Regina Ip.
Hundreds of thousands had marched peacefully across the city on Monday — the 22nd anniversary of the former British colony's handover to Chinese control — in protest of an extradition bill that would allow Hong Kong to send suspected criminals to mainland China for trial. But hundreds of protesters in another part of the city smashed their way into the legislative building and vandalized its central chamber.
Hong Kong protests escalate as violent demonstrators overrun legislature building »
Pro-democracy lawmakers outside the legislative building said Tuesday that they didn't condone vandalism, but also appealed to the public to try to understand the desperation felt by some protesters.
Some observers sympathized with protesters, especially after seeing such images as that of protesters dragging their comrades out of the legislative chamber in apparent attempts to protect them from potential harm.
Three protesters have died in the last two weeks after leaving suicide notes in support of the movement opposing the extradition bill.
Legislator Fernando Cheung said he had tried to stop the protesters from risking criminal charges, imprisonment and possible death.
"They told me, 'Yes, we know. We are willing to sacrifice,' " Cheung said.
No central leadership for Hong Kong's protests also means that small groups can use tactics with which others disagree.
But protesters have also pledged to support one another despite disagreement over tactics.
Rachael, 24, a protester who asked that her last name not be published for fear of arrest, said she went to the legislative building Monday to support those charging in.
For many, the extradition bill has become a symbol for a deeper, growing sense of helplessness in a political system that prioritizes Beijing's wishes above citizens' voices.
Anson Chan, a former chief secretary of Hong Kong, said Hong Kong Chief Executive Carrie Lam and the government should take responsibility for the "increasing sense of anger, futility and frustration."
---