A jeweler to the stars is accused in a $1.8-billion bank fraud in India
Reporting from Mumbai, India —
In the depths of the global recession in 2008, a little-known Indian gem dealer made a bold bet by buying up top-quality diamonds and using them to fashion a brand of ultra-luxe jewelry that would soon adorn the necks and wrists of Hollywood stars.
Nirav Modi's brazenness didn't stop there, according to Indian investigators, who this week alleged that the billionaire celebrity jeweler was at the center of one of the biggest money laundering cases in the country's history.
Federal officials in India said they were investigating Modi in connection with $1.8 billion in fraudulent transactions from the country's second-largest state-run bank. The revelation shocked business and entertainment titans who had come to see the diminutive, ferociously ambitious designer as a symbol of corporate India's growing international stature.
That image lay in tatters as law enforcement agents fanned out across several cities and sealed Modi's ocean-facing Mumbai apartment, raided a diamond vault and processing factory, and seized hundreds of millions of dollars' worth of gold and gems from his offices and the showrooms that bear his name.
Investigators Friday asked Interpol to help locate Modi, his wife, a brother and an uncle, all of whom were believed to have left the country several weeks earlier, the Press Trust of India reported. Modi was last glimpsed by Indian media in late January at the World Economic Forum in Davos, Switzerland, where he and other corporate leaders posed for photos with Indian Prime Minister Narendra Modi, who is no relation.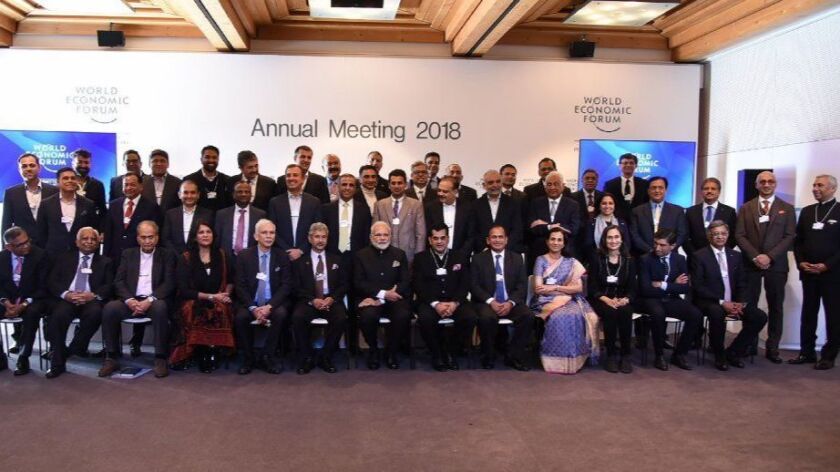 The Indian government said it had suspended the passports of Modi and his uncle, Mehul Choksi. His wife, Ami, is an American citizen. His brother Nishal is Belgian.
"I can say with confidence that this gentleman is not in touch with any of our officials, and frankly at this stage we are not aware [of] his location," Raveesh Kumar, spokesman for India's Foreign Ministry, told reporters.
The scandal is a deep embarrassment to the Indian government, which has pledged to clean up corruption in the public sector and shore up deteriorating state-run lenders. The government banks hold 70% of the country's banking assets but are saddled with more than $100 billion in bad loans, much of it to corporations and infrastructure developers.
Last month, India announced plans to inject nearly $14 billion into 20 state-run banks if they agreed to impose a series of reforms, including stricter oversight of loans.
Critics have long complained of a corrupt nexus between bankers and wealthy borrowers who take on loans they then refuse to repay — charges that have gained traction with the details of the Nirav Modi case.
Punjab National Bank reported to India's national stock exchange on Wednesday that it had "detected some fraudulent and unauthorized transactions" generated at one of its branches in Mumbai. Officials said that a junior-level employee issued fake orders to other Indian banks' branches overseas that allowed Modi's companies to withdraw money — in some cases nearly $6 million at a time — without any guarantee of paying it back.
The bank said it had suspended several of its employees pending an investigation, but prospects for recovering the funds were uncertain. Some critics compared the case to that of former liquor baron Vijay Mallya, who fled India owing state banks more than $1.4 billion, was arrested last year in London and has been fighting extradition in a British court.
"For India's second-largest bank to be defrauded in the manner suggested is astounding, especially since there has been heightened scrutiny of public sector banks' operations in the last few years," the Hindu newspaper wrote in an editorial.
Vishwas Utagi, former vice president of the All India Bank Employees Assn., a trade union, said history showed Modi would escape with minimal punishment.
"His wife and brother are all foreign nationals who have different passports," Utagi said. "For all the talk, his bad debts are as good as lost."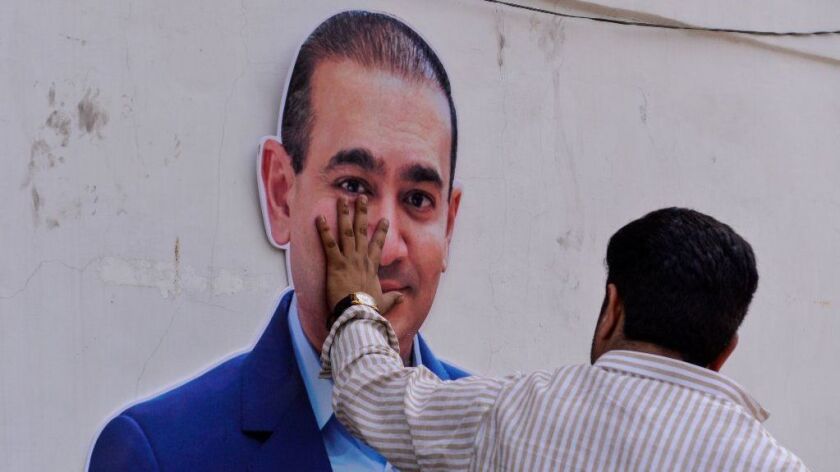 It was a stunning fall from grace for Modi, who until this week had been well on his way to fulfilling his ambition of becoming "Asia's first luxury brand."
Kate Winslet, Viola Davis and Priyanka Chopra are among the actresses who have sparkled with his creations on red carpets from Los Angeles to London. Forbes has listed him among India's richest men, with a net worth of $1.7 billion.
Modi, in his mid-40s, was a regular in the press, speaking in a near-whisper and clipped sentences that seemed to heighten the exclusiveness of his designs. Having already opened boutiques in New York, London, Hong Kong and Macao, he was pursuing plans for a major global expansion that would have added 100 more outlets worldwide by 2025.
"It certainly looks like a lot of really smart people fell for his spiel and backed him," said Shobhaa De, an Indian author and columnist. "He had positioned himself impeccably and created a strong market presence."
In an interview with the BBC in November 2016, Modi shrugged off concerns about the slow pace of the global economic recovery.
"Women always buy diamonds, they love diamond jewelry, and men buy them for women," he said. "I think it's recession-proof."
Modi grew up in a Gujarati family of diamond dealers in Antwerp, Belgium, one of the world hubs for trading in the precious gem. He attended the Wharton School of Business at the University of Pennsylvania but dropped out and moved to India to work with his uncle in diamond trading and jewelry manufacturing.
Most of the world's diamonds are cut in India, and Modi built a small fortune selling polished gems to American and European wholesalers. Around the time he embarked on his buying binge during the financial crash, he decided to move from trading diamonds to designing jewelry.
He shot to fame quickly when one of his first creations — a lavish necklace featuring a 12.29-carat diamond acquired from descendants of a royal family in southern India — appeared on the cover of a catalog from Christie's auction house in Hong Kong, where it sold for more than $3 million.
As evidence of Modi's alleged fraud mounted, his former partners began deserting him. Fashion entrepreneurs who had rubbed shoulders with Modi did not comment in the Indian press. Chopra, the Indian beauty queen who stars in the ABC series "Quantico" and was one of Modi's brand ambassadors, said through a representative that she was "seeking legal opinion with respect to terminating her contract with the brand" because of the fraud allegations.
In the rarefied world of Indian billionaires, long dominated by a handful of industrial families, few have risen as fast as Modi. His fall appeared to be even swifter.
"He was a nonentity 10 years ago," De said. "He is now a persona non grata."
Special correspondent Parth M.N. contributed to this report.
Shashank Bengali is South Asia correspondent for The Times. Follow him on Twitter at @SBengali
---
Must-read stories from the L.A. Times
Get the day's top news with our Today's Headlines newsletter, sent every weekday morning.
You may occasionally receive promotional content from the Los Angeles Times.