Back Story: With a string of historic judgments, India's top court nudges the country forward — sort of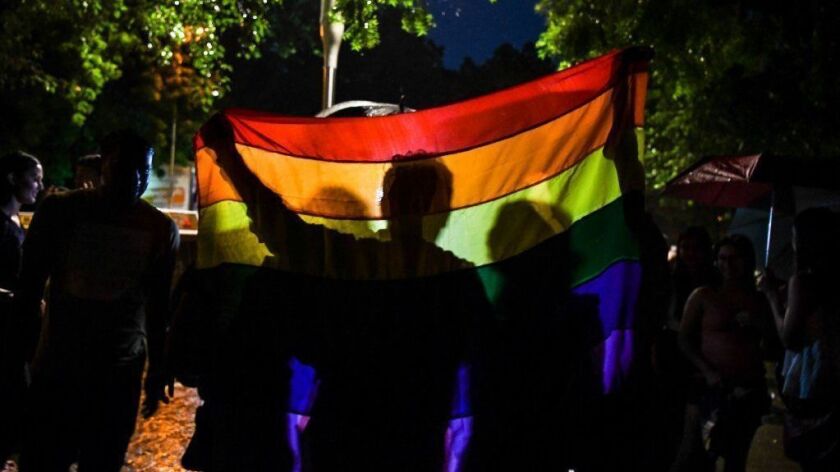 Reporting from New Delhi —
In the space of a few months, India's Supreme Court has sought to wipe out generations of prejudice.
In September, judges decriminalized gay sex, told a Hindu temple it couldn't bar entry to women of menstruating age and overturned a 158-year-old adultery law that treated wives as their husbands' property.
Judges in March had upheld the marriage of a woman who converted to Islam, her husband's religion, against the wishes of her Hindu parents, ruling that consenting adults had the right to choose whom they wed (although gay marriage remains illegal).
While much of the U.S. last week was fixated on the spectacle of a Supreme Court nominee angrily defending himself against allegations of a drunken sexual assault, the Indian court's affirmations of women's rights – and the lofty language in which the judges couched their rulings – had the feel of a progressive wind blowing through New Delhi.
"To treat women as children of a lesser god is to blink at the constitution itself," Justice D.Y. Chandrachud wrote in the verdict on menstrual taboos.
In a complex, chaotic and generally conservative country – led for the last four years by a Hindu majoritarian party – India's highest court has long battled charges of being too beholden to politicians in power and willing to trample on civil liberties when the government demands it.
With its recent rulings, the court's defenders said it had reasserted itself as a protector of the individual rights promised by India's nearly 70-year-old constitution.
"These judgments are not necessarily hugely popular, but they show that the court takes its job of providing constitutional justice seriously," said Menaka Guruswamy, a lawyer who helped lead the challenge to the gay sex ban.
"The judges do see themselves as a modernizing force, and I give credit to them for that, because we don't have a political class today that will pass legislation on social practices."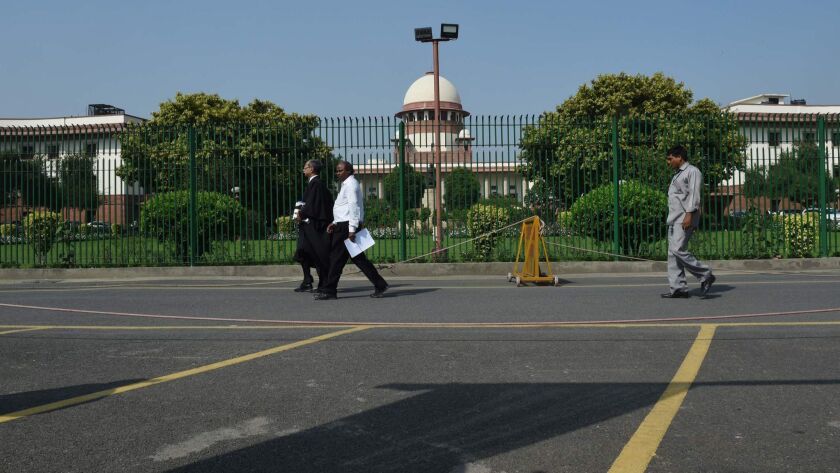 For decades, India's executive and legislative branches – now tightly controlled by Prime Minister Narendra Modi's Bharatiya Janata Party but in past decades dominated by the secular, left-leaning Indian National Congress – have ignored sensitive social issues that could cost them votes.
Notions of individual liberty, equality and freedom of choice are rarely discussed by politicians in the world's largest democracy. The gay sex ban and the adultery law – vestiges of British colonial rule that rarely led to prosecutions – remained on the books in India even though Britain scrapped them long ago.
"I wouldn't say the court is progressive, but I would say that they are trying to bring notions of equality and citizenship into a country that is completely tied to hidebound patriarchal norms," said Shylashri Shankar, a senior fellow at the Center for Policy Research, a New Delhi think tank.
In the 1970s, the court surrendered its independence and endorsed the absolute powers declared by Prime Minister Indira Gandhi during a 21-month state of emergency. Since then, to reassert its authority, the court has dramatically expanded the types of cases it will hear directly or on appeal from lower courts, whose judgments are often flawed.
Designed only to consider constitutional matters, the court now entertains cases involving taxation, corporate law, land acquisition, corruption scams, criminal investigations, even bail applications. It has weighed in on the most mundane municipal questions, from banning tinted windows on cars to issuing traffic safety guidelines.
Despite increasing its roster of judges – from eight in 1950 to 31 today, usually sitting in two- to five-judge panels – the court had more than 54,000 cases pending as of May.
"It has expanded beyond measure because other institutions don't work as intended," said Alok Prasanna, senior resident fellow at the Vidhi Center for Legal Policy, an independent advocacy group.
On a recent morning outside the Supreme Court of India's stately pink-and-white domed courthouse, scores of lawyers in black robes rushed through the narrow corridors and sought shade in the colonnaded veranda, giving the place the feel of a college campus on commencement day.
Inside a wood-paneled courtroom where fans hung from the high ceiling like spiders, two judges in imposing chairs heard arguments in three cases – involving a land dispute, a suicide and an alleged fraud – in a span of 15 minutes.
There were 56 cases on the two judges' docket that day, and nearly all would be heard over multiple days. Some cases have lasted decades.
"There is something about the Supreme Court which reminds you of the reality that is India," Guruswamy said. "It's an overcrowded country, we have very few institutional checks, law and order is on the wane, you have these judges in despair. It's very difficult not to feel sympathy for them."
But not everyone views the court as a force for progress.
Privacy advocates were dismayed last week when the court upheld the legality of a mammoth biometric database that has raised fears of a surveillance state. Lawyers had argued that problems with the database had prevented some poor Indians from receiving welfare benefits. A few had died of hunger, according to court submissions.
The judges dismissed those concerns, ruling that the wider benefit to society "cannot be denied due to exclusion of a few."
In another case, the court declined to appoint a special investigation team to probe the arrests of five activists who had been accused – on little to no evidence – of a plot to overthrow Modi.
Unlike the gay sex ban, whose repeal the government did not challenge, these two cases were highly sensitive: Indian officials are deeply invested in the database, known as Aadhaar, and Modi's government has been accused of muzzling critics ahead of elections next spring.
"The court has not rubbed the government the wrong way on anything that matters, frankly," said Anuj Bhuwania, author of a book on public interest litigation in India. "Civil liberties has never really been that important for it."
The decisions also came at the end of one of the most tumultuous periods in the court's history.
In January, four senior judges accused Chief Justice Dipak Misra – who has the task of assigning cases to particular benches – of manipulating the roster to keep certain judges away from politically sensitive cases.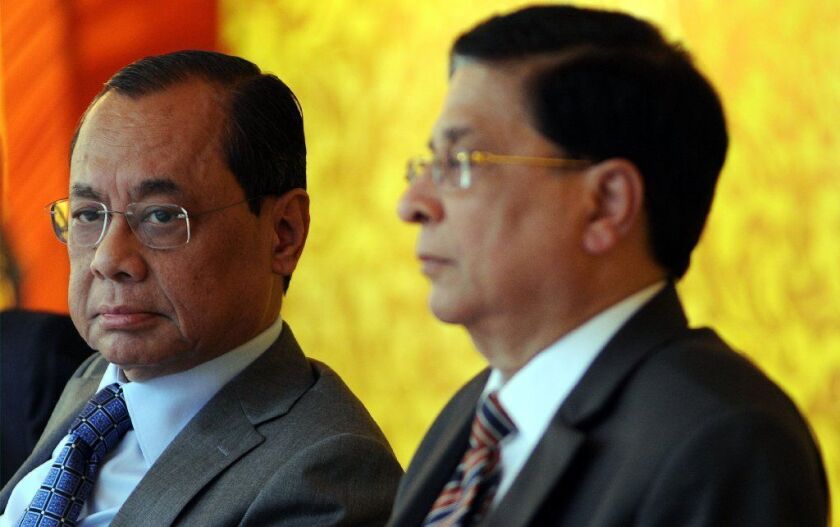 In one, a bench headed by Misra rejected appeals for an independent investigation into the death of a lower court judge who was hearing a murder case involving Modi's top lieutenant, Amit Shah.
The Supreme Court's ruling "left gaping holes of unanswered questions and will remain a low point in Indian judicial history," wrote Manu Sebastian, a lawyer and commentator.
Sebastian said the most recent verdicts served as an "image makeover" for Misra, who retired this week. His successor, Ranjan Gogoi, took over a court beset by internal challenges and a seemingly unending caseload.
"If you just read these last few judgments, you'd think, 'Wow, the Supreme Court is amazing,' but it's an institution facing a very grievous crisis," Prasanna said. "The next chief justice has an unenviable task."
Special correspondent Niha Masih contributed to this report.
Shashank Bengali is South Asia correspondent for The Times. Follow him on Twitter at @SBengali
---
Must-read stories from the L.A. Times
Get all the day's most vital news with our Today's Headlines newsletter, sent every weekday morning.
You may occasionally receive promotional content from the Los Angeles Times.