In a whirlwind of diplomacy, Kim has second surprise meeting with China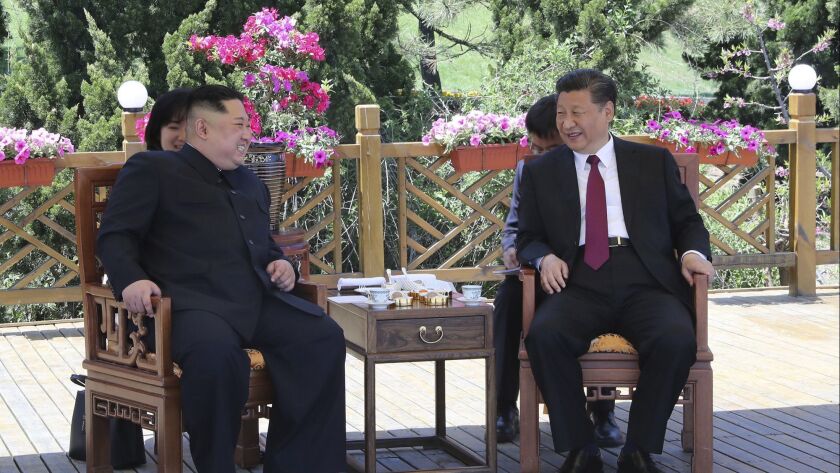 Reporting from Beijing —
North Korean leader Kim Jong Un met with Chinese President Xi Jinping in China this week for the second time in two months, reinforcing China's central role in a recent whirlwind of diplomatic activity involving the Korean peninsula.
The Kim-Xi meeting took place Monday and Tuesday in the Chinese port city of Dalian, near their nations' border, Chinese state media reported Tuesday. Chinese Premier Li Keqiang, South Korean President Moon Jae-in and Japanese Prime Minister Shinzo Abe are scheduled to meet in Tokyo later this week to discuss North Korean denuclearization.
Kim told Xi he would like to discuss "phased and synchronous measures" with the U.S. to "eventually achieve denuclearization and lasting peace on the [Korean] peninsula," the state-run New China News Agency reported. A meeting between Kim and Trump — the first between a sitting U.S. president and a North Korean leader — is planned for sometime in the coming month.
"As long as relevant parties eliminate the hostile policy and security threats against North Korea, North Korea does not need to have nuclear weapons, and denuclearization is achievable," Kim told Xi, according to the news agency.
Shi Yinhong, a professor of international relations at People's University in Beijing, said Kim is probably eager to shore up Chinese support to improve his bargaining position before the meetings. Xi, meanwhile, does not want to be left out of negotiations among North and South Korea, the U.S. and Japan.
"Trump has no reason to like this kind of event, which brings China and North Korea closer," he said. "But I think his primary concern over North Korea isn't Pyongyang's relationship with Beijing — he wants … to force North Korea to accept complete denuclearization."
Shi said North Korea is unlikely to completely abandon its nuclear weapon program and may attempt to wrest significant concessions from Trump in exchange for partial denuclearization.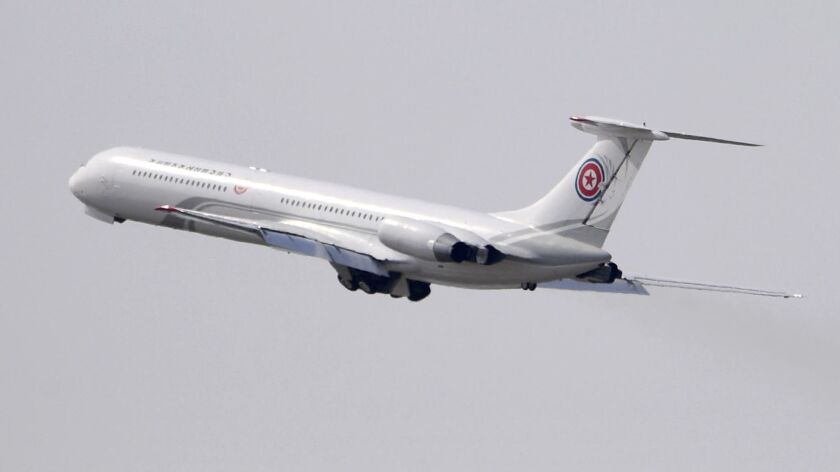 He added that the location of this week's meeting was probably a diplomatic compromise, allowing Kim to visit China twice within about 40 days while avoiding the perceived political indignity of a second visit to Beijing, which is significantly farther from Pyongyang, the North Korean capital.
China's state broadcaster CCTV showed Kim and Xi, dressed in a Mao suit and a business suit, respectively, strolling side by side along a beach and sitting together against a backdrop of trees and flowers.
South Korea's Blue House presidential spokesman Kim Eui-kyeom said that China notified the South Korean government of the meeting. North Korea's state broadcaster also confirmed the visit. "As a new noteworthy golden time in the history of friendship between the two countries unfolds, a meaningful meeting between the two countries' leaders was held," said North Korean Central Television.
The station also reported that four other top North Korean officials, including the leader's sister, Kim Yo Jong — who made headlines for her charm offensive in South Korea during February's Winter Olympics — came along for the trip.
Trump tweeted after the announcement that he would speak to Xi, whom he called his friend, on Tuesday. "The primary topics will be Trade, where good things will happen, and North Korea, where relationships and trust are building," he said on Twitter.
China is North Korea's only major ally and trading partner. Yet relations between Kim and Xi have been strained — Beijing has expressed dismay at Pyongyang's nuclear and missile development, and North Korea has aimed bellicose rhetoric at Beijing. China has backed a raft of tough United Nations sanctions that limit North Korean exports to China and, breaking with recent precedent, strictly enforced them.
Their earlier encounter, in Beijing in late March, marked Kim's first known trip abroad and his first meeting with the Chinese president. That visit also unfolded in secrecy; rumors about Kim's presence swirled in the Chinese capital after a mysterious, armored North Korean train was spotted in its main train station.
Kim has embarked on a frenzy of diplomatic activity in recent months to defuse tensions between his country and the U.S., South Korea and China. Last month, Kim and South Korea's Moon met at the demilitarized zone separating the two countries; the two leaders smiled and shook hands across the border, producing images unthinkable amid heightened tensions only a few months earlier.
Special correspondent Matt Stiles in Seoul contributed to this report.
---
Must-read stories from the L.A. Times
Get all the day's most vital news with our Today's Headlines newsletter, sent every weekday morning.
You may occasionally receive promotional content from the Los Angeles Times.