North Korea sentences American to 10 years of hard labor on spying charges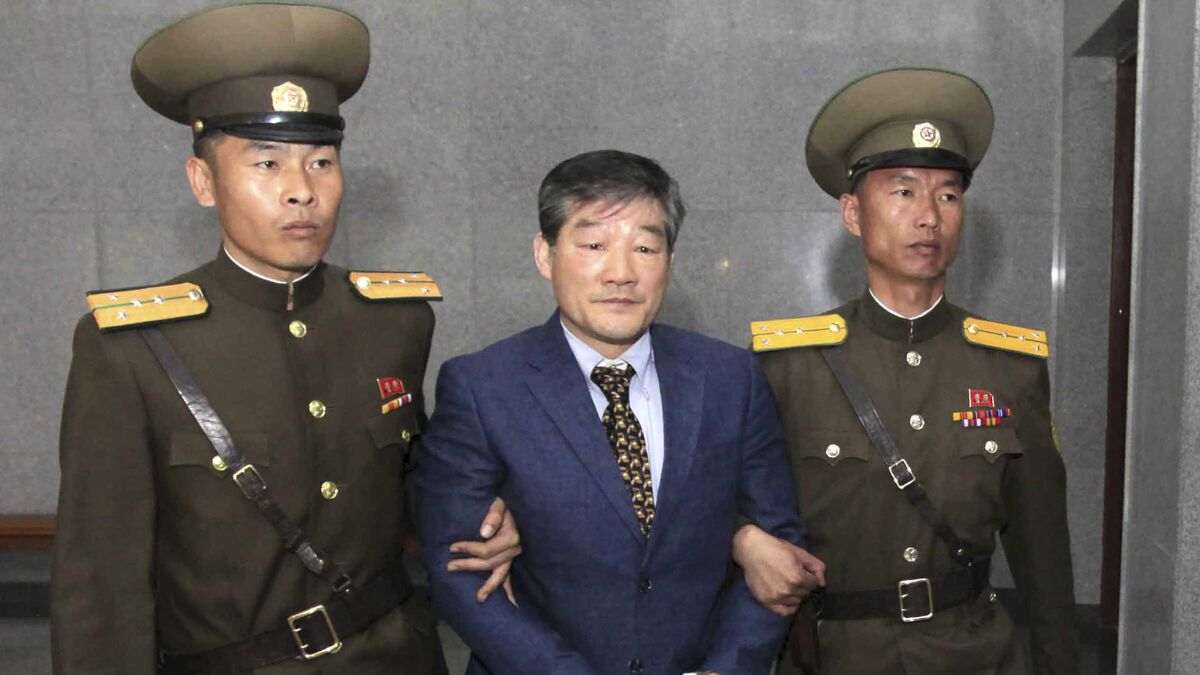 Reporting from Beijing
North Korea's Supreme Court on Friday sentenced a 62-year-old Korean American, Tong Chul Kim, to 10 years of hard labor after finding him guilty of trying to overthrow the government and spying for South Korea, the North's state-run news agency said.
Kim "confessed to all crimes he had committed," the Korean Central News Agency said. Prosecutors asked for a 15-year sentence, the agency reported, while the "defense counsel asked the court to commute the demanded penalty, arguing that the crimes by the accused are very serious but [Kim] is old and may repent of his faults, witnessing for himself the true picture of the prospering" country.
Kim was arrested in October. His detention was not publicized until January, when North Korean officials invited a CNN crew to interview him in Pyongyang, the North Korean capital.
The trial and sentencing comes just a week ahead of a major political gathering in North Korea called the Worker's Party Congress. The event is expected to draw international attention, with Pyongyang inviting numerous foreign journalists into the country to cover the proceedings.
In March, North Korea sentenced a University of Virginia student, Otto Warmbier, to 15 years of hard labor after officials said he tried to steal a propaganda poster from the Yanggakdo Hotel in Pyongyang in January while he was on a group tour.
It was unclear whether North Korean authorities were trying to use the two trials to entice a high-profile U.S. emissary to travel to North Korea to secure the men's release. In the past, figures including former President Clinton and director of national intelligence James R. Clapper have gone to North Korea to bring home detained Americans.
Kim's trial came a day after North Korea conducted two test launches of intermediate-range Musudan ballistic missiles, although South Korean intelligence officials said both appeared to have failed.
Tensions have been mounting on the peninsula since early this year, following a North Korean nuclear test and a series of missile tests and a launch of a low-Earth-orbit satellite.
During Kim's interview with CNN in January, he spoke Korean and told the TV journalists he used to live in Fairfax, Va. He said that he moved to Yanji, China, a city near the North Korean border, in 2001. From there, he said, he would travel daily across the border to Rason, a special North Korean economic zone. North Korean officials showed CNN what appeared to be Kim's U.S. passport.
Kim told CNN he served as president of a company involved in international trade and hotel services, and claimed he spied on behalf of "South Korean conservative elements" and "was tasked with taking photos of military secrets and 'scandalous' scenes." He said he bribed local people to gather "important material."
He stated that he was arrested as he was rendezvousing with a 35-year-old former North Korean solider, who was giving him a USB stick and camera containing military secrets. That man was also arrested, Kim said.
Previous detainees who have made similar statements have said after their release that they were coerced into doing so.
Kim told CNN he had a wife and two daughters in China. He said he was being held in a hotel in Pyongyang.
Kim spoke with CNN on Jan. 11, less than a week after North Korea carried out the nuclear test, which later led to intensified international sanctions on the country.
In his conversation with the TV network, which was observed by North Korean officials, Kim said it was time "for the U.S. government to drop its hostile policies against North Korea."
"Seeing that this H-bomb test has succeeded, now is the time to abandon hostile policies and work to help North Korea," he added, saying, "the U.S. needs to find a way to reconcile with North Korea."
Warmbier also appeared before cameras ahead of his trial. He cried and said, somewhat incoherently, that he was induced to commit the "hostile act" by a member of a Methodist Church near Cincinnati, as well as the CIA and an underground group at his college. The church and the university group have denied any connection to the incident.
Follow @JulieMakLAT for news from Asia
ALSO
UCLA's Myles Jack falls out of NFL draft's first round
FBI arrests brother of San Bernardino terrorist and 2 others on marriage fraud charges
Protests rage outside Trump rally in Orange County; 17 arrested, police car smashed
---
Must-read stories from the L.A. Times
Get the day's top news with our Today's Headlines newsletter, sent every weekday morning.
You may occasionally receive promotional content from the Los Angeles Times.